Ready for the ultimate battle?
Whether you're a seasoned pro or not, Battle Cancer is the ultimate team challenge for 2017. Battle Cancer is the world's first mass team event with the dual aim of providing a competition that can push you to your limits, whilst also providing a huge amount of fundraising for UK cancer charities.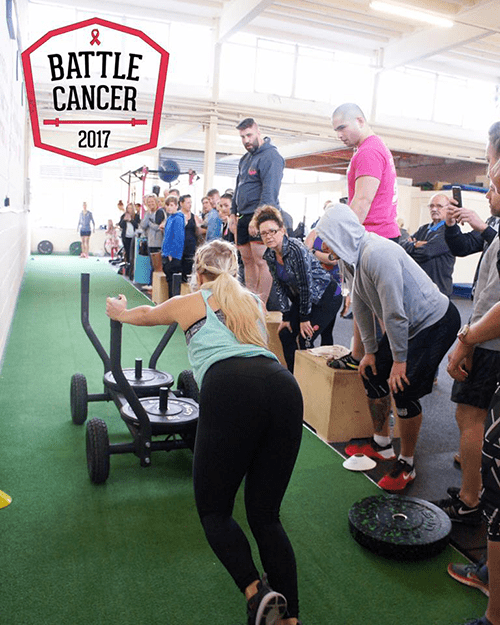 Battle commences on Saturday 5th August 2017
 Now is the time to show what you are really made of! Are you and your team ready to step onto the Battle Ground and give your all?
The ultimate battle demands an incredible Battle Ground location and Victoria Warehouse in Manchester offers just that. Our unique Battle Ground provides a huge urban space which is perfect not only for all the Battle teams but also for their friends and family to come provide some much needed support. The vast arena is overlooked by an immense mezzanine level giving 1000s of spectators the opportunity to roar you on in the Battle with a bird's eye view of the events; and the vast space means the Battles will incorporate elements of your most challenging WODs with exciting, innovative equipment…Battle Cancer is definitely not your standard functional fitness comp!
The vast Battle Ground at Victoria Warehouse.
Is this Battle for you?
The aim of the challenge is simple: smash the three challenging team WODS; win the Battle; and, in the process raise as much money as possible for Macmillan Cancer Support (our official partner) or for a UK cancer charity of your choice.
Every year thousands of people are affected by cancer in the UK alone and this is your chance to battle against this terrible condition whilst also testing your team against the best in the UK.
Your lungs will burst, your hands will blister, your legs will burn and you will drive yourself & your team far deeper into battle than they have ever been before. Our question is do you have what it takes to take on the battles? Will you be able to get through the pain of the battles, the ultimate stress test of your endurance and the mental torture of fighting both for your team and against cancer?
Digging deep with the help of the crowd to roar you on.
With five competition categories available and no online qualifier, our aim is simply to provide a challenge to all levels of competitor whilst helping to Battle Cancer by raising as much money as possible.
The five Battle categories are:
Mixed Team (2 males, 2 females)
All Male
All Female
Mixed Masters (2 males, 2 females)
Military Wounded Warriors
Teams will battle across the three WODs in waves which will ensure everyone will see their strength, fitness and technical ability tested to the max. With every entry you receive a competition T shirt, a medal and the chance to change lives by Battling Cancer. You'll also receive discount codes for some of the trade stands that complete the Battle Cancer event. With nutrition and supplements, clothing, Battle Fuel (incredible but nutritious food providers) and kit companies all attending the day you won't be short of supplies or things to do whilst your competitors aim to survive their Battle WODs!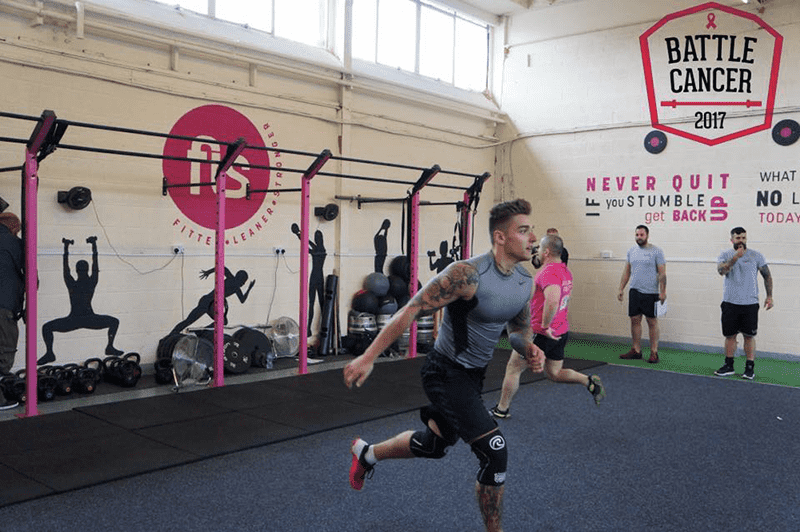 You might be used to the buzz of competing but how many of your other competitions give you the additional high of knowing you're pushing yourself to help contribute to the future of people suffering from cancer?! Battle Cancer is the world's first and only mass team event where proceeds and all of your fundraising goes directly to Cancer Charities and you have the option to fundraise for a chosen charity or for our partner charity Macmillan Cancer support.
And just in case that isn't enough…
To celebrate the challenging Battle and the victors, Battle Cancer 2017 will be rounded off by an incredible music event with top class DJ's setting off an epic party (free to all competitors) until the sun goes down.
Registration is now open so to enter or for more information on Battle Cancer 2017 and how you can get involved, visit their website or follow us on social media:
Facebook
Youtube
Sophie Atkinson, Battle Cancer Director
T:07809591433,
E:info@battle-cancer.co.uk