You may not be familiar with his name, but you will be familiar with his work.
In 2012, Jason Khalipa finished 40th in every CrossFit Games endurance event. In 2013, Khalipa had 3 first place finishes and 1 third place finish in the endurance events, placing 2nd overall. What changed? His endurance coach.
Coach Chris Hinshaw now uses his indispensable knowledge of endurance sports to tune the engines of CrossFit Games athletes, including champions Rich Froning, Camille Leblanc-Bazinet and Katrin Tanja Davisdottir.
Coach Hinshaw was kind enough to take time from his coaching schedule to talk to BOXROX, here is what he had to say.
For those who won't know, can you tell us about your athletic background?  
My primary athletic background is in the sport of triathlon. I competed as a professional triathlete for 6 years. I had several top international finishes including a 2nd place overall finish at the Hawaiian Ironman World Championships, 2-­time member of Team USA at the Hawaiian Ironman, 2nd place overall finish at the Ironman World Championships in Canada, and a 1st place overall finish at Ironman Brazil.
What did your training look like back then?    
My weekly training consisted of 25,000 meters in the pool, 300-­350 miles on the bike, and 40-­50 miles running.  Plus, I would typically compete on the weekend.
What was your hardest athletic experience and why?   
My hardest athletic experience (without question) was the first day I started CrossFit. It is important to understand that my body was severely damaged from my years of triathlon training and competing. In addition, I had zero weight lifting experience. And I was 100% certain that I could not do one pull-­up. I was terrified when I walked into the gym on Day 1.
You're now a retired professional athlete. How did you come across CrossFit and what has it done for you? 
Annie Sakamoto introduced me to CrossFit during a business meeting in Santa Cruz, CA. Annie explained to me the CrossFit methodology. She also said, "I know you have done an incredible amount of volume training in your lifetime but, maybe if you strengthened your neglected muscles, you might become functional again."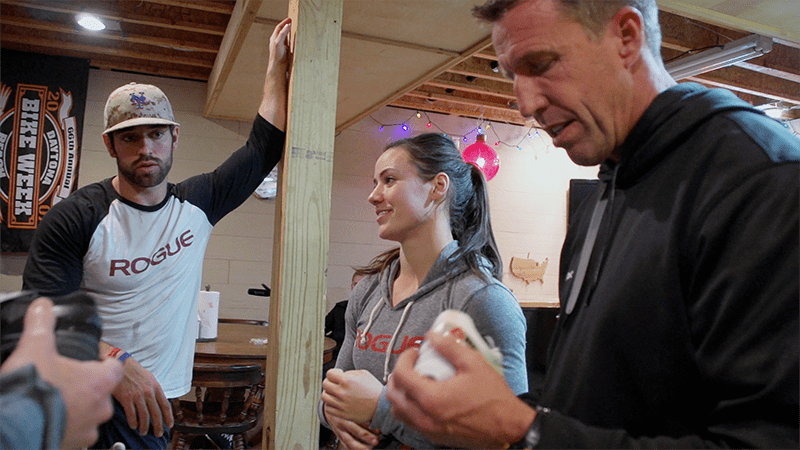 Today, 7 years later, I am amazed by the quality of my health and overall wellness. I am beyond functional. Although I'm not close to being the strongest athlete in the gym with my 295lb deadlift, 210 back squat, and 170 clean (all which make me happy everyday), I have run 400m in 60.3sec, a mile in 4:57, and 5000m in 17:10. I will never be able to sufficiently describe my gratitude that CrossFit has provided.
What is your favorite and least favorite CrossFit workout or movement and why? 
Favorite: Nasty Girls because it was the first CrossFit video I ever watched. It had 3 of my favorite CrossFit athletes (Annie, Nicole, and EvaT). And, it had the muscle-­up. It took me just over 5 years of doing CrossFit to perform this workout Rx.
Least: Any workout with thrusters. Thrusters are an awful combination of every movement that I dislike.
If you could go back in time, knowing what you know now about CrossFit and training, how would you change the way you trained for triathlons?
I think about this question all the time. Although I have a bunch of "back in time regrets", I really regret never developing and optimizing my entire spectrum of muscle fibers (slow twitch & fast twitch). During my career as a professional triathlete, I never picked up a barbell and never cross‐trained. And, the only high intensity training I performed swim-­bike-­run specific workouts. As a result, I never maximized my athletic potential.
You are the 'go to' guy when it comes to helping CrossFit Games athletes with their endurance, how did this come about?
I moved from Santa Cruz Central to NorCal CrossFit after 3 years. Several NorCal CrossFit members started joining me at the track during my first year. I met Jason Khalipa for the first time at the NorCal gym during a Helen workout.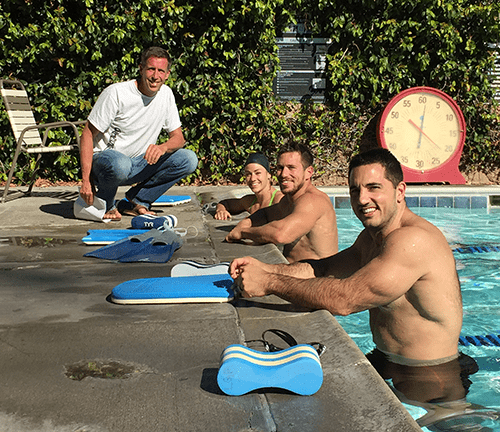 I'd be lying if I didn't admit that I pushed the Helen workout hard! Jason and I talked briefly that day about my endurance background and he shared his frustrations with his 40th place finishes in every CrossFit Games endurance event.  In January 2013, Jason called and asked if I would be willing to be his endurance coach. Jason explained that he has tried every available option and he was still finishing last in every CrossFit Games endurance event.
Jason stated that he would always do everything that I asked and would never question my methodology. That year at the CrossFit Games, Jason had 3 first place finishes and 1 third place finish in the endurance events plus placed 2nd overall.
Oh, my Helen time that first day I met Jason was 8:10.
Is there a common or reoccurring problem you see when training CrossFit athletes?
CrossFit athletes typically have solid performances up to 2 minutes because of their dominant training focus on high intensity (especially their running). However, the inefficiencies within their aerobic energy system begin restricting their performance as the distance (volume). This is referred to as a fatigue factor or coefficient of slowing because its value determines the rate at which average speed decreases with distance and time.
For reference, world-class runners have a fatigue factor of 6% for every doubling of the distance they run. My target for every CrossFit athlete is 20-­‐21% between 400m and 1 mile.
For comparison, I learned that Rich Froning had a 400m time of 60sec and a mile time of 6min after I became his endurance coach. Individually these are excellent results however; it is the relationship between these two times that defined his level of aerobic fitness. Rich slowed 28.5% from 400m to 800m and another 28.5% from 800m to 1609m. This 28.5% rate of fatigue explains why he walked during the Triple3 event at the 2013 CrossFit Games.
His primary limiting factor was the inability to transport and utilize oxygen (cardiorespiratory endurance) while running. Although speed is still critical to success, it was not his limited factor preventing him from maximizing his performance.
What would a regular session look like with one of these athletes? 
13, Jan 2015: Track Workout for Rich Froning
3x (600m in 2:04, 400m in 1:23, 300m in 1:02, 200m in 41sec)
Rest after 600: 2min
Rest after 400: 90sec
Rest after 300: 1min
Rest after 200: 30sec
800m easy jog between rounds
Total: 6900m
Workout Details: Run 600m in 2:04, rest 2min, run 400m in 1:23, rest 90sec, run 300m in 62sec, rest 1min, run 200m in 41sec, rest 30sec, slow jog for 800m, repeat for 2 additional rounds.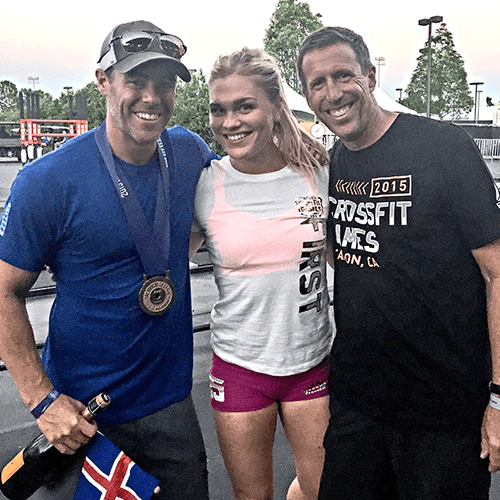 3, Nov 2013:  Track Workout for Katrín Davíðsdóttir
2x (1000m, 800m, 500m, 300m)
1000m pace = 4:32 to 4:37
Rest after 1000 = 200m easy jog
800m pace = 3:38 to 3:41
Rest after 800 = 200m easy jog
500m pace = 2:16 to 2:18
Rest after 500 = 200m walk
300m pace = 64‐65
Rest after 300 = 200m walk
Rest between sets: 2 min
Workout Details: It is important that you control your pace in the first 1000m. The pace for this 1000m will feel easy. However, this workout is a continuous effort from the 1000s to the 500s. That's 2700 meters. Although the recovery during your 200m jog (slowly as needed) will be important, the most important recovery is the 200m walk after the 500s because the 300m pace is fast. After your hot 300, walk the prescribed 200m plus take your 2 min of additional rest between sets -­ then go get that 2nd round!
Which CrossFit athlete inspires you the most, and why?
I love coaching the everyday CrossFit athletes because they are not intimidated by intensity. As example, my endurance class often has 40 members show up for track interval workouts. Although I post the workouts in advance on aerobiccapacity.com, most have not looked because it will not change their approach to the workout or prevent them from attending the class. They understand the value of intensity.
You've been involved in professional sports all your life, you've seen the good and the bad. What is your opinion on this year's CrossFit Games?
The sport of CrossFit is enjoying incredible growth worldwide. And yes, the CrossFit Games is where the elite can test their fitness and compete for the Fittest On Earth title. However, I really like how the Games has brought together the members of our community within each CrossFit affiliate during the 5-­6 weeks of CrossFit Games Open. The Open creates global awareness of health & fitness within community and this is a huge positive.