For many years the Swiss chocolate manufactory Lindt & Spruengli has, on a regular basis, been suing companies who try to sell hollowed rabbits wrapped in gold paper; its hard earned unique selling position is defended with the highest integrity. This is the principle that the American CrossFit, Inc. has adopted in the highly competitive fitness market – the brand 'CrossFit' has turned into the Dolce & Gabana of the industry, with more imitations than you would find at a Turkish bazaar. The tenacious legal department of the corporation is determined to fight against the FitCrosses, X-Fitnesses, CrossWorkouts or whatever this planet throws at them.
'Even though not everyone is willing to admit it: The Glassman-imperium has definitely created something new.'
It is a competitive sport that measures a human's fitness by testing their ability to perform in defined fields of physical skills. No, CrossFit is not the same as 'this circuit training we've done in sports clubs since forever.'' Though this is strangely stressed all the time by people who copy the system to the last of its details, for example by using CrossFit-specific terms such as AMRAP, Chipper or – of course! – WOD. The fare dodger in the crowed train of 'functional fitness'.
THE COST OF CROSSFIT
The hefty price tag of the sport is no secret – USD$3000 gets invoiced each year for every licensed CrossFit Affiliate box around the world to ultilise the brand name along with a mandatory USD$1000 CrossFit Level-1 certificate for each trainer coaching in the box. There are also additional costs for judging, advanced certification and not forgetting the all-important CrossFit Games Open.
The further sales CrossFit, Inc. achieves by granting its license to Reebok is anyone's guess. One thing is certain: Greg Glassman can clearly afford his grass-fed beef steak in the evening. And in my opinion: Well deserved! Not only because I am personally thankful for the 'most joyful 15 minutes of my day', but also because I can honor his outstanding intellectual work.
Some might note that many licensed CrossFit affiliate boxes try to hide poor quality training and service under a big brand name, hoping that the reputation of CrossFit would automatically turn mud into gold. Toting the brand alone doesn't necessarily equate to high quality training, for there are definitely many horrible official affiliates and awesome nameless ones. But that discussion is entirely different and I digress – I am talking about fairness, the basis of all sports.
Let us give credit when it is due, humanity would never make any progress and no one would think about useful innovations, if not for laws that protect intellectual property from greedy free riders.
OPENING A CROSSFIT AFFILIATE
I am about to open a box in Germany sometime in the upcoming few months, so this subject is important to me. My business partner and I never thought for a second about skipping the fee and running an unofficial affiliate. Needless to say, this USD$3000 investment is economically painful in the early stages, and is comparable to 3 rowers, 7 good barbells or even a whole (small) rig.
'However, we consider it as the entrance to something that is unique and worthy of our support.'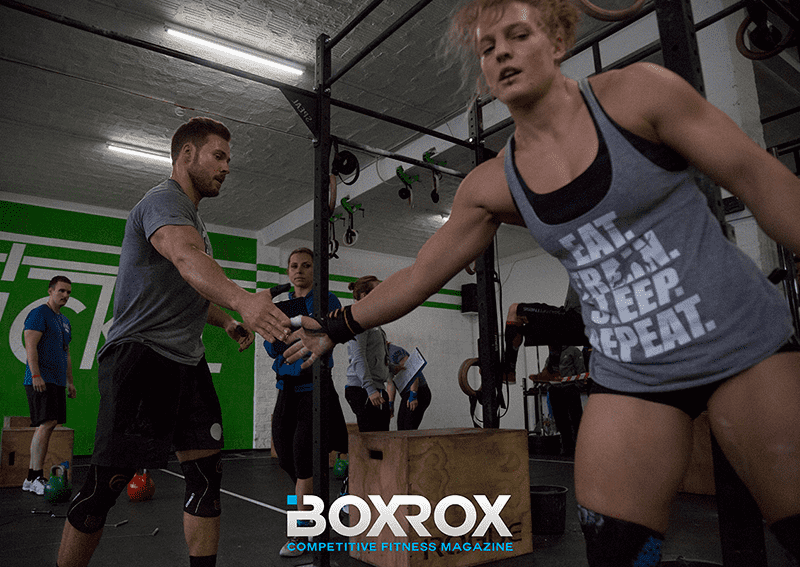 It is not that we urgently want to see our name on the crossfit.com-map, or need to make-up anything. We are fully aware that it is still possible to reach a sufficient number of clients who are 'just' looking for this 'strength and conditioning training' that is so trendy nowadays. Who doesn't care if it is more convenient to participate in the Open when you work out in a Crossfit affiliate. or that they could pay with our shirt for Drop-in's in other boxes (most likely, they would never do a Drop-in anywhere anyway).
But there is still the bond and solidarity to this global movement united under one name. It's not about getting a piece from the cake but adding one. Finally, it is everyone's own decision on how to deal with the topic – here is as always the rational and the emotional side.
If you are a Box Owner and are interested in learning more about this issue, and many others that affect Affiliates, then sign up to the BOXROX BOX Owner Newsletter to stay updated on the latest news and issues that matter to you.
Image Sources
male-Crossfit-athlete-Clean-lift: Sonia Ariz / BOXROX
crossfit-guy-Split-Jerk-barbell-lift: Sonia Ariz / BOXROX
crossfit-man-and-woman-team-competition: Sonia Ariz / BOXROX
crossfit-women-snatch-barbell-lift: Sonia Ariz