You can call them the future of CrossFit; these are the best young athletes in the sport. Ten boys and girls in each division, 14-15 and 16-17, competed with everything they had last week for the title Fittest Teen on Earth.
Some athletes set an impressive winning streak, others were tied on points at the end of the competition and a rookie became Fittest on Earth.
Find out more about the Teens competition at the 2019 CrossFit Games.
TEEN CROSSFIT GAMES WORKOUTS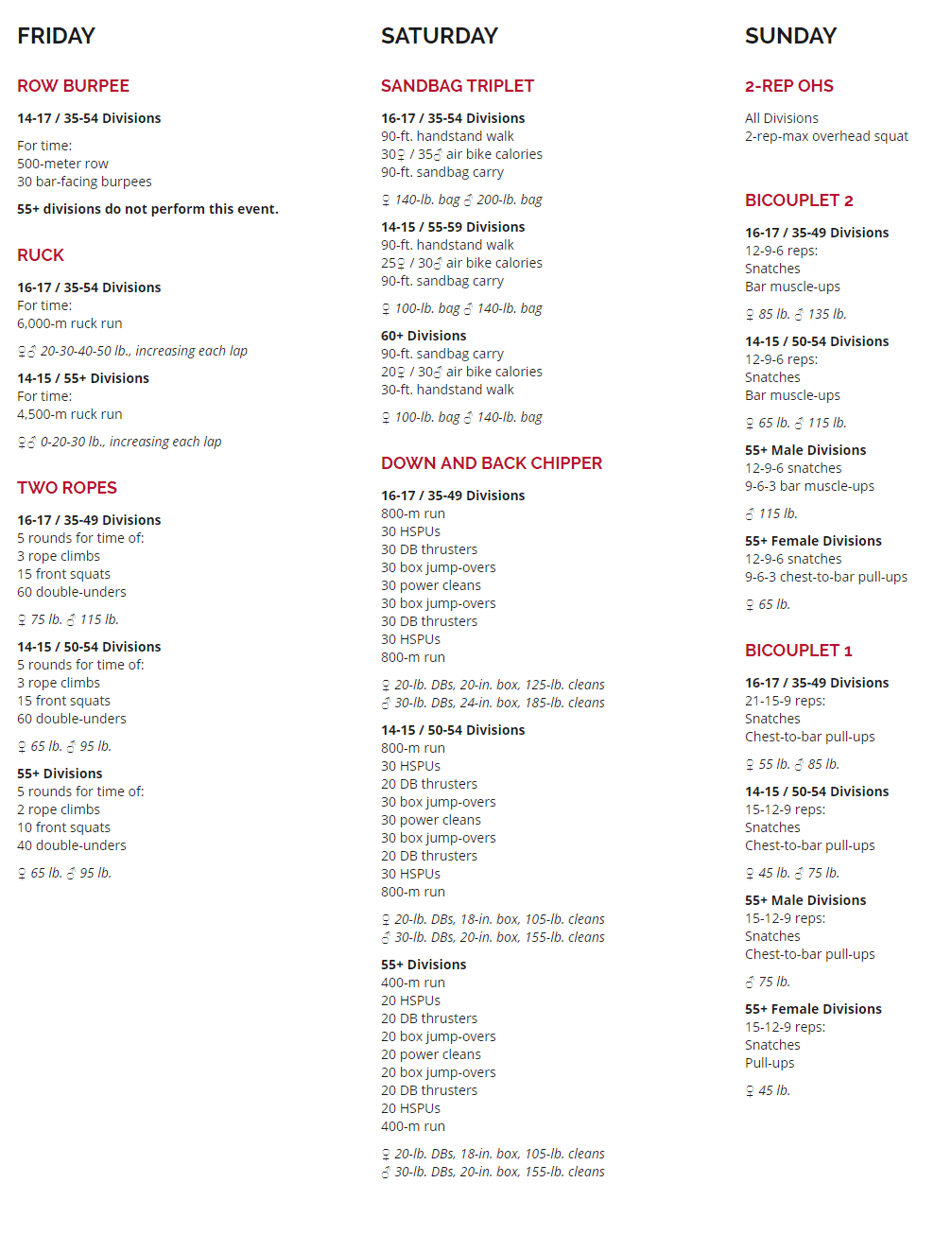 Source: CrossFit Games
BOYS 16-17
Dallin Pepper
Matúš Kočar
Tudor Magda
Reece Mitchell
James Sprague
Jack Farlow
Jacob Morris
Braden Muller
Riley Martin
Ron Zur
Three consecutive years competing at the CrossFit Games and three consecutive golds. Dallin Pepper was crowned Fittest Teen on Earth, as he has since his rookie appearance in 2017, on his last Games as a teenager.
https://www.instagram.com/p/B0xD82YA5dn/
The American athlete won five of the eight events and was one of the tree athletes able to finish the last event of the Games, the Bicouplet 1, on time.
Bicouplet 1
21-15-9 reps:
Snatches
Chest-to-bar pull-ups
♀ 55 lb. ♂ 85 lb.
He was followed by 17-year-old Slovak athlete Matúš Kočar, who made his first appearance at the CrossFit Games this year. 140 points separated the two athletes at the end of competition.
GIRLS 16-17
Chloe Smith
Sophia Grimmer
Paige Powers
Devyn Kim
Annalise Moore
Ellie Kerstetter
Mia Nightingale
Lea Malo
Lilly Rodriguez
Hanna Mrochuk
Another victory for Chloe Smith, who was Fittest on Earth (girls 15-14) in 2017 and finished third in the girls 16-17 division last year.
https://www.instagram.com/p/B0yrpREhJyx/
The teen champion finished her appearance at the Games with five event wins, one of the most remarkable being Ruck, which was exactly the same as the Elite individuals' workout, where she finished with a time of 30:42.22. Her time would have put her within the top 25 Elite individual women.
Sharing her thoughts about the competition on Instagram, she wrote: "It's been one amazing week….. thank you's and more to come."
She was followed by Sophia Gimmer and Paige Powers, who was only 20 points behind second place.
https://www.instagram.com/p/B0rpwMxn-B_/
BOYS 14-15
David Bradley
Amato Mazzocca
Brynjar Ari Magnússon
Braydon Brus
Tyler Hogan
Hiko O Te Rangi Curtis
Elias Simbürger
Alex Blazo
William Stupart
Azariah Price
15-year-old and rookie athlete David Bradley took the win on the boys 14-15 division. He was tied in points with Venezuelan athlete Amato Mazzocca by the end of the competition, both finishing with 620.
With a win in the last event, the Bicouplet 1, Bradley managed get an edge over Mazzocca and win the title Fittest Teen on Earth. "This is seriously a dream come true!" he wrote on Instagram.
https://www.instagram.com/p/B0yiNmZndQp/
Amato Mazzoca earnt his country, Venezuela, its first CrossFit Games medal.
https://www.instagram.com/p/B0w6M17n2fr/
GIRLS 14-15
Emma Cary
Gigi Sabatini
Emma Lawson
Olivia Sulek
Mallory O'brien
Paulina Haro
Chloe Honaker
Sophia Shaft
Josefin Andersson
Claire Doty
Games rookie Emma Cary was crowned Fittest Teen on Earth with four event wins.
"I have wanted this since I was 10 years old, and have worked relentlessly to achieve it. I am so blessed, so thankful, and so hungry for more. Thank you to all who helped make my dream come true!" she wrote on Instagram.
https://www.instagram.com/p/B0yZocbHDTo/
Brazilian teen athlete, Dudinha Souza, who had qualified to compete at this year's Games as one of the 10 fittest teens after the Age Group Online Qualifier, was unable to compete after having her visa denied. Her position was backfilled by 11th place Age Group qualifier Claire Doty.
https://www.instagram.com/p/B01TQ26Alx9/
Check out what went on during the 2019 Masters CrossFit Games.