Elijah Muhammad, or EZ Muhammad as he is known among his fans, so far has had a career of ups and downs in the world of CrossFit, but that does not mean that he also had ups and downs emotionally. He is one of the most uplifting athletes/coach you can find currently. Here is his story, some of his inspirational quotes to bulletproof your mental game, plus 10 of his workouts.
Elijah Muhammad participated in the CrossFit Games twice since 2010, when he started training. Among the ranks of the Fittest on Earth you probably would not put him in the podium, but the conversation is different when it comes to inspire and fuel the ambition of other athletes. He brings APE everywhere he goes (Always Positive Energy).
Everyone has a story to tell, everyone has the trials and tribulations, their highlights, failures and successes. So either root for them or focus on you and watch from the sidelines! Because there is always work to be done!
Only in 2015 and 2017 the American athlete managed to qualify for the CrossFit Games. In 2015 he finished 16th and two years later ended up 35th place. "That year was all about my wife," he wrote.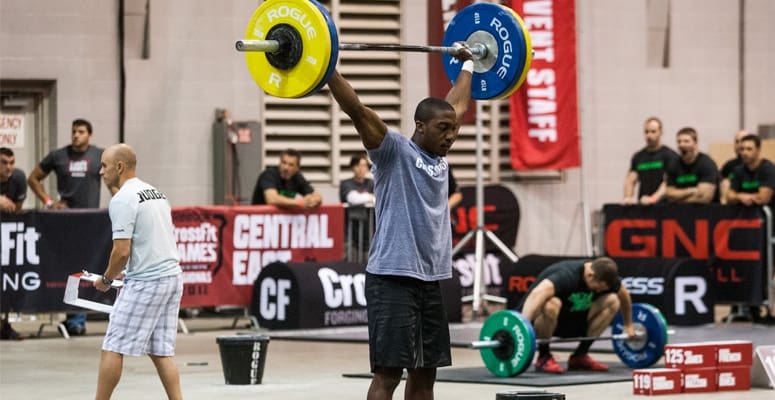 It was in 2018 that he started coaching a relatively unknown teenager at the time named Mallory O'Brien, who now at 17 years old, has qualified for the Semifinals and has a shot to reach the CrossFit Games as an RX athlete.
I've always been an athlete and I've always had people supporting me in my corner and pushing me. So I know what athletes want to feel like because I've always felt it.
O'Brien's first two year as a competitor was under Elijah Muhammad's guidance. She finished 4th in the CrossFit Games (2018) and 5th (2019), before deciding to take a gap year competing.
"Talk to yourself, encourage yourself, congratulate yourself, motive yourself every opportunity you get," he wrote in one of his motivational posts on Instagram. It is also hilarious how he hypes his own movements while performing any exercise.
Doubt is normal. It happens, but let it be a mental doubt only. In your heart know what you are capable of and persist.
So far, as an athlete competing CrossFit, he never made the podium at the Games. Elijah writes that he was working hard, learning and wanted to be "The Fittest on Earth and would stop at nothing." He says that everyone is shooting for something in life. "What ever that is, let me tell you, you can do it!"
We all fall short, it's all about how you bounce back and handle it.