Mat Fraser, 5-time CrossFit Games champion, recently released a video where he presents a fascinating sneak preview of his upcoming book, HWPO: Train. Eat. Sleep. Repeat.
HWPO stands for Hard Work Pays Off and is Fraser's signature phrase.
The book, which he co-authored with journalist Spenser Mestel, is set to come out in January 2022 and can be preordered now.
Valuable advice from Mat Fraser's HWPO book
You're scored for your overall effort, chop seconds where you can
Fraser talks about how, in CrossFit, athletes are scored based on their overall effort. Whether they have a fast barbell cycling rate or perform sets unbroken isn't scored on or credited – what matters is the overall time it took to complete a workout, regardless of how fast you actually moved weight around.
The athlete points to the fact he consciously shaved seconds off workouts not by working faster but during the "rest" sections.
As an example, he talks about the final of the 2018 CrossFit Games. The workout was:
5 / 4 pegboard climbs
40 thrusters, 85 / 55 lb.
33-ft. yoke carry, add weight
33-ft. yoke carry, add weight
33-ft. yoke carry
For the last three sections of yoke carrying, athletes had to add weight to each corner of the yoke.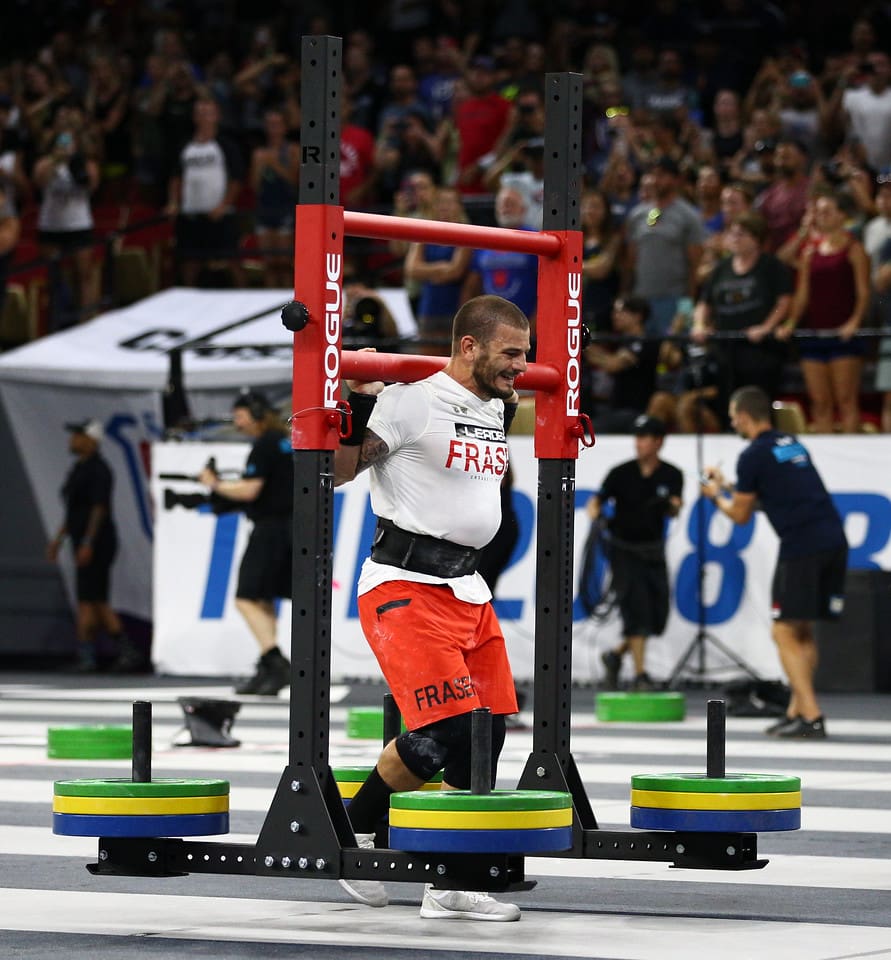 Fraser looked at the workout wholistically: how he would complete the movements themselves AND how to tackle the transitions. Namely,
how to load the plates
in what order to load them to allow for the quickest transition
what's going to put him in the right spot
what will mitigate any risk of something going wrong
His plan is worth a listen (minutes 2:05 to 2:34 on the full video at the bottom of the article), but the upshot of it is he maintains control of the plates throughout the transition and, when he's done loading, he's already on the correct side of the yoke to start working.
On the contrary, other athletes threw plates towards the back hoping for the best or started loading the back, taking extra seconds to place themselves on the correct side to start.
Take care of the little details
For simpler workouts, Fraser looks for any fraction of a percentage that he can get. This also helps make the workout easier mentally and take out any room for error so he can fully concentrate on his effort.
As an example, he talks about Ringer 2 at the 2019 CrossFit Games, which included burpees to a set of rings. Fraser made sure to chalk his hands a lot to leave prints on the floor, so he could reduce the amount of looking up to the target he had to do, which in turn helped his diaphragm stay in a comfortable position to breathe.
He also chose to touch the target with the back of his hands to avoid any unnecessary movement, explaining he was incredibly aware of these fractional "distractions" such as hand placement or where to look at.
Fraser is unsure whether those little amendments made a difference by themselves, but he knows adding these things up could mean the difference between placements.
Race to the end and kick the left foot forward
Fraser talks about how a workout isn't done until you're over the finish line. He recounts athletes thinking they're alone and celebrating on the way to the finish line only to get overtaken because of their carelessness.
Another mistake he sees athletes make is the unawareness of where their timing chip is.
In CrossFit, it's not about getting yourself across the finish line, but the time that counts is when the timing chip goes across the finish line, which traditionally sits on an athlete's left foot.
"Different races qualify a different part of your body as the marker," he explains. "In our sport, it's your chip timer, and they put the chip timer on your left foot. So, as you're hitting the finish line, slide in."
Other insightful advice
Fraser also goes through workout tactics based on the floor's arrangement, psychological tactics he used against his competitors during workouts, and workouts he used throughout the years as markers.
"Writing this book was one of the first situations where I sat down and I no longer had to keep anything secret," said Fraser.
"I had nothing to gain by holing my cards close to my chest anymore, so I got to talk about the little strategies, the little game plans for workouts I did in competition, some of the workouts I used over the years in training."
The book will provide its readers a glimpse into how Fraser looked and approached things, and he hopes people can then learn something and apply it to their daily workout or competition, or how to handle things out of the gym.
Even for non-CrossFit athletes the book could have value in teaching them how to look at problems very objectively and break them down into their smallest details.
"I'm hoping people can just take something to better themselves, whether it's in the gym or out," concludes Fraser.
Full video