Ever watched videos of elite level weightlifters training on Olympic weightlifting platforms on YouTube? Sure you have! Along with the talent and strength of these top athletes, you may also admire their training environment.
Yes, the pureness is what makes the Olys so special: Only you and a heavy barbell. As Crossfitters, we are used to lifting weights wherever we stand. But as many of us get more serious about the weightlifting parts of the sport, professional weightlifting platforms may become a purchase to consider, for the home and garage gym as well as for the box.
THE IMPORTANCE OF A STRONG START POSITION IN THE SNATCH
The start position in the snatch is often ignored by many beginners because we only really know we have failed the snatch if it doesn't make it above your head. If you do not start correctly, the bar path and your power can be severely handicapped. When you set up, check your feet, knees, hips and shoulders. The solid surface of a weightlifting platform will make this whole process much easier.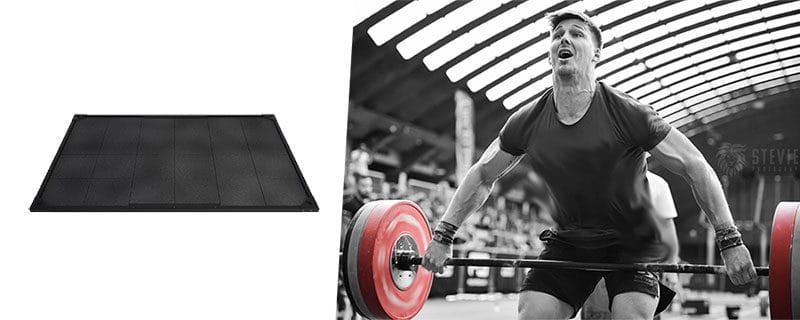 Firstly, start with your toes under the bar, if the bar starts far away, its stays far away. Pressure should be distributed on the balls of your feet to allow your legs to drive through the floor. Point your feet and knees slightly out, this will help the bar stay close without smashing into your knees.
Keep those hips down! Hips should always be lower than your shoulders, so make sure they are in your start position.
Shoulders must be over the bar to start. This will allow you to produce that powerful hip extension when you move into the extension at the top of the lift.
THE ADVANTAGES OF WEIGHTLIFTING PLATFORMS
Weightlifting platforms add value to any box – provided that sufficient (workout) space is available. Here are some pro's:
FLOOR PROTECTION
Concrete suffers from dropping, no doubt about that. Light to moderate weights used in WOD's can be cushioned by regular gym flooring. A skilled lifter dropping 120 kg and above from an overhead position calls for much stronger protection.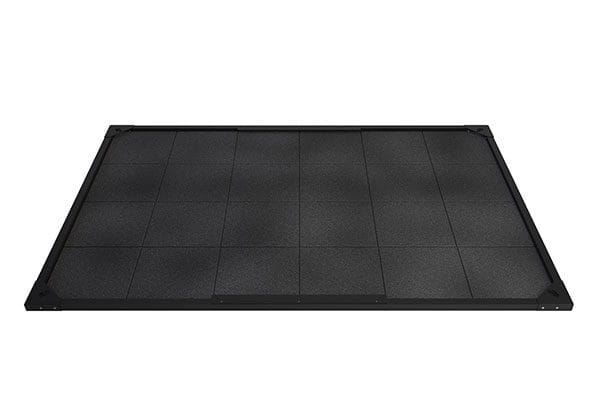 PROTECT YOUR BARS AND BUMPERS
Invested a fair bit in proper bars? Keep their spin alive with an optimal shock absorbing surface. Also, the life span of pumper plates can be extended by using them on a platform – time to put an end of your collection of cracked 5 kilogram plates!
CREATE THE OPTIMAL FLOORING FOR OLYMPIC LIFTING
The last thing you need when going for a clean & jerk PR is an uneven or slippery floor.
A platform provides the ideal anti-slip surface. This helps to perfect the foot work of an athlete as well as it provides the required level of trust. As you know, so much of lifting is a mental thing.
A Quiet or a 'pitter-patter' split jerk is usually an indication of the lifter being too slow or not giving the bar enough float in order to move the feet into the right position. At the top of the jerk drive the feet need to slide out as opposed to lifting up and out, many people are slow because they try to lift the legs in an arc, as opposed to a skim across the service. Perfecting this will take time, but soon you will be able to look sharp as a lifter.
SEPARATE YOUR LIFTING AREA
Open gym activities in the middle of an ongoing class might be a problem in every box. While there's nothing wrong with putting in the extra work before and after the WOD, it can lead to disorder and danger. Installing weightlifting platforms clearly shows where lifts should be performed, and keeps your training space safe and organised.
POINTS TO CONSIDER
Following international competition standards, a male weightlifting bar has to be 2,2 meter long, the bar for women is 2,01 meter. A platform width of at least 3 meter ensures that the barbell can fit. A depth of approx. 2 metres can fit a mobile squat stand or even a small half rack. Also, it provides sufficient space for a big split stance while performing the jerk.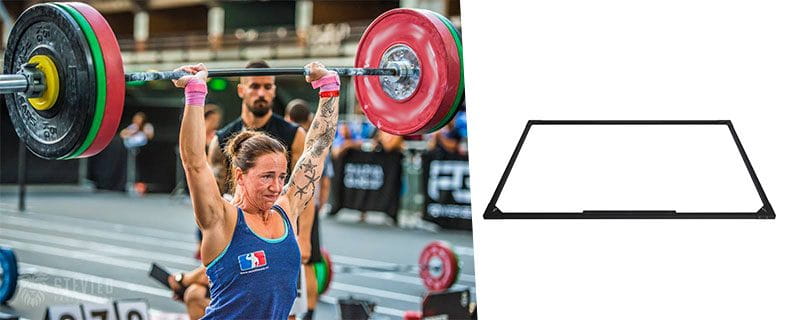 The platform should be embedded in a dimensional and stable metal frame, so the floor mats can't shift at all. Use suitable gym flooring, e.g. made from SBR gummi, with a thickness of at least 45 mm to maximize concrete and bar protection as well as noise reduction. For a more professional look and a perfectly even underground, insert a wooden or laminated board in the centre.
While someone technically skilled might be able to assemble DIY variations, there are also ready-made and easy to install lifting platforms available. The cost of a platform is little compared to the value of the concrete, bars and plates that it protects!
Find the perfect weightlifting platform for you