I can't ignore it when someone calls me too bulky or manly, or asks if I still find myself pretty. For years, I've been doing CrossFit and, since August 2016, I've been working out five to six times a week. My body has changed. I've never been stronger or felt better in my life. But I've also been getting negative comments from people because of my physique, so now I feel it's time to address you, my "haters."
So, dear haters:
Do you really think I hate working out – or the way I look? No. It makes me incredibly happy to go to the gym every day, kick ass at the box, and go home with a smile on my face.
Working on one of my weaknesses & the feeling afterwards ??? #motivation #smile #crossfit #hatepullups #gettingstronger #crossfitcommunity #girlswholift #crossfitgirls #fitgirl #fitness #fitfam #happy #reebok #adidas #muscles
Everyone has their own idea of beauty
Just because you think I look bulky, or someone else looks overweight to your standards, that doesn't make it true. It took me over seven years to finally accept my body. I am not – nor will I ever be – the woman with slim legs. I never felt comfortable in my body until I started CrossFit. When I now look into the mirror, I feel sexy and proud of myself.
"If my body type isn't to your liking, I'm fine with it, but I don't want a partner or a friend who thinks I should get rid of what I've worked for. "
This might come as a surprise, but I also don't have a battle with the scales – I can eat pretty much what I want throughout the day, and that's an awesome feeling. Eating good food and looking great is what many of us want, right?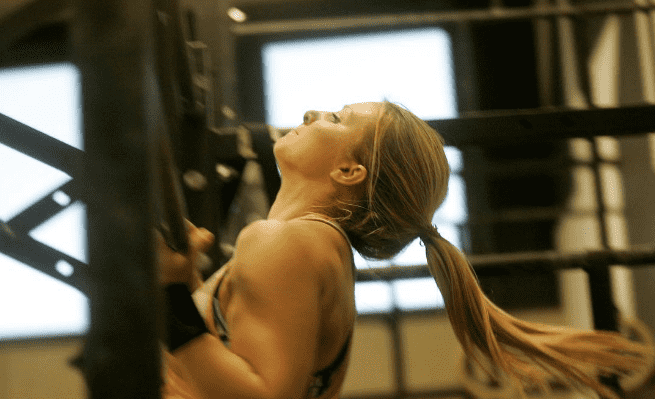 Define what makes YOU happy
"How can you spend so much time in the gym?" "Why don't you just relax and have a drink?"
Some people post selfies every day, some party every weekend, others don't even know what makes them happy.
"You've asked me how I can put my body under the pressures of CrossFit. My knees will break someday, you say. Do you also judge others for what they choose to do in their free time? "
Just because you consider their hobby bad or ridiculous, doesn't mean that the person you're talking about feels the same way. So no, my life is not miserable. In fact, I've never been happier.
The social media problem
I post on social media whenever I want, and if you don't like it, you are free to unfollow.
"You post too much on social media!" "You pretend to be the best female CrossFitter in the world!"
Please note that I post on social media whenever I want, and if you don't like it, you are free to unfollow. (I always chuckle when I discover the people who claim I post too much are the same ones who always view my Instagram stories.)
I love to share my CrossFit experience and pride when I achieve a personal record or master a new gymnastic move. I hope to motivate others with my pictures and videos.No, I don't believe I'm the strongest or fittest woman on earth, but I AM the strongest and fittest version of myself.
You've made it to the end of my letter. Maybe I have changed your mind, maybe not. Perhaps, however, you will think twice before making nasty comments about someone else and their life choices the next time.
To other people who are also dealing with haters, I found a perfect quote from Coco Chanel:
"Beauty begins the moment you decide to be yourself."
Camille Leblanc-Bazinet: How Crossfit is Challenging Female Body Image