The number of individuals and teams competing for the title of Fittest on Earth will be cut down on Sunday, the last day of events at the 2022 CrossFit Games.
CrossFit announced a single cut of individuals and teams competing after the last event on Saturday night. This is a rather less aggressive schedule compared to last year when we saw 2 cuts for individuals and 3 for teams.
2022 CrossFit Games Cuts
In an interview for Games Central, CrossFit Director of Competition Adrian Bozman said there will be only one cut this year after the last event on Saturday Night.
"At the end of competition on Saturday night, we will cut down to the top 30 men and women and, at the same time, Saturday night, we will cut down to the top 20."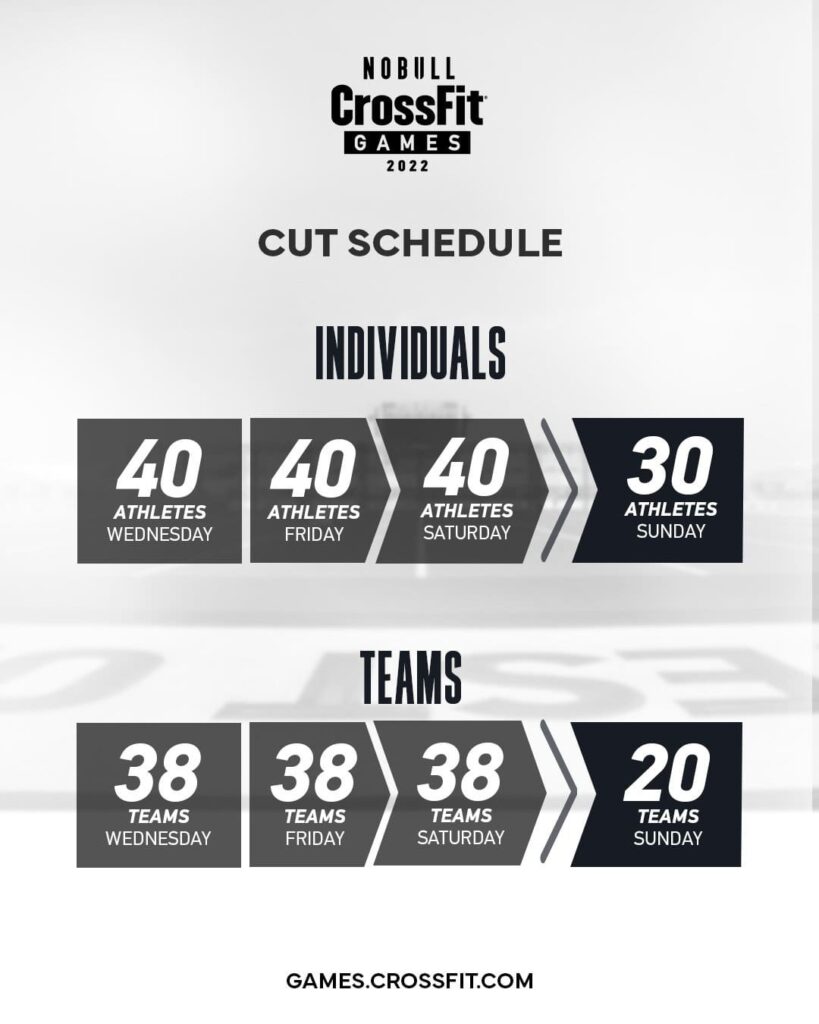 According to Bozman, that should give a lot of opportunity for everyone competing to "keep their name in the hat, so to speak."
When compared to last year's more aggressive cut lines, Bozman said he didn't want to sacrifice the breadth of the test and wanted to include all 38 teams and 40 individuals through most of the workouts.
Glimpse of Schedule
CrossFit also previously shared the schedule for the CrossFit Games this year but did not specify when each event would take place. We knew Individuals and teams would compete every day except for Thursday, and age groups and adaptive divisions would compete Thursday, Friday and Saturday.
Bozman also offered a little bit more details regarding the order of events with teams finishing the competition this year.
Age Groups athletes will finish their competition inside the Coliseum on Saturday.
Teams will be the last event scheduled for this year's CrossFit Games rather than Individuals.
"The last event for people in attendance […] will be the teams," Bozman said, which has never been done before. Usually, we see the individuals finishing the CrossFit Games. The reason: television broadcasting.
Bozman said there will be a window to showcase the Games live on CBS and that changed the schedule of events a little bit. "We had a live broadcast window and that was a little earlier than the past. So in order to showcase the individual athletes during that time, we've made the decision to flip-flop the schedule a little bit and have the teams conclude."
The CrossFit Games will take place on August 3-7 in Madison, Wisconsin.
Read More: 10 Highlights, Surprises and Shocks of All 2022 CrossFit Semifinals