Sisu is embodied in the Finnish spirit, and it's what has guided 21-year-old Jonne Koski to the CrossFit Games two years in a row. To get there, he came first at the Meridian Regionals in 2014 and 2015.
We've teamed up with Jonne and his sponsor ZeroPoint Compression, to find out how the young Finnish athlete is coping with training for the Games, and with the expectations of a continent, heading into a possible triple-win at the Regionals in Madrid this coming May.
Jonne, you're 21, you've been to the CrossFit Games twice, and won the region twice. How?
I've always been a competitive person and the will to be the best and to win comes naturally. I combine that with training as hard as possible and giving it everything I have, in training and in competition.
In the new ZeroPoint video, you'll see some of my training. They've launched some teasers in social media already. The water you see here is just 1 degree above freezing, and the air is 18 degrees below.
You recently competed at the Winter War 2016, as well. That was your first ever competition back in the day?
Yes, Winter War 2013 was my first ever CrossFit competition and I placed 4th overall. Very well organized event and the atmosphere was just amazing. It's always fun to compete in front of Finnish crowd and friends. We had a tough battle with my training partner Mikko Salmela, but I was able to get a win after the final event. Hopefully Winter War fits in my schedule next year as well, I'm looking forward to compete with the Finnish Elite and in front of friends and family.
Finishing 9th at the CrossFit Games in 2015, ahead of veterans and previous champions is big time. What did you take away from it?
I definitely consider it the biggest achievement of my career so far, but I would be lying if I said I was happy about 9th. I still know I can do much better.
These past two years competing at the CrossFit Games has made me more experienced and taught me how to compete better and avoid stupid mistakes.  I believe that's what is going to make me a champion one day.
ZeroPoint have been really supportive of your journey as an athlete. Does the compression gear help?
ZeroPoint have been a huge help in my training, competition and everyday life. Compression works for me so well, that nowadays it's hard to imagine training without it. ZeroPoint gear not only helps me to recover better, they also act as the extra support and skin protection that are needed in our sport. Not to mention they look pretty cool and the video production we made was awesome.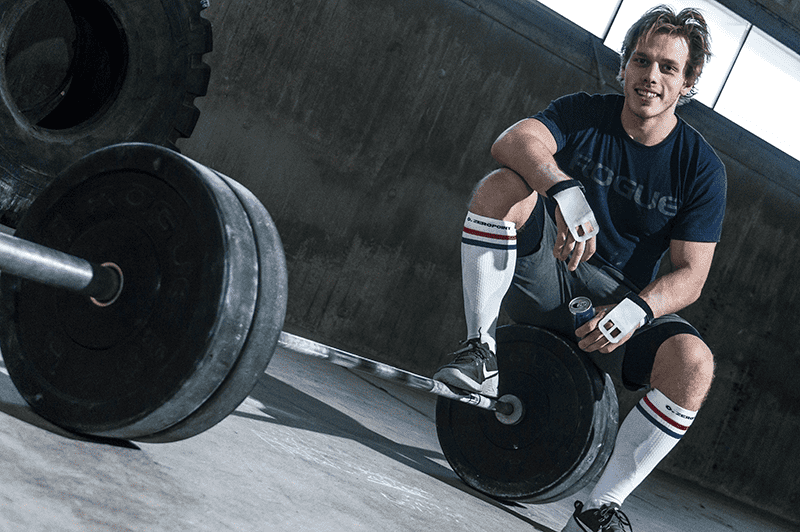 UNDER PRESSURE: THE MECHANICS OF COMPRESSION
Exercise puts your muscles and circulatory systems to the test. The more you move, the greater the pressure from dropping energy levels, and the constant flow over your muscles of blood and lymph – a clear liquid containing white blood cells. Eventually, fatigue, pain and failure force you to stop.
As a medical intervention, graduated compression has been used for years to help restore normal circulation in inactive limbs. Anti-embolism stockings are routinely given to patients to prevent the formation of potentially fatal blood clots.
Graduated compression is key to how ZeroPoint compression gear works. The principle is the same across the product range, but let's take socks as an example. Starting with more pressure at the foot and ankle, compression gradually tapers towards the calf, working on each vein's tiny valves to increase blood flow.
THE RESULT – improved explosive and endurance performance, faster recovery, and a decrease in the instances and severity of injuries such as cramps and shin splints.
ABOUT ZEROPOINT COMPRESSION
ZeroPoint was founded in Finland in 2009, and has been striving to make the best athletic compression socks, sleeves and clothes ever since. With a large roster of athletes including Finnish basketball and ice hockey stars, to world-class Crossfitters like Koski, ZeroPoint are reinventing performance clothing.
The name, ZeroPoint, comes from the idea of starting anew each day. It comes from the belief that taking what you've learnt and developing it with fresh eyes, humility and enthusiasm, is the best way to make real progress.
How do you handle the kind of volume that it takes to compete? How do you recover, for example?
I like to think that it's all thanks to my background as a swimmer. A good aerobic base can make a huge difference when it comes to recovering from training and hard competitions, and I'm glad I've spend most my youth trying to build that base.
Other than that I just make sure that I get enough rest, sleep well and eat good food. I've also been focusing more on my body maintenance, with the best team here to help me.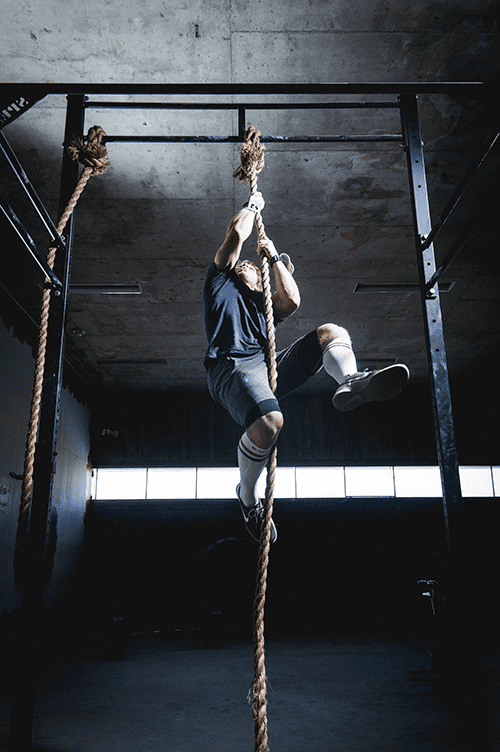 What does your training look like for 2016? Same daily grind, or are you working on anything specific?
My training looks pretty much the same as before. My development has been steady so I don't see a reason to change anything. Only thing I've added is a couple more strength sessions a week.
Your engine and ability to consistently push during workouts are some of the things that made you stand out at Regionals and the Games. Do you think that your experience as a swimmer played a role in conditioning you for this?
For sure! 12 years of endurance and speed endurance training must play a big role. Swimming has probably left me a need to get out of breath more often than usual, which is why I prefer to use a lot of intervals in my training. I've also always been that person who likes to do the hard and brutal workouts instead of just lifting heavy.
What inspires you as an athlete and in general?
Competition. I've always been a competitive person and especially when it comes to sports I've always wanted to be the best and I've been willing to do whatever it takes to achieve that goal.
If you're in the US visit ZeroPoint to browse the compression clothing range. European visitors can also buy directly from ZeroPoint, or through Rogue Europe.
Read more about Koski & ZeroPoint from ZeroPoint's "Meet Our Heroes" portfolio.