John Wooley, the man behind the famous Instagram account Make WODs Great Again, had the perfect response to Sevan Matossian, former host of the official CrossFit podcast. Because of their altercation on Instagram, people are being encouraged to donate to Project Onyx, a foundation whose mission is to help eliminate the barriers underrepresented and underserved people of color face.
It all started when Noah Ohlsen decided to donate half the prize money he won from his 2nd place finish at the West Coast Classic CrossFit Semifinal. Ohlsen chose to split the money between Project Onyx and The Trevor Project.
A beautiful gesture, most people would argue, but seeming not for Sevan Matossian. The podcaster commented on Noah Ohlsen's post criticising the athlete's choices, saying that "there's no better organization to donate it to than your favorite CrossFit Affiliates."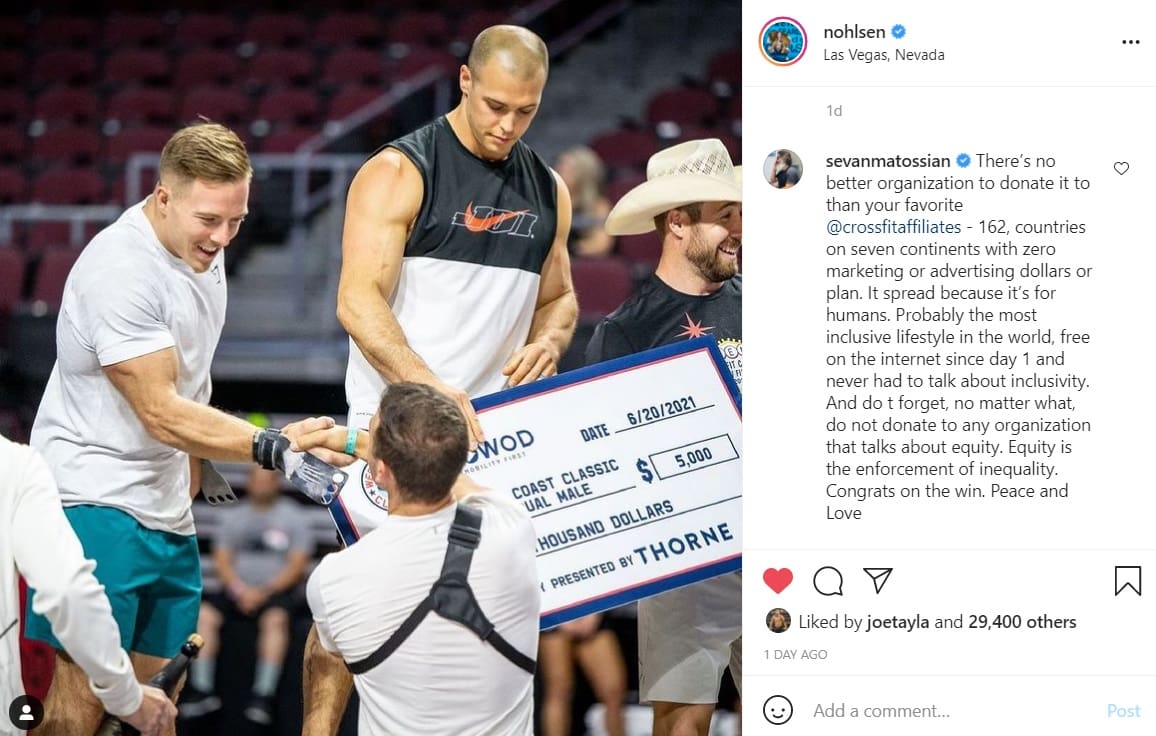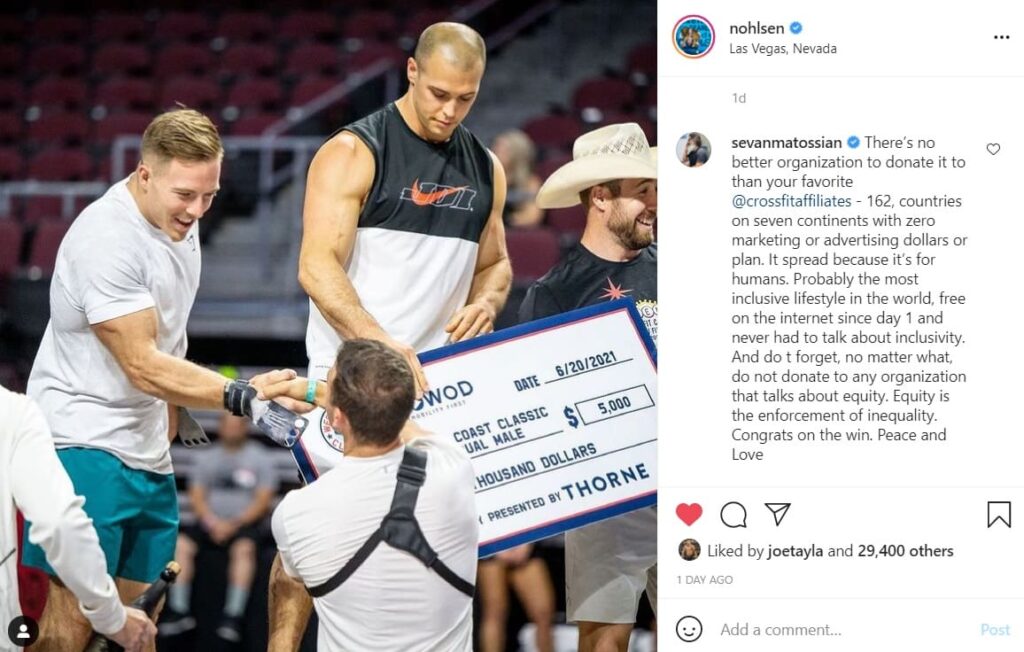 Sevan's Comment on Noah Ohlsen Post
"There's no better organization to donate it to than your favorite @crossfitaffiliates – 162, countries on seven continents with zero marketing or advertising dollars or plan. It spread because it's for humans. Probably the most inclusive lifestyle in the world, free on the internet since day 1 and never had to talk about inclusivity. And do t forget, no matter what, do not donate to any organization that talks about equity. Equity is the enforcement of inequality. Congrats on the win. Peace and Love"
Make WODs Great Again Hits Back
According to John Wooley, the creator of Make WODs Great Again, he fact-checked the comment made by the podcaster and discovered that Sevan liked his own posts on Instagram. "Who does that," Wooley wrote. "I don't even like my own shit and I'm hee-lair-I-ous. Anyway… it got me blocked so now I'm selling a tee shirt to raise money for the same charity Noah is."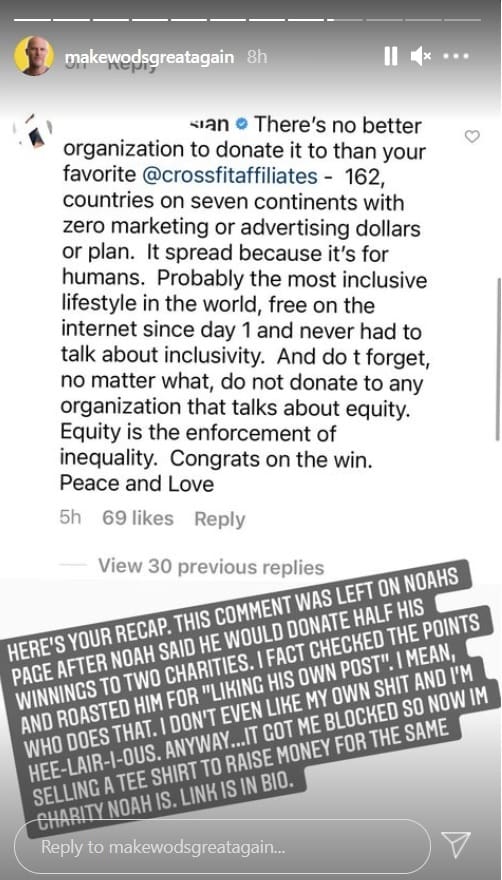 Make WODs Great Again: Epic Comeback
Because Sevan Matossian blocked Make WODs Great Again, John Wooley decided to turn this moment into something positive by selling t-shirts with the saying "BLOCKED BY 7," a wordplay with Sevan's name.
100% of the profit from the shirts will be donated to Project Onyx, the same organisation that Noah Ohlsen supported by donating half his prize money in the first place. The shirt sale has ended, but if you still want to donate, you can do so directly to Project Onyx by clicking here.
Make WODs Great Again post
I always thought my first real CrossFit "OG" block would come from Castro but hey, life throws curveballs. Here's the backstory: Noah Ohlsen generously offered to donate half his winnings to two separate charities, one of which happened to be @projectonyxdsm which is closely tied to my good friend @elijahezmuhammad. Thats a beautiful thing but somehow the comment section of that post turned into a dumpster fire that I couldn't stay out of. Anyway, it got me blocked by someone special but it also allowed me the opportunity to highlight this amazing charity. Project Onyx supports underprivileged and underserved youth with an equitable chance at living healthy and prosperous lives. They do great work. If you would like to support them, every "Blocked" tee that sells I will donate 100% of my proceeds to Project Onyx. You can get them @barbellvoodoo If you want to make a direct donation you can do so. Both have a LINK IN MY BIO.
•
Thanks for supporting @projectonyxdsm