As Games training reaches its final crescendo ahead of kick off in Madison next week, Tia-Clair Toomey took to her YouTube Channel to share what she eat in a day of training to fuel her throughout her workouts. So, what does the world's fittest woman eat in a day?
This isn't the first video Tia has done which covers her diet, but this is the first one which focuses on her nutrition as she trains for the 2021 NOBULL CrossFit Games — arguably one of the more intense periods in her training and season.
What does the World's Fittest Woman Eat in a Day?
To kick things off, Tia usually starts the day with a coffee but not on the day of this video. At 7.30am, before her morning cardio session, she will have her first breakfast to fuel her for the day of training ahead.
Breakfast 1:
Oatmeal
Frozen Blueberries
Banana
Honey
10g protein, 98g carbs, 4g fat
Tia's partner and coach Shane, on the other hand, is experimenting by replacing his morning coffee with celery juice. Delicious.
Following her morning training session, she will have a second breakfast.
Breakfast 2:
Onion Bagel
Large Egg
Half an Avocado
Peanut Butter
Sugar-free Blackberry Jam
21g protein, 64g carbs, 32g fat
By this time it's midday, and Tia moves into her afternoon training session. You can get an idea of what Tia's Games training sessions look like here. She's also gotten through about 1.5 liters of water.
Moving into the afternoon lifting session, Tia opts for a Fuel for Fire for something easy to consume and already broken down.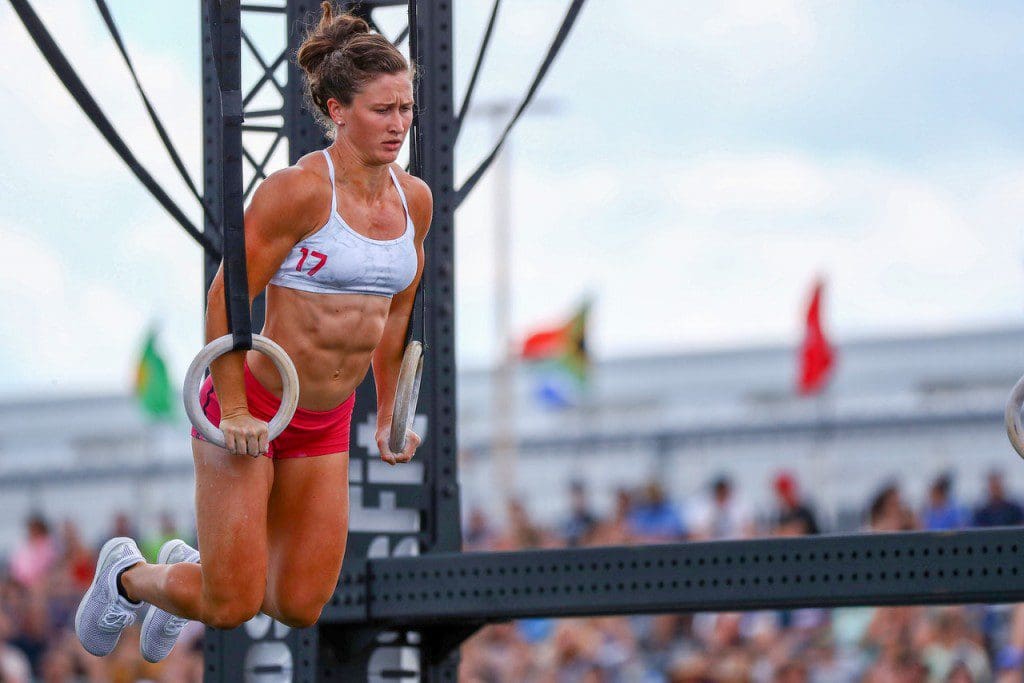 Lunch:
Kidney beans + Carrot + Tamarind
Organic Basmati Rice
Chocolate Chip Brownie
Snack:
Fuel for Fire (Strawberry Banana)
Apple
Vegan Powder-Pro Iced Oatmeal Cookie
67g protein, 206g carbs, 23 fat
Tia is constantly drinking water throughout the day to not get dehydrated while training.
Dinner:
Fish Oil
Roasted Smoked Salmon
Carrot with Coconut and Ginger Soup
Mixed Vegetables
Basmati Rice
36g protein, 435g carbs, 19g fat
Tia tends to eat more carbs at the start of the day to fuel her sessions, and ends the day with a higher amount of protein for recovery. She also rotates between other meats to make sure she gets all the value out of each various protein.
Supplements:
Opti-Greens 50
Opti-Reds 50
Fish Oil
Multivitamins
Zinc
So what does the world's fittest woman eat in a day? A good combination of carbs for energy, protein for sustainability and fat to keep her going on tough training days — all together around 2900 calories.
Read More: Meet 2021 CrossFit Games Rookie Sydney Michalyshen