When you feel like you've finally advanced to the next level and improved your performance, somebody puts together a workout that knocks you back down again. For most people, those are workouts with thrusters.
Push-pull movement combinations such as linking them with pull ups, chest to bar, rope climbs and other exercises are always punishing.
We gathered seven workouts for you to try, and made sure that they are scalable enough for beginners to give them a go as well. We don't want anyone to miss out on the pain!
Must-read: How-To Thruster
Workouts with Thrusters
1. KLOKOV'S THRUSTER LADDER FROM THE GRID
National Pro Grid League was established in 2014 by Tony Budding. The large team format allows athletes who are specialized in one field to get their chance, which means World Champions in Olympic Weightlifting will be an extremely desired addition to the teams. Last year Dmitry Klokov stole the show in the thruster ladder event with a 175 kg lift. For 2015 he signed with Baltimore Anthem and will be a regular player on the GRID in the upcoming season.
Complete the ladder:
9 weights
starting: 115 kg
finishing: 175 kg
time cap: 3 minutes
2. KALSU
We wrote about this WOD before, mainly because you suggested it should be considered as one of the hardest workouts ever. Kalsu is a Hero WOD which honours Robert James "Bob" Kalsu (April 13, 1945 – July 21, 1970), a former professional American Football player, who left his sport career behind to serve his country in the Vietnam war.
Kalsu RX:
On the minute (until you complete 100 reps of thrusters).
5 burpees
max rep thrusters 61/38 kg (135/85 lbs)
Score: time it took you to complete 100 thrusters.
Related: Kalsu and 100 Thrusters: the Hardest WOD Ever?
Beginners: light Kalsu
3 burpees
max rep thrusters 43/29 kg (95/65 lbs)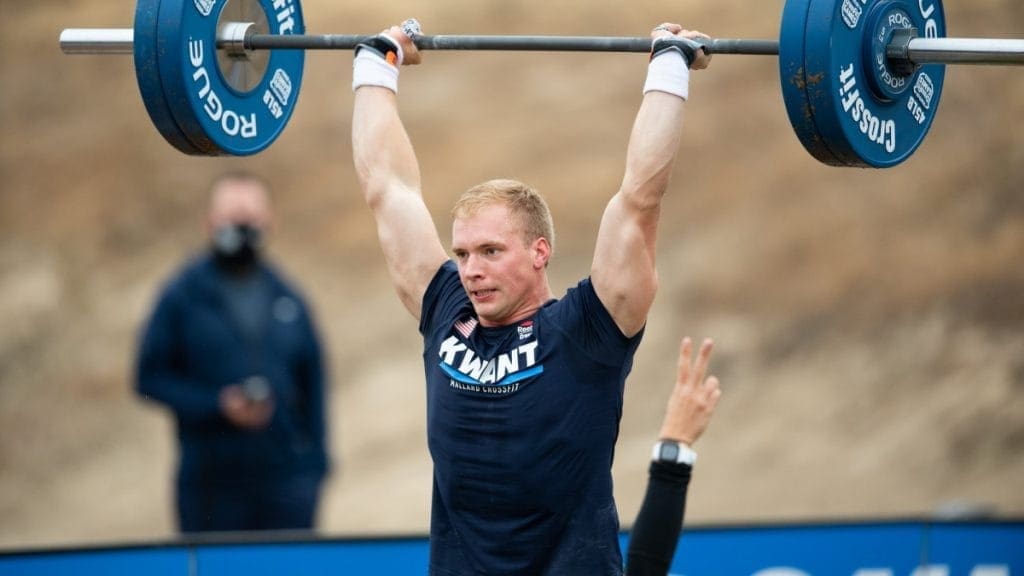 3. HEAVY FRAN – WORKOUTS WITH THRUSTERS
Back in 2013 CrossFit HQ did a workout video together with Rich Froning and Rory McKernan doing the famous Fran with a little twist: 61 kg thrusters and weighted strict pull ups.
Heavy Fran
15-12-9 for time:
Thruster 61 kg (135 lbs)
Weighted strict pull ups with 20 kg (45 lbs) dumbbell
(Place the dumbbell between your legs.)
Regular Fran
Thruster 30/42.5 kg
Pull ups
Beginners Fran:
Thrusters (empty barbell)
Strict ring rows
4. CROSSFIT GAMES LEGLESS
This WOD topped our chart in the article on top 5 most brutal workouts. Have you ever legless rope climbs after a nice amount of thrusters?
Legless RX:
For time:
27 Thrusters 43/30 kg
4 legless rope climbs
21 Thrusters 43/30 kg
3 legless rope climbs
15 Thrusters 43/30 kg
2 legless rope climbs
9 Thrusters 43/30 kg
1 legless rope climb
Scaled it: use regular rope climbs instead.
Beginners: from ground to standing rope climbs (feet stay on floor)
5. OPEN WORKOUT 14.5: THRUSTERS WITH BURPEES
2014's Open ended with a not-so-comfortable burpee thrusters MetCon. The usual scheme 21-15-9 got extended and was upgraded with an additional 18, 12, 6 and 3 reps.
CrossFit Open 14.5
For time: 21-18-15-12-9-6-3 reps
Thruster 43/30 kg
Burpees (over the bar)
6. OPEN WORKOUT 17.5
10 rounds for time:
9 thrusters (95/65 lb)
35 doulbe-unders
7. THE SEVEN
Seven is a hero WOD which honours seven CIA officers who died in Afghanistan in 2009. You can find the workout on crossfit.com. Mikko Salo's time is 19:19. Yours?
The Seven
7 rounds for time:
7 handstand push-ups
7 thrusters 61 kg
7 knees to elbows
7 deadlifts 111 kg
7 burpees
7 kettlebell swings 32 kg
7 pull-ups
8. OPEN WORKOUT 20.2
AMRAP in 20 minutes:
4 dumbbell thrusters (2×50/35 lb)
6 toes-to-bar
24 doulbe-unders
Did you enjoy these workouts with thrusters? Want another challenge? Try these Kettlebell Workouts to Destroy Upper Body Weaknesses.
Learn more
Check out these amazing Barbell Complexes and learn about the Front Squat Benefits or include these Snatch Accessory Exercises in your training.
Or why not try these Creative Barbell Exercises, strengthen your core with these Unusual Barbell Abs Exercises and perfect your lifting with these Squat Clean Technique Tips.