I have created these 30-minute kettlebell workouts so you can get a full and effective training routine. With the explanations of the training methods enclosed, you can build your own going forward if want to.
Why 30-minute kettlebell workouts? For most people time is short and life is busy. We want to train, but the obstacles that prevent us from doing so stack higher and higher. These workout routines, however, are highly effective and time-efficient so we can continue to progress even with a full agenda.
Like most of my articles, my goal is to give you the best minimal kit workout possible.
With that in mind we have no movements in here that you cannot complete in your garage, living room, garden or small training space you have available – no running, rowing, cycling, etc. All its low-impact conditioning movements will be limited to body weight.
Each workout has been designed to give you enough strength and conditioning stimulus to tick as many boxes as possible. It will help you maintain and build lean muscle, but also keep burning lots of calories and work your lungs.
I will also cover multiple training methods giving you some ideas of how you can build your own kettlebell workouts.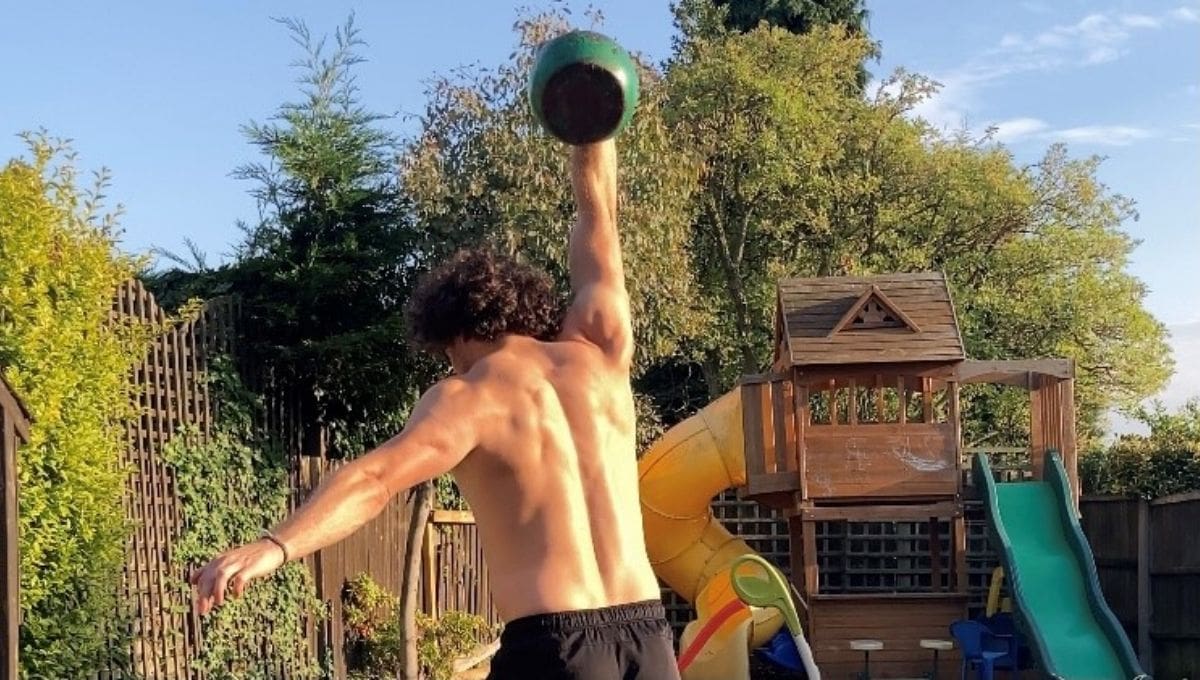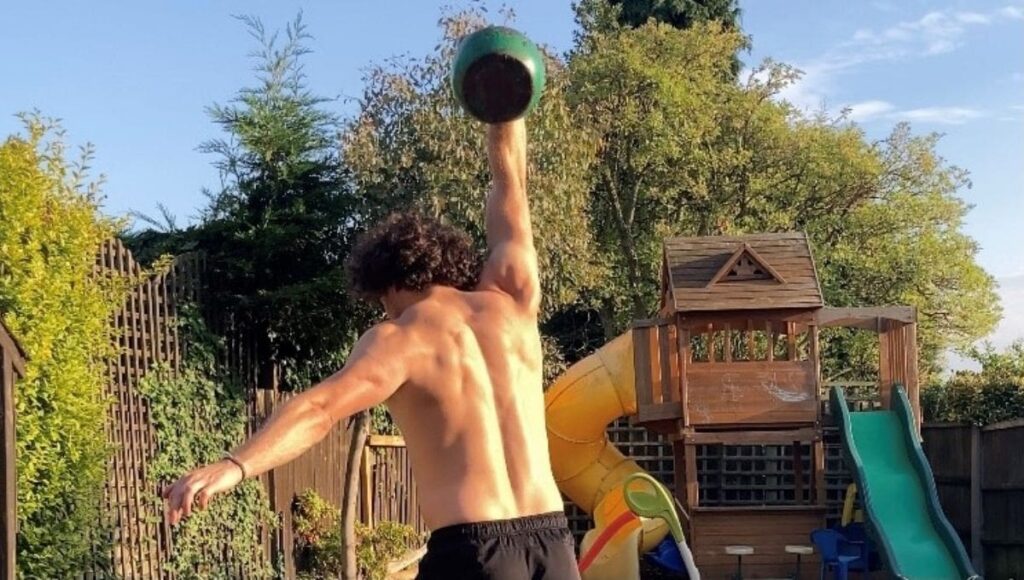 Read More: The Ultimate Kettlebell Upper Body Workout
30-Minute Kettlebell Workouts
Throughout the workout, there might be some movements you don't know how to do. Here is a YouTube playlist of all exercises I've created to fix that knowledge gap.
1. The AMRAP
Like a classic song that never goes out of fashion, the AMRAP will always have a place in training programs – setting out your movements and repetitions before clicking your timer will never go out of style.
15 min AMRAP
12 KB Deadlifts
9 KB Two-handed Cleans
6 KB Push Press
3m Bear Crawl (Forwards and Backwards)
Rest 3 mins
15 min AMRAP
20 Air Squats
10 Hand Release push-ups
20 Lunges
10 Burpees
You will complete AMRAP number 1 for as many rounds as possible with each round finishing with a 3m Bear Crawl shuttle, this means you will bear crawl 3m forwards and then 3m backwards. Once completed you will rest for 3 minutes and move on to AMRAP number 2. Although it is bodyweight focused, it is harder than it looks.
2. The EMOM
EMOMs (Every Minute on the minute) are great for keeping your work accountable. Having that 60-second cap in which you much complete the work to earn rest is a great way of keeping intensity within the workout.
This EMOM throws caution to the window by making minutes 2 and 4 a max effort minute, meaning you must use the whole minute to complete as many reps as possible. You will use the Burpee rounds to earn some rest – adjust this number to make sure you can complete the reps in 45 seconds as a maximum, as you will need that rest.
EMOM 30 Mins
1.12/15 Burpees
2. Max KB Clusters
3.12/15 Burpees
4. Max KB Alt Arm Snatch
5. Rest
3. The Descending Ladder
The first in our list of 30-minute kettlebell workouts that combines hypertrophy and conditioning. It has the ladder component, pushing and pulling superset, and to top things up, that American swing.
15-14-13-12-11-10-9-8-7-6-5-4-3-2-1 reps (30 min Cap)
KB Bridge Floor Press
KB Overhand Row
KB American Swings
4. The Chipper
The Chipper is awesome to build muscular endurance as you complete high repetitions of individual movements before moving to the next. This Chipper uses jumping jacks to keep the heart rate elevated while the kettlebell movements challenge every muscle group in the body for a full and effective workout.
For Time
25 KB Sumo Deadlift High Pulls
50 Jumping Jacks
25 KB Goblet Squats
50 Jumping Jacks
25 KB Floor Press
50 Jumping Jacks
25 KB Overhand Rows
50 Jumping Jacks
25 KB Push Press
50 Jumping Jacks
25 KB Glute Bridges
50 Jumping Jacks
25 KB Floor Press
50 Jumping Jacks
25 KB Overhand Rows
50 Jumping Jacks
25 KB Sumo Deadlift High Pulls
50 Jumping Jacks
25 KB Goblet Squats
50 Jumping Jacks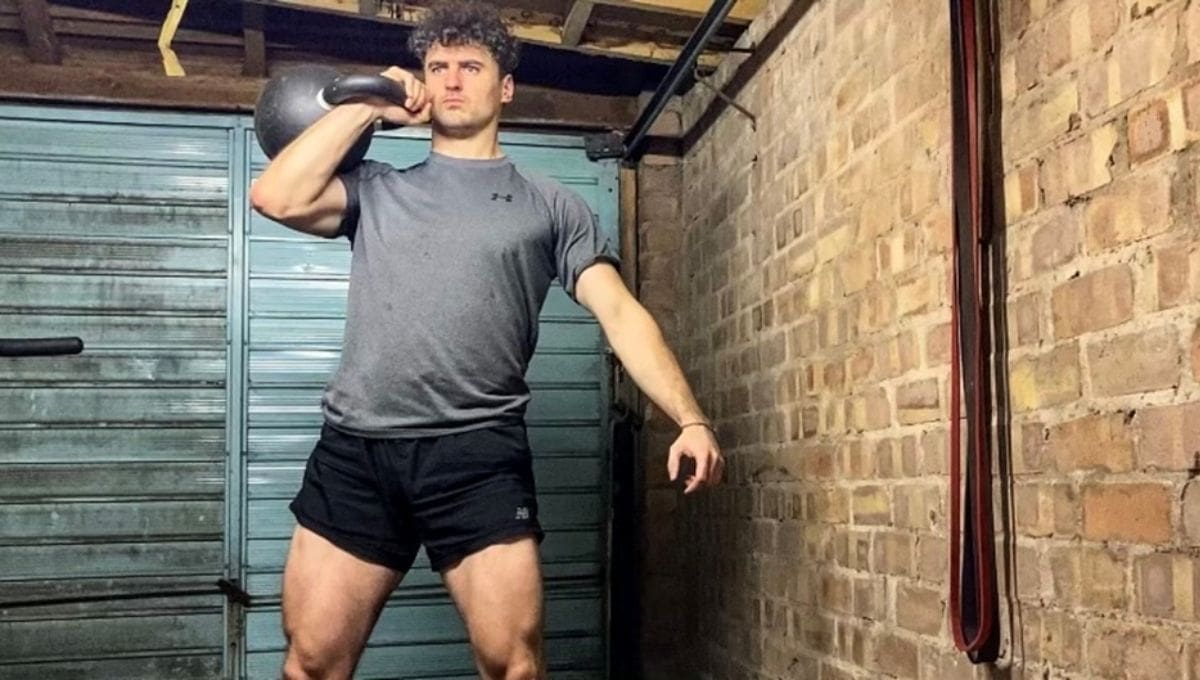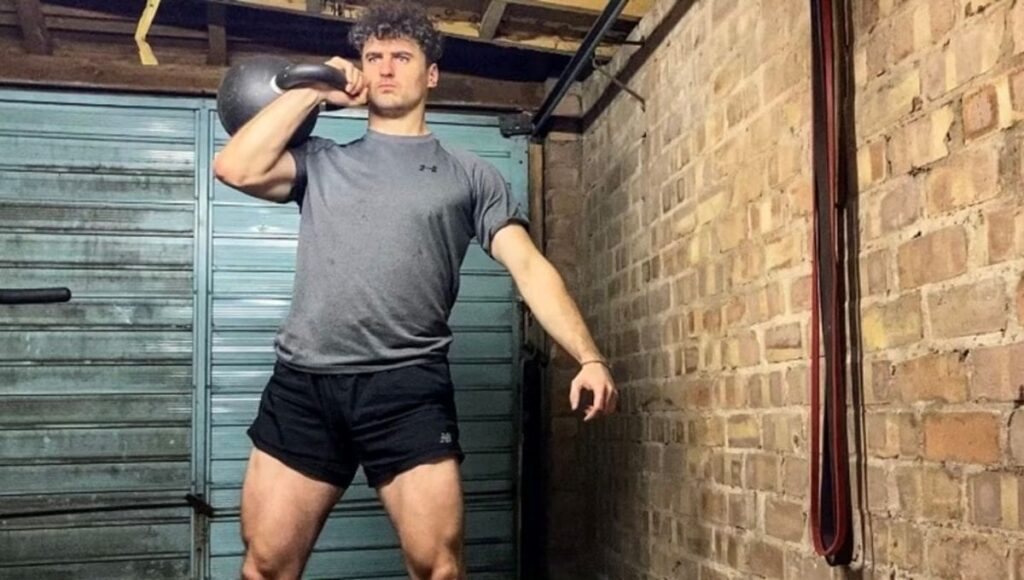 5. The Deck of cards
The Deck of cards workout format takes away control and reacts to whatever is thrown your way. Grab a deck of cards (or use an app), assign a movement to each suit, shuffle to the deck and work through whatever appears. Tick that constantly varied box with this. Here is an example:
Heart = Kettlebell thrusters
Diamonds = Kettlebell sumo deadlift high pulls
Clubs = Butterfly sit-ups
Spades = Burpees
Joker = Doubles the next card
Aces count as 1 rep
Jacks 11 reps
Queens 12 reps
Kings 13 reps
So, if you get an 8 of diamonds, you need to perform 8 kettlebell sumo deadlift high pulls. If you take a Joker, you should immediately grab another random card and do that exercise but twice.
This is one of my 30-minute kettlebell workouts because you can do it for as long as you want, and 30 minutes seems challenging enough.
6. The Interval AMRAP – 30-Minute Kettlebell Workouts
This workout breaks the 30 minutes into five 4 minute intervals which you complete at full capacity to then rest for 2 minutes. The goal in each round is to complete the tasked reps and then rep out on the second exercise.
4 min AMRAP
100 Mountain Climbers (R+L = 1 rep meaning you will count right knee followed by left knee as 1 rep)
Max KB Russian Swings
2 min Rest
4 min AMRAP
100 Jumping Jacks
Max KB Taters
2 min Rest
4 min AMRAP
25 Burpees
Max KB Thrusters
2 min Rest
4 min AMRAP
50 KB Russian Swings
Max Mountain Climbers
2 min Rest
4 min AMRAP
40 KB Taters
Max Jumping Jacks
2 min Rest
4 min AMRAP
25 KB Thrusters
Max Burpees
2 min Rest
7. The Grunt Work
We define Grunt work as low skill, simple but savage movements that we can grind out over long periods. I like to think of old fashioned manual labour jobs, farmers, miners, and builders, to help understand the function in fitness.
I choose high rep workouts that will not be completed at a high intensity but ones in which you can switch off and focus on nothing but breathing and moving.
30-25-20-15-10-5-5-10-15-20-25-30 of:
KB Russian Swings
KB Thrusters
*After each round is completed, perform:
10 Burpees
20m KB Goblet Carry
For this workout, you will complete 30 reps of Russian Swings and Thrusters followed by 10 Burpees and a 20m KB Goblet Carry keeping the KB High up on the chest.
8. Burn Out
Next in my list of 30-minute kettlebell workouts, I give you something that will build mental and physical robustness.
Burn Out sets have been used in bodybuilding for years as a way of increasing blood flow to a muscle and giving hypertrophy stimulus.
6 Rounds
3 min AMRAP
20 American Kettlebell Swings (24/16 kg)
15 Burpees
Round 1 Max KB Bridge Floor Press
Round 2 Max KB Goblet Squats
Round 3 Max KB Ballistic Rows
Round 4 Max KB Explosive Deadlifts
Round 5 Max KB Headcutters
Round 6 Max KB Taters
Rest 1 minute
This workout gives a different challenge to each round with you needing to complete a different compound movement in the remaining time of the AMRAP. The challenge is to maintain pace throughout the American swings and burpees to allow you enough time to push the limits. Once a round is completed, you will rest for 1 minute before moving on to the next.
9. The Long AMRAP – 30-Minute Kettlebell Workouts
Less art more action here. This can take you to a dark place. You move from rep to rep for 30 minutes and fatigue builds up and you will want to stop. This is how you discover your capabilities.
30 min AMRAP
3,6,9…
KB Single Arm Snatches/R
KB Single Arm Snatches/L
KB Over Burpees
*After each round
10 Push-ups
15 Air Squats
20m KB Single Arm Suitcase Carry/R
20m KB Single Arm Suitcase Carry/L
We use an ascending ladder with the first 3 movements. Snatches and Burpees will increase by 3 reps per round after you are finished with push-ups, air squats and suitcase carries. Pick your pace wisely as the most important goal should always be to finish the workout.
10. Bella's Sleepover
This is a kettlebell only, limited space twist on the "Girls Gone Wild" workout created by the guru that is Ben Bergeron.
We work through 4 single KB twists on classic CrossFit girls benchmarks and finish with a Bell and Burpee version of Cindy.
This should give you all the CrossFit fix you need whilst training at home, in your garden, on the beach, or wherever your minimal kit training takes you.
Start at 0:00
30 KB Alt Arm Clean and Press
at 2:00:
21-15-9 Reps of:
at 7:00:
at 9:00:
21-15-9 Reps of:
KB Explosive Deadlifts
Pike Push-Ups
At 14:00 AMRAP of:
20 Air Squats
15 KB Russian Swings
10 Hand Release Push-ups
5 Burpees
You will aim to complete each section as fast as possible before resting for any remaining time until the clock dictates you start the next part. Score is the total rounds of the final 14-minute AMRAP completed.
I hope these 30-minute kettlebell workouts give you everything you require from your training and I hope they also provide you with some understanding of how to program your own minimal kit training.
If you need anything more from me I can be found on Instagram @LukeyDPT or www.lukeydpt.com
I have a few Single KB Ebooks that provide set workout templates for you to follow or if you want something a little more personalized. I also offer online coaching.
Keep the Fitness alive
Take Care
LD
About Luke Downing
"NASM Certified Personal Trainer Minimal Kit specialist, Daddy to Luca & Roma Ray. As a father and business owner, I'm well aware that not everybody has hours each day to spend in the gym. I believe that you can do a lot without a lot, which is why I'm a lover of the single Kettlebell workout. I like to keep things as functional as possible, which means I do not waste time with unnecessary movement's. Everything I do with my athletes has a purpose and a carryover to sports, activities and everyday life."