The CrossFit Games events of Saturday provided a lot of cheering, crying, some shocks and happy surprises. All the athletes who remained after the first-day event have their last chance to become the Fittest on Earth. Here is your Individual Day 3 Recap of the 2021 CrossFit Games.
On Friday evening, CrossFit Inc. had cut down the field of athletes to just 30. After the first event this Saturday, another 10 athletes were cut, reducing the field to 20 athletes in total who will continue to fight for the title of Fittest on Earth.
Watch the livestream, times, dates and full details from your Time Zone.
This Saturday, the penultimate day of CrossFit Games, we saw men and women competing in a total of 3 events. Here is how the top 10 athletes are stacked before the last day of the Games.
Top 10 Men After Day 3
| | | |
| --- | --- | --- |
| Rank | Name | Points |
| 1 | Justin Medeiros | 949 |
| 2 | Patrick Vellner | 907 |
| 3 | Brent Fikowski | 888 |
| 4 | Saxon Panchik | 801 |
| 5 | Bjorgvin Karl Gudmundsson | 799 |
| 6 | Guilherme Malheiros | 788 |
| 7 | Alex Vigneault | 782 |
| 8 | Jonne Koski | 770 |
| 9 | Lazar Dukic | 747 |
| 10 | Royce Dunne | 694 |
Top 10 Women After Day 3
| | | |
| --- | --- | --- |
| Rank | Name | Points |
| 1 | Tia-Clair Toomey-Orr | 1145 |
| 2 | Laura Horvath | 939 |
| 3 | Kristin Holte | 834 |
| 4 | Annie Thorisdottir | 824 |
| 5 | Haley Adams | 810 |
| 6 | Kristi Eramo O'Connell | 804 |
| 7 | Gabriela Migala | 802 |
| 8 | Brooke Wells | 792 |
| 9 | Amanda Barnhart | 776 |
| 10 | Danielle Brandon | 762 |
In case you missed it, here is the Individual recap for day 1 and for day 2.
2021 CrossFit Games Individual Day 3 Recap
Event 10
For time:
30 toes-to-bars
1.5-mile run
30 toes-to-bars
1.5-mile run
30 toes-to-bars
Time cap: 27 min.
CUT TO 20 ATHLETES
Both on the women and the men division we had some get-up-from-your-seat action at the finishing cross line.
For the women, the fight for event winner was between Kristi Eramo O'Connell and Emily Rolfe. Though O'Connell got to the last set of toes-to-bar before Emily Rolfe, the Canadian athlete rushed through the movements and got out of the bar before O'Connell.
Racing towards the finish line, Emily Rolfe got ahead of Kristi Eramo O'Connell by 1 second. Haley Adams came in 3rd in the event.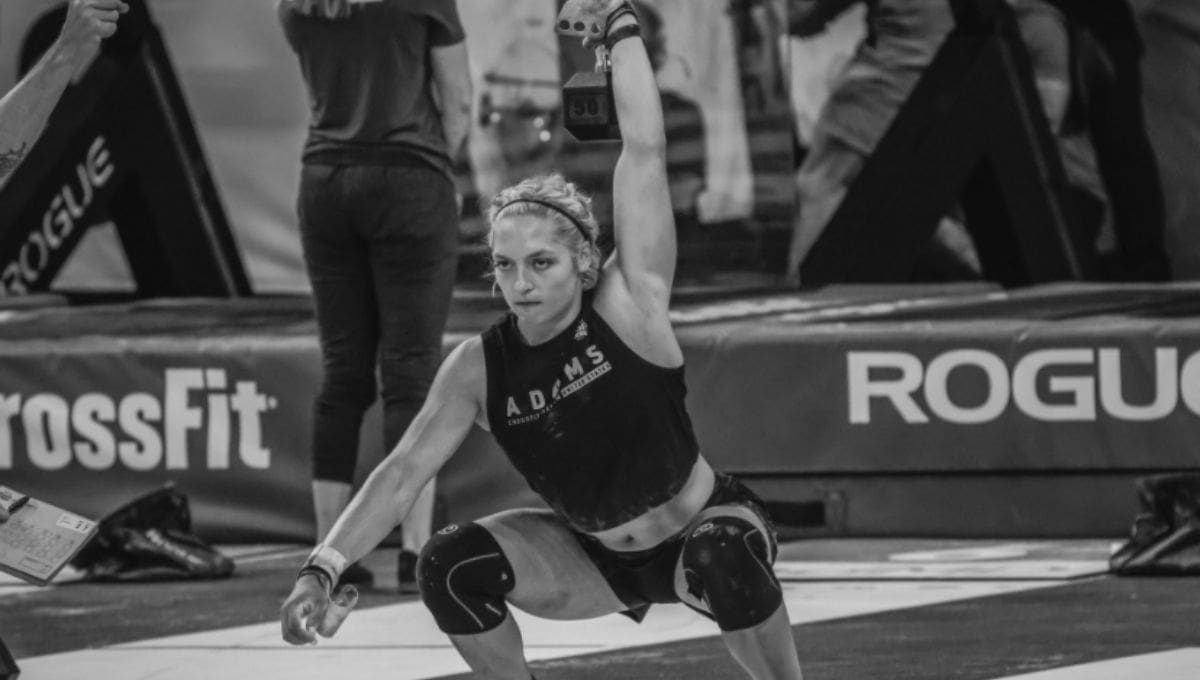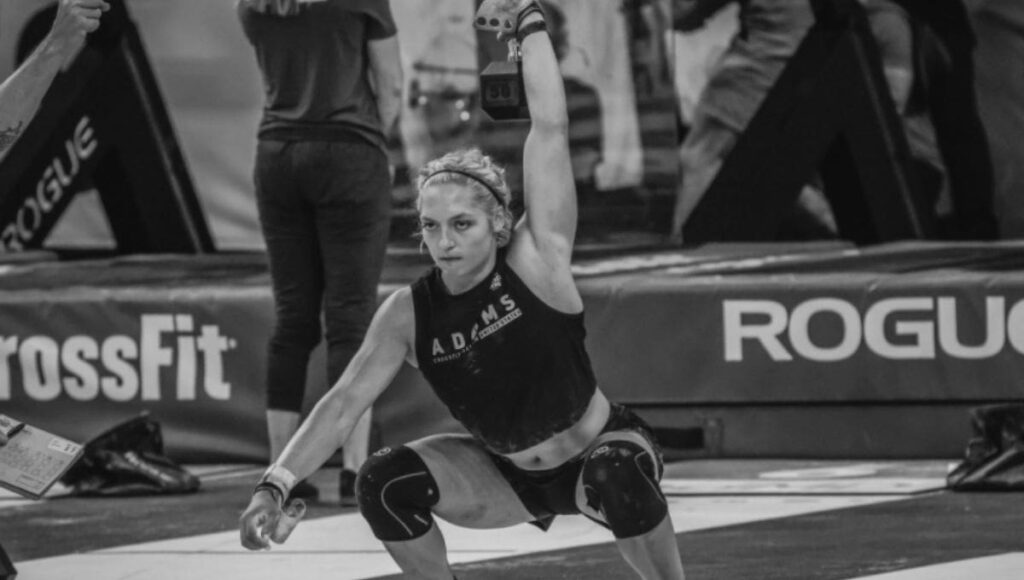 Samantha Briggs finished 4th in the event, but it was not enough to keep her competing as she was placed 21st overall after event 9, which means she was cut.
Here is the full list of female athletes who got cut after event 10.
A similar story happened at the men's division. Bayden Brown stayed ahead of the pack for most of the event. Most people would have given him the 100 points already when the last run started.
However, Lazar Dukic came in fast and took over 1st during the toes-to-bar, surprising everyone in Madison. Dukic even tripped after coming out of the bar while looking sideways to know if he was first. Luckily, that did not cost him his event win. Bayden Brown finished 2nd, four seconds after the Serbian athlete and Uldis Upenieks finished 3rd.
If losing Samantha Briggs was heartbreaking for some fans, the male side had also a huge name cut down: Chandler Smith. He was 1 point shy of finishing in the 20th position and was unable to compete any longer.
Full list of male athletes who got cut after event 10.
Individual Day 3 Recap
Event 11
11-min. AMRAP:
1 pegboard ascent
7 single-arm dumbbell overhead squats, 50 | 70 lb.
15 heavy double-unders
AMRAP events always crown the athlete with the best endurance. And don't get fooled by the 15 double-unders. It might sound easy and the chance for athletes to recover, but it is done with a heavy rope, meaning it could mess up with what athletes are usually used to.
While everyone looked tired, the queen of CrossFit has surpassed expectations. Tia-Clair Toomey-Orr not only won the event by a big margin but has set a new record of most events win ever: 30. She passed her former training partner Mat Fraser.
Danielle Brandon made another mark and won her heat, coming up 2nd in the event, followed by Baylee Rayl.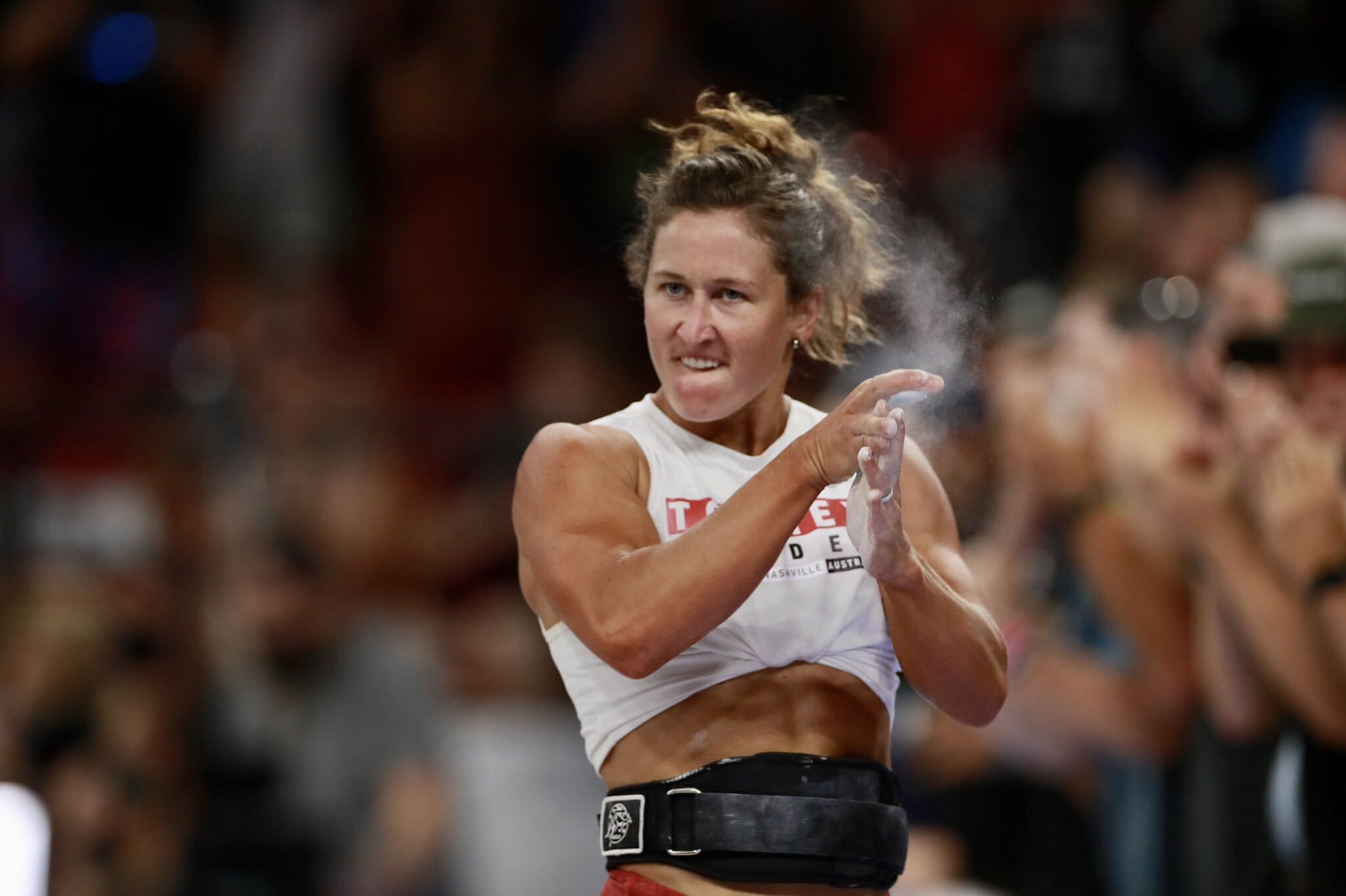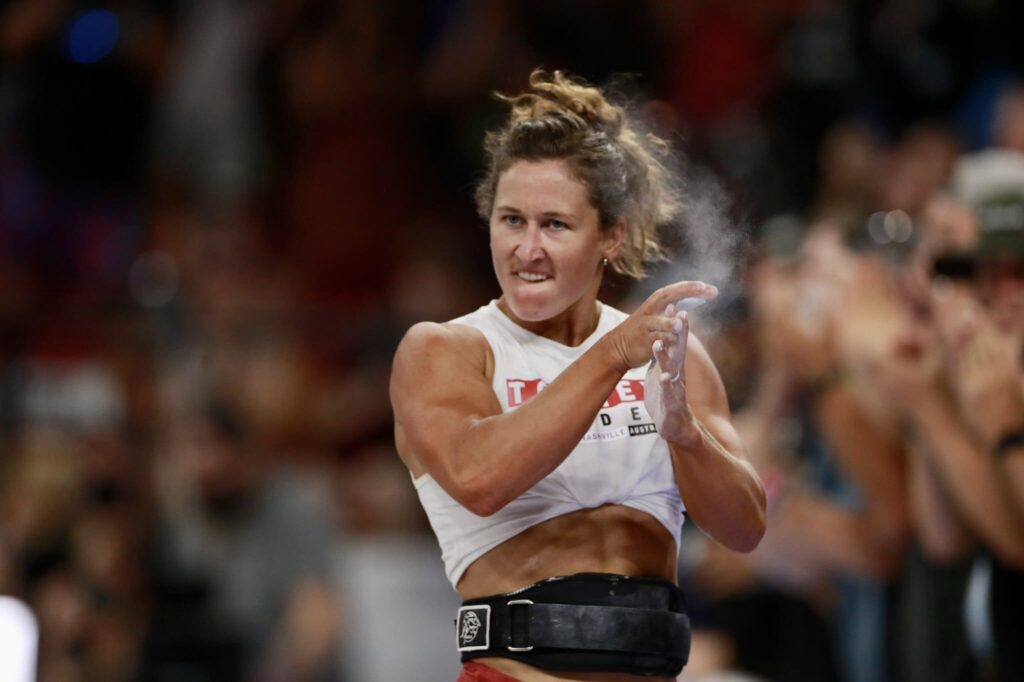 In the men's division, all eyes were on Justin Medeiros, the leader at the start of the event. It was clear that Medeiros did not get along with the pegboard. Four minutes in the event and Medeiros was already behind the top 5 in his heat. He did not finish in the top 10 in the event.
Meanwhile, Cole Sager, who competed in the 1st heat, took the win home after completing 276 reps. Lazar Dukic got 2nd followed by Bjorgvin Karl Gudmundsson.
Individual Day 3 Recap
Event 12
To finish off the Saturday afternoon of competing, nothing better than a 1-rep-max. The coliseum was on its feet every time an athlete would complete a snatch. Athletes were free to choose what kind of snatch they would do.
Athletes had 20 seconds to perform the snatch. In case two or more athletes failed a snatch attempt, they will go to a tie-break: a race to complete 3 squat snatches, then sprint to the final platform.
The event started with the women taking up the floor. Two by two, until the floor was reduced to 10 athletes, then it would be one athlete at a time.
At 190lb, 10 women were left on the floor. When Brooke Wells made her attempt, she failed and she fell down crying. It looked like her right forearm bent a little bit while trying to snatch the barbell. With teary eyes, Brooke Wells asked for help and was escorted outside the Coliseum.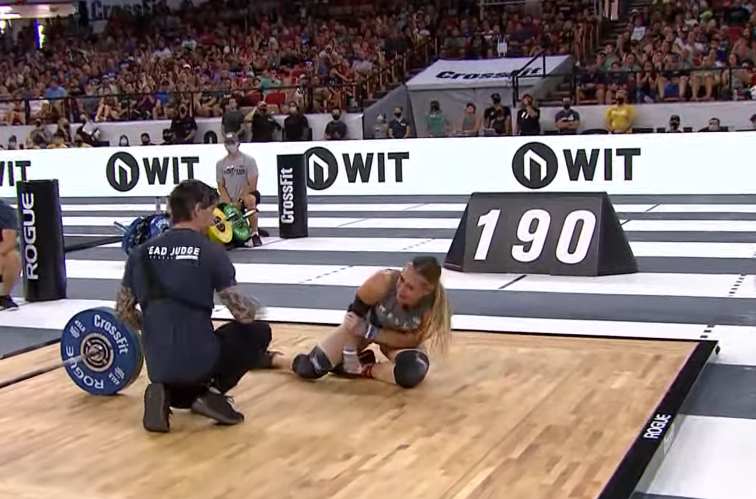 In the end, it was a showdown between Annie Thorisdottir and Tia-Clair Toomey. An unbelievably Annie lifted 200lb and seemed shocked. She was greeted by a noisy crowd who cheered her throughout.
The next attempt was 205lb. The new mum missed it, but took it with a smile on her face, as she always does. Tia also did not make the 205lb and they both went to the tie-break.
Tia-Clair Toomey-Orr won the event after the tiebreak. Annie Thorisdottir finished second and Laura Horvath came in third.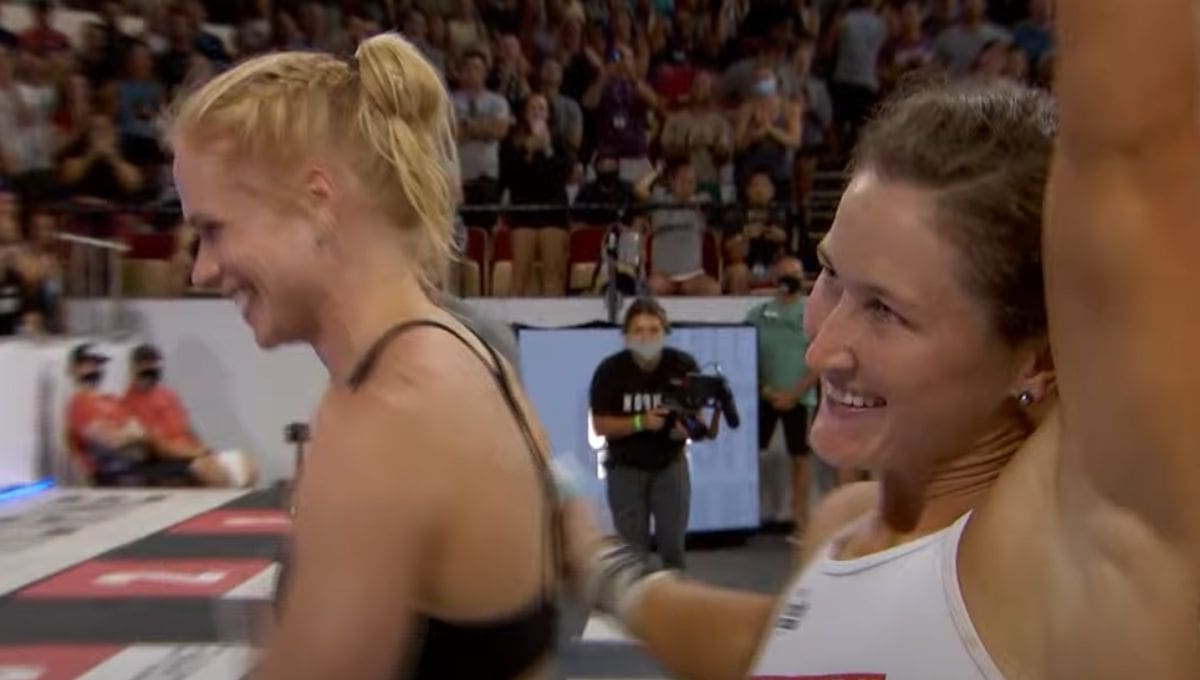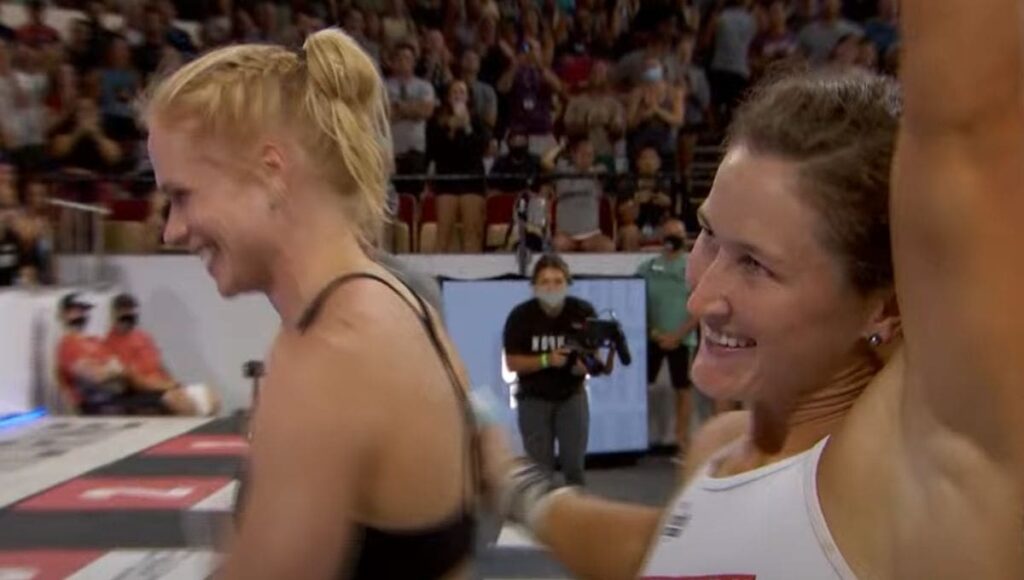 The evening finished with the men starting to snatch at 260lb. The leader Justin Medeiros tied his PR, which was 285lb and failed in the 290lb snatch. At the tiebreak, he got a no rep and finished the event in seventh.
The final three men on the floor competition were Guilherme Malheiros, Royce Dunne and Patrick Vellner. Vellner failed to lift 295lb and finished in 3rd. Royce Dunne failed to lift 305lb and Guilherme Malheiros did, taking his 3rd event win at the CrossFit Games.