The 2021 CrossFit Games are underway for the top 40 men and 40 women from around the world. The athletes, who qualified through Semifinals, have gathered in Madison, Wisconsin, to compete for the title Fittest on Earth.
Day 1 at the competition saw individual athletes tackle four events which included a long swim and longer paddle, the return of the Pig flips, sprints, and wall walks.
The women's field was reduced to 36 athletes and lost some top podium contenders, following the news of Bethany Shadburne and Kari Pearce testing positive for COVID-19 and being medically removed from the competition, Russia's Svetlana Kubyshkina unable to make it to Madison, and Larissa Cunha failing a drug test and, even though she's appealing the case, the Brazilian athlete won't be allowed to compete.
The men's field is also incomplete, with Stas Solodov and Roman Khrennikov unable to make it to Madison. For the first time in five years, the men's top podium spot will see a new name shine, following the retirement of the most decorated Individual CrossFit Games athlete, Mat Fraser.
The CrossFit Games are the pinnacle of CrossFit competition and a diverse testing ground for the Fittest on Earth. Throughout the competition athletes are tested in a wide variety of events – many unannounced – with a big array of movements, equipment, and time domains.
Individual athletes will make it though two complete days of competition before the field is gradually cut down to 20 athletes.
Keep up to date with the latest CrossFit Games news, announcements and results.
TOP 5 WOMEN AFTER DAY 1
1. Tia-Clair Toomey 🇦🇺 397 pts.
2. Haley Adams 🇺🇸 340 pts.
3. Kristin Holte 🇳🇴 331 pts.
4. Kristi E. O'Connell 🇺🇸 295 pts.
5. Danielle Brandon 🇺🇸 286 pts.
TOP 5 MEN AFTER DAY 1
1. Brent Fikowski 🇨🇦 322 pts.
2. Justin Medeiros 🇺🇸 313 pts.
3. Jonne Koski 🇫🇮 310 pts.
4. B.K. Guðmundsson 🇮🇸 307 pts.
5. Patrick Vellner 🇨🇦 288 pts.
Note: All current point values and standings are unofficial and subject to change.
CrossFit Games Individuals Day 1 Recap
Event 1
For time:
1-mile swim with fins
3-mile kayak
A classic way to kick off the CrossFit Games, Event 1 saw the whole field of individual athletes start in the water. Wearing pink and blue swim caps respectively, the women and men took onto Lake Manona to complete a whole mile before kayaking for three.
Taking a clear lead from the start, Jonne Koski reached the halfway point first and stayed ahead of the whole field for the rest of the swim, finishing this section in 21 minutes.
Second out the water overall was Amanda Barnhart, 22 and a half minutes into the workout. The 3-mile kayak was where the race really started; being such a long event, athletes had plenty of time to overtake and be overtaken.
The field had about a 50-meter swim-transition to reach the event's finish line. Overall, the event took Jonne Koski over an hour to finish. He was followed by Serbia's Lazar Đukić, who has qualified for the Games twice before but is only now making his first appearance.
Tia-Clair Toomey took the win for the women, edging out Kristi Eramo O'Connell and securing her 25th CrossFit Games event win.
Athletes had less than two hours to recover before the second event of the CrossFit Games.
CrossFit Games Individual Event 1 Results
| | |
| --- | --- |
| Jonne Koski | Tia-Clair Toomey |
| Lazar Đukić | Kristi Eramo O'Connell |
| Alex Vigneault | Emma Tall |
| Brandon Luckett | Emily Rolfe |
| Justin Medeiros | Haley Adams |
Event 2
For time:
126-ft. sled drag, 180 | 220 lb.
5 Pig flips, 350 | 510 lb.
12 muscle-ups
12 bar muscle-ups
12 bar muscle-ups
12 muscle-ups
5 Pig flips
126-ft. sled drag
Time cap: 12 min.
The Pig made its return to the Games for the first time since 2015 but it didn't prove to be a problem for most athletes.
Leader Jonne Koski got trapped with the sled's ropes at the start of the event, but managed to make up for the time lost throughout the event and secured an 11th place finish.
It was Pat Vellner who made up for a low Event 1 placement by winning Event 2 in dominating fashion, jumping him from the 35h to the 14th overall position.
Danielle Brandon and Danielle Speegle lead heat 1 going into the first set of muscle-ups, but it was O'Connell who reached the Pig first for the way back. She was followed closely by Brandon, who picked up the lead again on the final sled and won heat 1.
This battle was irrelevant, however, for heat 2 winner and overall leader Tia-Clair Toomey, who beat Brandon's time by almost two minutes.
Toomey barely broke up her bar muscle-ups and completed her Pig flips before any other athlete even reached their Pig.
CrossFit Games Individual Event 2 Results
| | |
| --- | --- |
| Patrick Vellner | Tia-Clair Toomey |
| Samuel Cournoyer | Emma McQuaid |
| Scott Panchik | Laura Horvath |
| Jason Smith | Kristin Holte |
| Royce Dunne | Haley Adams |
Event 3
For time:
550-yard sprint
Time cap: 4 min.
These athletes are not just strong but they are also fast, and they proved it during Event 3; the male winners running faster than a 2:40 m/km pace for 550 yards (just over 500m).
This incredibly fast event was great fun to watch and while it took athletes less than two minutes to complete, the strategies and tactics at play were nothing but exciting.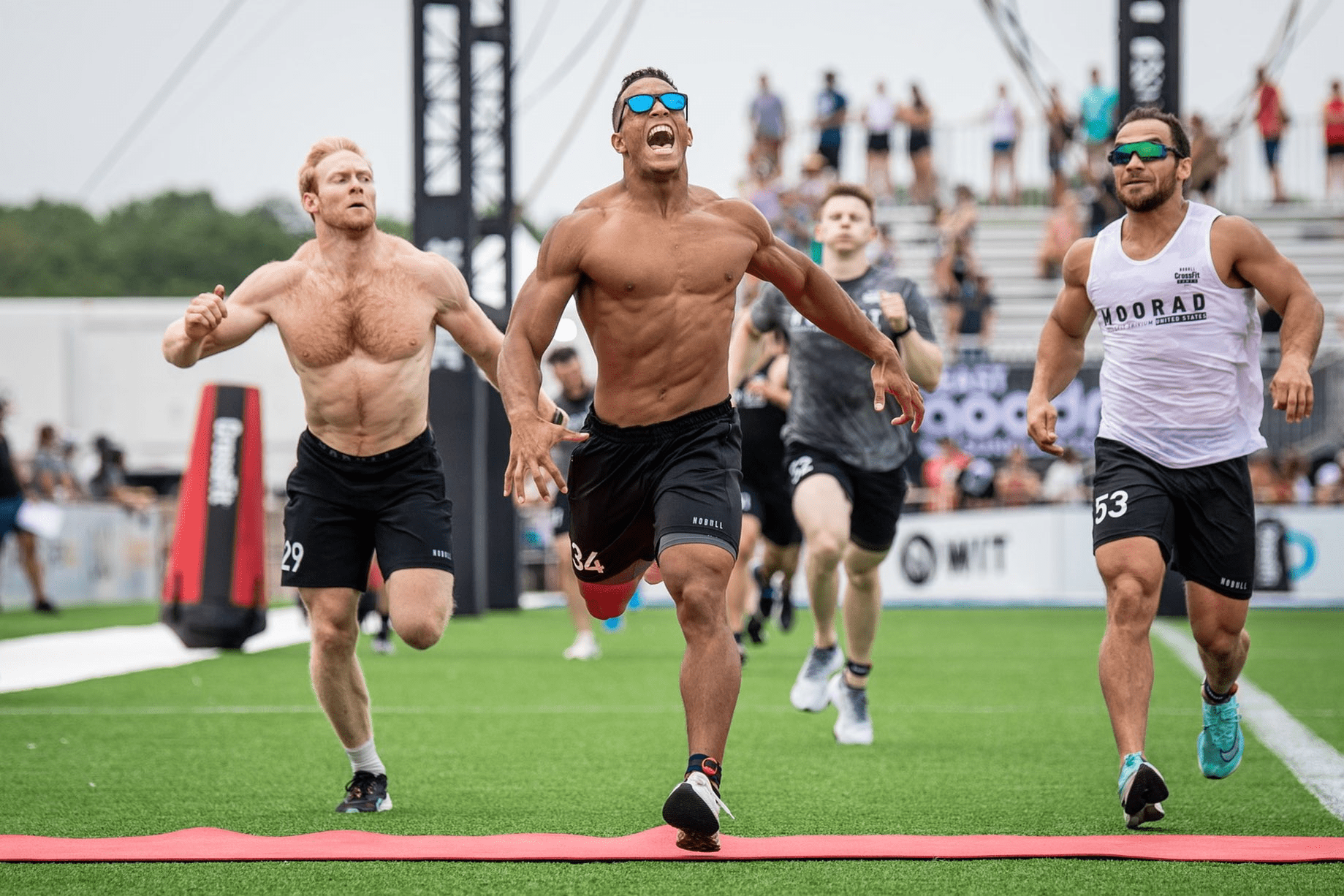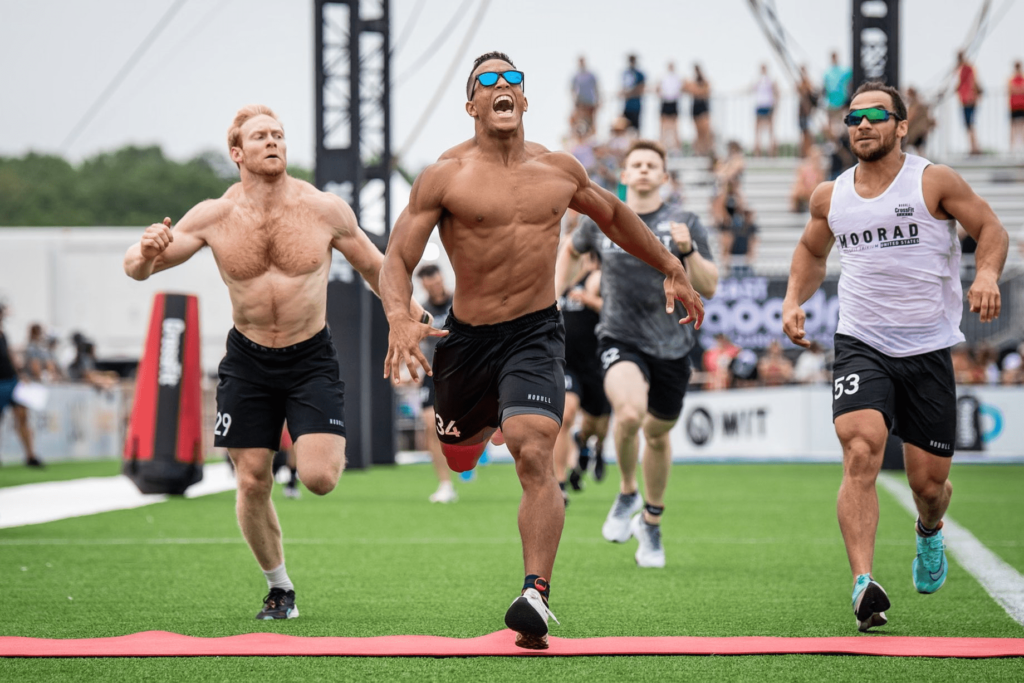 Brazil's Guilherme Malheiros secured an event win with an impressive time of 01:15.37. He was followed by Will Moorad and Patrick Vellner, all of which were in the same heat.
The women's sprint was won by no other than Tia-Clair Toomey, who so far has had the perfect run, going three for three to (re)establish herself as the most dominating force.
CrossFit Games Individual Event 3 Results
| | |
| --- | --- |
| Guilherme Malheiros | Tia-Clair Toomey |
| Will Moorad | Brooke Wells |
| Patrick Vellner | Haley Adams |
| Saxon Panchik | Kristin Holte |
| Andre Houdet | Danielle Brandon |
Event 4
10-9-8-7-6-5-4-3-2-1 reps of:
Wall Walk
Thruster, short bars (185 lb / 135 lb)
Time cap: 20 min.
55 total reps; that's how many wall walks and heavy thrusters athletes needed to complete during this event. Continuing with the morning's colouring theme, there were pink and blue lines on the floor indicating where the women's and men's hands should touch at the start and end of every rep respectively.
Scott Panchik led heat 1 going into round 5 and grew the gap between him and second place, Jay Crouch, with every rep, crossing the finish line ahead of him by over a minute.
The men's facial expressions perfectly summarised not only how hard this event was, but just how much worse it felt after a full day of competition at the CrossFit Games.
The men's heat 2 was closely contended, with the lead swapping between Fikowski, Medeiros and Saxon Panchik, with Vellner and Ohlsen not far behind them.
Medeiros made a move on his round of 4 and broke away, but his effort wasn't enough to beat Scott Panchik's time.
Emma Cary was the first woman to reach the round of 5 out of heat 1, having taken the lead early on in the event. She was never caught, finishing in 14:25.57 and proving she did not start too fast, but she meant to go that pace.
Heat 2 started with a close race between Mallory O'Brien and Tia-Clair Toomey, and it was the former who reached the round of 5 first. Electrifying the crowd in Madison and everyone watching live, O'Brien held onto that lead and secured her first CrossFit Games event win.
CrossFit Games Individual Event 4 Results
| | |
| --- | --- |
| Scott Panchik | Mallory O'Brien |
| Justin Medeiros | Tia-Clair Toomey |
| Brent Fikowski | Emma Cary |
| Saxon Panchik | Brooke Wells |
| Jay Crouch | Amanda Barnhart |
*All Individual scores are under further review and are subject to change.
Catch up on Day 1 at the CrossFit Games
CrossFit Games Individual Cuts
The cuts to the field of athletes competing are back for the 2021 CrossFit Games, and will see competitors gradually narrow down to 20. The cut schedule for individual athletes looks as follows:
Wednesday: all 40 athletes compete
Friday: all 40 athletes compete
Saturday: field is cut to 30 athletes to start the day, after one event the field will be further cut to 20 athletes
Sunday: 20 athletes compete
"The cuts have nothing to do with screwing over athletes," said Dave Castro, General Manager of Sport, in a follow-up interview after the return of the cuts was first announced. He explained the cuts allow him for more flexibility and creativity that would be impossible to implement with a bigger field due to time and equipment constraints.
Cuts will only be made after all individual athletes have gone through 9 events (four events on Wednesday and five on Friday). The CrossFit Games cuts for individuals will be stopped when the field is halved to 20 athletes after 10 events.
There is a total of 15 workouts scheduled for this year's CrossFit Games.