The 2023 CrossFit Games wrapped up on Sunday and it crowned Jeff Adler as the Fittest Man on Earth and Laura Horvath as the Fittest Woman on Earth. Besides their incredible achievement (and first time doing so in their career) what else was memorable from this year's edition? Here are BOXROX's top 4 picks of things we liked and didn't like about the 2023 CrossFit Games.
If you missed out on the action, you can either rewatch the Livestreams of each day from the CrossFit Games, or simply see all the recaps BOXROX wrote about each day and division.
The 2023 CrossFit Games took place during the first week of August and ran from Tuesday to Sunday.
When: August 1-6
Where: Madison, Wisconsin (USA)
Athletes from all age groups (teens, masters), adaptive athletes, and elite athletes in a team or competing individually put their fitness to the ultimate test.
Although it is a sports event, not everything happened smoothly and some things were rather disappointing. However, other moments will probably go down in history!
Read More: Justin Bergh Leaving CrossFit Inc, Dave Castro Will Be New Leader of Sport Team
2023 CrossFit Games: 4 Things We Didn't Like
1. Livestream Coverage
If you only watched the elite athletes competing, chances are you wouldn't have much to complain about. However, the vast majority of athletes didn't get their moment to shine, even in CrossFit's official broadcast.
Any Livestream targeted at masters, teens or adaptive athletes was a complete disappointment. Although CrossFit announced it would showcase these divisions competing, little did we know it was going to be a stationary camera, with no commentary, far away from the field of competition.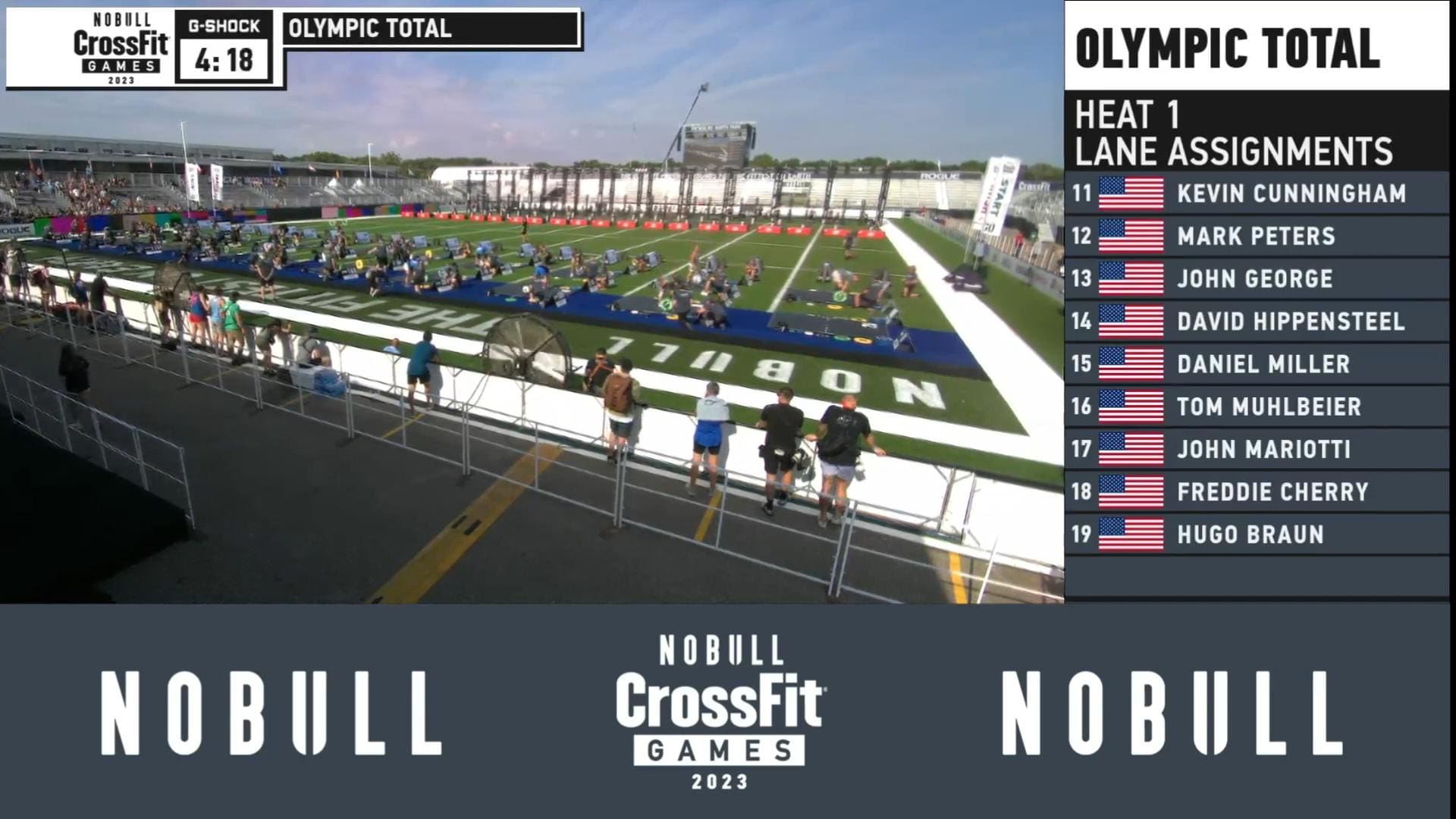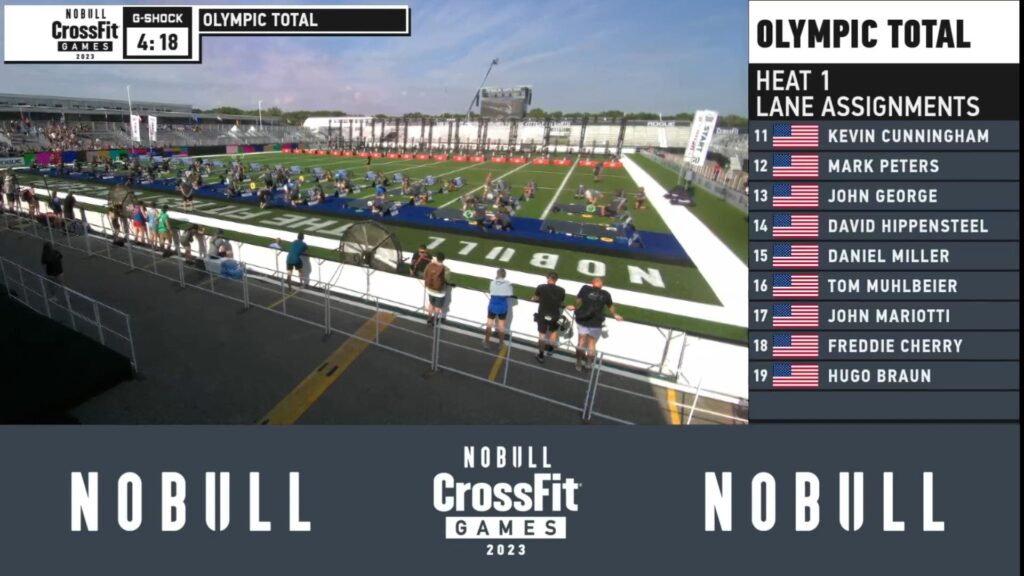 Honestly, the photo from above is what you got to see the entire first and second day of the 2023 CrossFit Games.
Since adaptive divisions were introduced to the Sport, people have been asking for more visibility. This year, adaptives, teens and masters didn't get to showcase their fitness. In the comments section, many talked about the lack of respect that CrossFit Inc. showed towards these athletes.
CrossFit CEO Don Faul Addresses Livestream Coverage
2. Which Ceremony Awards?
Speaking of disrespect towards those athletes that didn't get coverage during the Livestreams, the ceremony awards for those divisions also wasn't broadcasted.
To make matters worse, according to Fittest Dwarf on Earth Mike Witous, the ceremony left a "bad taste" in his mouth.
That is because he felt like he was a "misfit toy" who didn't receive the same shirt as the rest of the podium finishers from the elite and team divisions. "They knew we would be there over a month ago, and didn't prepare," he wrote. "We were handed generic NOBULL shirts, and pushed off to the side behind a black curtain."
Mike said his wife and son stayed up at home to watch him receive the medal, but never managed to as there was not a single second of the broadcast of this moment.
From other photos of the podium, only the athletes who competed in Madison got the "correct" jersey – athletes from the upper, lower and multi-extremity division, masters and teens got the Fittest on Earth shirt.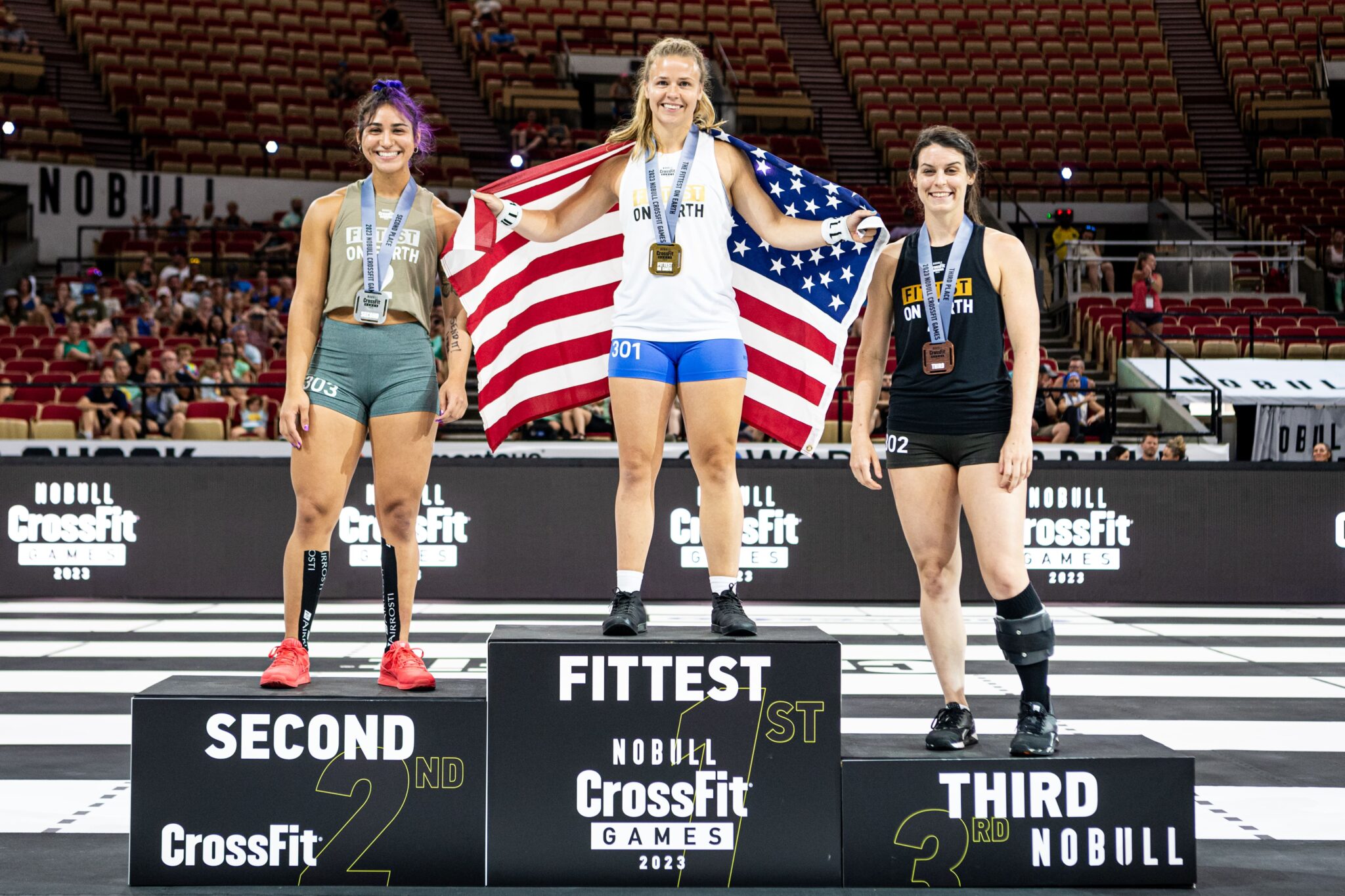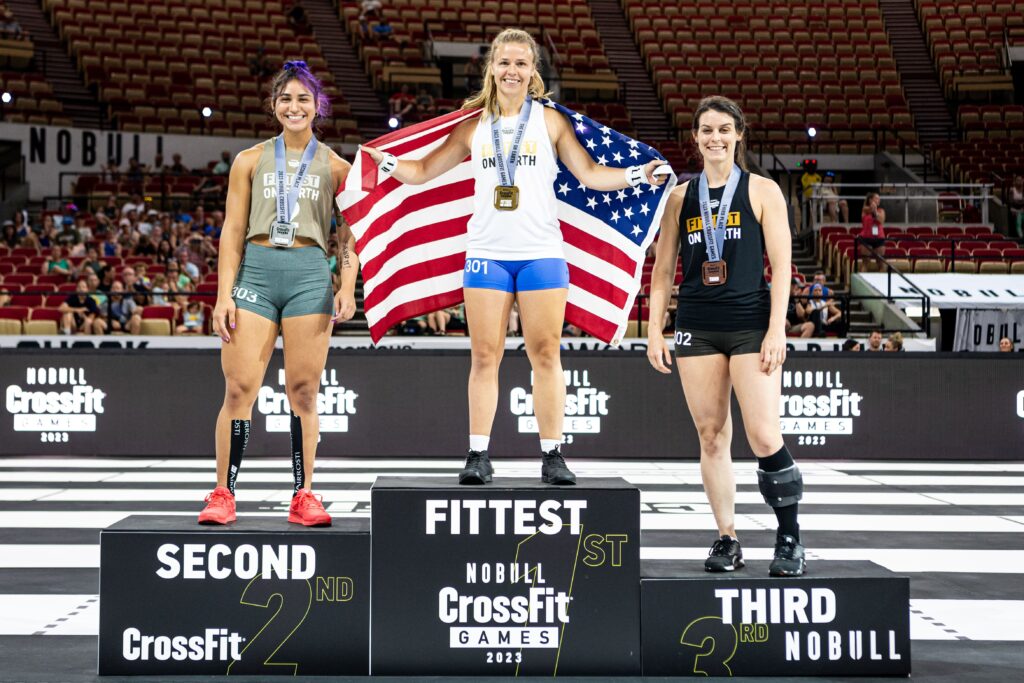 3. 5K Run?
The 5K cross-country run was supposed to be a straightforward event with athletes running five kilometres (around 3.1 miles) in a somewhat plain terrain. The athletes did run it, but once their finish times were finalised, a lot of people began questioning whether it truly was 5 kilometres or less.
Jelle Hoste finished the event in 16 minutes and 39 seconds with Jeff Adler right on his heels crossing the line at 16 minutes and 46 seconds. In the women's division, the top 2 finishers were Emily Rolfe with 17 minutes and 48 seconds and Katrin Davidsdottir with 18'20''.
If you don't know much about running events or CrossFit athletes, is that these timings are very close to some of the most impressive runners in the world. Hoste's pace was 5 minutes and 21 seconds per mile (3'19'' per kilometre) during the entire event!
According to the Marathon Handbook, an elite male athlete between the ages 20-30 would average running 5 kilometres in 17 minutes and 40 seconds – in fact, during the CrossFit Games event, the first 11th male athletes finished ahead of that – and remember that these are CrossFit athletes, they did not train to become the fastest runners in the world, but rather to be more well-rounded.
Taking the same website into consideration, the average for a female elite runner between the ages of 20-30 would be 20 minutes and 47 seconds. Again, Emily Rolfe was 3 entire minutes faster than that and the following 25 athletes (almost everyone who participated) were also faster than that in the event.
So what is the conclusion? That the 5 kilometre cross-country race was not in fact 5 kilometres, but rather much smaller. But how small we couldn't be able to conclude. Until Fabian Beneito, one of the elite CrossFit men who ran the cross-country race shared a photo of what his smartwatch showed.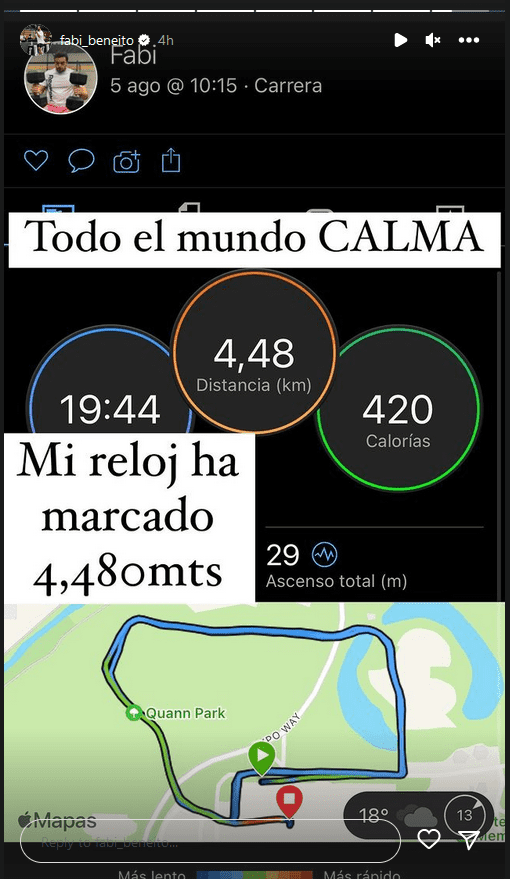 If the race was in fact 4.5 kilometres, it would explain those numbers from CrossFit athletes.
4. Show Us The Leaderboard
Since the CrossFit Games became a sensational event, there are always ways to better introduce it to people who don't know anything about the Sport at all. And one of those things is to show the leaderboard more often on the screen.
While it was great to know the Games was going to be broadcasted on ESPN, reaching thousands of people, at the same time it would have been nice to try to include those people into what was at stake.
Showing the leaderboard more often and how it changed from event to event could indicate the sense of "everything is at stake here" for the events. Truth is, we hardly would see the name of athletes who are in the middle of the table or at the bottom, so why should a regular person care about it if they don't know who's competing and what is on the line?
2023 CrossFit Games: 4 Things We Liked
1. Mooove along!
Although the coverage of the 5k cross-country race was also not the best (we hardly saw the female athletes running just because they were behind the men ahead) it was nice to see a couple of non-athletes bringing joy and having fun with it.
People dressed as cows were cheering on athletes as they ran past and it got a few smiles in return.
2. Resilience from Kelly Baker
We know there were going to be two cut phases at the CrossFit Games this year – one after Friday night and one after Saturday evening.
Kelly Baker was 31st came Friday evening and would be the first one to be cut. As she recalled, she slacked off and had a beer and burger that same night. The following morning, news broke that Ellie Turner (who was among the top 30) had to withdraw from competition due to medical reasons, which meant Kelly Baker was back in business.
Watch the video to see what she said about it.
She competed the following day and almost finished ahead of the second cut line. She was 21st and the top 20 would move on. Although Jammie Simmonds withdrew from competition on Sunday, it was too late for Kelly Baker to backfill that position once again, but it showed how much grit you need to be a CrossFit athlete and, honestly, that they are just like us when it comes to cheat meals.
3. Khrennikov: the Beast from the East
That Roman Khrennikov is an incredible athlete, nobody had any doubts. But the 2023 CrossFit Games took things to a whole new level. He was wearing the leader jersey for most of the events. But on the workout that saw Adler pass him, he landed wrong on his foot and ended up with a terrible injury.
He reportedly was walking with crutches and even used a wheelchair to go from one place to the next. However, that didn't stop him from competing. No sir.
The following event had heavy rope double-unders and the Russian athlete managed to get many reps jumping on a single leg. Mind you, he didn't have to do any of the workouts, but he wanted to prove to himself and his son what kind of person he is.
"I want to be a hero for my son and have him see me fight to the end," he said.
Well, he became the hero of more than just his son that evening, we are sure of it.
4. No Barbie for Laura Horvath
After concluding the CrossFit Games and becoming the Fittest Woman on Earth for the first time in her career, Laura Horvath was asked about being a role model to thousands of women and girls across the world.
"I'm just very happy that me and my body can do this. And I'm not looking at the Barbie new movie, 'Oh I want to look like that'. I want to look like I look like. And I just want to prove that my body, whatever it looks like, can do these amazing things."
What were your favourite moments of the 2023 CrossFit Games?
How Much Money Did Athletes Earn at the 2023 CrossFit Games