CrossFit Dumbbell shoulder workouts are a great way to improve strength and balance in unilateral planes. Strong shoulders are essential for a wide variety of CrossFit movements, from handstand walks to overhead squats.
They will also help you improve any gymnastics hanging movement and enhance your overhead stability for Olympic weightlifting.
Strengthening your shoulders with dumbbells is a great way to improve your figure as a CrossFit athlete too, as separate weights can point out strength imbalances.
Poor performances and possible injury can be direct results of weak shoulders.
Because dumbbells have an evenly distributed weight, they are great tools to build muscle and focus on strengthening specific areas of your body, such as your shoulders.
Try these CrossFit dumbbell shoulder workouts and improve your performance.
CROSSFIT DUMBBELL SHOULDER WORKOUTS
1 – RICH FRONING DUMBBELL COMPLEX
5 Rounds for Time of this Dumbbell Snatch Complex:
3 Power Snatch
3 Snatch
3 Overhead Squats
Complete a total of five sets, working your way up to a heavy set. Perform each complex with one arm then switch sides, this counts as one round.
2. DUMBBELL HANG POWER SNATCH WORKOUT
For Time:
50/40 Cal Bike
30 DB Hang Power Snatch
80m Lunge
30 DB Hang Power Snatch
50/40 Cal Bike
Make sure you keep your form during this workout. Alternate hands during the dumbbell snatches and, if you want to make this dumbbell shoulder workout a little bit more challenging, carry the dumbbells overhead as you complete the 80m lunges.
3. JOSEPH MARCHBANKS JR
A Hero WOD, Joseph Marchbanks Jr is sure to strengthen your shoulders.
For Time 10-9-8-7-6-5-4-3-2-1 rounds of:
Alternating Dumbbell Snatches (75/45 lb)
Handstand Push-Ups
4. KALSU WITH DUMBBELLS
As demanding as it might be, Kalsu is one of the most effective CrossFit Dumbbell Shoulder Workouts.
For time:
100 Dumbbell Thrusters (35/50 lb)
5 Burpees at the beginning of every minute
If this is too much for your current level of fitness you can always decrease the number of reps or reduce the dumbbell weight.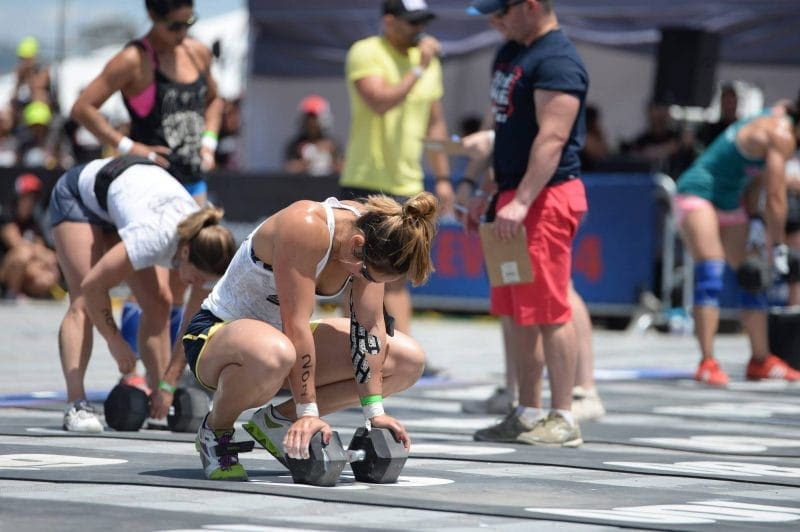 4. SINGLE ARM DUMBBELL ISOMETRIC ROW
Not a workout per-se, but this effective shoulder exercise can be added as accessory work before your session or as a finisher after a workout.
The single arm trap 3 raise with dumbbell isometric row helps stabilize the shoulder blade for complex overhead movements.
Make sure you're initiating this movement from the shoulder, don't let your back muscles take over.
Shoulders are complex joints, so make sure you warm up properly before working hard on them.
Read more: Scapular Health: 4 Banded Mobility Exercises to Bulletproof Your Shoulders