Annie Thorisdottir is a two-times CrossFit Games champion (2011-2012) and athlete from Iceland. Besides being Fittest Woman on Earth on two occasions, she was forced out of the CrossFit Games in 2015 due to heat exhaustion and declined her 2020 Games invite to become a mother.
Iceland Annie, as some fans call her, is a force to reckon with, someone who likes to teach, and a person you should definitely learn from.
In the past 12 months she's had a baby, barely stopped training, shared a few tips on working out during pregnancy and post-partum, has recently qualified for the Semifinals, and will participate in the Lowlands Throwdown in June.
With that kind of a résumé, only in the last year, you have to listen to what she has to say and quite possibly become a better athlete yourself.
Here are a few training tips from the Icelandic powerhouse Annie Thorisdottir and 7 of her workouts.
1. Embrace the Struggle and Frustration
In 2013, after winning the CrossFit Games twice in a row, she suffered a serious back injury and decided to withdraw from the competition. That was weeks before the CrossFit games that year, but Annie Thorisdottir did not push away the frustration.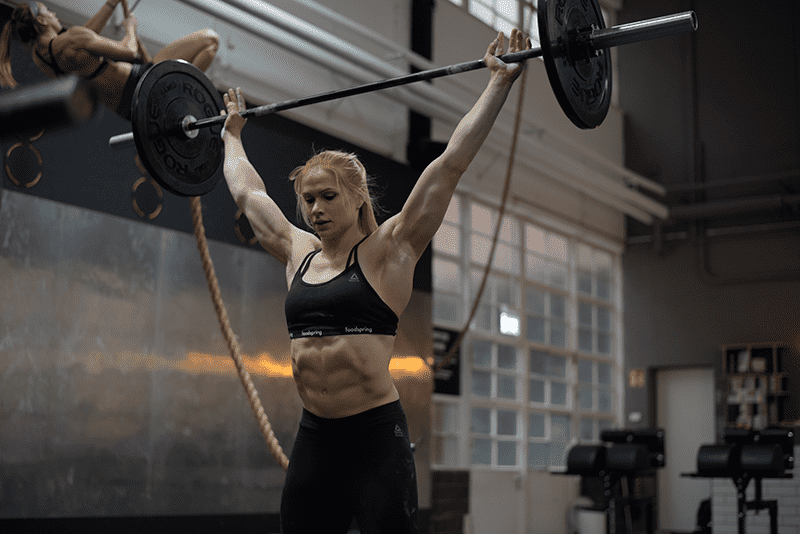 "Even though you expect something to be challenging, mentally prepare yourself for the struggle, you'll find yourself giving into the thoughts of self-doubt, lack of motivation and frustration. And that's okay. So don't push it away, embrace it and use it to fuel you for the road ahead. The road is never short to places worth going."
2. Know What to Eat To Fully Recover
Like most CrossFit athletes, Annie Thorisdottir tried out different sports before becoming a household name in the CrossFit community. She did ballet, gymnastics, pole vaulting. "In those sports I never learned anything about diet." She says she tried different diets and felt like she didn't enough carbs, wasn't recovering well enough and felt tired more consistently.
"It's never been as good as it is now, because now I know exactly what I need to eat for each meal. I didn't really know how to do the macros. I get a little nervous that that was gonna be really complicated, but it was surprisingly easy to get the hang of it."
Annie is an elite athlete and therefore has incorporated more carbs in her training and around her training to get more energy and absorb it faster. "With learning where you get your nutrition from you can make EDUCATED decisions on how to fuel for your needs . It shouldn't be a diet it should be a lifestyle and then you can make the decisions you want to," she wrote.
To learn how to count your macros like Annie, click here.
3. Scrape, Scrape, Scrape
Muscle scraping, a Chinese technique also known as Gua Sha, consists of a metal instrument scraping your muscles that will restart the inflammatory process, increasing the blood flow. This is very effective on repetition injuries, which is common with runners and for any weak part of the body of a CrossFitter.
In the video below, Annie Thorisdottir shows where to scrape to improve your shoulder recovery.
Trick to Improve Your Squat
Again, using a tool to scrape your calves, Annie Thorisdottir shows how to improve your squat technique and mobility.
4. Track Your Progress – Annie Thorisdottir Tips
More than a decade in the sport, Annie Thorisdottir has learned what works and what does not in an athlete's life. According to her, one thing that everyone should do, no matter what level of fitness, is to track your progress.
"Sometimes it can be hard to clearly see your progress, but by tracking the metrics weekly, you'll eventually see the hard work you've been putting in."
This is one of her tips to maintain a strong mental game when preparing for a competition. "By setting my mind to it and having real goals set and a plan to achieve them, I know I will get to where I want to be."
She believes in baby steps and each step, no matter how small it may seem, gets you closer to your end goal.
5. Redo Workouts, But Know Your Limits
The Icelandic athlete finished 9th place in the Quarterfinals in Europe and will compete in the CrossFit Lowlands event later in June.
Annie Thorisdottir decided to redo test 5 from Quarterfinals in order to rank higher and get the invitation to the Semifinals. In her YouTube channel, Annie talks about the importance to redo workouts but also knowing your limitations. The test comprised of snatches and burpee box jump-over a 30-inch box, which is higher than what most athletes are used to.
Compared to the workout she did the previous day, she wanted to do touch-and-go snatch reps throughout. On the first time doing the test, Annie got a no-rep on the first snatch of the second set. "Knowing that I failed my first rep, I also knew that I also had a better time available for me, so I wanted to give myself a chance of getting that."
She also wondered if doing the workout the following day would damage her body and, perhaps, crush her plans to compete in the Semifinals injury-free. "I felt good and I wanted to hit it again, so I let myself hit it again."
"I do think I wanna do this workout again at some point later on when I've done more barbell cycling, I haven't been doing a lot of barbell cycling post-pregnancy. Now, knowing that I can start doing that again, I'm excited to try this workout again at some point."
6. Change Your Workouts
It might seem like this training tip goes in the opposite direction of Annie's previous comments, but it complements it. Iceland Annie says it is crucial to step out of the comfort zone and "start to get comfortable there."
"If it doesn't challenge you, it doesn't change you."
For Annie, change is growth and to grow "you need to do something different to what you're currently doing."
Annie Thorisdottir Workouts
Speaking of changing your workouts, you should try Annie Thorisdottir's workouts. BOXROX has selected a few to get you started.
Workout 1
For time:
50 handstand push-ups
50 toes-to-bars
50-cal. Bike
50 dumbbell box step-overs
50-ft. right-arm dumbbell overhead lunge
50-ft. left-arm dumbbell overhead lunge
Men: 70-lb. dumbbells, 24-in. Box
Women: 50-lb. dumbbells, 20-in. Box
Workout 2
2-3 rounds of:
3min steady on a machine straight into
25 Thrusters unbroken
3min steady
25 Power snatches unbroken
3min steady
25 overhead squat unbroken
3min steady
25 Hang clean and jerk unbroken
Workout 3
D1. Assault bike – 4 Rounds
30s Work (W) @ Fast
30s W @ Faster
30s W @ Sprint
30-sec Rest

D2. 5 Rounds of:
30-sec C2 Bike for calories
30-sec Rest
30-sec Assault Bike for calories
30-sec Rest
D3. C2 bike – 4 Rounds
30s Work (W) @ Fast
30s W @ Faster
30s W @ Sprint
30-sec Rest
D4. 10-minute EMOM
40-sec C2 Bike for calories
20-sec Rest
Workout 4
"Do it for time, or do it as Tabata. Or just finish by the end of the day," Annie Thorisdottir writes.
Workout 5
100 reps of:
1 squat + lunge right + lunge left = 1 rep
This can be done for time, choose a number and do an emom with 3-10 on the minute.
Workout 6
1: 5 sets of 1 DB shoulder press + 5 push press
2: 4×12 BB reverse grip shoulder press
3: 3 x 15+15 seated front raise / delt raise
4: 3 x 20 + 30 DB prone fliers / DB shrugs
PM session (zone 2)
20min BikeErg
20min SkiErg
20min Assault run
Workout 7
For time:
21-15-9
Deadlift 315/225lbs
Burpee pull ups

Annie finished in 6:29 at Rogue Invitational.