Everyone knows this famous video where people explain what Crossfit is and why they love it so much.
Even though I have done Crossfit for more than 4 1/2 years now and worked at BOXROX for more than 3, I am constantly amazed and surprised about what the sport of Crossfit and its community and people have to offer!
A while ago, we were heading to London to join Reebok for the official launch of their new Reebok CrossFit Nano 8 Flexweave. A shoe that – in case you read our review earlier this month – outperforms every single other Nano in my opinion. Anyway, as you can imagine, the event was a get-together of athletes, influencers and media and when we entered the event location – WIT Training in central London (well worth a visit!) – you instantly felt the strength of the CrossFit community.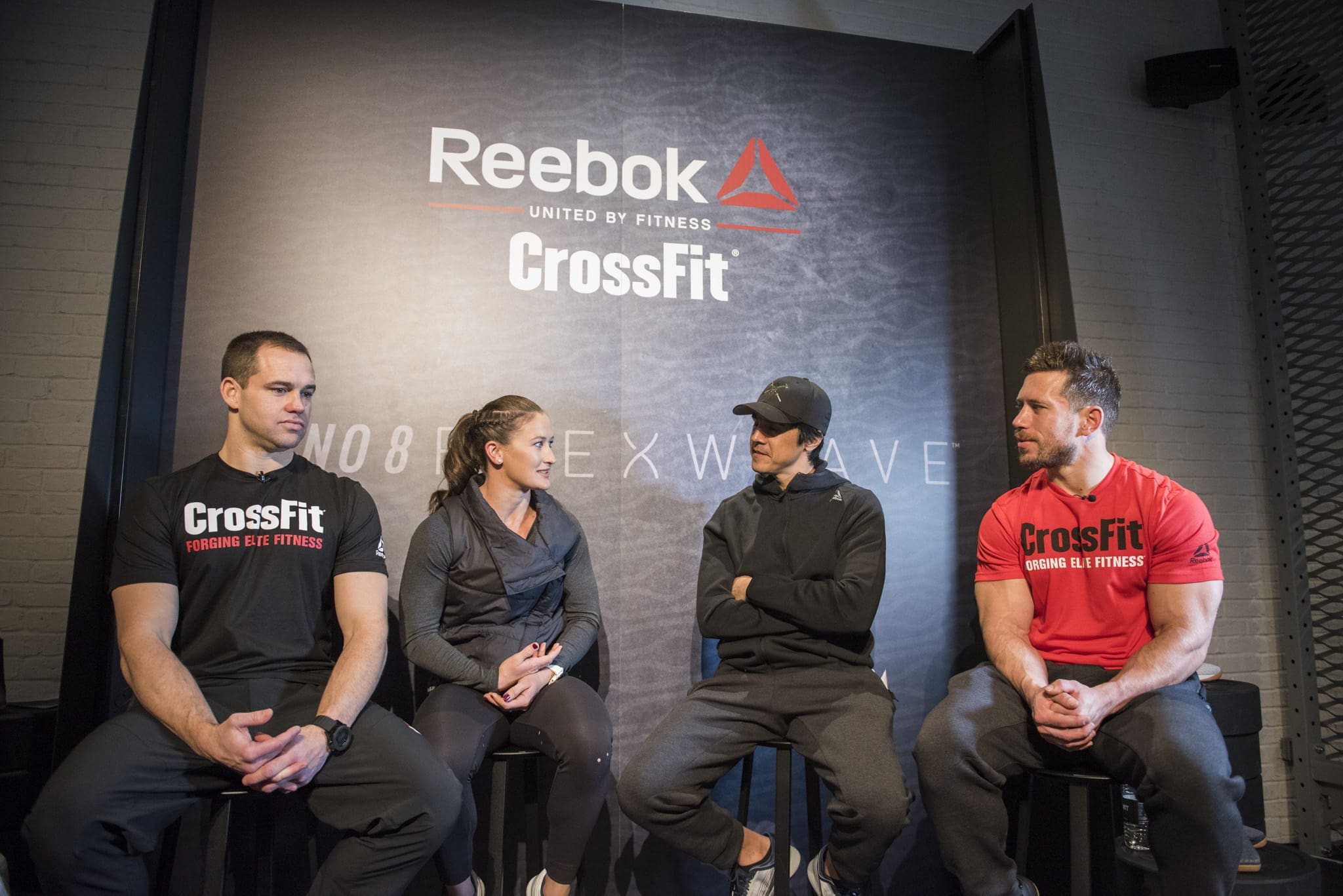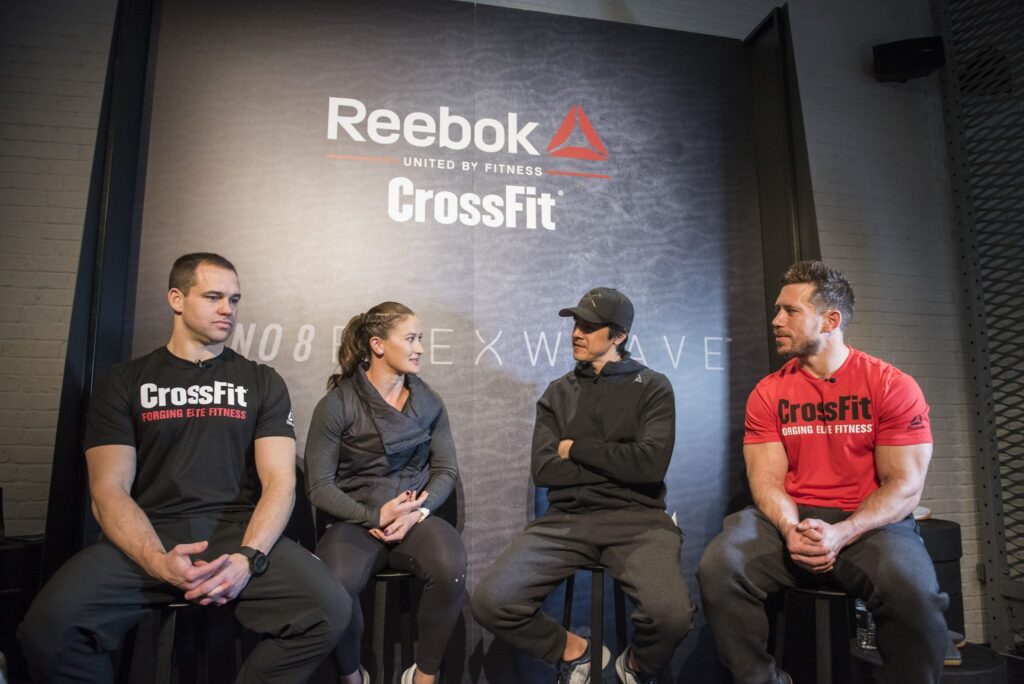 Source: Reebok
In the course of the morning, we had the chance to listen to Reebok, Dave Castro and the CrossFit Games athletes talk about the new Nano 8, complete the unofficial CrossFit Open 18.0 workout (highly recommended if you haven't done it!) and interview Games athletes Dan Bailey, Lukas Esslinger and others. We also spoke in depth with Reebok's senior product manager Tal Short and chatted with all the usual familiar faces on-site.
Sitting on the plane on my way back to Berlin, I realized how amazing this group of people actually are, and how down to earth this scene still is. So let me tell you about Crossfit and its people…
THE CROSSFIT COMMUNITY
The Reebok development guys are "all part of the community". (Dan Bailey, CrossFit Games athlete)
Take Dan Bailey for example, such a down to earth, fun and humble guy. Did you know that he completed Open WOD 14.5 THREE times in ONE DAY?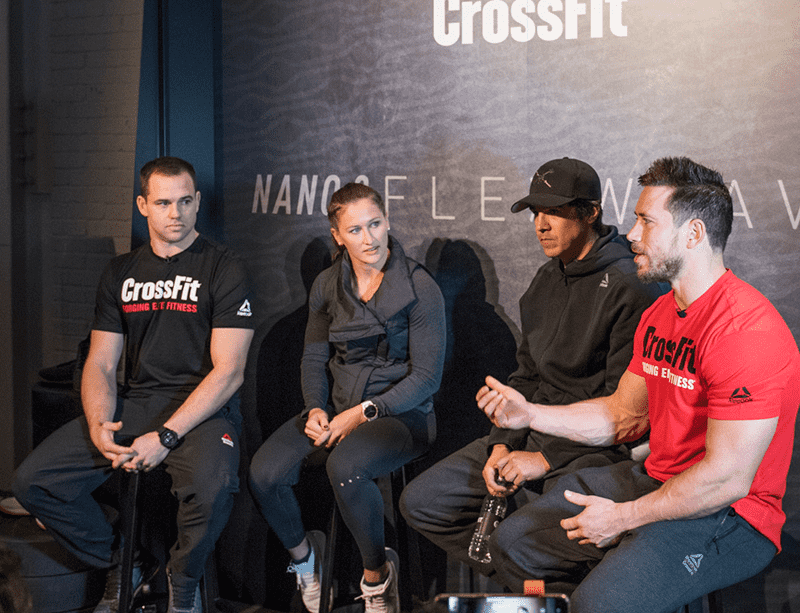 Source: Reebok
Everyone remembers the fight against the Burpees and thrusters, still a horrific combination for most Crossfitters, but three times is crazy. But that's not all. Dan did the WOD three times in order to improve his score for every workout, despite his increasing fatigue levels. Due to his last score from the third attempt he actually won his Region in the Open!
I can only think of one word: Dedication! When he took part in the Q&A later that day he said that he is a big believer and has strong faith. God made him good at Crossfit so that's what he does. I would say, mission accomplished!
"I immediately fell in love." (Tia-Clair Toomey, Fittest on Earth 2017)
If you follow BOXROX then you will see that we meet quite a few athletes at events or in our office for interviews. A recent was Tia-Clair Toomey, 2x fittest woman on earth and reigning CrossFit Games champion. We did an incredible funny interview with her and Shane, Tia's husband, in Berlin but this was the only time we met face-to-face.
https://www.instagram.com/p/BeHq1qyDfYs/?hl=en&taken-by=tiaclair1
So when we were testing the unofficial Open WOD 18.0, the Games athletes were giving us tips and pushing us whilst we tackled the dumbbell snatches and Burpees. I had just finished the workout and I was laying on the floor on my stomach. I heard Tia say something to me so i rolled over. 1 sec before she was able to give me a high five she said "Oh, hello" and smiled, realizing who the sweaty guy on the floor actually was (I did not have a BOXROX shirt on by the way).
https://www.instagram.com/p/BeGyvGsDcDa/?hl=en&taken-by=tiaclair1
Imagine you are one of the most successful Games athletes, you meet thousands of people every year that talk to you, take selfies etc,… it was actually incredible that it took her just 1 sec to realize who I was. Later on we had a chat and I also talked with her husband and coach Shane. Both were already prepared for the 30+ hour flight back to Australia. The two most important topics? Food and catching up with Lukas Esslinger on Netflix and what series she needed to watch on the way back. In the end, we are all just humans.
DAVE CASTRO
Then there is Dave Castro. People seem to either love or hate him.
He is the face of the CrossFit Games and the Open workouts (in case you haven't signed up, you should do it, it's great fun!) that are always battled out between two or three Games athletes on different locations worldwide (read more about the 2018 locations for the Open announcements here).
If you meet Dave in public, at the Games or at an event like the Nano 8 launch in London, he is usually quite reserved. His answers to questions are usually concise, but you can see and feel his passion and dedication for the Sport of Fitness.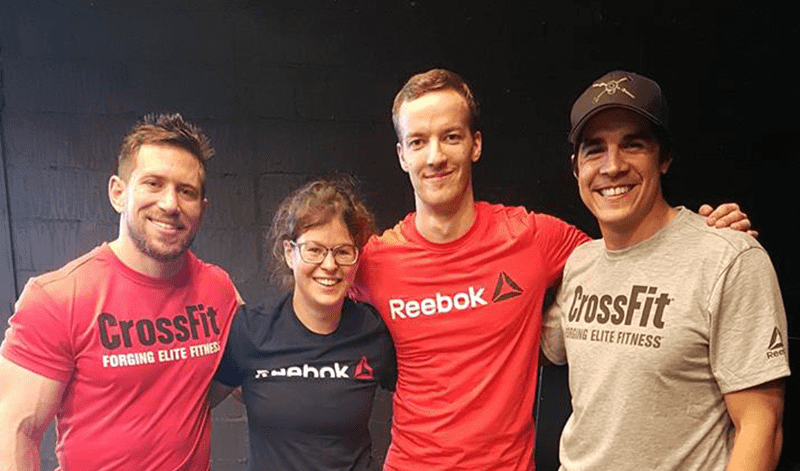 Source: BOXROX
He talked to every Crossfitter that approached him and patiently waited for each individual in a long queue of people wanting to take pictures with him.
When the training facility at WIT Training slowly emptied, Dave gathered some of his people in the corner (next to the large glowing sign saying "HAVE YOU GOT WHATEVER IT TAKES") and they quietly did 18.0, giving it all they had. This moment really made me realize how well grounded everyone in this scene is, no matter if they are a Games athlete or the Director of the CrossFit Games itself.
THE REEBOK CROSSFIT NANO 8 FLEXWEAVE
"This shoe has to be really good at everything" (Tal Short, Reebok's senior product manager)
We met with the people behind the Nano 8 Flexweave and spoke with Tal Short. He told us in the Q&A that he has been a Crossfitter now for 10 years. Imagine this dedication. Designing the perfect CrossFit shoe for your own training and the entire community. It must be good enough for everyone from Games Athletes to complete newbies.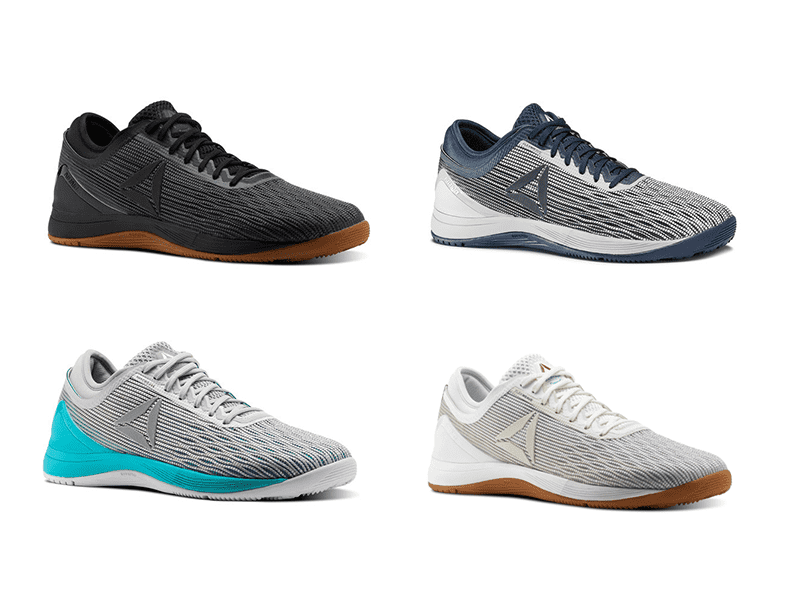 Source: Reebok
So it's not been an easy process, as Tal pointed out during the interview. "You do feel the pressure" as "we have to move with the sport" but Dave also mentioned  that "it's been a good product for the competition" so I would say Tal and his team did a great job. Especially with the new Flexweave technology they discovered recently, the Nano series has evolved a lot and as Tal implied, this technology will be featured on all the upcoming Reebok gear in 2018.
LUKAS ESSLINGER
Last but not least, we spent a lot of the time with Lukas Esslinger, one of two Swiss Games Athletes who has a strong chance to do well at the Games again this year. Did you know that he is studying Banking and Finance? That is seriously impressive if you know how hard and how time-intensive this studies are. When we met him in London he was even preparing for his exams.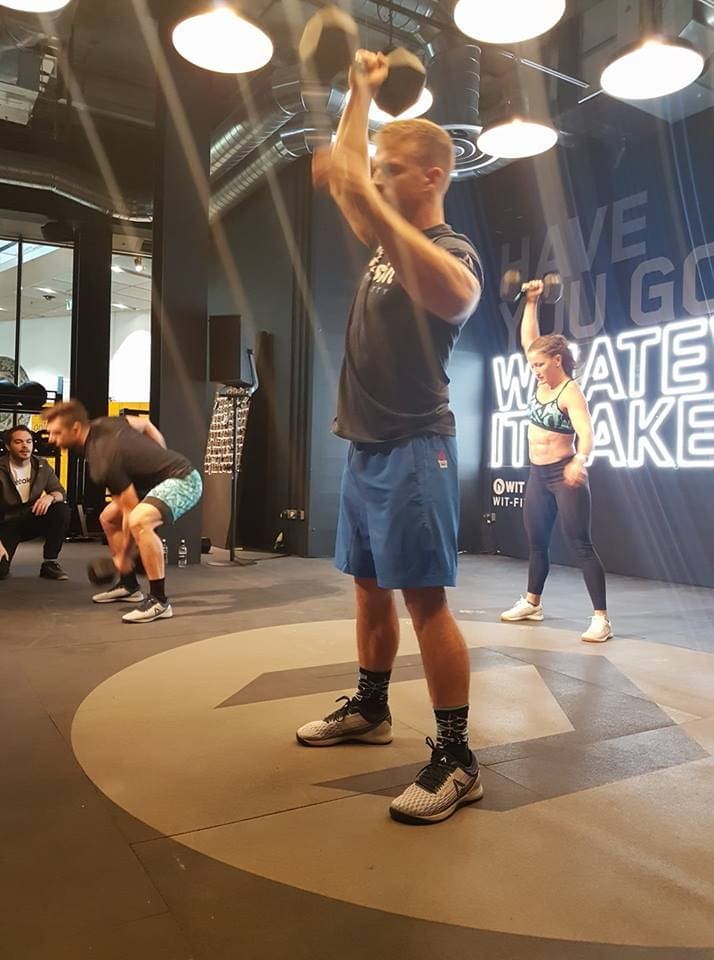 Source: Reebok
Lukas was also one of the athletes that tested out Open WOD 18.0 together with Tia and Scott. Looking at his time and comparing his stature with Scott's, it was impressive to see him finish only seconds after Panchik. We keep our fingers crossed that he will make it to the Games again this year.
All these little behind the scenes stories serve as demonstration to illustrate how closely connected everything and everybody is within the international CrossFit scene. It's great to experience this feeling first hand, realizing how much passion people have for this sport and it definitely puts also your own training and motivation in perspective.
https://www.instagram.com/p/BeG6lSnDq8w/?hl=en&taken-by=scottpanchik
I am hugely excited for the Open this year, I look forward to a great year of training, and to another year of celebrating this community, the members of which I look forward to meeting all around the world.
Learn more about the Reebok CrossFit Nano 8 Flexweave