The CrossFit Open season is nearly ending, and the best way to look back at it is to laugh with the best memes of the sport that has circled around the internet.
Has anyone else had this thrown at you in the workplace this month?
Hahah yep#crossfit #croissant #mandalorian #funny pic.twitter.com/cFCo0PbWh0

— Anisa Natalia Dar (@Eclecticakemix) March 9, 2021
Best Memes of CrossFit Open – 21.1
It feels like 21.1 was a long time ago when Dave Castro introduced, for the first time in history, wall walks to the competition.
And it was a joy to see everyone trying their best the new movement and techniques. It was also very common to see people falling face first on the ground.
At the first showdown, Kari Pearce went head-to-head with Kristi Eramo O'Connell. Pearce destroyed the workout, while Eramo did not finish before the time cap.
Enters Donna Eramo, mother of Kristi and 60 years old CrossFit Open athlete.
Donna Eramo seeing Kristi lose to Kari Pearce pic.twitter.com/E0JhRiT21f

— Sean Murtaugh (@seanBrahh) March 17, 2021
Donna Eramo finished 21.2 workout in first place in her division (60-64). Much more impressive is that after workout 21.2, she shares the first place overall on Masters 55+ with Pia Gund and Lidia Beer.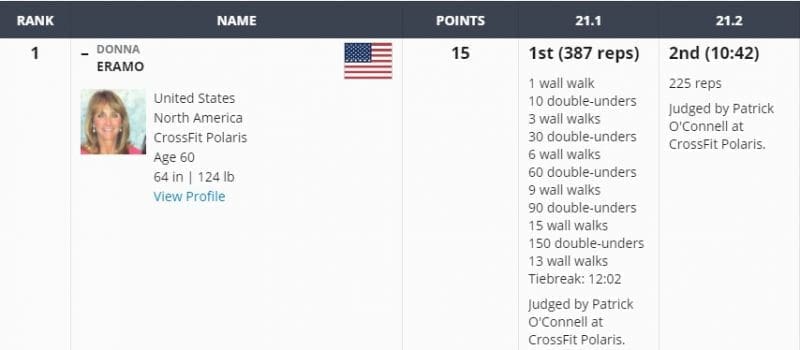 We will never forget Dave Castro's wise words during the ceremony: "Stinky poopy has never been in Oprah."
View this post on Instagram
Most people agreed on how it felt to finish workout 21.1 this year.
View this post on Instagram
Best Memes of CrossFit Open – 21.2
The second week came blasting with one of the least favourite exercise of all times: the burpee.
Workout 21.2 was a series of dumbbell snatches and burpee box jump-overs. When everyone thought this week would not have a workout focused on your back or shoulders, everyone was wrong.
Jumping will never be the same again.
View this post on Instagram
Not to mention that terrible back pain we all felt for a few days after finishing 21.2.
When you get to your car, turn in your score. https://t.co/uZ15QPyPJS. pic.twitter.com/NWcQEftJ0A

— The CrossFit Games (@CrossFitGames) March 22, 2021
And when everyone is happy with the end of 21.2, we are reminded that there is still another one to come the following week.
Two down, one to go! #21point3 @MWGA_official pic.twitter.com/07zV4gkqF8

— BOXROX (@BOXROX) March 24, 2021
And so it comes 21.3… followed by a sneaky 21.4
The hype was gigantic before the announcement of workout 21.3. People were making the most outrageous wishes and guesses of what it could be.
Could it be just hitting a plant and being cute?
https://twitter.com/itsnaturesworld/status/1375030277743898625
Whoever thought the scaled version was going to be easy on 21.3 was dead wrong. Not necessarily a walk in the park.
View this post on Instagram
Some thought it would be another back movement, because why not? But a back-breaker? Don't give Dave Castro any ideas people!
View this post on Instagram
Don't forget the siblings' rivalry between Scott, Saxon and Spencer – the Panchik brotherhood.
View this post on Instagram
Finally 21.3 workout is unveiled. Are we going to hit the gym straight after the announcement? Hell no.
View this post on Instagram
And then Dave Castro decides to throw in another curve ball with a surprise 21.4.
#21point4! Thanks @thedavecastro #CrossFitOpen pic.twitter.com/1hpotT7Niy

— BOXROX (@BOXROX) March 25, 2021
Frankly, Daniela Bustamente got everyone's reaction after the unveil of 21.3 & 21.4.