CrossFit has released a video teasing what individual event 8 will be at the Games this year and it could be similar to what we saw in 2018.
"A walk-through of Individual Event 8 (IE8)," wrote CrossFit to tease about the workout programmed by Dave Castro.
The 35-second video shows McKenzie Flinchum, 2019's Games athlete, doing a handstand walk through obstacles, one of them being the parallel bars.
Check Out Individual Event 8 Teasing Video Below
Individual Event 8 Could Be Similar to Event 13 in 2018's CrossFit Games
It is unclear how many obstacles there will be during Individual Event 8 this year, for how long a person will have to handstand walk, or even if the event is only handstand walk and nothing more.
However, with the return of handstand walk with obstacles and parallel bars, it is normal to turn back to one of the last CrossFit Games events in 2018 titled 'Handstand Walk'.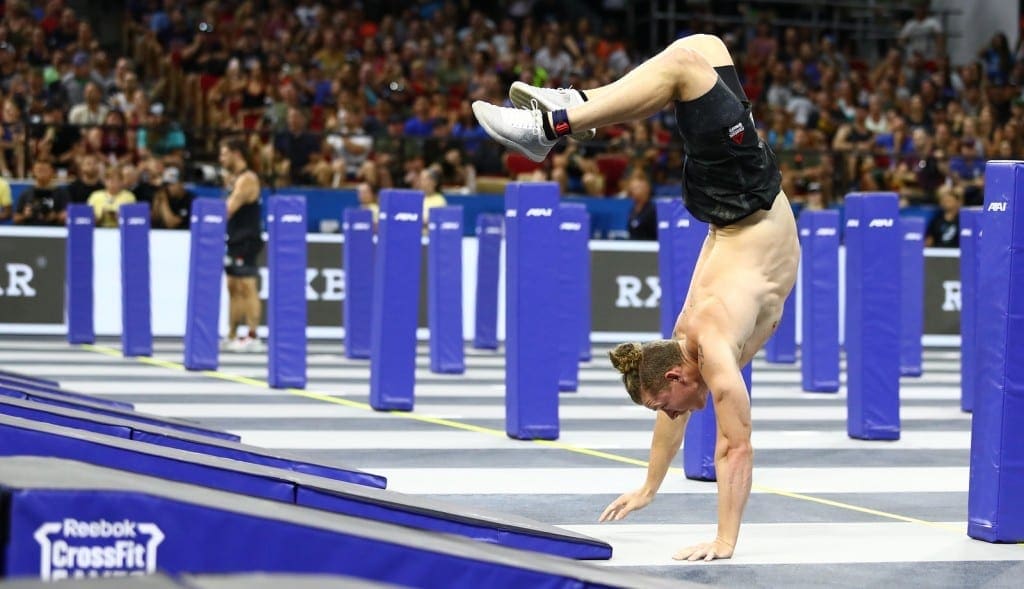 In that event, athletes had to perform a series of movements for time:
50 heavy-rope double-unders
Followed by handstand walk through obstacles:
Pylon slalom
Ramps
Stairs
Parallel bars
Time cap: 4 minutes.
That year, the fastest male athlete was Cody Anderson who finished the event at 1:29:42, followed by Alec Smith at 1:38:60.
In the women division, Brooke Wells has won the event with 1:57:78. Courtney Haley came in second with 1:59:03.
CrossFit Games Schedule
The CrossFit Games will run from 27th July to August 1st. Most of the events will be streamed online for fans who are not able to travel to Madison, Wisconsin, due to the travel restrictions.
Watch the Livestream of the CrossFit Games here.
Individual athletes will start with event 1 early in the morning of the 28th of July.
Here is the rough schedule of when each division will compete.


Find out how much money athletes and teams will earn at the end of the CrossFit Games.