Talk about athletes that inspire and Katelin's story is a remarkable one. Not only was she the second Fittest Woman in Australia – behind Tia-Clair Toomey – she finished the 2019 Open ranked 31st worldwide, all whilst raising her two-year-old son and running two gyms with her husband and partners Adam and Jay-lee Mansy.
"I don't even know how sometimes. Lots of hard work," she told BOXROX when we asked her the obvious question: just how?
Katelin Van Zyl, formerly Marks, used to play hockey professionally for Australia. When a jaw injury ended that career, Katelin took onto CrossFit at the beginning of 2013. Over two decades of competing at a high level developed the mentality and traits of a professional athlete in Katelin and the constant opportunities to improve and learn in the wide variety of modalities CrossFit encompasses appealed to her a lot.
https://www.instagram.com/p/BzJxk6Bguh2/
"I had played for Australia, I did as well as I could within hockey and then nothing was really challenging for me anymore. When I found CrossFit I was like 'this is awesome, there's so much to learn, there's so much to practice and so much to do.' I think that's what drew me to it mostly," Katelin said.
She's the kind of person that likes to be challenged, which would explain how she's managed what she has in part.
A COMBACK FROM PREGANCY
From the beginning, Katelin and her husband agreed that, if they were going to have a child, they wanted to make sure it fitted with their lives and ensure they could continue to pursue their goals.
The Aussie trained throughout pregnancy and continued to do pretty much everything. "The biggest thing I learnt is to listen to your body and know when to stop," she said. Having gone though it, she's happy to help and inspire other athletes going through pregnancy as well.
"It's different for everyone," Katelin explained. If a body is used to doing CrossFit at a certain intensity, it'll be okay to continue to train whilst obviously stepping it back a little. "There's always going to be a lot of scepticism around and you just can't let it get to you. You know your body better than anyone else."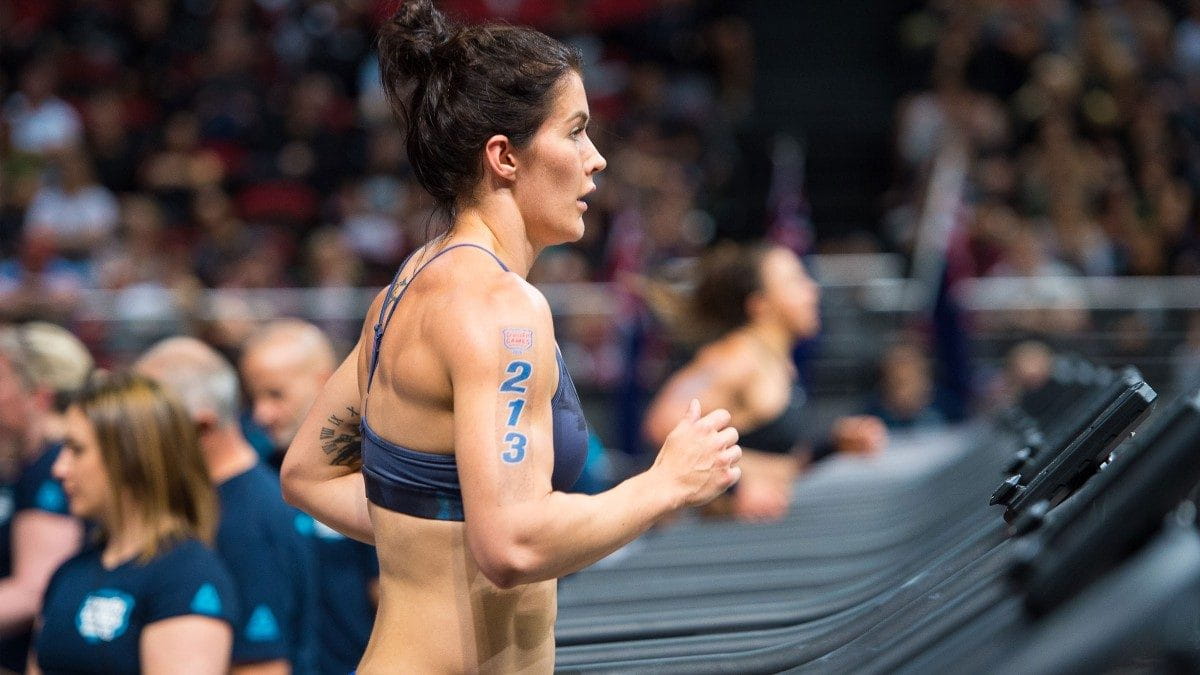 Katelin worked on her recovery and hit the 2018 Open not even five months after giving birth. She finished 8th in Australia. Let's stop here a second; Katelin qualified to Regionals five months after having a child.
In 2019, Katelin would finish the Open as the Second Fittest Woman in Australia, 31st in the world, and qualify to the Games.
"Once you take off all expectations, all pressure, all stress, I just feel you perform so much better," she said.
"Making the Games not even two years after having a son – it is possible," she stated. "It's hard work though, very hard work."
TRAINING WITH A TODDLER
"Everything. Absolutely everything," Katelin answered when we asked her what has changed since having her son. "My sleep is probably the one thing that is non-existent anymore."
"Every day is different," Katelin laughed. There are days when Hunter is grumpy and wants to be held the whole time – that includes Katelin coaching or training. Constantly paying attention to her child whilst prioritising training is difficult. "It's just a job pretty much," Katelin half-joked.
https://www.instagram.com/p/Bxmc3U5HBY5/
Of course there are a few things that come harder to Katelin after her pregnancy. She recalls how, during the 2018 Open she had to do double-unders and how that wasn't ideal. "I went through a whole heat of double-unders and I was like 'oh man this is bad,' I'm peeing myself pretty much and I'm yelling at my husband 'get me a towel!' – the joys of motherhood," she laughed.
"There are a lot of things that are harder for me than for most people […] but I just don't like to see anything as an excuse," Katelin said. "I know I'm capable of lots, and I know I can be a really good athlete. So, I just assumed I needed to just perform the way I know I can."
PREPARING FOR THE GAMES
In the run up to the Games, Katelin's schedule was hectic to say the least. The family would leave home early and wouldn't come back until about 7:30 every night. "We just have to juggle it, every day is just a juggle," she said. "It's stressful at times but, if you know you want to do something and you know you want to do well at something, you kind of just gotta do it, you have no choice. It's just part of the process."
"We try to embrace it as much as we can, we love being able to bring our son up around the gym and he absolutely loves it," she continued. Hunter is only just old enough to know to stay away when people are lifting.
As hard as it might get, Katelin is incredibly grateful that she and her husband get to raise their son around the gym, pursue their own goals and teach him anything is possible.
https://www.instagram.com/p/Byr2XbbAlvM/
Katelin's goal, of course, was to get back training as soon as she could and do the Open. Nevertheless, she wasn't expecting a top 20 finish. The three-times Regionals athlete has been nursing an injury – which turned out to be an immune disease – for the past 18 months that has stopped her doing quite a lot of things.
"Even in the Open I had this injury and doing wall balls and all that stuff was just horrendous. Doing the box step ups, horrendous. You had to alternate between feet and stepping up with my bad leg was just really bad," Katelin recalled.
"I think I'm that personality where I just give it everything. Even in pain – which probably isn't the best thing – I'll still push it hard if I know I can.
"I wasn't expecting top 20 that's for sure."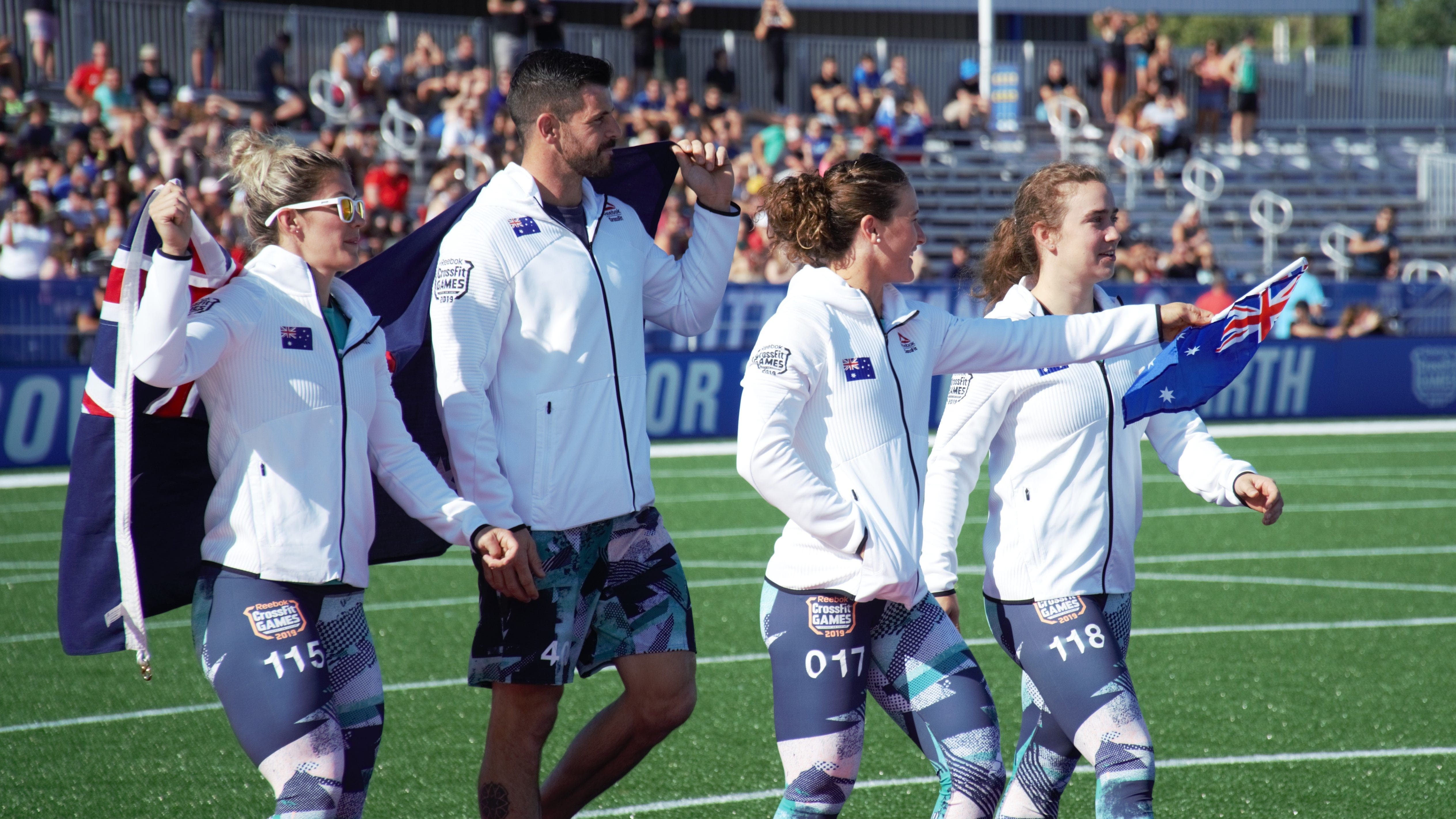 Source: BOXROX
Katelin finished 59th overall at this year's Games.
HELPING PEOPLE REACH THEIR GOALS
Besides her insatiable desire to overcome every challenge, an honest love for the sport is what characterises Katelin. Running CrossFit Urban Energy, Katelin gets to teach people what she loves the most.
"I love what CrossFit can do to you and do for you, for your health and your fitness. Not everyone wants to be a high-end athlete and that's fine. I just love helping people reach their goal."
Like all Boxes around the world, hers is filled with dads who want to stay fit to play with their kids or moms who just want to be stronger. Helping people achieve their goals is what motivates Katelin.
"I just love to be able to help each individual reach what they want to do," she said, and you can tell she means it.