The worldwide ranking system of CrossFit has undergone an update after the end of the 2023 CrossFit Games. As anticipated, significant shifts within the top 100 rankings have occurred for both male and female participants. While Laura Horvath successfully maintained her first-place position, Adler surpassed Justin Medeiros to claim the leading spot.
The implementation of the new global ranking system played a decisive role in determining the allocation of Games-qualifying slots for each of the Semifinal competitions. The quantity of athletes within the top 100 of the updated ranking system participating in a given Semifinal directly influenced the probability of that specific event receiving an additional invitation to the CrossFit Games.
OPINION: CrossFit's New Worldwide Ranking Has Potential, But Is Problematic
It's noteworthy that CrossFit had previously revised the rankings subsequent to the Quarterfinals and Semifinals stages.
How Much Money Did Athletes Earn at the 2023 CrossFit Games
Worldwide Ranking System Updated After the 2023 CrossFit Games
Men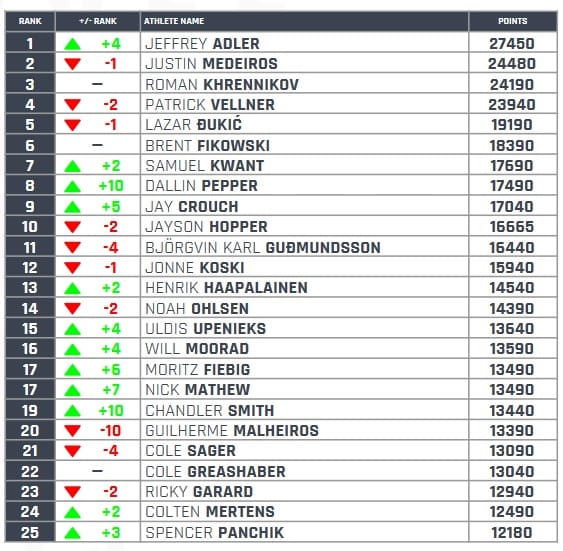 In the men's division, there was a lot of movement in the top 10 following the 2023 CrossFit Games. Adler won the Games and he also jumped from 5th to 1st in the worldwide ranking system.
Although Vellner was finished on the podium, he fell two positions to 4th compared to post-Semifinals numbers. Dallin Pepper shot to 8th placement after finishing 5th at the Games.
In the men's division, the most improved was newcomer Michal Wesolowski who climbed up 81 places to finish 294th at the worldwide ranking system. He finished 36th at the Games, 10th at the Semifinals and 33rd at Quarterfinals in Europe.
Check out the top 100 men worldwide here.
Women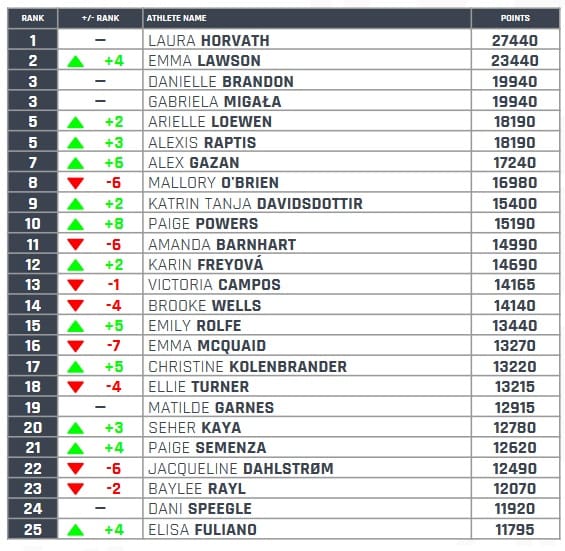 In the women's division, Laura Horvath maintained the top position after winning the CrossFit Games.
Amanda Barnhart, Emma McQuaid and Brooke Wells fell off the top 10 women worldwide, giving space for Alex Gazan, Katrin Davidsdottir and Paige Powers.
Kelly Baker was the most improved athlete across the entire updated worldwide ranking system. She moved up 133 positions to be ranked 147th overall. This was the first time the American athlete competed at the Games as an individual, finishing 21st overall on the leaderboard. At Semifinals she finished 10th and at Quarterfinals 23rd worldwide.
Check out the top 100 women worldwide here.
You can see the entire ranking system updated in this link.
2023 CrossFit Games: 4 Things We Liked and 4 We Didn't