Following the announcement that the leaderboard for the German Throwdown had been adjusted following the issuing of a late penalty against Swedish athlete Emma Tall in Event 6, her coach David Shorunke took to Instagram to slam CrossFit for the decision.
In a series of stories which came after CrossFit supposedly finalised the scores, Shorunke expressed his anger at the decision to move Emma from 5th place (which qualified her for the Games) to 8th, explaining the timeline of events as they happened.
"Sunday afternoon Emma admitted her score for Workout 6: Grettel." Shorunke said in his Instagram Story on Wednesday evening. "Sunday 19.46: Confirmation her score had been accepted. Sunday evening/Monday morning: Leaderboard is closed."
"Monday – CF announces on their own social media congratulations to the qualifying athletes."
"Tuesday morning – Suddenly there has been a secondary review of Emma's score. Two days after the score has been accepted. And the leaderboard is closed. Emma receives a penalty."
The reason the penalty was issued was, according to CrossFit, because Tall's judge assisted her in setting the barbell down during the event, the same penalty assessed to Tayla Howe at the Lowlands Throwdown. This earned her a 20-second time penalty.
However, nowhere in the movement standards or rules does it explicitly state that Event 6 has to be completed unassisted, while all other events at the German Throwdown, included this caveat.
"In all other events with DB/Barbell," Shorunke continued, "It clearly states on the workout description and within the video that the athlete cannot have any outside assistance with their equipment. On Workout 6 it does not state this on the workout description nor the video."
"How can an athlete receive a penalty for not following a standard that was not given? If this was a standard for the event, why was it not stated as on the other 5 workouts?"
In a statement issued to the Morning Chalk-Up, CrossFit doubled down on their decision to issue Tall the penalty.
"As an established practice, athletes are not allowed to receive assistance from their judge or coach unless explicitly stated. This precedent has been established at every stage of CrossFit Games competition, whether virtual or in-person, as it offers an obvious advantage for athletes to have their equipment managed during an event…There are several additional athletes below the qualifier line who are also being issued penalties for similar infractions, all of which will be released later today."
CrossFit's biggest failing throughout this controversy looks to be how they were able to accept the scores upon submission, send emails to qualifying Games athletes, but then backtrack and adjust the final result days after the official announcement.
Shorunke also agreed with Armen Hammer's viewpoint that "this level of incompetence is embarrassing for CrossFit, it's shitty for the athletes, and it undermines this whole thing."
"For an athlete that dedicates their life to the sport, this shit is fucking heartbreaking." Shorunke said.
To add fuel to the fire, the video of Emma's Event 6 attempt has been circulating online, despite the video being unlisted on YouTube and only shared between Emma Tall and CrossFit HQ.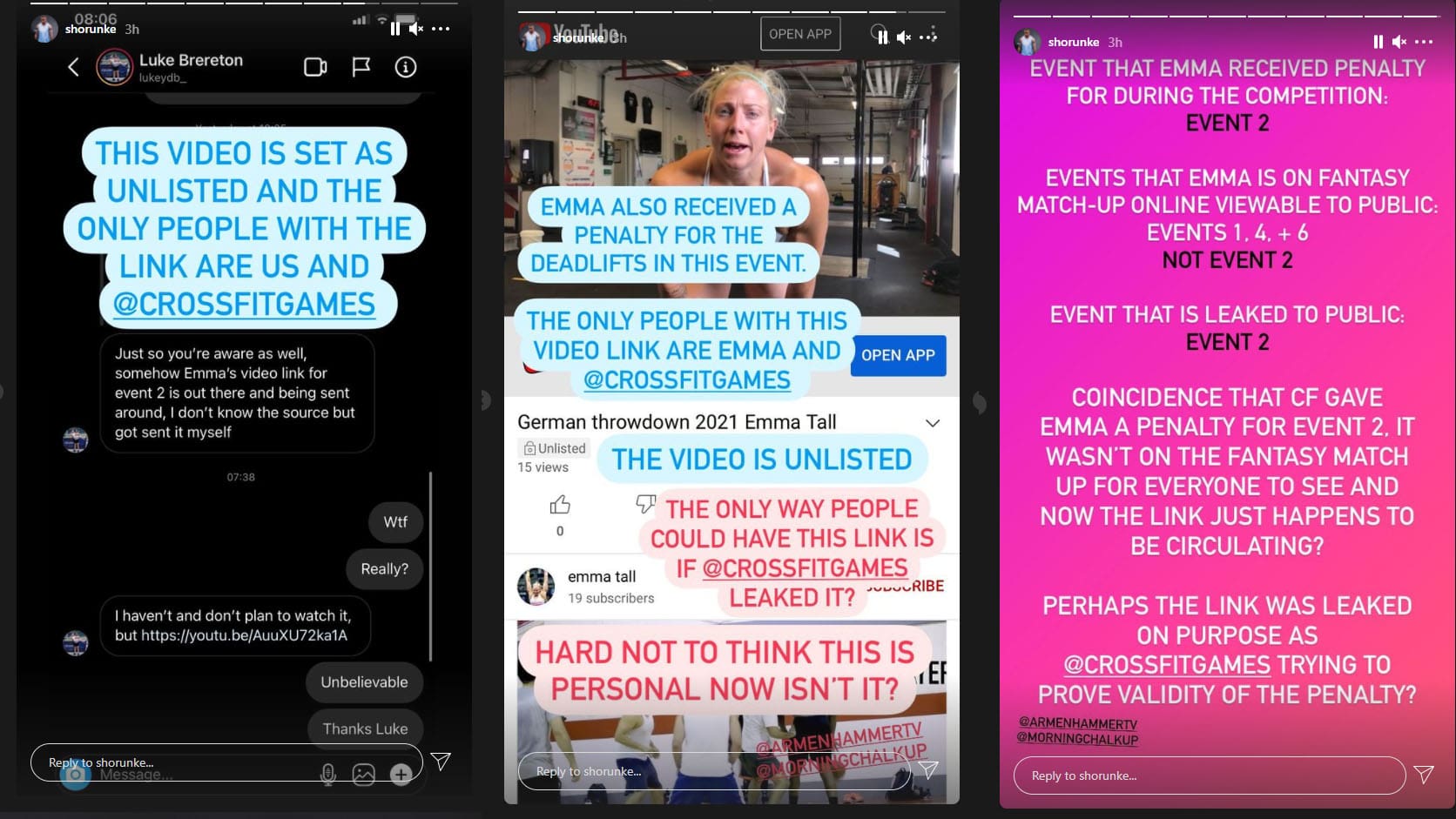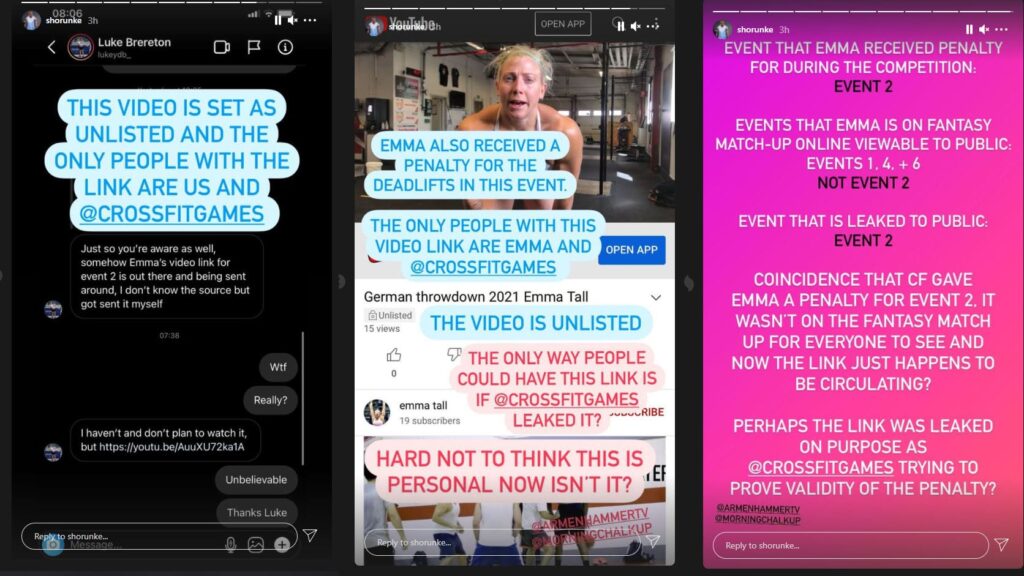 Emma also received a late penalty for her deadlift in Event 2, and her new final score of 8th place means she is also knocked out of a chance to compete in the Last-Chance Qualifier.
UK favourite Sam Briggs has moved up the leaderboard following the decision, and has now qualified for the Games in Madison next month.
Image Sources
video: Instagram: @shorunke
emmatall: YouTube / Instagram: @shorunke