Hey John, in terms of movement, what were the biggest components that you had to work on with Sara and Björgvin?
Both Björgvin and Sara are very different athletes, and therefore the approach to working with each of them is unique: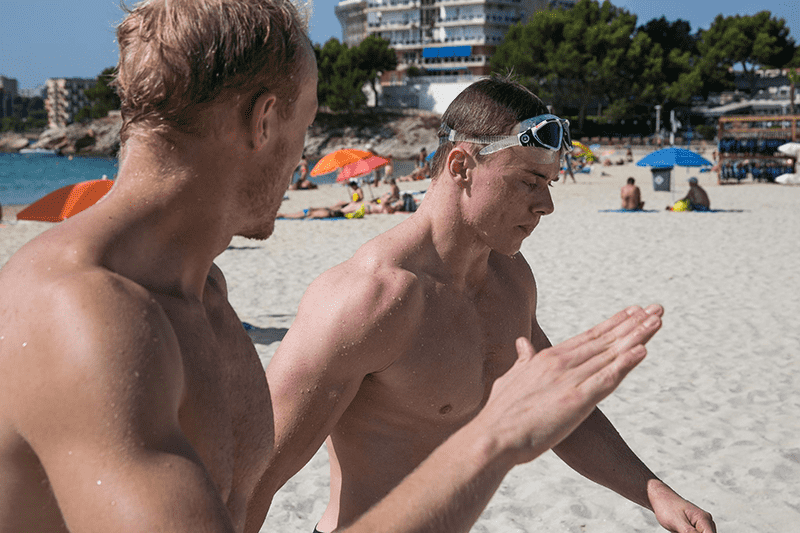 Björgvin Gudmundsson
He played football for several years, and has never been the most mobile athlete, therefore we have spent a lot of time improving this. His diligence in his movement practice is second to none and this is apparent in his performance. Björgvin has amazing skill acquisition, which means he can make technical changes extremely quickly: this allows for more time spent on other areas of his CrossFit game.
Sara Sigmundsdottir
She has been ´CrossFitting´ for a slightly shorter period and although she has reached a high level, we still spend a lot of time working her foundational movements such as box jumps, double unders, pistols and building her CrossFit game from a solid base. We have also spent a lot of time improving Sara´s ability to compete within a competition setting, as Sara doesn't come from a competitive sports background. It is skill that still needs to be developed.
How do you keep both athletes focused on their goals and how do they approach the "day in day out" of being athletes?
There is obviously an intrinsic drive that both Björgvin and Sara have. My job is to create the environment in which that drive takes them to where they need to be. I have frequent contact with both athletes. This means that small tweaks can constantly be made, be that decreasing the amount of time they are traveling, reducing or increasing the training volume, and / or making sure the right things happen at the right time.
So John, for those who may not know you can you give us the quick download on you?
Currently living in Spain, I was born in England, hated school and loved martial arts. I went to China to live and study martial arts when I was 18, came back to study Osteopathy in London and found a new love for academia – I graduated in 2010 with a Masters degree. Whilst studying, around 2007, I started to train and coach CrossFit with Jami Tikkanen. Since then I have coached and worked with CrossFit athletes, most notably Sara Sigmundsdóttir and Björgvin Gudmundsson, who both took 3rd place at last year's Games.
How do you feel being an Osteopath enhances your Coaching and vice versa?
Obviously an understanding of the body and how it functions is extremely important when trying to develop an athlete.
'Having an Osteopathic background also allows me to specialise within CrossFit and allows a deeper understanding of improving and strengthening movement as well as managing and reducing injuries.'
As an Osteopath or any type of therapist, it helps tremendously having an idea of what your patient needs to do, therefore if you are working with a CrossFit athlete and you don't know what a front rack, or even a squat is, then you will have a hard time understanding the needs of that patient.
What does your Coaching work entail at the moment?
After graduating I went to work with a very well-known Osteopath just outside London in a multidisciplinary setting. There I had exposure to thousands of patients with a great variance in conditions. During this time I was also coaching and competing within CrossFit whilst working with many CrossFit athletes. Since those days I now solely work with CrossFit athletes in varying capacities.
There are a handful of athletes I have daily contact with, whom I coach, treat, travel/live with, discuss sponsors' work, and varying aspects of training/work. The goal of these athletes is to make it to the highest level in CrossFit.

Alongside this I run training camps for teenage athletes looking to become competitive CrossFitters. This is where they can be exposed to elite level training and also compete and develop with others in their age group allowing them to see if they have the ability to make it to the next level.
In conjunction with my partner Erik Lau Kelner of Weightlifting 101, we run Elite training camps. These are for athletes at or close to Regional and Games level. We bring in specialised coaches to develop the athletes, such as rowing coaches, gymnastic coaches, and running coaches.
'Within these camps I have the opportunity to specialize in Movement; how to improve range, strengthen movement and look at injury reduction.'
Alongside these coaching and treatment roles, I also run movement workshops: this is where I deliver the information that has helped me help others to become coaches and athletes. I also work with a small selection of patients. Although the roles seem divided on paper they merge a lot more in real life…
What would your advice be for someone who was looking to take their training to the next level?
Currently I am running teen training camps. These are week-long training camps for athletes aged 16-19 years old who are looking to become Elite level CrossFitters. If you are of this age group it is an excellent place to start. If you are an older athlete there are really a couple of options; come to a camp with Erik and myself and see if you have the ability to make it. Or put yourself out there by entering some competitions and see where you stand. This will give you a good idea of where you are, where you need to be and if it is possible to get there.
What are you own goals for training this year and how do you approach training yourself?
I love training and I always have done. My training varies greatly at the moment. Luckily I have good exposure to a lot of specialists within CrossFit, therefore my training varies depending on where I am and who I am with. That said there is still something special about being alone in or outside the gym, and just seeing how hard I can push.
What big things have you got planned for 2016 that we should be looking out for?
2016 CrossFit Games Podium.
Any athletes to watch in 2016?
One of my athletes Adrian Mundwiler, this is his rookie year, however we have been working closely together for the last year and I am excited for him.
The quick 3: Favourite Workout, Cheat meal and Music?
Anything where I can beat Adrain Mundwiler.
I don't have cheat meals – I try to eat healthy the majority of the time. If I want something I usually eat it.
From Marvin Gaye to Rage Against The Machine with some heavy techno thrown into the mix.
If you could have a massive billboard anywhere in the world with anything on it, what would it be and where would it be?
A white backdrop with bold black letters: IT IS YOURS TO FILL. FILL IT.
I would put it outside all educational centres.
---
Images and media © John Singleton