Annie Thorisdottir is a two-times CrossFit Games champion (2011-2012) and athlete from Iceland. Besides being Fittest Woman on Earth on two occasions, she was forced out of the CrossFit Games in 2015 due to heat exhaustion and declined her 2020 Games invite to become a mother.
Iceland Annie, as some fans call her, is a force to reckon with, someone who likes to teach, and a person you should definitely learn from.
In the past 12 months she's had a baby, barely stopped training, shared a few tips on working out during pregnancy and post-partum, has recently qualified for the Semifinals, and will participate in the Lowlands Throwdown in June.
With that kind of a résumé, only in the last year, you have to listen to what she has to say and quite possibly become a better athlete yourself.
Here are a few training tips from the Icelandic powerhouse Annie Thorisdottir and 7 of her workouts.
1. Embrace the Struggle and Frustration
In 2013, after winning the CrossFit Games twice in a row, she suffered a serious back injury and decided to withdraw from the competition. That was weeks before the CrossFit games that year, but Annie Thorisdottir did not push away the frustration.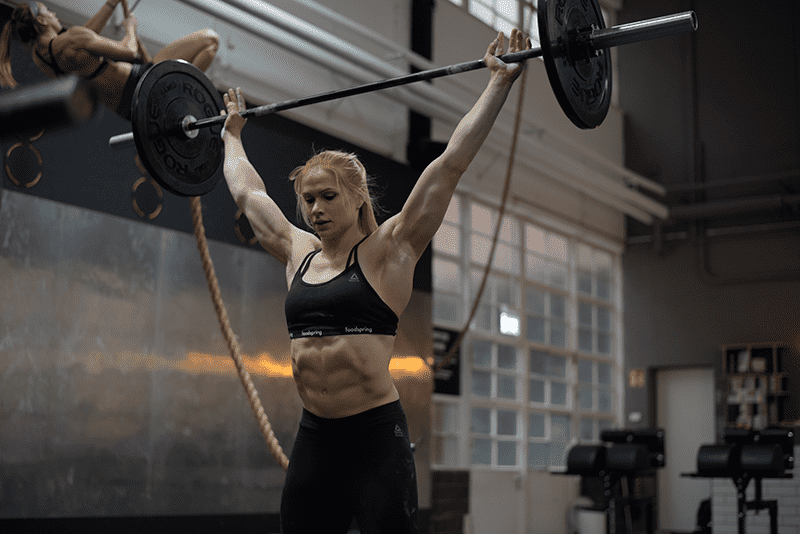 "Even though you expect something to be challenging, mentally prepare yourself for the struggle, you'll find yourself giving into the thoughts of self-doubt, lack of motivation and frustration. And that's okay. So don't push it away, embrace it and use it to fuel you for the road ahead. The road is never short to places worth going."
2. Know What to Eat To Fully Recover
Like most CrossFit athletes, Annie Thorisdottir tried out different sports before becoming a household name in the CrossFit community. She did ballet, gymnastics, pole vaulting. "In those sports I never learned anything about diet." She says she tried different diets and felt like she didn't enough carbs, wasn't recovering well enough and felt tired more consistently.
"It's never been as good as it is now, because now I know exactly what I need to eat for each meal. I didn't really know how to do the macros. I get a little nervous that that was gonna be really complicated, but it was surprisingly easy to get the hang of it."
Annie is an elite athlete and therefore has incorporated more carbs in her training and around her training to get more energy and absorb it faster. "With learning where you get your nutrition from you can make EDUCATED decisions on how to fuel for your needs . It shouldn't be a diet it should be a lifestyle and then you can make the decisions you want to," she wrote.
To learn how to count your macros like Annie, click here.
3. Scrape, Scrape, Scrape
Muscle scraping, a Chinese technique also known as Gua Sha, consists of a metal instrument scraping your muscles that will restart the inflammatory process, increasing the blood flow. This is very effective on repetition injuries, which is common with runners and for any weak part of the body of a CrossFitter.
In the video below, Annie Thorisdottir shows where to scrape to improve your shoulder recovery.
Trick to Improve Your Squat
Again, using a tool to scrape your calves, Annie Thorisdottir shows how to improve your squat technique and mobility.