On the road you want to put yourself in the best position possible to be able to train wherever and whenever you can squeeze it in.
Last year, over one third of my time was spent traveling for work. I've organized much of what I've learned and listed it below. I hope you find it helpful.
BEFORE YOU LEAVE FOR YOUR TRIP
Pack your gear:
Workout clothes and shoes – This goes without saying, but make sure you have at least one set (top, bottom, shoes) readily available in your carry-on luggage if possible. Travel plans can be unpredictable. It's a lot more difficult to train if you don't have your gear. Don't let yourself get in that position in the first place.
Jump rope – It's small, lightweight, and quite possibly the most travel-friendly piece of exercise equipment. You'll be glad you packed it.
Shaker and protein – If your protein doesn't come in individual packets, make your own with Ziploc bags. Make one for each day that you would like to train. Don't pay more for protein while traveling if you don't have to.
Download a Tabata timer app for your phone
Tabatas are some of the most challenging 16 minute workouts you'll ever experience, and with a Tabata timer you can do them anywhere. There are a ton available for free, but download one BEFORE you go on your trip. The last thing you want to do when you're about to jam is take the time to do this.
Plan a few workouts
When you finally have time to train when on the road, you don't want to procrastinate deciding what your workout will be. Search for bodyweight workouts online, knowing that your selection of equipment will likely be limited, and save them for later. I use Instagram's archive feature to save workouts for a quick and easy reference. It makes a big difference.
Search for nearby affiliates and contact them
If you have the time during your travel, I highly recommend dropping into a nearby CrossFit affiliate. I've been to nearly 60 across the Country and have always enjoyed meeting other owners, coaches, and experiencing their community.
Whenever I get my travel itinerary for work, this is my simple procedure:
Go to maps.google.com -> Search for my hotel -> Click "Search Nearby" -> Type "CrossFit"
In most major cities, there is a good chance you'll find an affiliate within a mile or your hotel (a nice warm-up jog). Always email ahead of time to give the coach a heads up that you'll be dropping in. Additionally, the first time you drop-in, arrive at least 15 minutes prior to class starting to sign your waiver and exchange pleasantries.
Showing up at the last minute to an affiliate that you've never been to before is bad CrossFit etiquette. It might be okay to do so at your home affiliate, but not when you are a guest.
TRAINING AT A HOTEL
If you are like me, one of the main reasons you love CrossFit is because you can just show up and throw down. You can trust that your coach is following a lesson plan that contains a warm-up, strength/skill section, metcon, cool down, etc.
However, if you are going to jam in your hotel's fitness center, it's up to you to put together your workout. Believe it or not, you're going to have to apply what you've learned from all of those classes.
CrossFit is constantly varied, functional movement, performed at a high intensity. Basically, it's about getting a significant amount of work done in short amount of time.
Not that complicated, right? Your WODs while traveling don't need to be complicated either. The fitness center at your hotel won't likely have a pull-up bar, or kettlebells, and I have yet to see a hotel that has a barbell and bumper plates (That'll be the day!). However, most hotels DO have some sort of equipment that will surely provide a kick-ass workout.
Here are some of my favorites:
Dumbbells
As if the 2017 CrossFit Open wasn't enough proof for you, some of the toughest workouts involve dumbbells. Most hotel fitness centers will have at least a small rack of dumbbells with appropriate weight options for your strength and skill level.
ADVICE: Many hotel fitness centers are poorly designed after-thoughts and can lack some obvious ergonomic features, such as ceiling height. At 6'7", I'm a taller athlete and commonly run into the issue of going overhead with weight. If your hotel's fitness center lacks ceiling height or floor space, move your workout outside.
I've often farmer carried a pair of dumbbells to a quiet section of the hotel's parking lot. You may want to get the nod of approval from the concierge, but I have yet to run into any issues doing this.
WOD suggestions:
Dumbbell DT
5 rounds for time:
12 dumbbell deadlifts
9 dumbbell hang cleans
6 dumbbell push jerks
Dumbbell Kalsu
For time:
100 dumbbell thrusters
5 burpees at the beginning of each minute
Pool
We normally see swimming in the CrossFit Games each year, but it's rare to have access to a pool for a WOD. Hotels provide a perfect opportunity for this.
ADVICE: Pool decks can be slippery, especially when doing some sort of dumbbell movement. Use a wet towel as a mat. This will provide much better grip for your wet, bare feet. Additionally, I hold off on doing these pool workouts if there are others using the pool.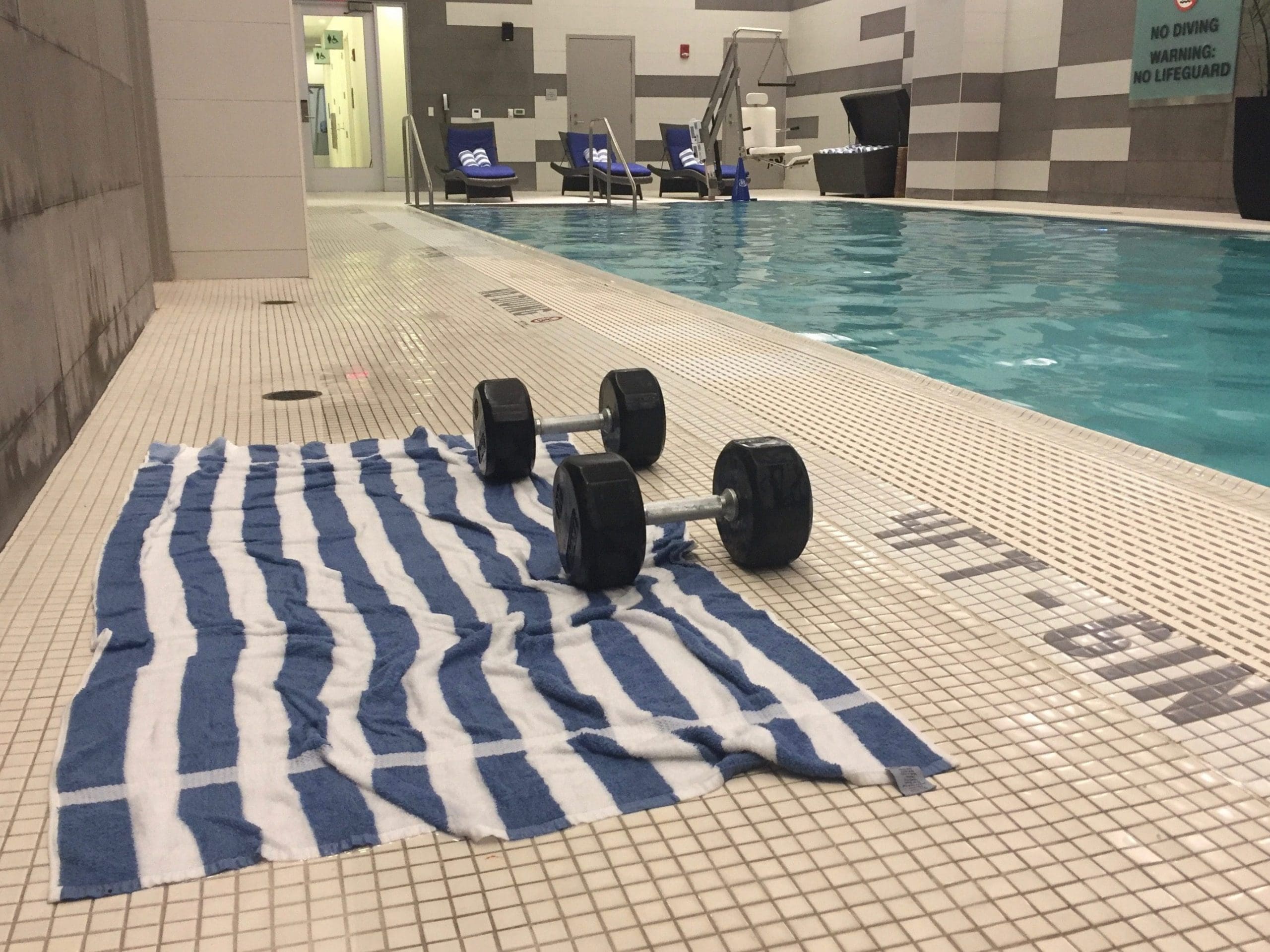 WOD suggestion:
15 min AMRAP
Swim a lap
8 push-ups
8 dumbbell thrusters
Stairwell
What's more functional than moving your body upwards in vertical space? Your hotel's stairwell is a piece of equipment that you'll rarely see in any type of gym. Additionally, as stairs are built with floors, this lends itself well to a variety of interval training.
ADVICE: Stairwells can be grimy. If you are doing any movements that involve your hands touching the ground (burpees, push-ups, bear crawls, etc.), I highly suggest packing a pair of gloves to use for stairwell workouts. I travel with a pair of football wide receiver gloves that work perfectly.
WOD suggestions:
Three attempts, each for time:
Climb first floor to top floor without using arms
Recovery between sets is returning back to the first floor
For time:
Climb first floor to top floor
10 push-ups on the odd floor landings
10 squats on the even floor landings
THE BOTTOM LINE
Regardless of your options, it all comes down to having your own personal determination to train while on the road. When you are accustomed to exercising in the highly motivating atmosphere of a CrossFit affiliate, walking into a cold, unfamiliar hotel fitness center can be rather uninspiring, ESPECIALLY when flying solo. The good news is that there are plenty of options, they just may be different than what is normal for you.
If it's important, you'll find a way. If not, you'll find an excuse. Keep that fire! Make a plan ahead of time and attack it with a full head of steam when the time comes. You'll be glad you did.