Here are 10 CrossFit abs workouts you can do at home that will help you burn fat, increase performance and core mobility, and, eventually, develop a six-pack.
Note: To be able to lose belly fat, only abs exercises will not help – it is necessary to combine abs workouts with cardio and a balanced diet in order to lose overall body fat percentage.
Here are a few good reasons to add abs workouts to your training:
Prevent diseases – belly fat is one of the leading causes of major diseases, such as heart attacks, high blood pressure, breast cancer, and Alzheimer's.
Reduced back pain – weak abdominal muscles lead to lower back pain
Increase your lifting power – stronger abs will fortify your core and stabilize your body, which means you can lift heavier weights from the ground and without difficulties
Overall sports improvement – a thin and strong waistline will help in virtually any sport you can do, from increasing endurance on a long run, to swinging a golf club with no impairments
These 10 abs workouts you can do at home promise to attack each different muscle from your abdominal region.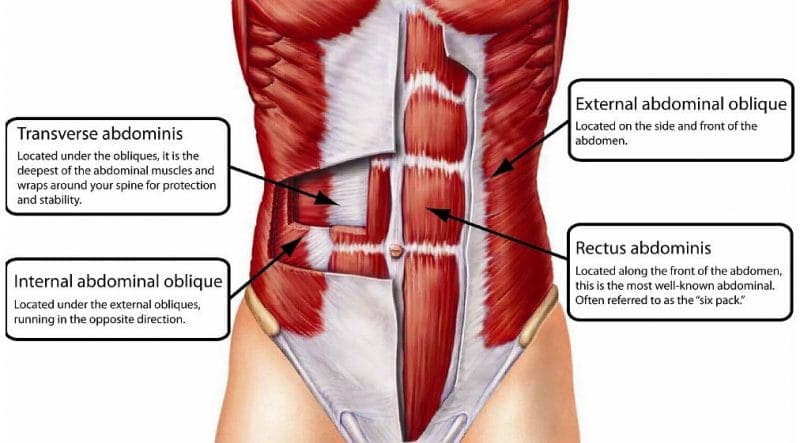 These CrossFit WODs are possible to complete with zero or minimum equipment. No reason to postpone your next workout, is there?
Read more: 9 Quick Workouts To Do At Home When You're Short On Time
"Mind Games"
50 rounds for time
1 burpee
2 push-ups
3 air squats
4 alternating lunges
5 sit-ups
Score is the time on the clock when the last round of the sit-ups is completed.
This workout will engage your entire body, but focus on your core and finish with a high note of 250 sit-ups completed at the end.
The workout should not take longer than an hour.
View this post on Instagram
Scaled Version with Partner
100 rounds for time
1 burpee
2 push-ups
3 air squats
4 alternating lunges
5 sit-ups
Partner A completes round 1 while partner B rests. Switch after every round.
Workout by Smart Wod.
Handstand Hold
5 rounds for time
20-second handstand hold (scaled is against the wall)
20-second plank
40-second side plank (20 seconds on each side)
This CrossFit workout adds balance to the equation, strengthens your lower abs, and should develop a rock-solid midline.
Core Workout from Lauren Fisher
5 rounds for time
20 v-ups
15 tuck crunches
20 second hollow hold
20 second arch hold
Lauren Fisher is a 7 times CrossFit Games athlete obsessed with heavy lifting. She usually finishes her training day with this abs workout you can do at home.
View this post on Instagram
3 Round Tabata from Tia-Clair Toomey
3 rounds (Tabata style; 20 seconds on, 10 seconds off)
8 fast v-ups
15 tuck crunches
30 seconds hollow rocks
30 seconds superman
Rest 1 minute into Max Bridge Hold
Be sure to use the rest between crunches and hollow rocks because those 30 seconds get really hard.
Tia-Clair Toomey is the first female to have won CrossFit Games on four occasions (2017-2020).
Her "6 pack attack" is another example from elite CrossFit athletes of abs workouts you can do at home.
View this post on Instagram
Read more: CrossFit Abs Workouts from Tia-Clair Toomey to Bulletproof your Core
"Living Room Mash #5"
5 rounds in 24 minutes
1 minute mountain climbers
1 minute push-ups
1 minute flutter kicks
1 minute air squats
1 minute rest
Score is the total number of repetitions completed before the 24-minute clock stops.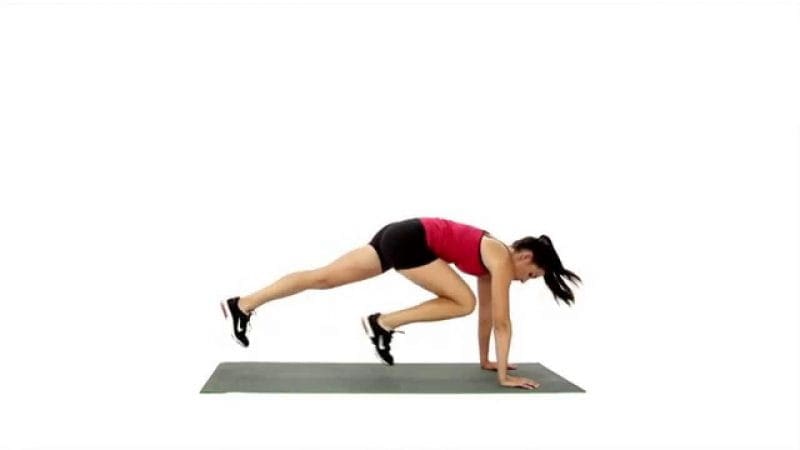 Source: Courtesy of CrossFit Inc.
This workout will accelerate your heart rate, burn more calories which will help to flat that waist line. The push-ups and mountain climbers activate your core, while the flutter kicks will engage your lower abs.
"300 Abs"
For time
30 crunches
20 bicycle crunches
30 toe touches
20 reverse crunches
15 side plank hip lifts (right side)
30 crunches
15 side plank hip lifts (left side)
40 russian twists
30 bicycle crunches
15 oblique v-ups (right side)
20 reverse crunches
15 oblique v-ups (left side)
10 leg lifts
"300 Abs" workout will have your stomach feel the burn little time.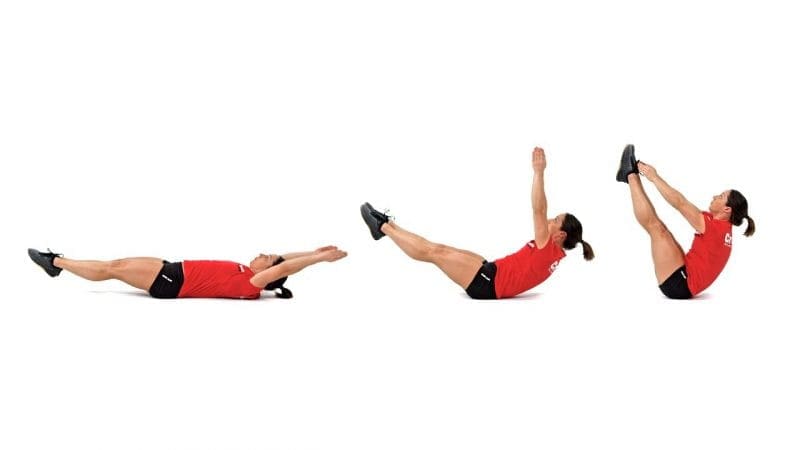 Workout by ohStarz
"500 in 15"
For time
50 crunches
50 seconds hollow hold
50 butt up
50 seconds plank
50 bicycle crunches (25 on each side)
50 side-to-side crunches (25 on each side)
50 scissor kicks
50 oblique twist with medicine ball (25 on each side)
50 tuckups
50 leg raise
Time cap 15 minutes.
If you thought 300 abs was easy, take it to another level and complete this 500 abs workout in 15 minutes or less.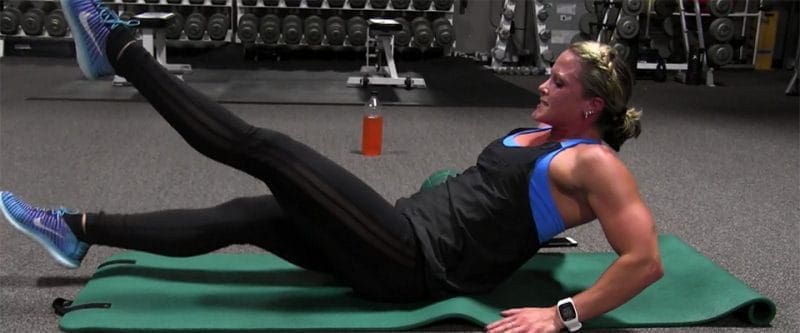 Source: Nicole Wilkins
"My abs were definitely feeling it during the workout – and I was still feeling it two days later", said creator of the workout Nicole Wilkins.
"Abs Crusher" (Scaled Version)
10 rounds for time
5 Hanging Leg Raises
10 Burpees
5 Hanging Leg Raises
10 Abmat Sit-Ups
Score For this workout will be the time it takes for you to perform the 10 Rounds of the workout.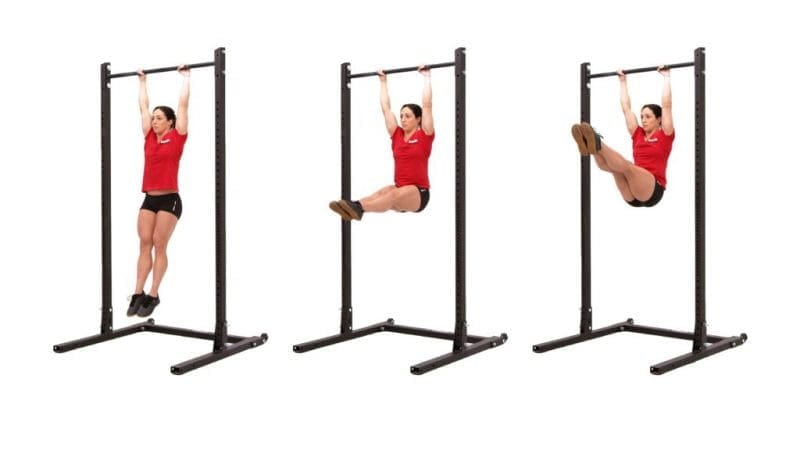 Source: Courstesy of CrossFit Inc.
The "Abs Crusher" seen here is on its scaled version since the RX asks for GHD sit-ups instead of the abmat sit-up. It is still a demanding workout, but possible to do it at home.
Workout by CrossFit Open athlete Juan Jimenez.
"Ab Buster"
4 rounds for time
15 sit-ups
15 v-ups
30 bicycle crunches
45 seconds plank
Buy out: 400 meter run
As the name suggests, this CrossFit workout will focus solely on your abs and you can do it at home with zero equipment.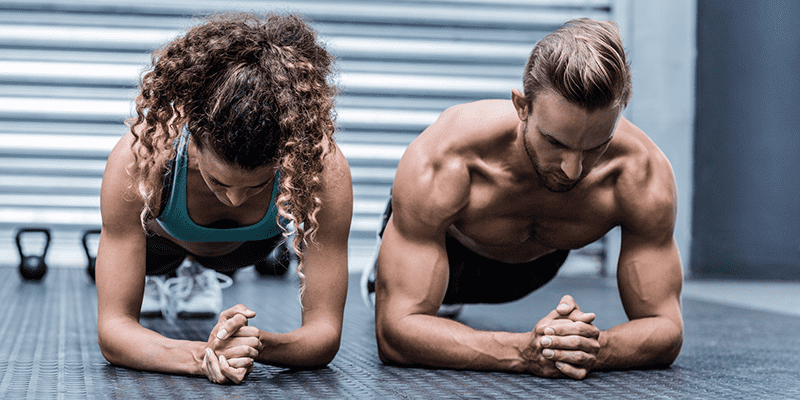 The buy-out can be performed by running around the block.
L Site Core Workout
On the minute for 10 minutes
20 second L-sit hold
20 second hollow rock
20 seconds of sit-ups
The L-sit hold is a deceptively brutal exercise with benefits that go way beyond the visual. Not only will this exercise help fill out your sleeves and chisel your abs, it will improve the health of your shoulders, help you with your deadlift, and build functional core strength as well. How do you do it? The L-sit hold is best done on a pair of parallettes. Nearly every gym has dip bars, and you can even do L-sits on a pair of pushup bars, on kettlebells, yoga blocks, or even on a pair of benches. You just need two sturdy and secure platforms of the same height that will lift your butt off the ground when you lock your arms pushing down in between them.