Should you sign up to the CrossFit Open? Your decision of course will depend on your current situation, your goals and whether or not you like competitions.
If you're an elite athlete or someone with competitive goals within the sport, to sign up to the CrossFit Open or not is a no-brainer. The Open is the first step towards the CrossFit Games and the only qualifying route to the next stage of competition, the Quarterfinals.
But for the vast majority of us, who have no desire or aspiration to progress to the ultimate proving ground but CrossFit for countless other reasons, participating in the three weeks of online competition that is the Open might still be beneficial beyond getting our name on the global leaderboard.
If you haven't made up your mind yet, these are our seven reasons to sign up to the CrossFit Open.
1. Paying money makes you take the competition more seriously
Once you've signed up for something and not just said you'd do it, you're far more likely to commit to it. Actually paying money will motivate you to push yourself, as you've invested in the competition and made your desire to participate official.
Having signed up will become the reason you push aside excuses, show up for all workouts and give them your best. Dropping out is no longer the path of least resistance, so you're less likely to take it.
2. The CrossFit Open provides a fantastic reason to push yourself outside your comfort zone
We all know we're capable of more than we initially thought, but to push ourselves outside our comfort zone we usually need a reason to.
Competition, where the outcome of your workout "matters," is a great motivator to try harder. If there are consequences beyond what gets written on the whiteboard for a day, you're suddenly more likely to give the workout all you've got.
View this post on Instagram
This is part of the reason why the CrossFit Open is full of first: people doing their first muscle up, stringing together double unders for the first time or hitting big PRs.
Participating in the Open gives you a reason to push yourself outside your comfort zone.
3. The Open provides you with a yearly benchmark
The Open is a yearly benchmark, where you can compare where you've improved and which areas you've let slip.
Benchmarks are important in training because they provide direct feedback on our progress and improvement. They are objective and provide you with information you can then act upon.
This applies to everyone, whether you're training to be able to pick up your grandchildren, to lose weight or to be healthier; everyone likes seeing progress and can do with feedback as to where they can improve and how to get there.
The Open let's you know where you stand and where you can improve, year after year.
View this post on Instagram
4. Especially in 2021, anyone can take part
The Open is already the largest participatory sporting event in the world and unites hundreds of thousands of athletes in a single competition.
New for 2021, CrossFit has added Adaptive divisions and a Foundations category in addition to the existing teens, masters, scaled and RX divisions. On top of that, there will be an equipment-free version of each workout for those who don't have access to or don't want to work out in a Box.
It really doesn't matter if you have just started CrossFit or if you've been training for years, the Open is designed for every CrossFit athlete.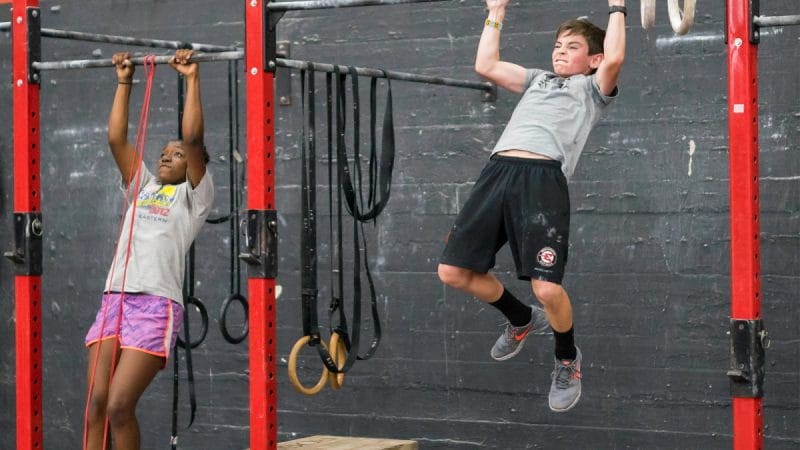 5. Your Box's programming probably revolves around the Open
Many affiliates plan their programming – think strength cycles, skill development and conditioning blocks – based on and around the Open.
As you train throughout the year, the programming you're probably following has been designed with a focus on peaking for the CrossFit Open.
Since you've already done the training, why not sign up?
6. Simply put, it's fun
There's no denying the CrossFit Open is fun and, while the whole competition might look a little different this year with restrictions and bans on group gatherings, we're sure Box owners have will find ways to connect their communities and make the Open as fun as it's been in past years.
Competing in the Open feels different to finishing your usual workout; there's a whole fun community atmosphere surrounding it, where you feel the support of your peers, get to compete with and against them and feel even prouder of your efforts than you usually would.
The Open pushes you, it gives you butterflies right before the countdown hits 0, someone counts your reps, it feels important. You get a score, you have a benchmark for next year, you have a laugh. You get to measure yourself and see how much you've improved. You see how much others have improved.
Do you know that feeling of accomplishment that follows the end of a very hard workout? Imagine that duplicated. Simply put, the Open is fun.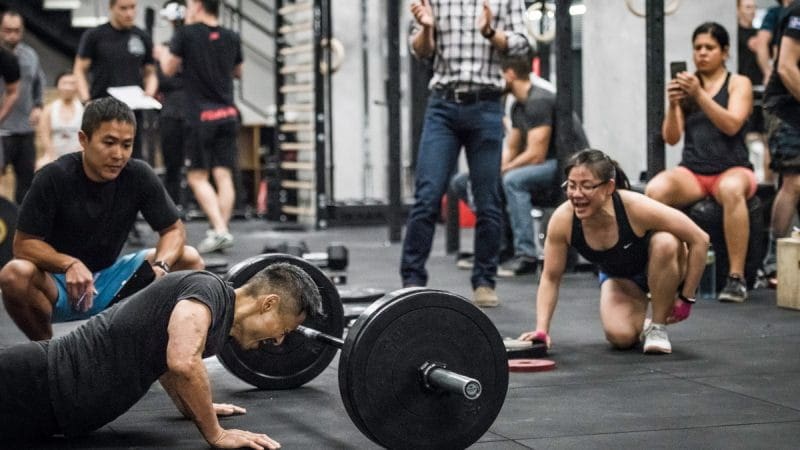 7. The Open's format is well suited to the online world
With most live events and competitions cancelled around the world, the Open is one of the few big-scale competitions able to go ahead. While it might not be quite the same to compete without your group, the Open is well suited to the online world.
With the ability to do the workouts at home or your affiliate and with or without equipment, scores all come together in the online global leaderboard. It doesn't matter where you are, what access to equipment you have and what the restrictions in your area are, you can still participate.
2021 OPEN: A GLOBAL CELEBRATION OF WHY WE DO CROSSFIT
The 2021 CrossFit Open kick of on March 11. Participants come from all walks of life and nearly every country on Earth, spanning ages, genders, abilities, backgrounds, incomes, and identities. You can sign up here.