Releasing a feature length documentary requires more than a few cameras and a YouTube channel, but if there's a will there's a way, and CrossFit athletes are known for taking on any challenge.
Heber Cannon and Marston Sawyers are the men behind the latest CrossFit Games documentary, The Fittest. Together, they have co-produced and directed popular documentaries about the CrossFit Games and filmed snippets of the season beforehand, bringing the stories of top athletes to live and giving competitors character outside the spotlight.
The pair used to be part of CrossFit's media team up to last year, when CrossFit unceremoniously fired most of its media department to pursue a health-oriented growth and focus less on the Elite, competitive side of the sport. Yet Heber and Marston decided their love for the sport was bigger than resentment and set off to independently film the 2019 CrossFit competitive season.
In a phone interview with them, BOXROX delved into what it takes to film, direct and produce these popular documentaries.
Getting permission
Filming the CrossFit Games does not just involve turning up with a camera, especially if you want to be on the floor where the athletes are competing.
Heber and Marston negotiated a deal with CrossFit long before the CrossFit Games, their intention being to produce a similar documentary series to their Road to the Games with the competitive format introduced for 2019.
While that didn't quite happen as planned – instead they created The Buttery Bros – a deal was in place to shoot the CrossFit Games on the floor and share footage to obtain rights to videos off the competition floor.
Finding distribution
One of the major deciders on whether a movie sees the light of day or not is finding someone to distribute it.
A few weeks before the CrossFit Games, Heber and Marston didn't know if they were going to have distribution for the movie and weren't even entirely sure they were going to make a movie.
"It all came together the week before the Games," said Heber. Ten days before the Games they sent out a message on social media asking for help; camera guys, drone operators, etc. who were going to the CrossFit Games and already had a media pass.
Within two hours they had 20 people who wanted to work with them.
The idea behind The Fittest
"We wanted to stick to the same style documentary-storytelling that we had in the past," said Heber.
The pair started making the CrossFit Games documentaries in 2014 through to 2018, although that last year no documentary was released.
"We needed to fill in the gaps there, so we started the movie off by telling how exciting and how grand and how much of a spectacle the 2018 Games were, and then that leads into the fallout of all the employees and all the changes, with Regionals going away and lack of public information," explained Heber.
Together with the developing events at the CrossFit Games, that was the story The Fittest was aimed to show.
Heber and Marston chose their characters for the documentary, Mat Fraser and Tia-Clair Toomey, pretty early on and focused on them. When Noah Ohlsen climbed up, they fleshed out his character and were able to bring him on as a main b-character.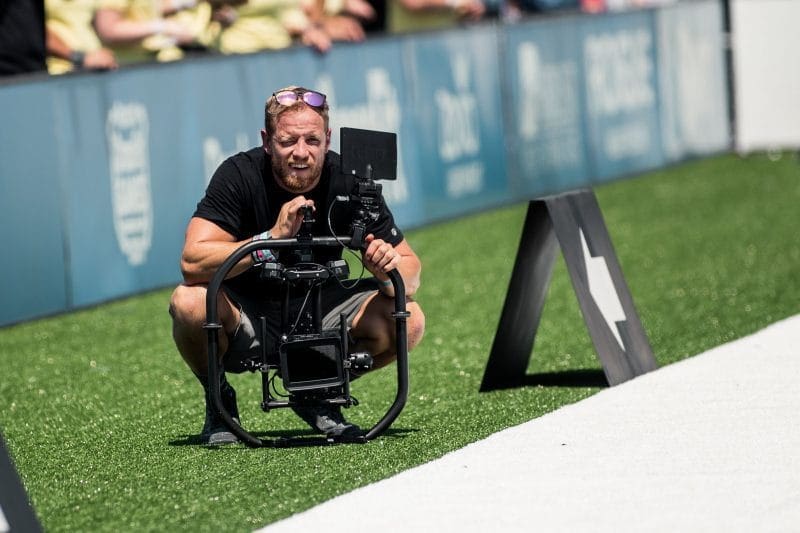 Filming every individual event and juggling the Buttery Bros show
The weekend included a lot of moving pieces and involved a lot of running around. Heber and Marston had to find a way to film the CrossFit Games events, film behind the scenes to get athlete reactions, manage the people they were working with, and then turn the camera on themselves to film for their YouTube show.
The pair was stationed in the RV Park for the whole week trying to pull everything together.
When they filmed a special piece behind the scenes, they knew the clip would go into the documentary instead of their YouTube show. That way, they ensured exclusive content for the movie.
Shooting without CrossFit's help
Financing for the documentary was the biggest hurdle Heber and Marston had to get across. To start off, they tried to monetise the Buttery Bros but it didn't catch instantly, so they were also doing every commercial job that came their way.
They slowly shifted their focus 100% towards the Buttery Bros, but that didn't happen until a couple of months before the CrossFit Games.
Another big aspect was gaining permission and rights. An obstacle they're also dealing with this year.
In the past, the pair has worked with co-workers at CrossFit, so support on the ground was well figured out. And while they didn't have that in 2019, Heber and Marston have filmed the Games so many times they know how to operate really well.
They didn't know about the events or schedule beforehand, which suited them fine. "We wanted it to be that way because we wanted to be finding out and have authentic reactions to what the workouts were and what the news was, as it was happening, because we were inserting ourselves into that story for the first time," said Marston.
"Learning how the sport works and how it moves, and knowing how Dave programs, knowing that he's going to set the workout up so that it's visually easy for the audience to understand who is in the lead," Heber added.
"You don't really need to know the workouts so much as you just need to know how the floor is going to be operating. Having shot the Games so many times it's easy to see where the winner's going to be."
The experience definitely helps, but it doesn't make producing a documentary easy, especially when it's mainly only two people behind it.
"You just kind of figure out where things might be happening and then cross your fingers and hope things go the way you expect," said Heber.
The Fittest Documentary
The Fittest Documentary is one of Marston's and Heber's favourite documentaries they've produced so far. A lot of blood, sweat, tears and time went into making it happen, yet Heber described the path to it as incredibly fun and part of what makes it so great.
"There was a lot of challenges that weren't presented in the same way just because when you work for a company, they can take all the financial burden and they can hire people. For us, we knew we could pull it off, but pulling it off ourselves and doing it our own way, that was actually the most rewarding part of it," said Marston.
And the experience filming at the CrossFit Games wasn't bad either.
By the time the CrossFit Games came around people knew who Marston and Heber were, and they had taking a liking to their show.
"This last year I actually thought it was the most fun CrossFit Games experience that I've had. Even though we were doing so much," said Marston. "Going out and being in the community and getting recognised a lot, that was very different for us.
"This last year was my favourtie experience to date of covering the Games and it was our first time being independent from CrossFit."
2020 CrossFit Games
"It's really special to me to be able to have left a company that we worked for and still wanted to work in that space and within a year be able to start a new company and bring on sponsors and prove what we were doing was valuable," said Marston.
"The following we have now on out YouTube show, they're dedicated and loyal fans and we're really thankful that they believed in us and supported us throughout all this. It motivates me to keep wanting to do it – it's been a lot of fun," he continued.
Heber and Marston want to support the athletes, and they hope that will take shape in the form of telling their stories at the 2020 CrossFit Games.