Annie Thorisdottir reigned in 2011 and 2012, Katrin Tanja Davidsdottir took over in 2015, together with Sara Sigmundsdottir and Björgvin Karl Guðmundsson who both landed a third-place podium spot at this year's CrossFit Games. All athletes are still considerably young, Annie being the oldest with 26 and Katrin the youngest with 22 years of age.
Freyja is only 18, and she can already snatch 80 kg. 
"We have a lot of young athletes at CrossFit Reykjavík, starting from as young as three years old! I coach the 10-16 year-olds, and there's a lot of talented Crossfitters here that have some big goals for the future."
Name: Freyja Mist Ólafsdóttir
Nickname: No nickname – just Freyja.
Age: 18
Country: Iceland
CrossFit box: CrossFit Reykjavík
Coach/Programme: Competitors Training
Best results: Junior Nordic and Icelandic Champion in Olympic Weightlifting. Third place finisher at the Senior Nordic Championships. Top 10 at the Icelandic Crossfit Championships
Snatch: 80 kg
C&J: 95 kg
Squat: 120 kg back /105 kg front
Deadlift: 120 kg (Super old PR – I'm working on this one!)
"I have big dreams and goals for the future, both short and long term. I want to keep competing in Crossfit and weightlifting. I'm going to try to qualify for bigger competitions in the near future to gain experience with competing. Also, I want to make it to Regionals and the CrossFit Games one day."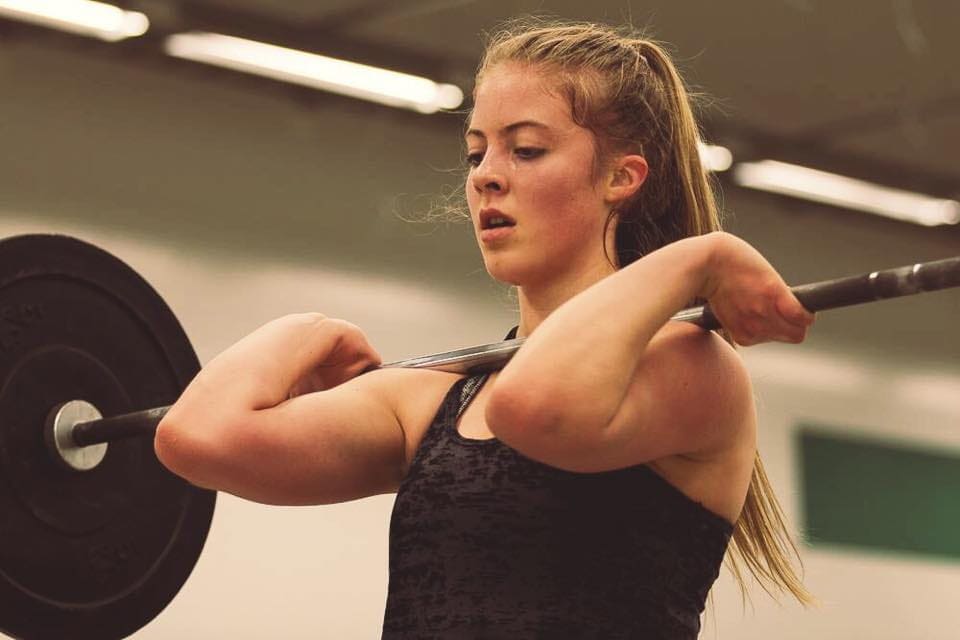 On what her goals are for the rest of the season, she answers: "At the beginning of the year I wrote a long list of small goals for 2015 and I have nearly reached them all. The one I'm really looking forward to cross off soon is a 100 kg clean and jerk which has been a goal of mine for a long time."
When she was 3, Freyja started with gymnastics, but quit a couple of years afterwards and later on continued with various sports: "I  did football, handball, dancing, karate and volleyball before I found Crossfit and weightlifting, which was also the first time I felt like I found a sport for me." She started with Crossfit when she was 16.
"My mom started back in 2011 and she was always telling me how fun it was. I thought it sounded really boring and I was 100% sure it wasn't for me. Then one day, on Iceland's National Holiday, various sports were being showcased downtown. The CrossFit Reykjavík Regional and Games competitors represented Crossfit and they were doing stuff like pull ups, handstand push-ups and muscle ups, and I thought it looked so cool to be able to do all of those things so I signed up right away!"
Growing up with the Fittest Women on Earth
"It's amazing. I'm so lucky to have them around and learn from them, as well as all the other Icelandic Games and Regional athletes." Freyja trains at CrossFit Reykjavík, the home of CrossFit Games champions Annie Thorisdottir and Katrin Tanja Davidsdottir.
"To have Annie and Katrin so close to me and to see all their success makes me realise that it's actually possible to achieve something as big as they have, and that I can pretty much do everything I set my mind to. I think it's also pretty cool that I get to see what happens behind the scenes."
I get to see what it actually takes to be at the level they are and all the sacrifices they have to make.
Freyja looks up to all Icelandic CrossFit Games athletes, but if she could pick one that would be the 2015 CrossFit Games champion Katrin Tanja Davidsdottir.
"I started training with Katrin last summer and we trained a lot together leading up to the Regionals. I have improved and grown so much after, and learnt something from her every single training session. She has taught me a lot about technique, strategy and especially a lot about the mental part of Crossfit. She's really sweet and supportive of everything I do and also helps me out with everything from school to Crossfit, and life in general."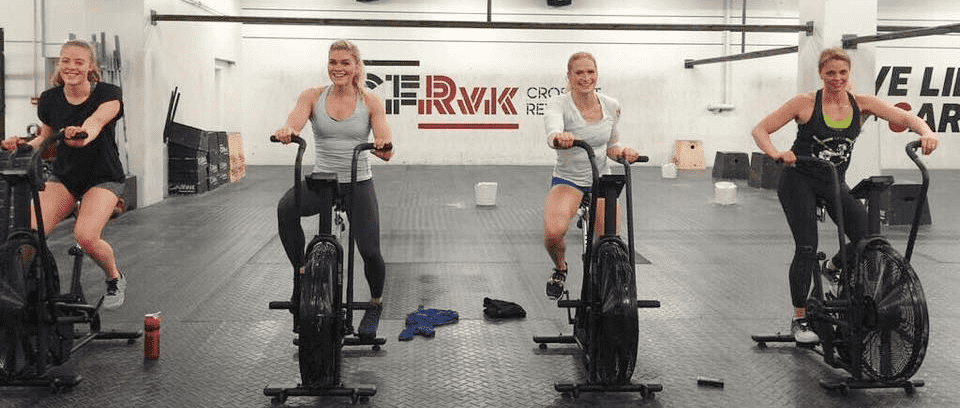 "Katrin has worked so hard for everything she has achieved, and deserves everything she has accomplished."
With every workout, she gives all she's got and is more than willing to put in the extra work to do what others won't to get to the top. That's the kind of  the mindset she has taught me to have and I want to finish every training session knowing I gave it my all. Freyja on how this year's CrossFit Games champion inspires her.
The work ethic of other two CrossFit Games "Dottirs" is no less powerful. She has always looked up to Annie and Sara as well: "They're both so determined and focused on their goals. Also, they're both really sweet and great role models. I especially look up to Sara regarding the gymnastic part of Crossfit. She wasn't a gymnast growing up and had to start from scratch. She still managed to get to the level she's at simply by working hard."
Freyja follows the Regional Competitors Training, programmed by Ben Bergeron: "Out of all the programs I've tried it's definitely the most fun and versatile of them all. Since my weightlifting is a level above everything else in Crossfit, I do cheat a bit and add a bit of gymnastic work every day. I also run twice a week."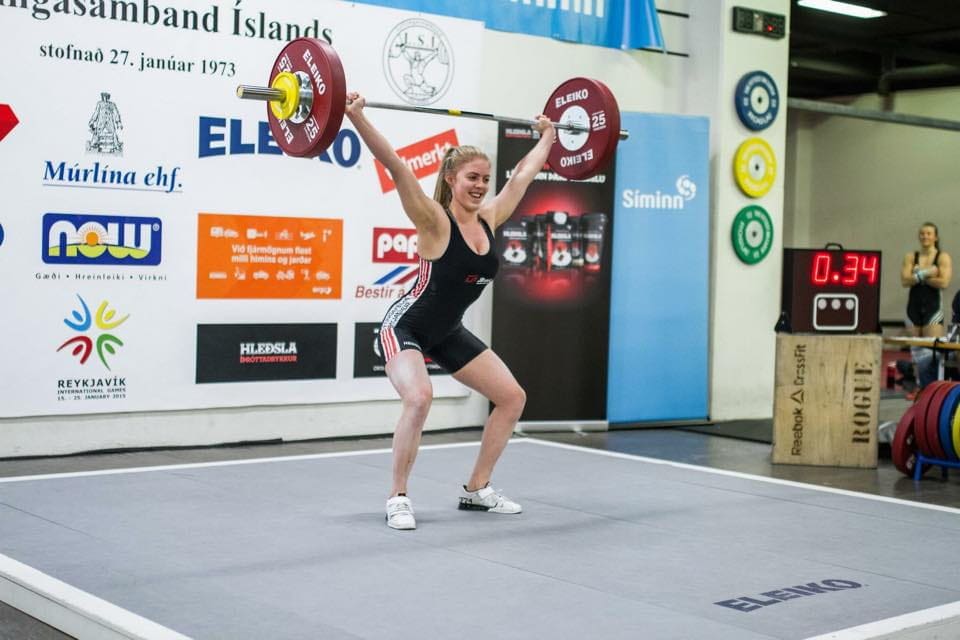 She trains with athletes her age – CrossFit Reykjavík competition group, competitors who want to and are in the contention for a spot on the Regional team for 2016. "We train together 5 times a week with a coach and we mainly follow Competitors Training. I love having so many kids my age to train with. It's always an extra push when you have someone next to you during a workout who's at the same level as you."
On parties or sports, and how popular Crossfit is among Icelandic teenagers Freyja answers: "Icelandic teenagers do a lot of drinking and partying. Most of the kids at my school started drinking at a fairly young age and they regularly go downtown to party during the weekends."
"Despite that, healthy living is actually pretty trendy in Iceland at the moment, which I think is pretty cool to see. Most teenagers have started to think about what kind of food they're eating and about the exercise they're should be doing. A lot of my friends do some type of sport or go to the gym regularly and live a healthy lifestyle but still like to party during the weekends.
School, coach, train, homework, sleep, repeat
Freyja's usual day doesn't follow the popular eat-train-sleep cycle: "My day starts with school every morning at 8:15. I finish around 3 p.m. and drive straight to CrossFit Reykjavik to coach the kids and teens.
After coaching, she starts with her own training. "I'm usually done with training at 9 and I get home at around 9:30 p.m. When I get home I take a shower, eat dinner and try to do some homework, but usually I'm really tired so I skip the homework and go straight to bed. I try to catch up on all my school work during the weekends and rest days."
Crossfit, teenage girls and the body image
Before starting with Crossfit, like every girl her age, body image was something Freyja struggled with.
"I was very aware of everything I ate. I always went running when I felt guilty about something I had eaten and only worked out to look good. All I thought about was calories in and calories out. My perception changed immensely after I started Crossfit. I don't eat to look good, I eat to perform."
She has experimented a lot with her diet to find out what works best for her: "I've found that eating healthy, clean and enough works best. I'm thankful that Crossfit has changed my perspective. I don't worry about dieting anymore and I never feel guilty about eating something."
To all the girls struggling with body image:
"You're not alone. There are many other girls out there who struggle with the exact same thing. Everyone is born different and nobody should be judged on the way they look. Think about living a healthy lifestyle and feel happy, confident and proud in your own skin. You definitely shouldn't care about what other people think or say, because it doesn't matter."