You might know "Fronings" and "Khalipas", but there are athletes who had their own Wikipedia page before CrossFit. The following athletes, now top level Crossfit competitors, are former Olympians, World and European champions.
1. Anna Tunnicliffe: Olympic Games Gold Medallist in Sailing  
Sport: Sailing
Age: 32
Region: Mid Atlantic, USA
Games 2015: 22nd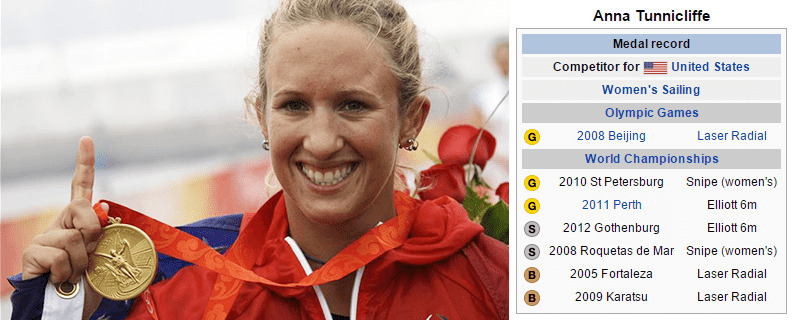 Tunnicliffe was born in England, but later migrated to Ohio, USA where she first picked on sailing. Eventually, she got into racing and, while watching 1996 Atlanta's Olympics, decided to train her way to the Olympic gold medal.
Tunnicliffe got one in 2008 at Beijing Olympics, with team US in sailing (Women's Laser Radial class). Four years later, she returned for her second Olympics (London 2012) and finished 5th. A year after, she made her CrossFit Games debut and finished 9th overall.
"Winning a gold medal is the most amazing feeling in the world." – Anna Tunnicliffe
This year Anna Tunnicliffe competed in her third consecutive CrossFit Games. She won the Sandbag event and made two other top 3 finishes.
---
Tunnicliffe was not the only former Olympian competing at this year's Games. 
2. Tom Pappas, World Champion in Decathlon  
Sport: Track & Field, Decathlon
Age: 38
Region: North west, USA
Games 2015: 23rd with team Lane 5 Athletics

Tom Pappas is the owner and head coach at CrossFit Lane 5 Athletics. He is also one of the most decorated American decathlete athletes of all time.
Pappas won the gold medal at 2003 World Championship in France. He finished 5th at 2000 Sydney's summer Olympics, and won the indoor track & field heptathlon World Championship in 2003 (Birmingham, England). He also won nationals seven times.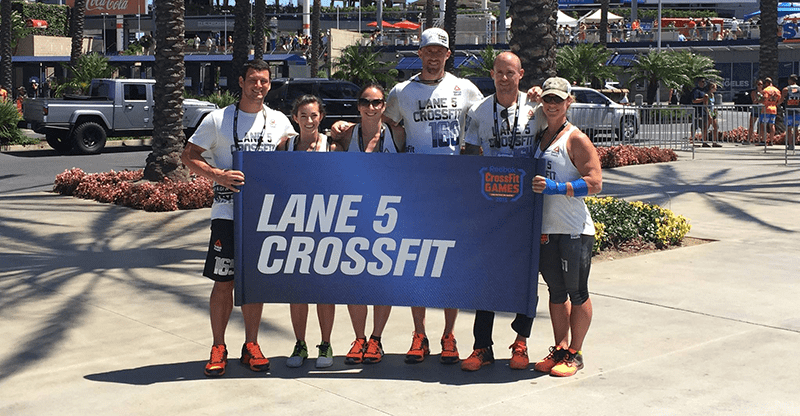 Pappas was part of the Lane 5 Athletics team which finished 23rd at this year's CrossFit Games.
---
CrossFit Games gave a second chance to another former professional athlete. 
3. Alethea Boon: Elite Gymnast
Sport: Gymnastics
Age: 31
Region: Australia
Games 2015: 20th
Alethea Boon competing at 2002 Commonwealth Games. 
Now a 31-year-old Crossfit athlete was once an elite gymnast, representing Australia at Worlds and Commonwealth Games. Boon made two appearances at World Championships (in China and USA). She was also a reserve on Olympic team for Sydney's Olympics (2000).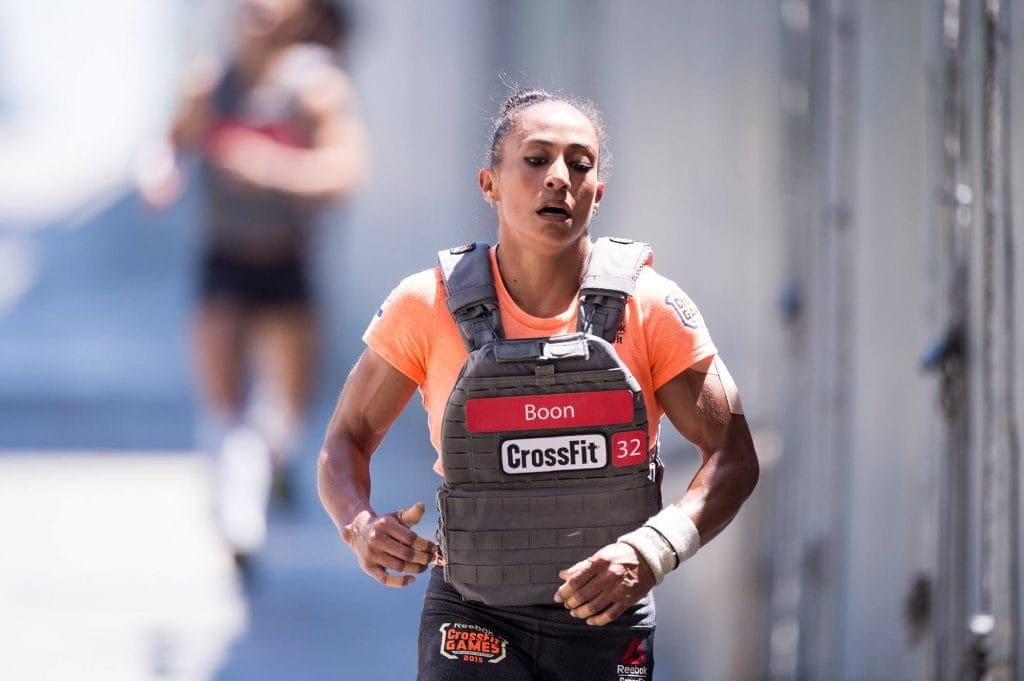 2015 marks her rookie CrossFit Games appearance. Boon finished 2nd in Murph and made four other top 10 performances. She trains with a Games veteran Chad MacKay at CrossFit Active.
---
 Add Regionals and the Open, and the pro lineup with Olympics medallists expands. 
4. Oxana Slivenko: World Champion and Olympics Silver Medallist in Weightlifting
Sport: Olympic weightlifting
Age: 28
Region: Europe
Meridian Regional 2015: 8th

When it comes to Regional's events with max lifts, Beijing Olympics Silver medallist and a three-time World champion in Olympic Weightlifting (69kg class) Oxana Slivenko has no competition.
2015 Regionals were no exception. Even though Slivenko failed the first attempt at 95-kilos, second snatch look liked a good warm up and was big enough to make an event record.
https://instagram.com/p/3ri6KdhobE/
In 2011, Slivenko won the Europeans (69kg class), snatching 120kg (120/145/265).
Slivenko is a world class weightlifter (Olympic silver, three Worlds and 4 Europeans golds in 69 kg category) who isn't far away from making it to the Games. She won two events at this year's Meridian Regional (snatch, muscle-ups and clean ladder) and finished 8th overall.
Last year, she came even closer by taking 5th, leaving behind this year's fittest women on Earth Katrin Tanja Davidsdottir and Sara Sigmundsdóttir.
---
World Medallists and Olympians are also among the coaches. 
5. Cameron Nichol, Double World Silver Medalist and Olympic rower  
Sport: Rowing
Age: 28
Region: Europe
CrossFit Open Europe: 297

Cameron Nichol is a British rower, a double world silver medalist in Men's Eight and a former Olympic rower for Great Britain. He won two silvers at 2010 and 2011 World Championships. Nichol also competed at London's 2012 Olympics in Men Spare Pair.
After 2012 Olympics, he focused on Crossfit. He finished this year's Open in Europe's top 300. When he's not competing, Nichol helps Games medalists Sara Sigmundsdóttir and Björgvin Guðmundsson perfecting their rowing.
Sara getting coached by a former Olympic rower Cameron Nichol: 
https://instagram.com/p/4V95RtlqWP/?taken-by=weightlifting_101
---
Pro athletes come from variety of sports. 
6. Emma McQuaid, Elite Quad Biker
Sport: Quad bike racing
Age: 25
Region: Europe
Meridian Regional 2015: 17th
She caught our attention with her 6th place at this year's Open (European region). Later, after struggling with injury, McQuaid finished 17th at Meridian Regional.
McQuaid is still a world-class quad biker, and it was through this sport she first found Crossfit. From our interview with Emma:
I had a very successful racing career and have raced all over the world over the years, including America in 2012 where I won a round of the PRO Women's World Championship – probably my biggest achievement on a bike.
The improvement she showed over the past year, makes her one of the hopefuls to challenge Icelandics for 2016 Games spots.
---
Athlete we missed and should be on the list? 
Image Sources
crossfit-athletes-pro: CrossFit/Getty Images