Rich Froning Jr., four-time winner of The CrossFit Games, won't defend his title in 2015. Rich stepped down from the individual competition and joined the team division with his affiliate, and the East Regional winning team, CrossFit Mayhem Freedom.
Camille Leblanc-Bazinet, the female winner of the CrossFit Games 2014, will be back to defend her crown. With her strength and skills, she is once again one of the top ranked candidates.
Both of them know that ups and downs are part of the sport. Here, together with other influencers, Camille and Rich, share ways to hack your strength in 7 inspiring "Strength hacks".
1. Hit the wall
The only shortcut is realizing there is none.
Success does not happen overnight. It comes from years of consistent work. To develop your abilities to the highest level possible, you don't take shortcuts.
 "The only shortcut is to realize that there is none. You need to embrace your weakness and understand that there is no way around it. You will only improve your results if you push yourself through the wall, your limitations. Hit it and trust your ability, it is the only way," adds Camille.
Camille Leblanc-Bazinet knows that hard work with a long term vision brings results. Shortcuts don't work, they lead to burnouts and injuries.
Be patient, embrace your weakness and work on them. Make them your strengths. Most importantly, don't just focus on getting better. Make sure you also have fun. When you feel you hit the wall, don't stop. Try to push further and see what happens.
2. Have a bodyweight go-to routine
Basic bodyweight exercises can really give you a full body workout.
We all get stuck into thinking only demanding, diverse and tough workouts bring results. Often the simple ones are actually the hardest. Days when you can't make it to the gym, are not lost. Pick out a few bodyweight exercises, add volume and intensity, and do it.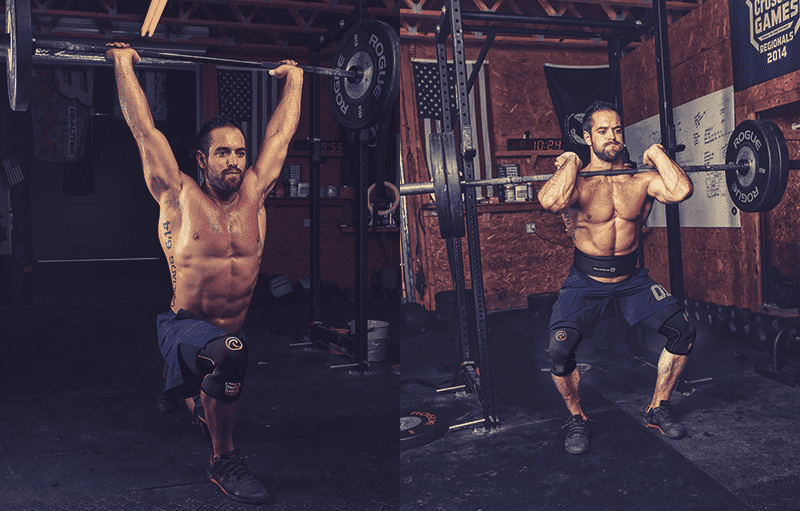 Rich Froning Jr. has his own go-to challenge: "A bodyweight workout you can automatically do on a travel day or when you're stuck inside is essential. You really don't need any gym equipment to challenge yourself with a tough workout."
Rich Froning Jr.'s bodyweight routine:
5 Rounds x 20 reps
Pushups
Squats
Burpees
Pullups
Pistols
3. The knee strength hack
I recommend all athletes to use Rehband knee sleeves. – Rich Froning Jr.
Professional athletes know that injury prevention is crucial to their success. Part of it is feeling safe during demanding workouts. To do so they use products for additional support in order to reach their full potential. Camille Leblanc-Bazinet, Rich Froning Jr. and Josh Bridges all agree that Rehband knee sleeves will make them feel safe and ready to lift heavier and reach higher goals.
For Camille Leblanc-Bazinet knee sleeves are the extra push she needs: "Rehband knee sleeves gives you that extra push and make you feel safe," says the 2014 Games champion. Josh Bridges, last year's fourth placed athlete at the CrossFit Games, adds that for him knee sleeves are a physical and mental help to push further.
"I would recommend most athletes to use Rehband knee sleeves. The benefits are compression, stability, it keeps your joints and muscles warm and it just feels better squatting," explains​ Rich Froning Jr., the CrossFit Games Champion of 2011-2014.
Rehband knee sleeves have a patented anatomic fit that follows the full range of motion and stabilize the knee. Compression around the knee gives the feeling of stability, safety and warmth to keep your joints protected and your mind focused on the task ahead.
4. Show some emotion!
That's right, I'm saying show some emotion in the gym – let it out!
CrossFit is an emotional sport. Embrace it. Try what it feels like to let it all out and go a little bit "crazy".
Josh Bridges says his mental power to push further sometimes comes from anger: "Some of my best workouts come from thinking about people that piss me off. I would like to thank them, but then they probably wouldn't give me any more motivation. So my quiet "thank you" is that two extra rounds I got on my AMRAP or those 5 extra pounds I put up on my bench press."
We all understand screaming is an essential part of "PR-ing" the snatch: "The other day I stood up with a PR snatch and I was screaming at the top of my lungs like a crazy person. I immediately apologized to the guy in the gym, and all he said was 'that was motivating'. It motivates me to see other people do this too — so don't hold back!"
5. Find your tune
Let the music give you extra power!
Intensity needs a good playlist. Turn on the music. Choose the track that has a beat and lyrics to make you feel stronger.
To help her switch off from the outer world and focus solely on the training, Camille likes to find the right tunes: "These days I am also a huge fan of Apocalyptica. And I love listening to classical music like Beethoven. I find classical music to be very powerful and profound — which is what a good workout should be!"
6. The Champion Mindset
Enjoy the journey and do it for yourself.
Monday after winning the 2014 CrossFit Games Camille Leblanc-Bazinet was back on a plane, thinking about finishing her University studies. Camille is not just an athlete; she is also a Chemical Engineering student. "After winning the Games, it was the last thing I wanted to do but I had to suck it up and do it. CrossFit has really helped me with developing a strong mindset."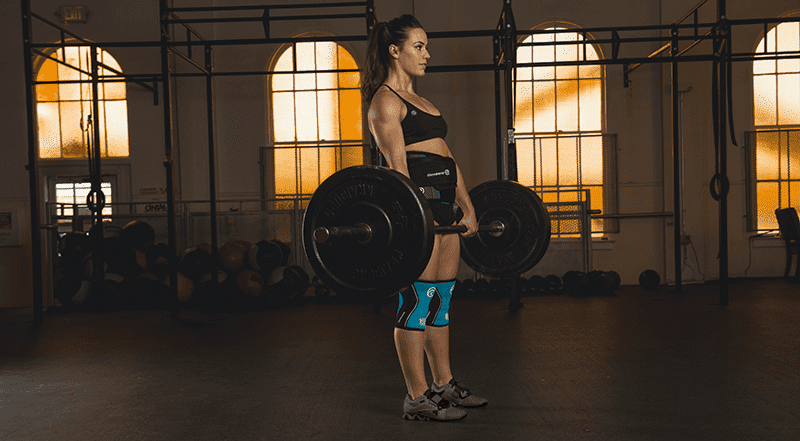 Goals give you a direction, but they should not be the main focus. As Camille says: "Set a goal that is not about the reward, but the journey. If you make it all about the reward, you may do the 'wrong things' in order to get there. But by focusing on how you reach your goals and letting that journey become your lifestyle, you will automatically attach more value to your hard work and pride in doing it the right way."
For Camille winning the CrossFit Games 2014 was part of her overall goals. However the most important one was to discover how strong, fast, agile and athletic she can become. Winning was just the by-product of reaching to her potential and wanting to be the best at what she does.
Focus on the journey, don't mind the social standards, suck it up and just do it.
7. Push and get pushed
 If you ever need that extra push, who is better qualified than a friend?
It might come to you as a surprise, but Rich Froning Jr. doesn't enjoy all workouts, especially running. But he has a simple hack to trick his mind and make it more attractive: "I make people do it with me, so I'm not suffering by myself. And that helps me, because the competitive aspect comes out. I'm like, 'I don't want to get beat,' even though the running in itself sucks," says Rich.
Working out with a friend has its benefits: healthy competitiveness, extra push and moving through success and let-downs together.