Use these Wild Swimming Tips to maximise your enjoyment and safety when it comes to open water swimming.
One of my favourite parts of Wild Swimming is the Community. This is a group of unique, fun loving, adventurous and slightly mad individuals united by a common love for the simple joy of outdoor swimming and being in nature.
When I started this article, I thought that I would offer a few tips that I had picked up over the years.
My brothers and I are relatively experienced swimmers, so I thought it might be helpful for other swimmers. I decided to quickly ask for any other tips from the swimmers in the Outdoor Swimming Society fb group. The response was so overwhelming that I have decided to completely change the format of the article and tell you instead what they advised me. It is much more interesting and fun!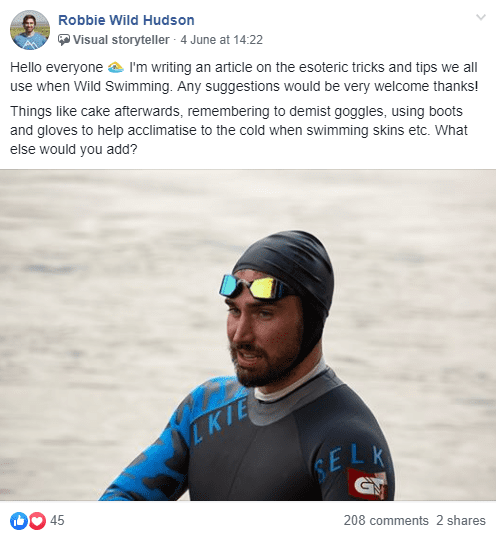 This article presents the collective wisdom of the wonderful swimmers from this excellent group. Some suggestions are funny, many invaluable and a few are downright ingenious!
They are organised into the following sections:
Getting Changed
Food and Drink
Getting into the Water
Water Safety
General
Kit
Please add any others that you use yourself, I would love to hear about them.
Have fun and enjoy your swimming!
Wild Swimming Tips – GETTING CHANGED
Julia Bazley Abandon all hope of working out how to put your bra on after a very cold swim.
Carla Gilliatt Wrap your clothes around a hot water bottle before you swim and then arhhhhh…..nice warm clothes to put on post swim 😊
David Cole 1. Preparing your clothes b4 you swim so u can dress quickly. 2. Not wearing button shirts in the depths of winter because your hands loose dexterity. 3) wearing a bright swim cap so u can be seen rather than a 'cool' black one.
Juliet Turnbull Lay out your clothes ready to get dressed as quickly as possible afterwards
Debbie Charlick Ok – I like to stand on an Asda towelling toilet mat whilst drying off as it is a good shape , handy size to pack , keeps grit / muck off feet whilst drying off and easy to step into shoes from . ( don't laugh … It's bound to catch on 😉)!
Jane Wilde It's a girl thing but no putting on underwear when it's really cold- too hard to spin a bra under a dryrobe and knickers just stick! 😄
Em Colley Dry Robe for me. Made all the difference. That and look around and marvel at this incredible world. It feels like I'm in the scenery, a part of it all, not just looking at a view (as it would if I were walking alongside a river)
Gill Dewey Winter rules:
No to buttons, zips, laces, bras, knickers. Yes to long johns, many layers, uggboots, mittens, hats and fleece cowls.
A John W Mace Never have a hot shower until fully warmed up after cold swim.
Sam Roberson A John W Mace I would recommend having a cold shower and adjusting the temp as appropriate
Hayley Frapwell Keep your hat on until all your other clothes are on. Thermos of hot choc, soup or tea.
Deb Tyler Layers and layers and more layers of clothing, cover core and head first. No hot shower if water under 10 degrees (based on advice and personal experience over 3 winters) 🙂
Kirsty Armstrong I love my heated car seats…
Helen Williams Penning When it's cold I always fold and layer my warm clothes in the order I want to put them on – so there's no scrabbling around in my bag/car boot for the essentials. Always keep my swim hat on until I'm dressed – find that keeps my head much warmer initially than going straight for the woolly hat. One HW bottle down my front and one across the top of my shoulders, hot peppermint tea and a few digestives and all topped off with my Dry robe and I'm sorted! Love winter swimming.
Zoë Gell And if you use a wetsuit, gloves and boots stand in one of these to get changed then carry your wet stuff home in afterwards 😊
Clare Finch Don't take your swim hat off til you are fully dressed x
Silla Parnell I have my clothes laid out in a very specific order in the boot of my car so I can get them on quickly. Admittedly this means leaving my knickers in the window (they get lost otherwise) which can be quite traumatic for my teenage sons…
Wild Swimming Tips – FOOD AND DRINK
Juliet Turnbull Have a hot drink to warm up afterwards
Suzanne Wiest Wlaschin If not near a cafe always bring a thermos – especially when cold-water swimming. It's essential!
Rachel Tree Suzanne Wiest Wlaschin I take 2 flasks of hot tea or coffee. Peanut butter & spinach sandwiches in wholemeal bread.
Sparkie Whippet Remember that calories are a unit of heat – so you do warm up by eating…
Gilly Brown Pre swim emergency power banana.
Take big deep belly breaths and relax into cold water.
Rhian Manley Drinking lots of water beforehand🤫🤭
Jens Bruce Chew ginger root on way to swim to make your core feel warmer, and don't listen to the negative voice in your head saying "what the hell are you doing"
Mick Shepherd I have always taken the lifeboat-men's advice, eat BUTTER after cold water swimming to warm up your metabolism! I always take a small piece of toast from my breakfast to the lido every morning, with butter & marmelade(NOT marg) wrapped up in a small piece of tin foil, along with my flask of hot tea: the fattiness of the butter warms you up immediately!
GETTING INTO THE WATER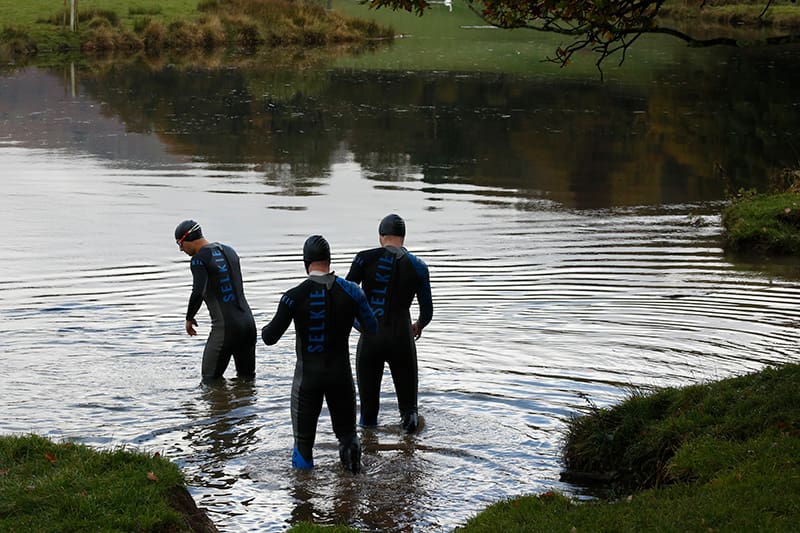 Rebecca Ward The warm up dance before you get in/while getting in to entertain spectators 😂
David Tainsh Sit in the water for 20 minutes before I start swimming.
Clare Calder Lots of shouty swearing when entering cold water, plus making sure you don't hold your arms up – get your hands in the water ASAP otherwise it's really difficult to get arms/hands in, cos they won't want to go in once your body has sent your arms the "OMG it's freezing!!" message.
Norma MacLeod When swimming head down in colder temps I start swimming 4-6 strokes, then stop and grab my face screaming, 8 strokes then same, then 10 and so on. Smaller chunks of brain freeze are more manageable to get used to it!
Wild Swimming Tips – WATER SAFETY
Colin S Macleod Don't swim alone
Juliet Turnbull Use a high vis tow float
Susie Symes Never get in until you have checked where you are sure you can get out, even when very cold.
Vivienne Anne Dow PT Also to get your head under start with just your chin under, then your lips when you are ready, then your nose, then just keep working up until you are ready to go
Sophie Messager I dip my head under water progressively for a couple of min to remove the gasp reflex. After the swim, I tuck my hot water bottle in my trousers to warm my core up.
AE O'Donnell Focus on breathing out as you get into the water, instinct can be to hold your breath or gasp. Also, pay attention to your body – don't push yourself to swim for a certain distance if you are chilled or tired or whatever. Don't compare yourself to others. Better get out a bit sooner than you'd planned rather than get out later. And like lots of other people have said – look around, enjoy the sights, sounds, smells. Finally, have fun in the water, play games, float about…
Kirsten Dwight When the water is so cold it hurts my skin, I run out and in a few times to acclimatise. Having a few seconds break from the cold while my circulation gets going helps me to get to the moment of taking the plunge!
Wild Swimming Tips – GENERAL
Edward Yabsley Beware of naked Germans. I was in Croatia recently, lovely swimming, but at one point found myself in their midst. It was a hell of a shock what with my slightly misted up goggles.
Les Peebles Faffing. Faffing is absolutely essential to a succesful dip. 🤣
Meg Antoinette Marr Les Peebles faffing is my favourite past time 😁
Les Peebles Meg Antoinette Marr fabulous faffers unite!
Jackie Israel Jones Lots of swearing getting into the cold water with great swim friends 🤣
Mark Roberts I pretend I'm a polar bear before I get in, a penguin when I'm in, and then do an impression of a jelly fish when I get out;)
Juliet Turnbull Enjoy the moment!!!
Rachel Fletcher Always, always, turn over to look up at the sky.
Colin S Macleod Backwards planning…plan your swim from getting dressed after your swim (along with warm drinks & cake) backwards to before going for your swim….to have everything prepped in advance….if that makes sense 🙂
Emma Williamson Get your core warm before u go in , 2 hot water bottles when you come out , always do your home work how to get in out , check weather inc previous day(s) weather (swell) , warm after clothing which is quick to get in 'fleace ' is your friend , don't be prudish as inevitable flashes of skin , hot drink , demist goggles put on dry face as they can leak trying to put them on cold wet face , speak to locals 're conditions , trust you instincts 're how cold you are feel of the water , most importantly relax enjoy take your time 🙂clear goggles are better to see full colour under water x we do enjoy a fair amount of cake on our more social swims at the weekend usually x love meeting people and friendships through swimming outside amazing 4 your mental health x …… you don't need to shave your legs or yir oxsters 😂
Barbara Brown Open all your senses…the look of the light and reflections, the sound of the birds and your splooshing, the metal smell of winter water, the fresh green smell of summer, the slate taste of Cumbrian lakes, the coal taste of a Welsh river, the fizzy feel of biting cold on skin, the soft silk of a summer lake.
Dave Williams Have a wee as soon as you get in the water warms up the wet suit
Nancy Farmer The colder it is the quicker I get in! I don't dive or jump, but wade in and then hurl the rest of me in without giving the brain a chance to think or the body to back uot. Only as it warms up can I take a more leisurely approach! Count one second of entry for each degree 😀 …ok not that, really, but it gives you an idea!
Tamsin McVean Plan by wildlife, tide & moon phase, fire on the rocks, hot flask before & after, jog home to warm thru after – oh & always a bestfriend at your side 🐾
Janet Renouf-Miller Biosecurity. Wash gear in muck bucket and tip water onto ground to avoid spreading the dreaded NZ weed. Bassenthwaite loch and at least one other has it.
Heather Purcell Praying 🙏
Fiona Carrick Swimming with friends is a must! Made so many new friends from open water swimming!!
Lesley Martin Robbie Wild Hudson all you need is to borrow your Mum Tina Wild for the best company on any wild swim 🏊‍♀️
Tina Wild or borrow that lovely Lesley Martin Robbie Wild Hudson xxxx
Anika Grimm Definitely finding a swim tribe to go in with, whether it is just one person, swimming skins during the winter months, it was the camaraderie (chats and giggles) that made it for me. Also, practicing yoga and meditation once warmed up feels amazing. 🥰
Wild Swimming Tips – KIT
Judy Ewart Also double hats or a neoprene hat; defo a hot drink ready for after (I forgot that last weekend – brrr! I could have done with a hot water bottle or two too!)
Vivienne Anne Dow PT To stop Goggles fogging up don't buy fancy bottles of stuff…just wee bit of baby shampoo diluted in water and spray in your goggles & rinse before you get in water….Best tip I was ever given
Amanda Adler Wear ear plugs so that you can hear when you're old
Rachel Jamieson I wear a woolly hat under my swim cap. Avoids brain freeze.
Alexa Morrison A good piece of advice I got was to buy a waterproof 'intimate' brand of lube for wetsuit neck chafage- because it tends to be much cheaper than the stuff marketed specifically for triathletes, runners etc. 😊
Alexa Morrison Oh and actually this is my top tip- put your foot in a plastic carrier bag before you put your wetsuit on- your foot glides through the leg of your suit and makes getting it on much easier and faster- especially if it's still a bit damp!
Pauline Procter I wear sheepskin lined boots with no socks after winter swimming, easy to put on and natural fibre to warm your feet up. If you're still cold do the swimmers jog/dance to get your circulation going.
Laura Pritchard Mellor Pack spare goggles. If you don't need them, someone else probably will
Laura Pritchard Mellor Baggy, easy to get on clothes. Elasticated waist trousers for minimum faffing.
Louw Mattheus Vaseline under arms
Ally Moore When de-robing, don't take your Dryrobe zip all the way down. Leave it just fastened and step out of it Those zips are buggers when you have cold hands.
Vîctörîá Hêndêrsön I use my booties to stop my feet being ripped to shreds when entering and exiting the lake 😊
Paul Gathercole Flip flops to the water edge.
Rachel Tree Biggest one for me is gloves! My hands got cold. And knowing your limitations….we are all different.
Ben Atkinson Take off all your clothes and forget the plastic wrap when you head into the water. Let your bits be free
Creag Reece Earplugs help with the cold.
I hope these tips helped you with your wild swimming! Learn how to improve your swimming technique or try our selection of swimming workouts.