So who is Ateş Boran? Can you tell us about yourself?
I was born in 1987. I began my sports career the ages between 6-12 with apparatus gymnastic branch. Then from 14-18, I was a licensed rowing athlete. After I got a shoulder injury I had to quit. In 2004, I entered Marmara University School of Physical Education and Sports. I've been doing Crossfit for the last 4 years.
How did you start Crossfit?
When Crossfit was starting to be to heard about, I was working at a gym and in these years, we build crossfit space little corner for Crossfit in our gym.
When I saw the potential of Crossfit, and realised that I was good at it, I started to feel more eager to learn and be more programmatic in my training. At the end of the year, I started to work as a trainer at Crossfit34, which is Turkey's first crossfit Box. Nowadays I am preparing for international competitions and also I'm working as a freelance personal trainer.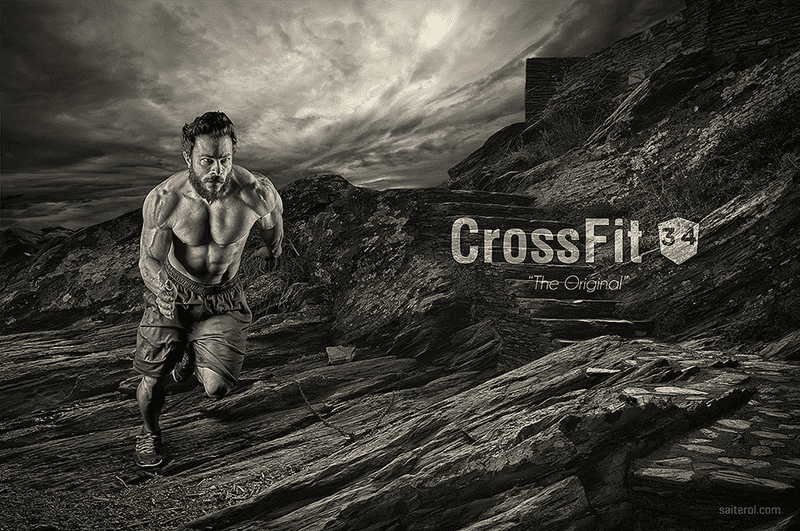 Now you are the fittest man in Turkey. How did you achieve this target?
I took this job seriously for the past 2 years. I adapted my life for it. I'm training to become better with each and every passing day. Of course, success is not coming easily. I work hard to become successful.
How did you feel when you became "The Fittest Men in Turkey?"
The past 3 years my goal was to be successful in the Opens and competing at Regionals. For every athlete, who wants to go Regionals, these 5 weeks of period passing very stressful. For me this period passing tense, as well. So when it finishes I feel very relieved. This title which Crossfit has given to me, it show's that I'm doing my job right.
How did you find competing at the Regionals in Madrid and how did it feel to win event 4?
This year's Regionals in Madrid were more professional than previous years. All the staff, workers, volunteers and umpires took their jobs very seriously. The warm up facilities and resting area for athletes was great. This year, I was the only Turkish athlete at Meridian Regionals, so it means a lot of pressure on my shoulders. But I do my best with pride.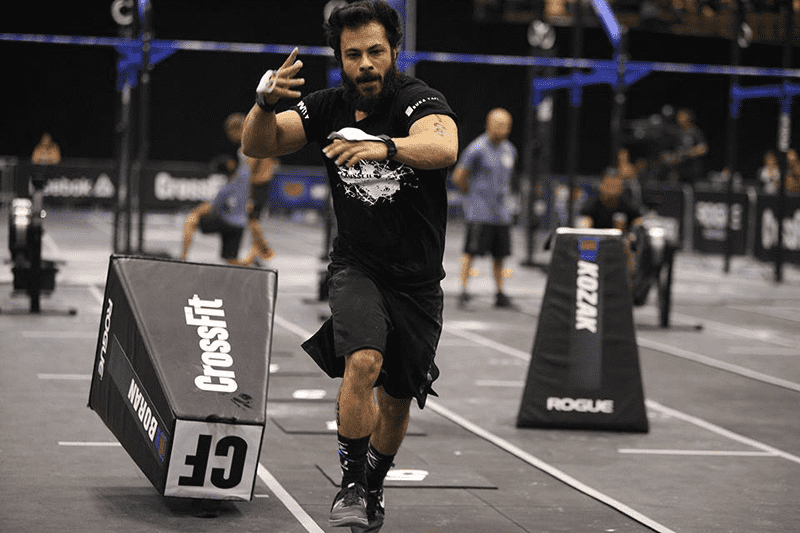 I was expecting that 3 of the 7 events would be great for me. In the 3rd event I became to slow down and think about preparing my body for the fourth event. It was my strategy. And I won. It was the first regionals event first place I've ever won in my career and it made me very happy.
What's your career goal? Where do you see yourself in the next 10 years?
I want to transfer my knowledge and experience to young people who want to be professional Crossfit athletes and also I want to raise and train new athletes.
CROSSFIT IN TURKEY
As you know, Crossfit is not a common sport in Turkey and is a relatively new sport for Turkish people. How is Crossfit developing in the country? What's your opinion and perception?
In Turkey, many people don't see Crossfit as a sport. Generally, in the fitness business they call Crossfit 'getting fit fast'. Nevertheless, Crossfit is a growing worldwide sport and this influence is becoming more popular in Turkey.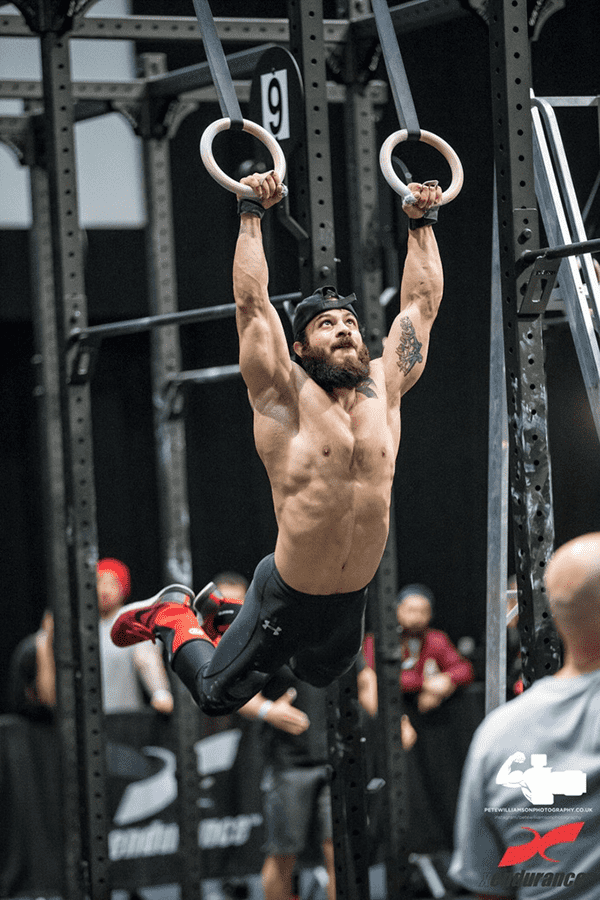 In Crossfit, socialization and creating a sense of belonging attracts beginners to Crossfit. We are growing community in Turkey. If we try to change people's perspective about sports and if we can remove the bias in their minds then we will grow more and more, in my opinion.
In Turkey the focus has been always football, as you know. Often other athletes struggle to find support. For instance, Turkish national tennis player Cagla Buyukakcay, said in an interview at the beginning of her tennis career: "Only my family and my club ENKA supported me" So what kind of support are you getting? Do you think there is enough support or sponsorships?
Unfortunately, like most European countries the focus lies on football and this is the same for Turkey. This situation leads to the problem in terms of support for athletes like me who do other kinds of sports. Even so Crossfit's popularity in the world is growing and big sports brands are attracted.

Crossfit supports a healthy lifestyle. It's very important to take your supplements when you are a Crossfit athlete so I joined a German brand called "Xenofit Türkiye". Also I work with one of the greatest weightlifting equipment brand in the world and in Turkey called "Werksan"
Nevertheless, besides footballers, athlete sponsorships don't get too much attention. So we often have financial problems as individual athletes, that includes me.
PROGRAMMING AND TRAINING TIPS
Do you program your own training or do you have a coach?
My coach and I schedule my training program together weekly. I try to be ready for everything while I'm training. I cover my weak aspects and focus to become better at my strengths.
I am specifically training my thrusters and wall balls at the moment. Also, because I can't use my height advantage, I dedicate more time to rowing. As I have no weight advantage for weightlifting I put a lot of time into perfecting my technique.
What advice would you give to Crossfitters that want to improve their gymnastic strength and techniques?
Especially for weightlifting, athletes should always dedicate a lot of time to their technique. Also, shoot videos of themselves to help identify their weak points.
I also advice to them train with a specific program and schedule. If they have an opportunity work with a coach, it will be more helpful. Because usually athletes don't watch themselves and aren't able to criticize their own mistakes.
What is your favourite and least favourite exercise in Crossfit?
Pistol, chest to bar, pull up ve ing muscle up are my favorites.
Wall Balls and heavy weight deadlifts are my least favourite definitely because I'm always sweating a lot these two exercises during my training.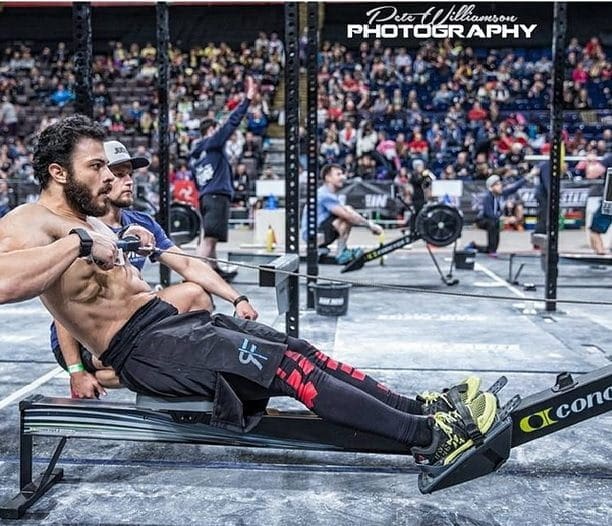 What does a typical day look like for you?
I don't like waking up early in the morning. So that's why my day begins after 9-10 AM.
As for my programming, after breakfast I do my longer aerobic training. This includes running and rowing. During the day, I have my private lessons one to one with clients. After this, technical weightlifting training begins.
I finish the day with various metcons. On 2 or 3 days of the week before I go to bed I do bodyweight training. I finish each day with romwod's half hour training session.
Can you give us information about your diet. How do you eat to boost your performance and maximise recovery?
In the normal season, I try to eat 6 total meals including snacks. I never consume any sugar or acidic beverages. I eat as few packaged foods as possible and try to get the energy I need from natural foods.
When the competition season is getting closer, this routine (willing or unwillingly) can change a little. I don't want to subvert my program and also I don't want to hinder my performance so I'm really making sure to take my vitamins and minerals regularly. Fish oil is essential and so is staying well hydrated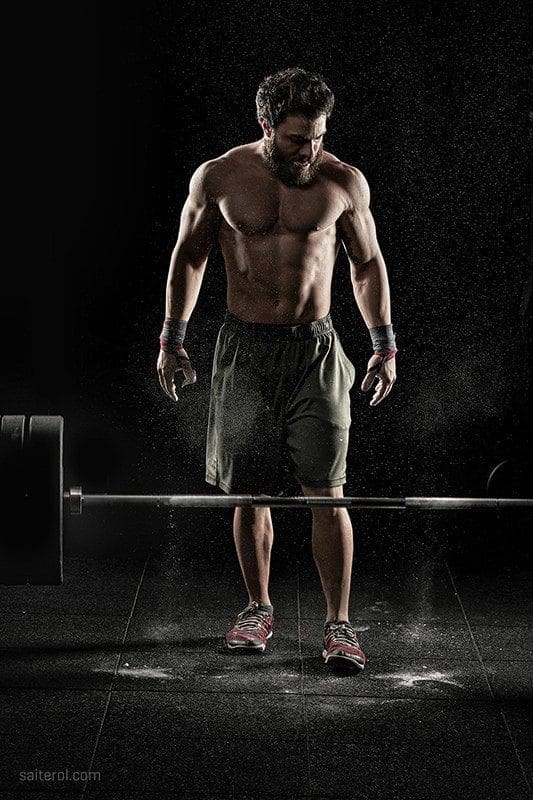 What do you do in your spare time? Do you have any passions for any sports besides Crossfit?
I love riding motorbikes. Besides that, I spend my spare time playing Playstation games and hanging out with my girlfriend. I following basketball, snooker and motorsports.
6 Questions and 6 Answers with Ates Boran
Who is your idol? Chris Spealler
What's your motivation song? ACDC – Thunderstruck
What's your favorite kind of meal? Homemade Burger
Favorite city? İstanbul
Who's your biggest supporter? My girlfriend.
Favorite quote? 'keep your head up.'
TURKISH
1. Ateş Boran kimdir? Bize kendinen bahsedebilir misin?
1987 doğumluyum. Spor hayatıma 6-12 yaşları arasında aletli jimnastik branşı ile başladım. Daha sonra 14-18 yaşları arasında lisanslı kürek sporcusuydum. Bir omuz sakatlığı sonrası bırakmak zorunda kaldım.
2004 yılında Marmara Üniversitesi Spor Yüksek Okulunu kazandım. O yıllarda genel fitness ve fonksiyonel antrenmanlarla spor hayatıma devam ettim. Son 4 senedir CrossFit sporu ile uğraşıyorum.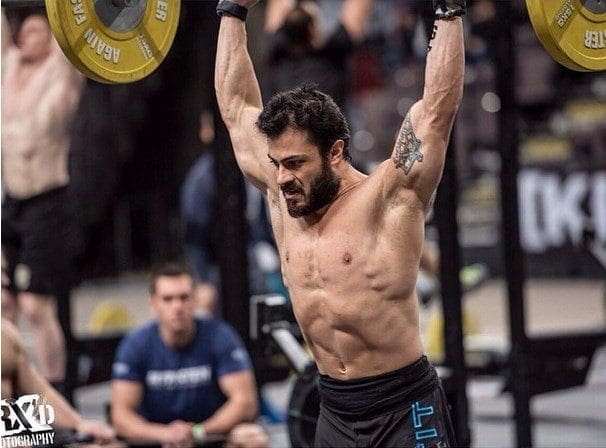 2. Crossfit'e nasıl başladın?
Crossfit'in duyulmaya başladığı ilk yıllarda, çalıştığım fitness salonunun bir köşesinde crossfit alanı kurarak antrenmanları denemeye başladık. İyi olduğumu gördükce daha istekli ve programlı çalışmaya başladım. 1 sene sonunda Turkiye'nin ilk Crossfit salonu olan Crossfit34'ün bünyesine eğitmen olarak katıldım. Şimdilerde uluslararası yarışmalara hazırlanarak, freelance personal trainer'lik yapıyorum.
3. Şu anda Türkiye'nin "En Fit'i" ünvanına sahipsin. Bu büyük başarı nasıl gerçekleşti?
Bu işi son iki senedir çok ciddiye alıyorum. Hayatımı buna göre düzenledim. Her geçen gün daha iyisini yapmak için gym'e gidiyorum.Tabi ki başarı kendiliğinden olmuyor. Bunun için çok emek harcıyorum.
4. Peki Türkiye'nin en fiti olduğunda neler hissettin?
Son 3 senedir hedefim Open'ları geçmek ve Regionals'ta yarışabilmekti. Regionals'a girmek isteyen her atlet bu 5 haftalık Open sürecini stresli geçiriyor. Benim için de bu dönem gergin geçtiği için bittiğinde büyük bir rahatlama hissediyorum. Crossfit'in verdiği bu unvan da işimi iyi yaptığımın bir göstergesi oluyor.
5. Madrid'te gerceklesen Regionals'ta yarismayi nasil buldun? 4. etabi kazandigini biliyoruz. Bu etabi kazanmak sana ne hissettirdi?
Bu sene Madrid'te gerçekleşen Regionals, geçtiğimiz senelere göre çok daha profesyoneldi. Bütün çalışanlar, gönüllüler ve hakemler işini ciddiye alarak yapıyordu. Atletlerin ısınma ve dinlenme alanı gerçekten çok iyidi. Bu sene Meridian Regionals'ta tek Türk olarak yarışmam üzerimde ayrı bir stres yaratsa da bana düşen görevi gururla yapmaya çalıştım.
7 eventin 3 tanesi, benim açımdan iyi geçmesini beklediğim eventlerdendi. 3. eventte stratejik olarak yavaş giderek vücudumu 4.event için hazırladım ve kazandım. Bu da kariyerimin ilk Regionals event birinciliğiydi ve bu beni oldukça mutlu etti.
6. Kariyer hedefin nedir? Onumuzdeki 10 yil icerisinde kendini nerede gormek istiyorsun?
Atletlik kariyerimde kazandığım bilgi ve tecrübeleri, bu işi profesyonel yapmak isteyen gençlere aktarmak ve yeni sporcular yetiştirmek istiyorum.
TURKIYE'DE CROSSFIT
7. Türkiye'de çok yaygın olmayan, çok duyulmayan yeni bir spor dalı Crossfit. Türkiye'de bu sporun gelişimi ile ilgili neler söylebilirsin? Senin gözlemlerin neler?
Şöyle ki ülkemizde Crossfit'e bir spor dalı olarak bakan kitle oldukça az. Genelde fitness sektöründe hızlı forma girdirme yöntemi olarak tanıtılıyor. Buna rağmen bütün dünyayı saran Crossfit, Türkiye'de de popülerliğini artırıyor. İçerisindeki sosyalleşme ve aidiyat yaratma duygusu,spora yeni başlayanları cezbediyor. Türkiye'de de giderek büyüyen bir topluluğuz. İnsanların, spora bakış açısını biraz daha yumuşatarak ön yargıları kaldırarak daha da büyüyebiliriz diye düşünüyorum.
8. Türkiye'de özellikle futbol gibi bir spor dalı odak merkezindeyken, başka sporların çok fazla desteklenmediği konusunda görüşler var. Örneğin Milli Tenisçimiz Çağla Büyükakçay tenis hayatının başlangıcında verdiği bir röportajda: "Bir tek ailem ve kulübüm ENKA destek oldu." demişti. Sana nasıl bir destek var? Desteklerin, sponsorlukların yetersiz olduğunu düşünüyor musun?
Maalesef ki çoğu Avrupa ülkelerinde olduğu gibi Türkiye'de de sporun odak merkezi Futbol. Bu durum farklı sporlarla uğraşan bizim gibi sporcuların yeterli şekilde desteklenememesine neden oluyor. Yine de Crossfit'in dünyadaki popülerliğini arttırması ve büyük spor markalarının dikkatlerini üzerine çekmesiyle Türkiye'de de bir hareketlenme yaratıldı. Bu sporun önemli bir parçası olan supplement vitamin ve minarel desteğimin karşılanması için bir alman markası olan 'Xenofit Türkiye' nin bünyesine katıldım. Ayrıca Türkiye'nin ve dünyanın en iyi halter ekipman markalarından biri olan 'Werksan' ile de ortak çalişmalarim var. Buna rağmen futbol hariç sporcu sponsorluğunun doğru algılanamadığı ülkemizde, bende dahil olmak üzere bireysel sporcular olarak maddi açıdan büyük sıkıntılar çekiyoruz.
ANTRENMAN PROGRAMI VE TAVSIYELER, IPUCLARI
9. Gelelim antrenman programina… Antrenmanlarini kendin mi programliyorsun yoksa koçun mu ayarliyor?
Antrenmanlarımı koçum ile birlikte haftalık olarak programlıyoruz. Antrenmanda her şeye hazırlıklı olmaya çalışıyorum eksik olduğum yönleri kapatıp iyi olduğum yönlerde daha iyi olmaya çalışıyorum. Çalıştığım thruster, wall ball gibi spesifik hareketler var. Ayrıca boy avantajını kullanamadığım kürek, kilo avantajını kullanamadığım halter gibi hareketlere özel zaman ayırıyorum.
10. Crossfit sporuyla ugrasan atletler icin kuvvetlerini ve tekniklerini gelistirebilmek adina verebilecegin herhangi bir tavsiye var mi?
Özellikle halter programlamalarında, tekniksel hareketlerde kendilerini videoya çekerek zayıf yönlerini görebilirler. Bir program dahilinde çalışmaları öneririm. Genelde sporcuların kendi yanlışlarını görememeleri nedeniyle, eğer şansları varsa bir koç ile çalışmak her zaman daha faydalı olur.
11. En favori olan egzersizin ve en sevmedigin egzersizin nedir?
Pistol, chest to bar, pull up ve ring muscle up benim favori hareketlerim. Wall ball ve ağır kilo deadlift antrenmanlarında zorlandığım için çok sevmiyorum.
12. Crossfit sporcusu Ateş Boran'ın bir günü nasıl geçiyor?
Sabah erken kalkmayı çok sevmiyorum. Bu nedenle benim günüm genelde 9-10'dan sonra başlıyor. Programlamama göre kahvaltı sonrası uzun süreli bir antrenmanla başlıyorum. Bu koşu veya kürekten oluşuyor. Gün içinde birebir özel derslerim oluyor. Daha sonra tekniksel halter çalışmalarım başlıyor, çeşitli zaman aralıklarıyla günü 2-3 metcon ile bitiriyorum. Haftada 2-3 gün yatmadan önce Bodyweight antrenmanlar yapıyorum. Daha sonra romwod'un yarım saatlik uygulamasını yaparak günü tamamlıyorum.
13. Yemek düzenin hakkında biraz bilgi verebilir misin? Özel bir diyet programı uyguluyor musun performasını artırmak adına?
Normal dönemde, ana ve ara öğünlerle beraber 6 öğün yemek yemeye çalışıyorum. Şeker ve asitli içecekleri kesinlikle tüketmiyorum. Ambalaj gıdalarını, mümkün oldukça azaltarak ihtiyacım olan enerjiyi doğal besinlerle karşılamaya çalışıyorum.
Tabii yarışma süreçleri yaklaştıkça bu durum ister istemez rutininden kayabiliyor. Düzenimi bozmamak ve performansımı düşürmemek için vitamin ve minarel alımıma ekstra dikkat ediyorum. Özellikle kullandıklarım arasında balık yağı ve minareller büyük bir yer kaplıyor. Vücudun sıvı kaybetmemesi adına bu dönemlerde daha fazla sıvı tüketmek gerekiyor. Olabildiğince beslenme programıma sadık kalmaya çalışıyorum.
14. Boş zamanlarında neler yapıyorsun? Crossfit dışında herhangi bir başka bir spora tutkun var mı?
Motorsikletlere karşı ayrı bir ilgim var, motor kullanmayı seviyorum. Onun dışında boş zamanlarımı Playstation oynayarak ve kız arkadaşımla zaman geçirerek dolduruyorum.
Basketbol, snooker ve motor sporlarını takip ediyorum ve izlemeyi seviyorum.
Ateş Boran ile Altida Alti 6
İdolün kim? Chris Spealler
Seni en çok motive eden şarkı? ACDC – Thunderstruck
En sevdiğin yemek? Ev yapimi hamburger
Favori şehrin? İstanbul
En büyük destekçin? Kız arkadaşım
En favori söz? 'Başını dik tut.'