Coaching makes the difference between an average athlete and a great one. To become one of the Fittest on Earth, you should surround yourself with an incredible coach. We have separated a list with 7 of the best CrossFit coaches of all time.
In this list, we are taking into consideration past and present athletes who were advised by the these legends.
Best CrossFit Coaches of All Time
Shane Orr – Best CrossFit Coaches
Shane Orr has helped shape what we know as the Fittest on Earth. First with his wife and CrossFit legend Tia-Clair Toomey. After moving to Tennessee in 2019, Mat Fraser became the newest athlete under his wing. Needless to say, both athlete has won the CrossFit Games the following year.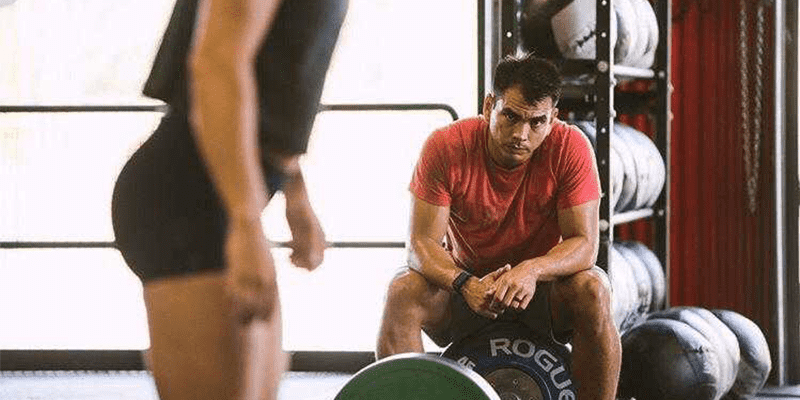 Nowadays, many other big athletes are following Shane Orr and his PRVN Programming such as Brooke Wells, her twin sister Sydney Wells, Will Moorad and Alec Smith.
Ben Bergeron
Ben Bergeron simply has a different mindset when it comes to coaching. He is one of the most successful and enduring coaches in CrossFit history.
Katrin Davidsdottir was under his mentorship when she became Fittest on Earth in 2015 and 2016. Although she recently left CompTrain (the training program created by Ben), Bergeron still has some elite athletes who trust him to train and become fitter each year: Cole Sager, Amanda Barnhart, Samuel Kwant, and Chandler Smith to namedrop a few.
Justin Cotler
If we are talking about a strong mentality, Justin Cotler is on a whole new level. Just watch the video above to see his way of preparing his top athletes to battle on Semifinals' in the West Coast Classic.
My personal favourite from Justin?
Justin: Yo (looks intensely into Danielle Brandon's eyes), Collin Wilson's coach came up and said she's going to win this workout.
Brandon: Who's Collin Wilson?
Justin: Exactly!
Kari Pearce has retired from competition, but Cotler still coaches Bethany Shadburne, Danielle Brandon, and recently has added Ricky Garard to the Underdog Athletics, his training program.
Michele Letendre – Best CrossFit Coaches
In a sport mostly dominated by male coaches, Michele Letendre shines through. She is the creator of Deka Comp training program. The biggest athlete she currently coaches is none other than 2021 2nd Fittest Man on Earth Pat Vellner.
Ellie Turner, this year's 26th Fittest Woman on Earth, is also coached by Michele Letendre.
Chris Hinshaw
Chris Hinshaw is not your typical CrossFit coach as he focuses more on the endurance part of training. He founded Aerobic Capacity and has coached some of the biggest names in CrossFit such as Jason Khalipa, Rich Froning, Camille Leblanc-Bazinet, Katrin Davidsdottir, Mat Fraser, and Julie Foucher.
Jami Tikkanen
Creator of the Training Plan, Jami Tikkanen is the go-to for some of the best Icelandic athletes in the sport.
He has been coaching Annie Thorisdottir for more than 10 years, including when she became the first female athlete to win the CrossFit Games twice in a row. He also coaches BK Gudmundsson and Katrin Davidsdottir should be the next one to come under his guidance.
C.J. Martin – Best CrossFit Coaches
A former member of the CrossFit HQ training team and USAW club coach, CJ Martin coached the likes of Josh Bridges, Lauren and Garret Fisher, and Michelle Kinney. He is particularly known for balancing training with recovery.
CJ Martin is now a level 4 CrossFit instructor at CrossFit Invictus, one of the most famous CrossFit affiliates in the world.
Read More: 5 Programming Concepts from 5 Top CrossFit Coaches