Sao Paolo plays host to the Brazilian CrossFit Championship, one of this weekend's three Sanctionals – with the Down Under CrossFit Championship happening in Australia and the Rogue Invitational in the US – and athletes from eight countries have gathered to battle for the first place.
INDIVIDUAL STANDINGS AFTER DAY 2
31 women are competing this weekend, five of them already hold a ticket to the Games. Of the 32 men competing, only Argentina's and Cape Town's National Champions, Agustin Richelme and Sean Sweeney, have secured their ticket to Madison, so the invite to the Games from the BCC could go to anyone.
You can watch all the action here.
Individual female standings
Mekenzie Riley (452)
Cecilia Ramirez Villamil (416)
Carolyne Prevost (410)
Paige Semenza (410)
Alison Scudds (352)
Mexican athlete Ramirez Villamil took everyone by surprise this weekend; ranked 945th worldwide and 18th in Mexico after the Open, no one was expecting her name to be high up on the leaderboard.
Individual male standings
Will Moorad (438)
Saxon Panchik (394)
Sean Sweeney (364)
Spencer Panchik (352)
Zach Watts (348)
TEAM STANDINGS AFTER DAY 2
Team PRO1 (496)
Team CRSC (484)
Invictus X (448)
East Woodbridge (340)
Indomáveis (320)
Synchronised snatches, graceful team ropes and anaconda squats – the team events today have been unique and exciting. With events 5 and 6 going back-to-back, athletes were pushed to their limits.
Brazilian Team Vittoria Morereps won the first event of the day, Team Pro1 from Canada the second, and Invictus X, looking for an invitation to the Games after one of their members tested positive for banned PEDs, won the last event.
Have a look at the entire leaderboard
Breakdown of the Brazil CrossFit Championship day 2 workouts
Event 3 – Graceful Ropes
5 rounds for time:
2 rope climbs
6 sandbag cleans (132/88 pounds)
Cap: 7 minutes
Sean Sweeney won the event outright, but second and third place came in within milliseconds of each other, with Will Moorad finishing in 4:49:940 and Saxon Panchik in 4:49:980.
The women's event was won by Alison Scudds, followed by Caroline Conners and Carolyne Prevost.
Event 4 – Strongman's Wind
For time (with a weight vest 22/13 pounds)
40 cal Bike erg
12m farmer's carry (200/134 pounds)
80 double-unders
12m farmer's carry (200/134 pounds)
40 cal Bike erg
12m bear hug carry (176/132 pounds)
80 double-unders
12m bear hug carry (176/132 pounds)
16m run
Cap: 8 minutes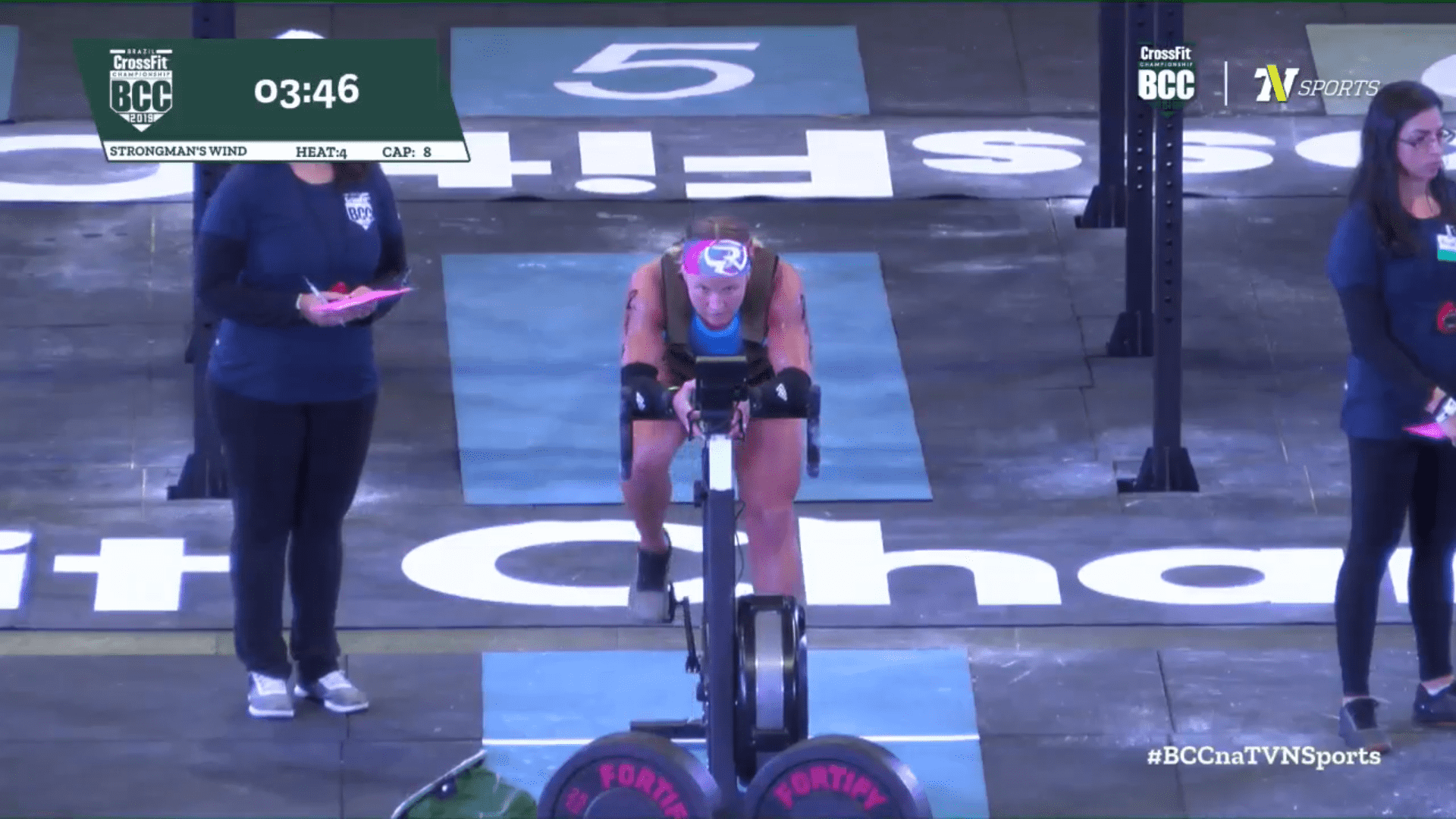 Austin Spencer won Event 4, breaking Sean Sweeney's winning streak. On the women's field it was Mekenzie Riley who came first, winning her second event at the Brazilian CrossFit Championship.
Event 5 – Snatch Ladder
For time:
15 bar muscle-up
2 snatches (154/121 pounds)
2 snatches (176/132 pounds)
2 snatches (198/143 pounds)
2 snatches (220/154 pounds)
2 snatches (243/165 pounds)
Cap: 3 minutes
Impressive displays of strength in an event with a very strict time limit, the wins went to Zach Watts and Sasha Nievas.
Sunday's workouts
Event 6: Up and Side Down
For time:
10-8-6-4-2 Ring muscle-ups
16m handstand walk after each round
Event 7: Last Man Standing
TBA
Watch the live feed here or follow the updates on Instagram.