The HYROX World Championships will crown the best athletes in the sport in Las Vegas on Saturday, May 14th, 2022. HYROX is one of the fastest-growing fitness events in the world.
The main event will feature the Men's and Women's Elite individual divisions – which has previously been won by Hunter McIntyre – where 15 top athletes will compete for a total purse of $75,000.
HYROX competitions feature eight bouts of 1km runs interspersed by 8 workouts, with the goal being to finish all tasks as fast as possible.
Catch up on last year's World Championship with this excellent short documentary:
How to Watch the HYROX World Championships
The 2022 HYROX World Championships will be livestreamed by Obstacle Racing Media on YouTube.
The Elite 15 race begins at 6:00 pm PST. This consists of the 15 fastest times from the season in the pro category.
HYROX World Championship livestream
Elite athletes competing
Over the course of 28 races across 8 countries athletes have been competing across the globe in HYROX races to qualify for the right to compete at the World Championship Race.
Female Elite 15 Breakdown
Mirjam Von Rohr (16-24), CH Qualification Time 1:04:20
Viola Oberländer (WWE), GER Qualification Time 1:04:56
Lauren Weeks (30-34), USA Qualification Time 1:05:08
Rebecca Naether (35-39), GER Qualification Time 1:05:16
Sarah Elisabeth Kholti (30-34), GER Qualification Time 01:06:07
Terra Jackson (30-34), USA Qualification Time 1:06:49
Linda Meier (25-29), Ger Qualification Time 1:07:01
Rachel Vonderach (25-29), USA Qualification Time 1:07:30
Alandra Greenlee (30-34), USA Qualification Time 1:07:37
Ayssa Hawley (30-34), USA USA Qualification Time 1:08:21
Sabrina Röthig (WWE), GER Qualification Time 1:09:28
Kris Rugloski (25-29), USA Qualification Time 1:09:28
Beatrice Ardelt (25-29), GER Qualification Time 1:09:30
Anna Blank (30-34), GER Qualification Time 1:09:52
Janina Mentzel (25-29), GER Qualification Time 1:110:09
The female race this year has seen the emergence of a new crop of young talented racers with Miriam Von Rohr bursting onto the scene with a blistering 1:04:20 at the Maastricht European Championships to set the fastest qualifying time. She faces stiff competition from veteran competitors including stalwart European athlete Viola Oberländer who qualified narrowly in second with a 1:04:56 in Madrid.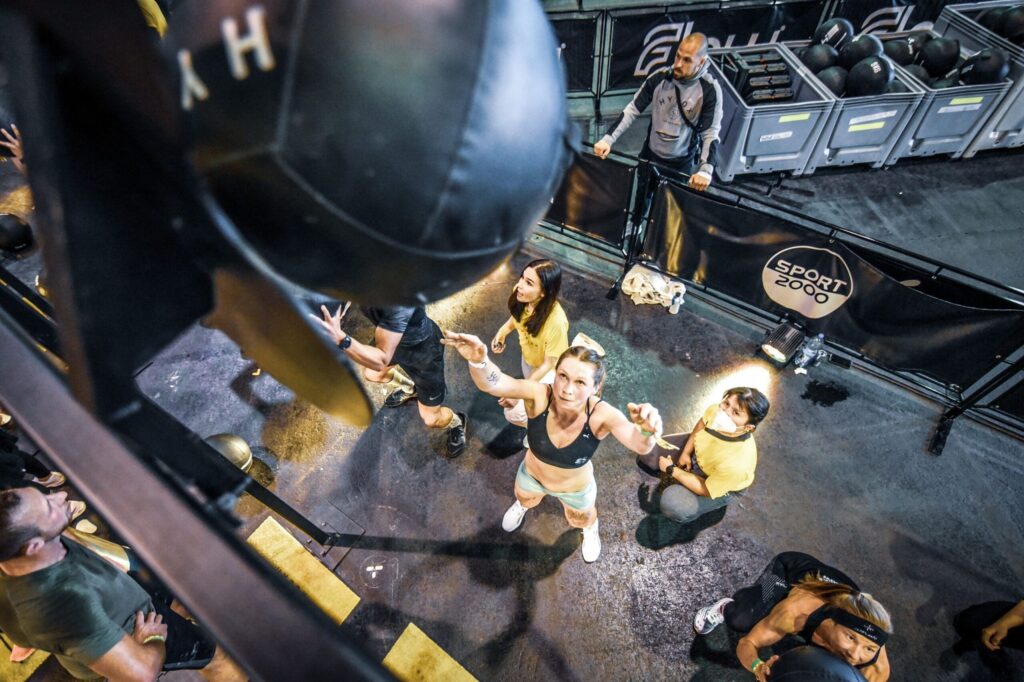 The American athletes will have pride to play for the world champs on home soil, Lauren Weeks has been the standout competitor throughout the year taking the North American Championship in Chicago and running her fastest qualifying time in Dallas at 1:05:16, she's joined by Terra Jackson (1:06:49), former army warrior fitness competitor Rachel Vonderach (1:07:30), Alandra Greenlee (1:07:37) and Alyssa Hawley (1:08:06).
Male Elite 15 Breakdown
The male competition this year has seen a huge step up in the standards with 9 qualifying times under 60 mins, a feat that even a year ago was reserved for only the best of the best. The World Record held by Hunter McInytre now stands at 55:09, an intimidating time set by Hunter at the Dallas 2022 race which broke the previous record held by Tobias Lautwein (Injured) by over 2 minutes.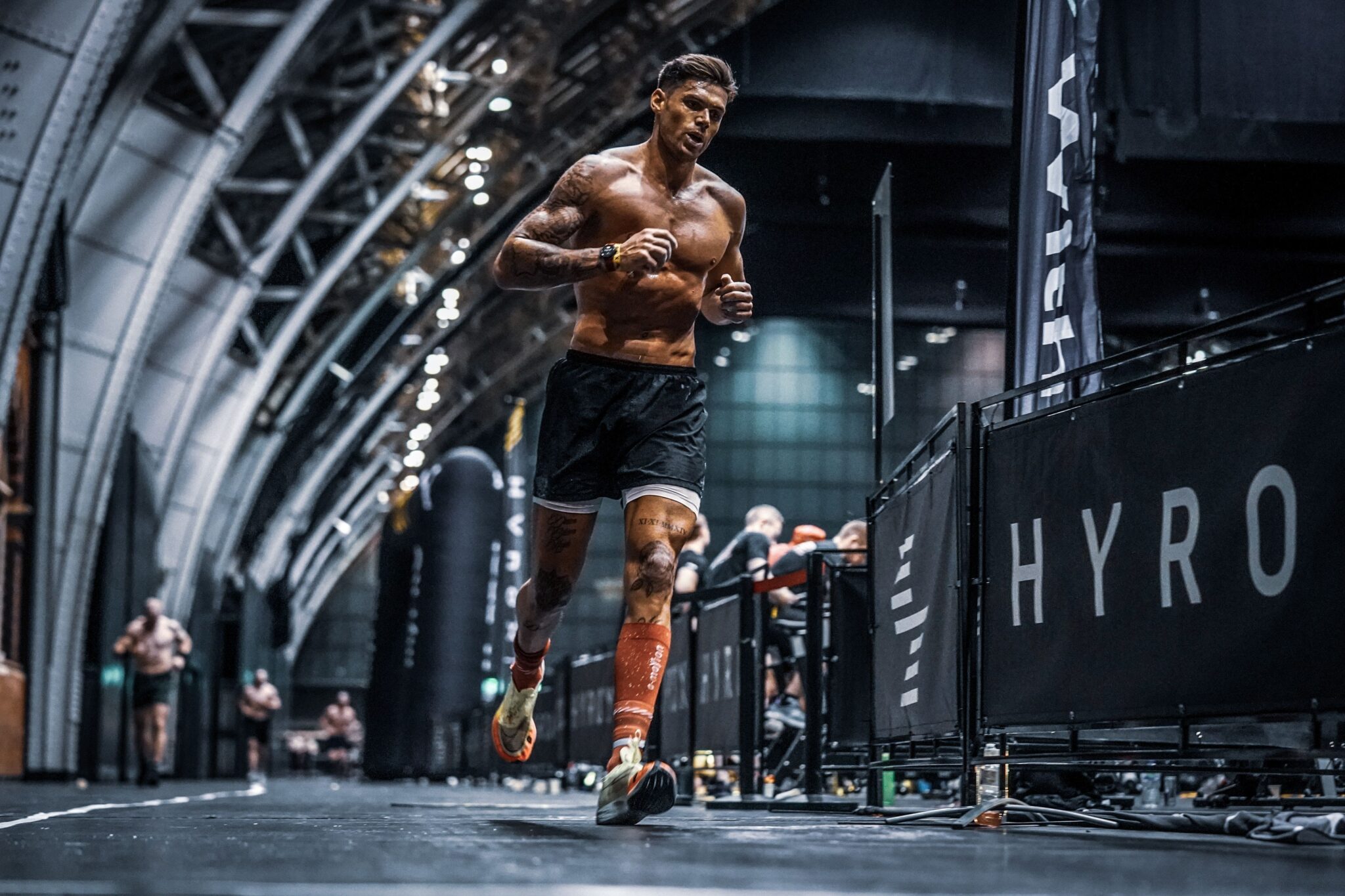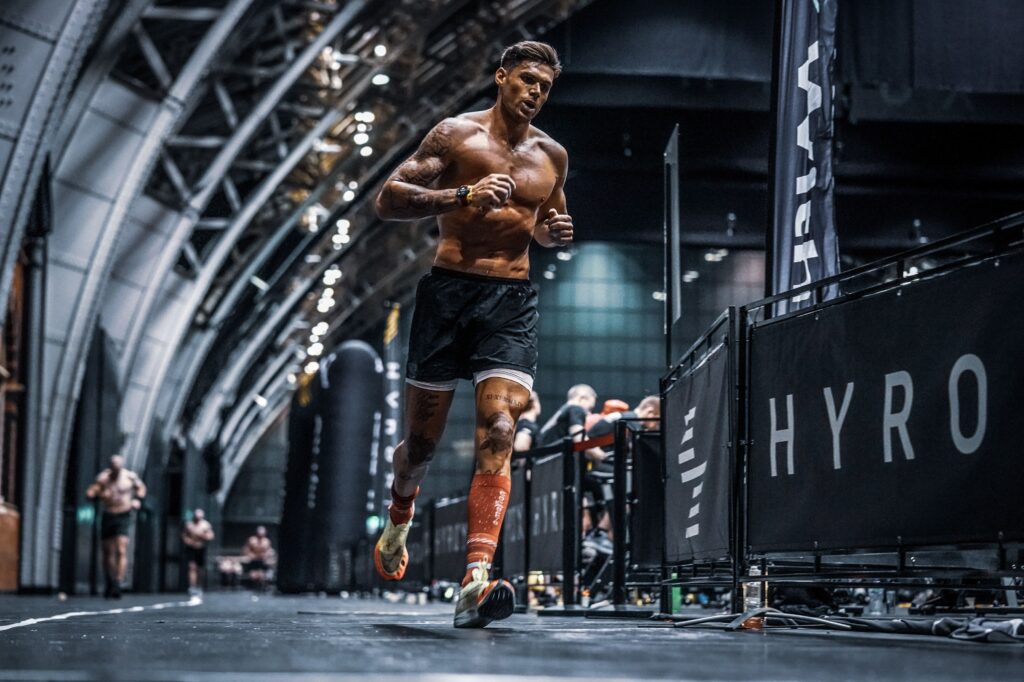 Tobias the standout European racer and current World Champion has dropped out due to injury, leaving a 3-way battle between Hunter, veteran USA athlete Ryan Kent who won the North American Championship in Chicago in 57:45, a thrilling race where he edged out Hunter in a barnstorming second half. Finally, young German wunderkind Tim Wenisch (16-24) will be looking to upset the balance – his 57:57 in Manchester qualified him in 3rd place and looks set to be a future superstar.
HYROX workout
Each HYROX race across the world is exactly the same, with athletes completing 8 one kilometre runs followed by a fitness task each (Ski, Sled Push, Sled Pull, Burpees, Row, Farmers Carry, Lunges, Wall Balls).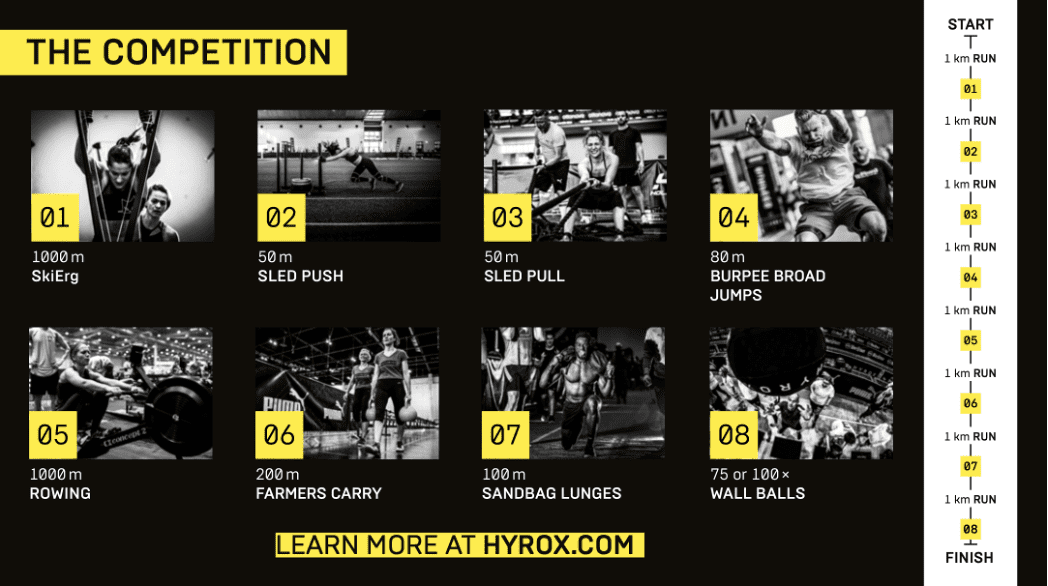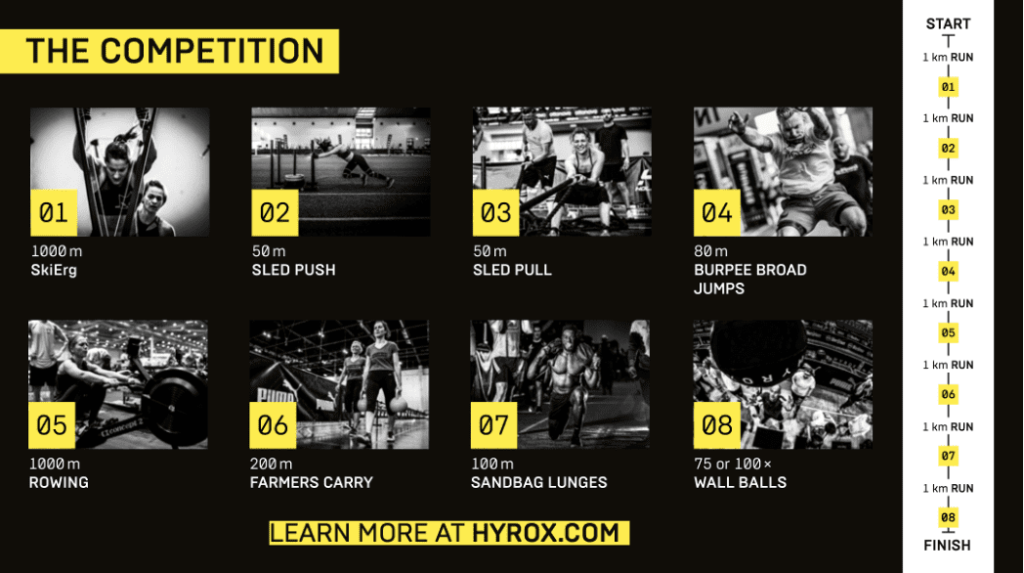 Make sure to watch the documentary above.