Day two of the Australian CrossFit Championship saw both individual athletes and teams compete in three events, making a total seven workouts over the two days for individuals and five for teams so far.
All workouts on day two were fantastic tests of fitness, skill and strength. They were well thought out and planned and were great to watch from a spectator perspective.
The organisers continued the trend from yesterday and didn't update the leaderboard throughout the day.
Today however, unlike yesterday, the day's workouts were all released first thing in the morning. While some athletes and spectators are not big fans of this format, event organiser Darren Coughlan supports and loves this aspect of the competition.
Australian CrossFit Championship Day 1 Recap
Removing the leaderboard, he believes, ensures every athlete does their absolute best in every workout. With athletes not knowing where they are sat relative to others means they are more likely to perform at their absolute maximum capacity in all events.
Keeping events secret has the same effects, as athletes can't decide to play to their strengths or hang back on their weaknesses if they know they can make up for it in an upcoming event.
Australian CrossFit Championship Highlights: Day 2
Kara Saunders proved today why she is one of the most successful and accomplished athletes. She took first place in two of today's three events and placed second in one. She's won five out seven events in the competition so far. Considering she has a nine-month-old baby this shows that the dedication and hard work she's put in before and after her baby, together with recovery and training, has paid off in her bid to return to competitive CrossFit.
James Newbury's comeback on Event 7, achallenging workout with 50 metre front rack lunges, 40 parallette handstand push ups, 40 toes to bar and 50 metre front rack lunges. James was slow to finish his HSPU's, which he later said was not a strength of his and had to manage the fatigue by doing small sets of three or four. He finished the HSPU's significantly behind the top three in his heat but came back at a blistering pace chasing everyone down. He split the toes to bar into 30/10 and then lunged his way down the stadium overtaking Matt McLeod and almost catching Bayden Brown for 2nd place. It was exciting and very impressive to watch. Jay Crouch was a long way out in front after an impressive set of HSPU's and toes to bar, which gave him a sizable lead.
Maddy Sturt finished the parallette handstand push ups of Event 7 and no one could even get close to catching her. It was a great performance and she took a well-deserved win for the event.
Callum Foster is competing in his first Sanctioned event. After an impressive start to the competition, he found himself in top heat with all the big names. When asked how it felt to be in the top heat he replied: "It is super humbling. You realise how fit they are and how much more work I have to do. But it's fun. So fun!"
Starr Strength Black were on a roll today and won the last two events, tying them for first place with Mayhem Independence going into day three.
ACC INDIVIDUAL EVENT BREAKDOWN
Event 5: Enter Sandman
30/20/10 Ski Erg cals
8, 18, 27 Sandbag ground to over shoulder 40kg for both men and women
1 sandbag carry 15 metres
9-minute time cap
With both the men and the women using the same weight, it was a challenging workout for the women and they clocked significantly slower times, with only 5 female athletes finishing this workout.
The ever-increasing number of sandbag over shoulder as the workout progressed proved quite taxing for athletes, and many slowed down quite significantly on the 27 reps to finish.
Kara Saunders looked relaxed coming into this event and following on from her previous three straight event wins, bagged a fourth with a time of 8:36. Laura Clifton was 3 seconds behind Kara in second place and Ellie Turner was third.
The men's race was much faster and was a tight race in the top heat. James Newbury came out hot and hung on to the lead finishing just ahead of Matt McLeod and Callum Foster, who crossed the line together.
With the lighter weight none of the men ever showed signs of slowing down and it was a frantic race to the end. Overall however, the winners for this event were not from the last heat. Luke McMahon won and Adan Leaney was in second place, with 1 second separating them.
Event 6: High Five
500m row
50 dumbbell deadlifts 22.5kg/35kg
50 dumbbell thrusters 22.5kg/35kg
8-minute time cap
This workout started off quite easy with a 500-metre row but quickly escalated for the athletes. By the end of the sets of 50 thrusters some athletes were down to sets of one and two.
Both men and women found the weight of the dumbbells heavy and the majority of athletes weren't able to get this one finished inside the time cap.
The response from some of the men in the top heat when asked how the event had gone for them was: "LEGS!!" from Jay Crouch, "really heavy" from Callum Foster, and "good but very heavy" from Phil Hesketh.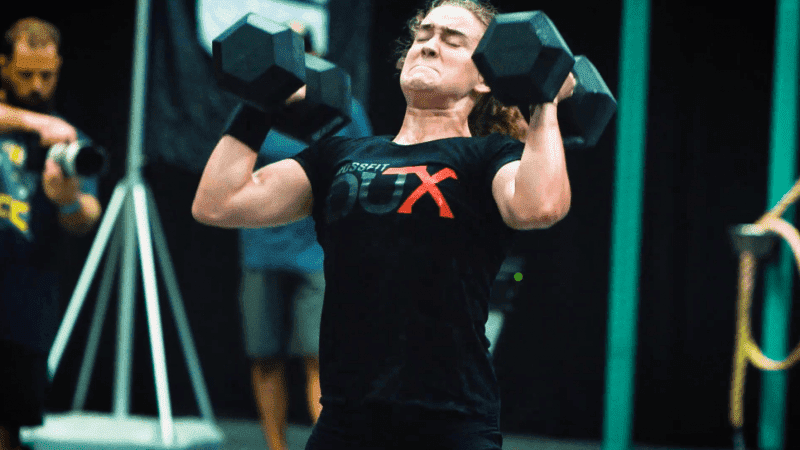 Maddie Sturt was the first athlete off the rower in the top heat, but it was Kara Webb again who came through and took the win almost a minute ahead of her nearest competitor. Laura Clifton placed second again.
The men all got off the rower pretty much at the same time but James Newbury reached the thrusters first. However, the physical challenge of 50 reps with the two 32.5kg dumbbells started to take its toll for James and he slowly slipped behind other athletes. He ended up 7th in this event.
Bayden Brown set the event record and was one minute ahead of second place Phil Hesketh.
Event 7: Front Rack Jack
50 metre front rack lunge
40 parallette handstand push ups
40 toes to bar
50 metre front rack lunge
Weight 60kg/40kg
14-minute time cap
Maddie Sturt charged ahead and demonstrated amazing strength, skill and stamina winning this workout in a time of 8:12, 42 seconds ahead of Kara Saunders who despite having a few failed reps on the HSPU's managed to place 2nd. Jamie Goodwin had an impressive performance placing 3rd.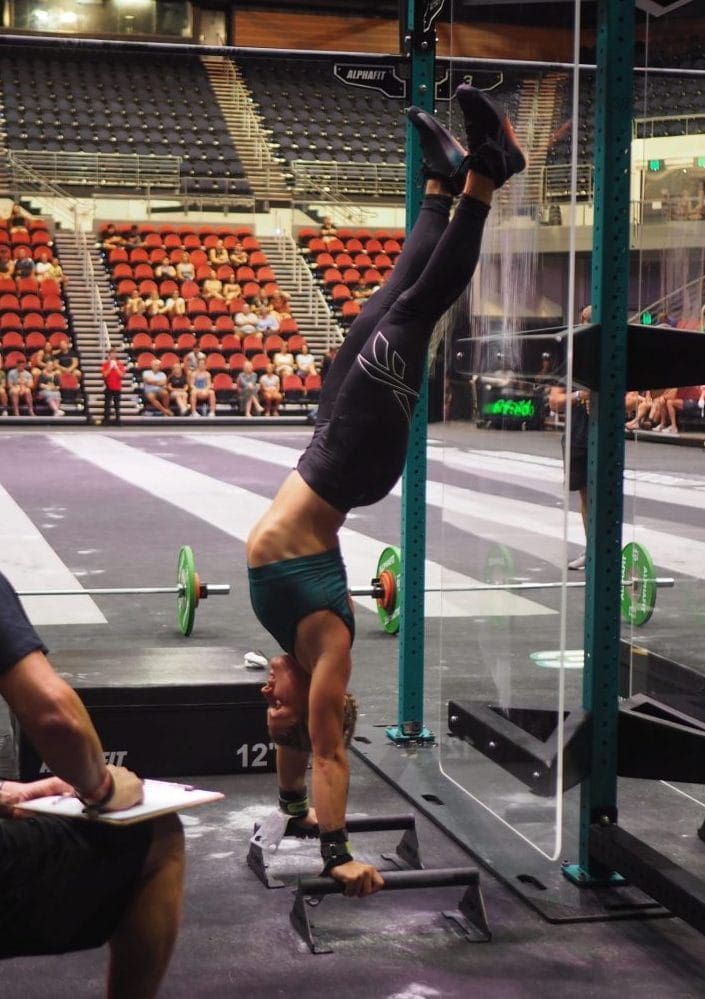 On the men's side Jay Crouch, who has previously been on a team at the CrossFit Games with CrossFit Frankston, worked his way through the HSPU at lightning speed – he was never close to being caught.
The race for second, third and fourth as was exciting to watch, with James Newbury chasing everyone down in the last set of lunges. Lucky for Bayden the line was close and he finished just ahead of James.
Australian CrossFit Championship Leaderboard Day 2
Men
James Newbury
Bayden Brown
Matt McLeod
Jay Crouch
Lars Kristensen
Women
Kara Saunders
Madeline Sturt
Laura Clifton
Mia Hesketh
Ellie Turner
AUSTRALIAN CROSSFIT CHAMPIONSHIP TEAM EVENTS RECAP – DAY 2
Team Event 3
60 synchro dumbbell clusters MF/MF pairs
35kg/22.5kg
6 min time cap
After watching the teams struggle to get through this workout only two words can be used to describe it: brutal and heavy.
All 10 teams were out on the floor at the same time and they were put through their paces. There were many failed reps, hands on knees, and no team actually completed the workout in the 6-minute time cap.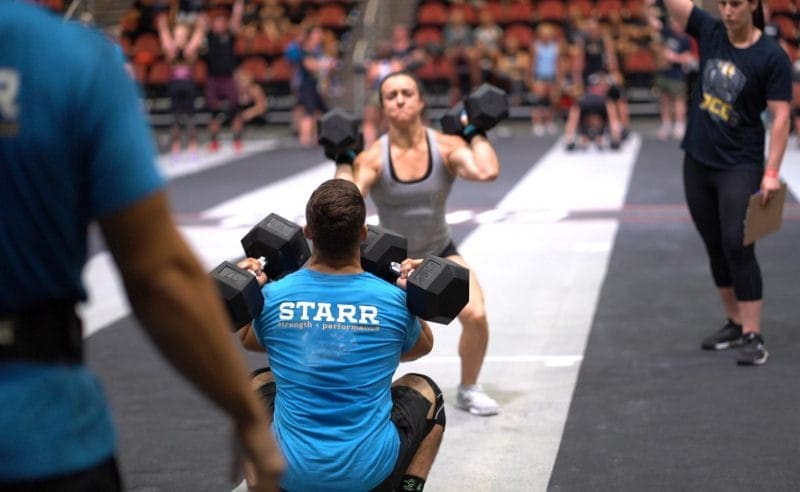 Alethea Boon, a multiple time CrossFit Games athlete and a member of Starr Strength Black, said the workout was "deceivingly hard" when asked to describe it.
Darren Coughlan, the event organiser, was surprised that the athletes struggled so much with the dumbbells. If dumbbells are not used often, they can get very difficult to handle at the heavier weights.
It will be interesting to see who adds heavy dumbbells moving forwards as part of their regular training.
Team Event 4
30 synchro muscle ups (in pairs, one on rings and on the bar)
30 synchro hang power cleans
30 synchro shoulder to overhead
30 synchronised burpee over bar
Weight 55kg/35kg
12-minute time cap
This was a workout demanding all four team members to work together after the initial muscle ups were done in pairs. It was a good test of barbell cycling, teamwork and cardiovascular fitness. Star Strength Black clocked a time two seconds ahead of Mayhem Independence winning the event.
Team Event 5
4 mins per member:
400m Assault Runner
Dumbbell deadlifts 2 x 35kg. Reps: 20, 30, 40, 50
Max reps of ground to overhead.
Score is reps of ground to overhead
Event 5 was interesting and fun to watch for spectators.
The first athlete ran 400m, completed 20 deadlifts and then as many ground to overhead as possible in the four minutes. The second athlete ran, then completed 30 deadlifts and clocked as many reps of ground to overhead. The same procedure was followed by the third and fourth athletes, but with increasing number of deadlifts for each.
The team's final score was their total of ground to overhead. Strategy played into this as males and females all used 35kg dumbbells.
https://www.instagram.com/p/B9ZQ54wHtgT/
Some teams opted for the girls to go first and some to go last, at risk of not getting clean and jerks. Star Strength Black won with 81 reps, 10 ahead of Not Bhed. Mayhem Independence and Starr Strength Gold drew with 58 reps each.
Both teams are tied for first after the second day of competition.
ACC Team Leaderboard Day 2
Starr Strength Black
Mayhem Independence
Not Bhed
Starr Strength Gold
Send It!