The first day of the Australian CrossFit Championships was a busy one, kicking off with four events for individuals and two events for teams.
Individual athletes had two events on the beach and two in the arena, while teams competed only in the arena. The organisers decided not to release any events other than the 'Beach Flags', and also withheld the leaderboard until 8pm.
On a post on social media they stated: "This week is as much a mental test as it is physical. Getting comfortable with being uncomfortable is key."
As a true test for athletes we want them to be aware of their environment and be aware of their performance within the environment, without the comfort of an ongoing view of a scoreboard. This week is as much a mental test, as it is physical. Getting comfortable with being uncomfortable is the key.At the close of ACC20 Day One, Jeremy Austin chats with ACC Director, Darren Coughlan and ACC Social Sensei, Ginny Gallegos on how the athletes have taken on board the #unknownandunknowable theme of #acc20 #auscrossfitchamp #crossfit #crossfitgames #sanctionals

Gepostet von Australian CrossFit Championship am Donnerstag, 5. März 2020
AUSTRALIA CROSSFIT CHAMPIONSHIP INDIVIDUAL COMPETITION
It was an epic start for individuals with two beach events in the morning. Athletes gathered at 6.15am on the beach just after sunrise, where they were briefed on the previously announced Beach Flags event.
AUSTRALIAN CROSSFIT CHAMPIONSHIP EVENT 1: BEACH FLAGS
Beach flags is an iconic Australian competitive event run through Local Australian Surf Lifesaving Clubs. Competitors race to grab a 'flag' on the finish line, there's always one or two flag less than there are competitors.
Strict rules apply and to ensure everything was followed correctly, the organisers of the ACC used local surf lifesaving officials to run and judge the event.
During the briefing athletes were told "shoulders and body contact were allowed but no use of the hands, arms, legs and feet could be used to obstruct an opponent."
Quickness off the ground, acceleration and top sprint speed plus a slight element of luck all contribute to success or elimination.
On the women's side, Kara Saunders hesitated on the start line in the first heat and unfortunately did not get a flag, ending her participation immediately. Heat by heat the favourites dropped out, leaving Abby Ashton and Leish Martin in the final.
Their final sprint didn't disappoint, with both ladies getting to the peg at the same time but Abby, an experienced Beach Flags competitor, snatched the flag out of the hands of Leish (which is allowed) and won the event.
On the men's side it was an exciting race too.  Bayden Brown, Australia's National Champion, was eliminated in the first round, closely followed by Brandon Swan and Phil Hesketh. Alec Smith, known for his incredible ability to sprint, stumbled, which caused him to slow down and be eliminated.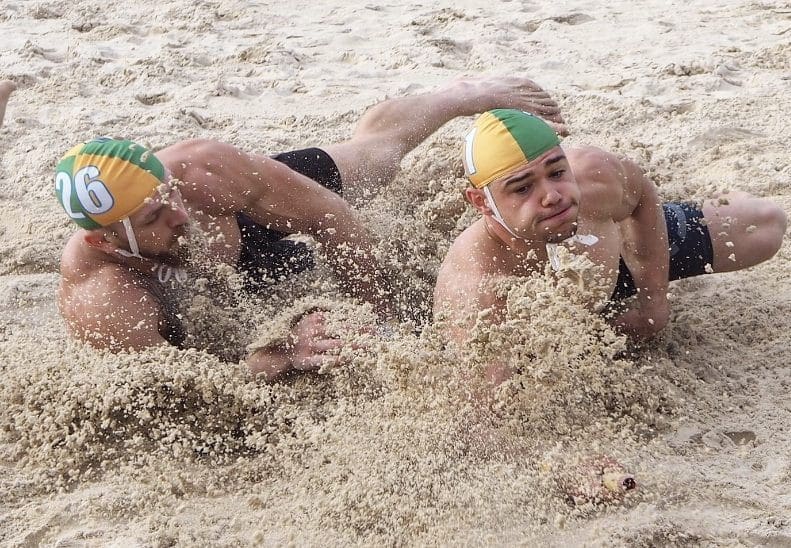 James Newbury made it to the top 6 before being eliminated and the fight for the top spot came down to Jay Crouch from Australia and Chad Kackert from the US.
Chad, a previous American Football player, said he loved the event but "I was scared the whole time about popping my hamstring after injuring it over a year ago. I haven't sprinted since."
EVENT 2: OCEAN SWIM
The surprise announcement that there was a swim event and athletes had to take to the rough and choppy ocean was met with a mixed response. Some athletes looked a little horrified at the prospect of jumping into the waves, whilst others (mainly from Australia) rejoiced.
A short (300m) metre beach sprint was followed by a 400m swim around 2 buoys, followed by a short sprint up the beach to finish.
The women went first, and Kara Saunders looked determined after her disappointing start in event one. She hit the water first and came out in a group of four. Sprinting up the beach, she held everyone off to win the event. Second place went to two times CrossFit Games athlete Courtney Haley.
The men sprinted into the water led by Alec Smith, but it was Australia's Matt McLeod who came out of the water first and won the event. Matt is an accomplished swimmer and won the swim paddle event at the CrossFit Games in 2019 by over 2 minutes.
Mick Stocchi, from South Africa, came in in second place. He was a swimmer, but like many of the athletes in the competition, stated: "I have never swum in conditions like this before."
Alec Smith placed 15th and when asked how he found the swim he replied: "I like swimming, but this was rough. I felt like I might drown a couple of times out there."  Whilst a couple of athletes weren't able to complete the event and pulled out, a head count did confirm that all athletes survived and made it out alive.
AUSTRALIAN CROSSFIT CHAMPIONSHIP EVENT 3
2000m Bike Erg
30 single arm DB clean and split jerk at 35kg/22.5kg
8-minute time cap
Event 3 was a fast sprint with Laura Clifton placing first with a time of 4:58, Marnie Sykes in second and Maddie Sturt in third. Kara Saunders placed fourth and although she came off the bike at the same time as the top three ladies, she had a few costly no reps in the jerks.
Athletes had to move both feet to stand up out of the jerk and were not-repped for only moving one foot.
On the men's side it was fast and furious with numerous athletes clocking times incredibly close to each other. Only 14 seconds difference separated 1st and 14th place.
Ultimately, Bayden Brown won the event in 4:49, he was followed by James Newbury, who was only one second behind him, and Alec Smith, another two seconds behind James.
AUSTRALIAN CROSSFIT CHAMPIONSHIP EVENT 4
4 rounds
400m run
3 rope climbs
7 squat snatch 85/60kg
20-minute time cap
Kara Saunders was the only woman who finished Event 4 under the time cap, at 18:37. She looked comfortable on the run, the rope climbs seemed steady, and the snatches at 60kg appeared to be easy.
This was Kara's second win for the day. Jamie Goodwin placed second in and Maddie Sturt, a four-time CrossFit Games athlete, placed third.
On the men's side, Bayden Brown paced this workout perfectly, finishing in 15:54 just ahead of James Newbury.
Bayden competed at the 2019 Games but was knocked out in the first event – which was very similar to this – for reasons he attributes to going out 'too hard' and 'poor pacing'. There was no sign of that today, as he maintained a similar pace for all four rounds.
The weight for the snatches was moderately heavy at 90kg for men. For some athletes this weight was a challenge and they reported it gassed them for the run.
Brandon Swan, who placed seventh in this event, commented: "The run was the hardest part and felt slow. Every time I got back to it the first 200m were hard, then it eased up. It was just from breathing hard after the snatches."
AUSTRALIAN CROSSFIT CHAMPIONSHIP LEADERBOARD: DAY ONE
Women
Kara Saunders
Maddy Sturt
Mia Hesketh
LAURA CLIFTON
JAIME GOODWIN
Men
James Newbury
Matt McLeod
Jay Crouch
Bayden Brown
Matt Gilpin
AUSTRALIAN CROSSFIT CHAMPIONSHIP TEAM RECAP
11 teams are competing at the Australian CrossFit Championship including Mayhem Independence, who qualified to the Games after Wodapalooza, two weeks ago, albeit with a slightly different roster.
Event 1 was an ultimate test of team fitness, as all members had to ski, bike erg and row in pairs. Team 'Send It' placed first with CrossFit Urban in second and Starr Strength Black in third.
Event 2 was an incredible elimination event which involved a "vertical sprint".
Teams had to get all four members (in turns) to sprint across the floor, up the rope and back again, with the slowest team in each heat being eliminated. Team Not Bhad beat Mayhem Independence in the final for the top spot.
TEAM LEADERBOARD: DAY 1
Starr Strength Black
Mayhem Independence
CrossFit Urban
Send It!
Not Bhed
You can have a look at the full leaderboard here.
Helen Harding is on-site for BOXROX – follow us on Instagram for the latest developments and highlights.