With the fantastic show that were the 2021 CrossFit Games now over, we look forward to what next year might have on offer and how to improve the spectacle.
The CrossFit Games are 15 years old and have evolved from a backyard BBQ fitness affair into the Ultimate Test of Fitness. 
And while the competition has come far since that first year in 2007, which hosted about 70 people, to the televised event with a $2.5 million prize purse, there are always areas which could bring further growth into the event and enhance the viewers' experience.
These are the top 6 improvements that we, as spectators, would love to see at the 2022 CrossFit Games. 
CrossFit Games Improvements
1 – GPS chip for swim events
Every year since the CrossFit Games moved to Madison, Wisconsin, athletes have jumped into Lake Monona for an open water swim event and, each time, it's incredibly hard to distinguish the athletes in the water, let alone know where they stand.
GPS tracking would provide exact positioning for each athlete and allow organisers to overlay their names onto the live action, so viewers (and commentators) could know who is who in the water.
In the name of better storylines, especially because filming is a tough job with such a big arena, live GPS tracking for events where it's hard to distinguish athletes would be a huge improvement.
2 – A wider variety of athletes on screen
We recognise that, from a broadcasting standpoint, it's hard to keep up with the whole field of athletes when they take onto the competition floor. If a heat of 10 teams starts a workout, there are 40 potential storylines to follow, but not all are relevant, so screentime decisions have to be made.
Watching the CrossFit Games virtually, it felt like most airtime was given to the athlete or team wearing the white leader's jersey, even when they weren't leading the event being broadcast. There were events where an athlete would finish an event in second place, but their name was only mentioned when the overall event standings were released.   
A wider variety of athletes on screen would allow viewers to keep up with all the action, especially as athletes cross the finish line.  
3 – Standards of workouts explained to viewers
As some individual athletes a carried their yoke to the top of the North Park on Event 13 of this year's CrossFit Games, it was unclear what constituted carrying the yoke "over the finish line" and "into the white end zone." 
Having a presenter explain the standards of every workout to spectators would have made some workouts a little less confusing and given the Games a more professional feel.
This holds especially true for events with new or unusual movements.  
4 – A centralised platform for updates
Similar to the point above, it would be great to have one centralised platform where spectators could find the latest updates.
These would include when leaderboards have been finalised (Jonne Koski was down as Event 3 winner for a good few hours, when it was Brazil's Malheiros who won the show), if there were any scoring penalties handed out and what they were, and if there were any last-minute changes to workouts (Individual event 7 anyone?). 
At the moment, there are two apps and a handful of different pages where some updates might be published. A centralised platform would provide better communication with viewers and, again, increase the professionalism of the CrossFit Games.
5 – Better on-screen information
This goes hand-in-hand with GPS implementation for swimming and longer running events.
Most events were divided into Heats and, while it was nice to discover what time athletes would have to beat from a previous heat, it would be beneficial for spectators to be offered more information, so it's easier to figure out the overall final standings.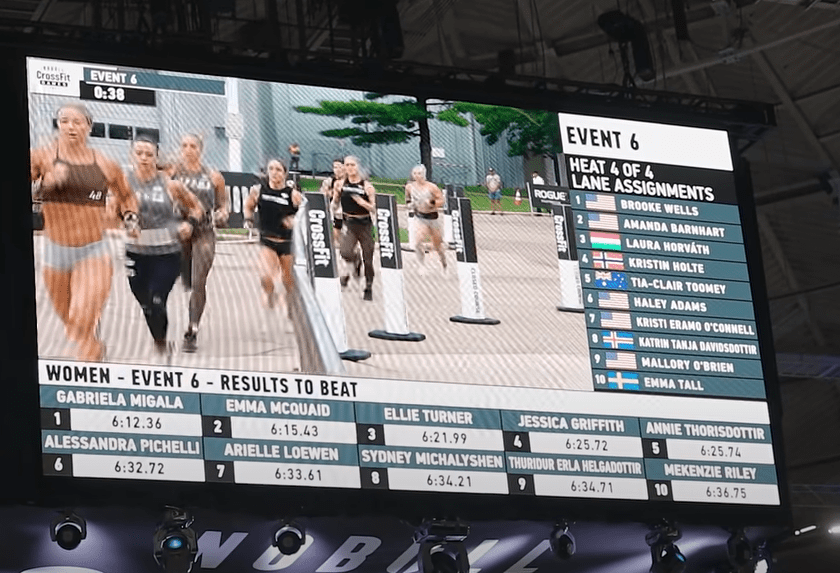 Results would sometimes be read out by the commentators without a graphic on screen. Better on-screen information, even if results are still unofficial, would make the viewing experience more entertaining and easier to follow.  
6 – More coverage of divisions outside the Individuals and Teams
While the coverage for divisions outside the individuals and teams was a huge improvement this year compared to 2019, we would love more of it next year.
We acknowledge that the 14 Masters, 4 Teenage and 6 Adaptive divisions are a lot, and covering them all is a real challenge. However, with our favourite moment of the CrossFit Games coming from the Adaptive division's final, it's hard not to wonder what other incredible moments we might have missed from events that were not broadcast. 
 All in all, we thoroughly enjoyed watching the 2021 CrossFit Games; they were full of exciting storylines and great moment – these are our top 10 favourite ones. However, as big fans of CrossFit, there's nothing more we'd love to see than for the sport to grow and improve.  
What else would you like to see for next year's CrossFit Games? Let us know in the comments section below.