CrossFit Inc. has announced that three additional Semifinal events are moving online due to the current COVID-19 pandemic. CrossFit Asia Invitational, the CrossFit Lowlands Throwdown, and the Brazil CrossFit Championship will be done virtually.
The change in the events was due to "conditions around the COVID-19 pandemic in local markets hosting Semifinal events," CrossFit wrote in an official statement. Now five out of ten CrossFit Semifinal events are due to move online, as CrossFit Inc. announced earlier in April that the German Throwdown and the Atlas Games are going to happen virtually.
According to the official statement, due to the changes from in-person to virtual, the schedule of the events has also shifted. The Brazil CrossFit Championship moved from week 2 to week 3, the CrossFit German Throwdown has been adjusted to week 3 and the CrossFit Asia Invitational has been shifted to week 4. Check out the updated Semifinals schedule: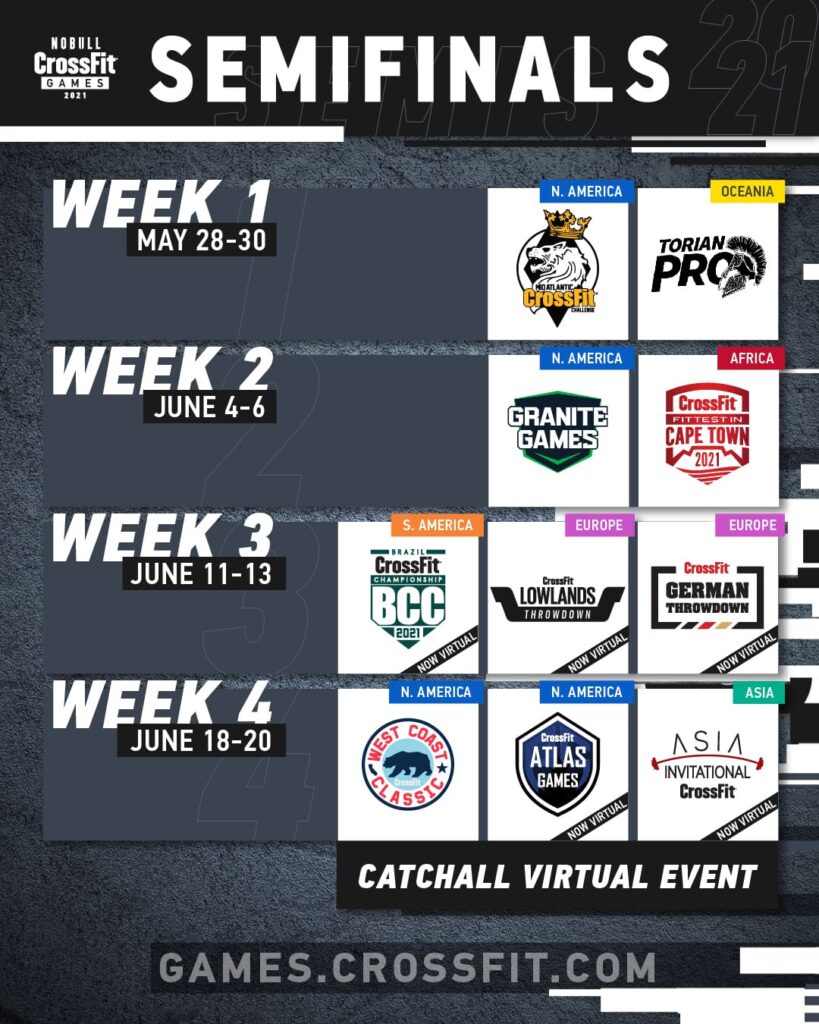 CrossFit Inc. may add a Catchall Virtual Semifinal in Week 4. This is a newly introduced event to "allow any athletes who were unable to travel to their respective Semifinal due to local COVID restrictions a chance to compete," it was announced.
According to the new CrossFit Games qualifying rules, athletes are required to compete in the continent they hold citizenship in. With some events moving online, athletes such as two-time Fittest Woman on Earth, Icelandic powerhouse Katrin Davidsdottir, who reside in the US, do not have to move back to Europe to compete in the Semifinals. On the other hand, Tia-Clair Toomey-Orr, four-time CrossFit Games champion, would still need to move from the US, where she currently lives, back to Oceania as she is from Australia and the Torian Pro Semifinal is scheduled to be an in-person event.
Check out the full list of 600 athletes who qualified for the CrossFit Semifinals.
After the Semifinal events, athletes who end up within three spots of qualifying for the CrossFit Games earn an invite to a new competition called Last-Chance Qualifier, which takes place in the week of June 28. The top two men and two women from this event will advance to the CrossFit Games to compete for the title of Fittest on Earth.
Read the event's full announcements below
CrossFit Lowlands Throwdown
Despite all the effort that we, as a team, have put into realizing the event, it is unfortunately not possible to host a live event. The restrictions from the government are too uncertain and involve too much of a risk. This means that the CrossFit Lowlands Throwdown will be a virtual event instead. This event will be hosted by the @crossfitgames
We would like to thank our partners @fitaideurope , @rogueeurope , @concept2benelux and @bosrubber that they have been our loyal partner in both good and bad times for years and have put their trust in us and our event. This means the world to us!
We don't know when but we will be back.
Brazil CrossFit Championship
We were confident that the BCC would be the reunion of so many – including many athletes – with the competition arena, our volunteers and our sponsors. However unfortunately due to so many uncertainties we, together with CrossFit, opted to hold an online competition, considering it to be the safest and fairest for everyone involved, given the current scenario.
We hope all these uncertainties will soon be transformed into reunions.
Another update is that the BCC HAS CHANGED DATES, allowing athletes more time to prepare and make final adjustments.
We aren't going to let our competition's flame burn out because of these moments. Tune in to the big weekend with us! We are counting on you 💚💛
With much hope,
Adriana, Carlos, Jobst, Halmer and Marcelle
CrossFit Asia Invitational
The CAI feel the responsible thing to do is transition to a virtual event for athletes safety. We're confident we can ensure safety but we cannot ensure fairness due to the 2-weeks quarantine requirement once athletes arrive into country.
We're not authorized to coordinate for a separate facility for the athletes nor are we able to provide food. All athletes are at the mercy of government quarantine accommodations that athletes have to pay for out of pocket.
We would like to congratulate and big shout-out everyone who participated in the Semifinal.
Furthermore information about the CrossFit season can be found at games.crossfit.com