"They don't want nothing granted. They don't need your compassion, they don't need us to pity them. They don't want to be looked at differently. They're just other athletes. They're just enjoying the challenge. So, you don't have to save them some "no-reps" calls, even if those are their last reps of the wod. Don't feel ashamed for them, treat'em right: if they deserve a no-rep, they won't fire back at you, they will just say thank you. Because they're learning just like you".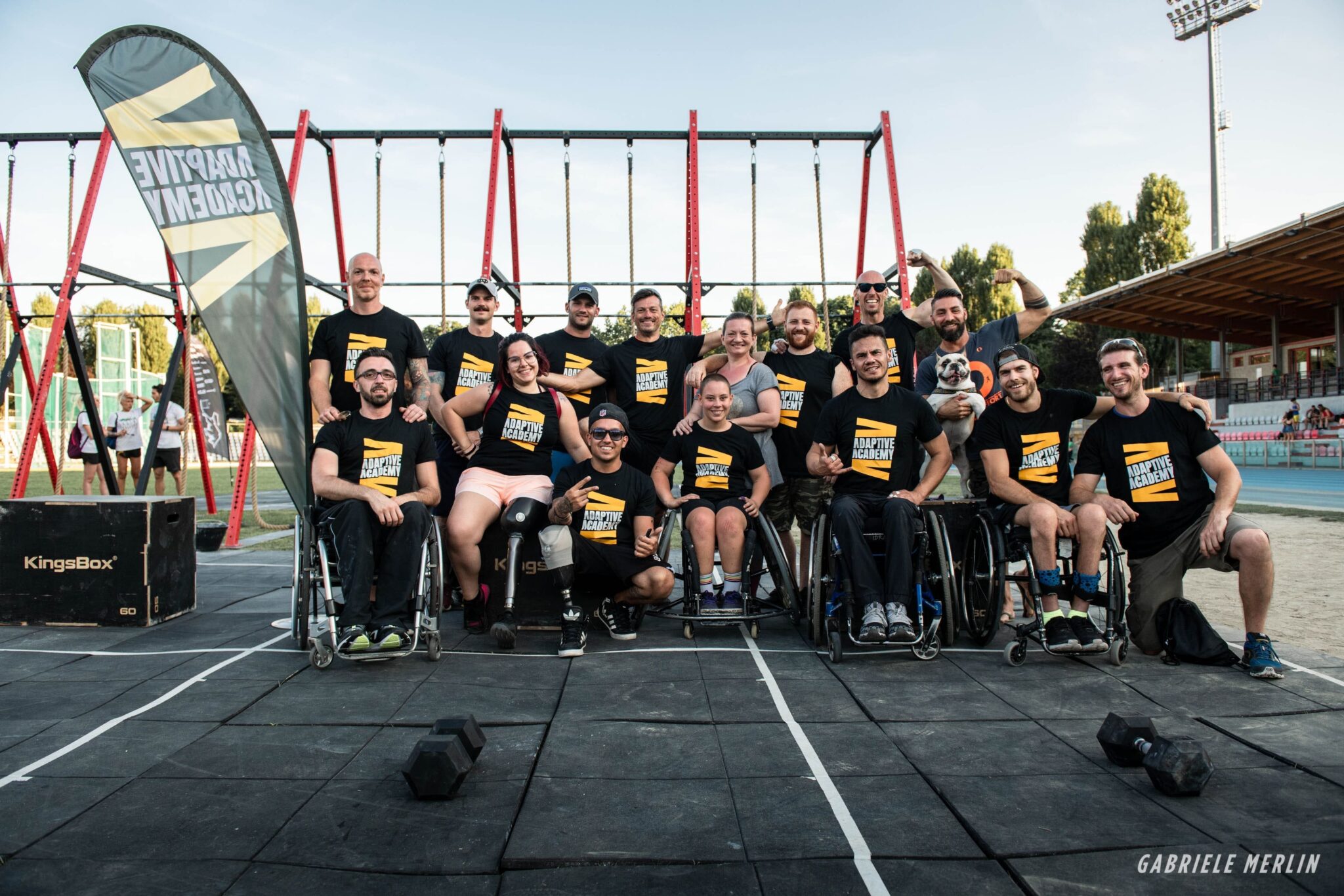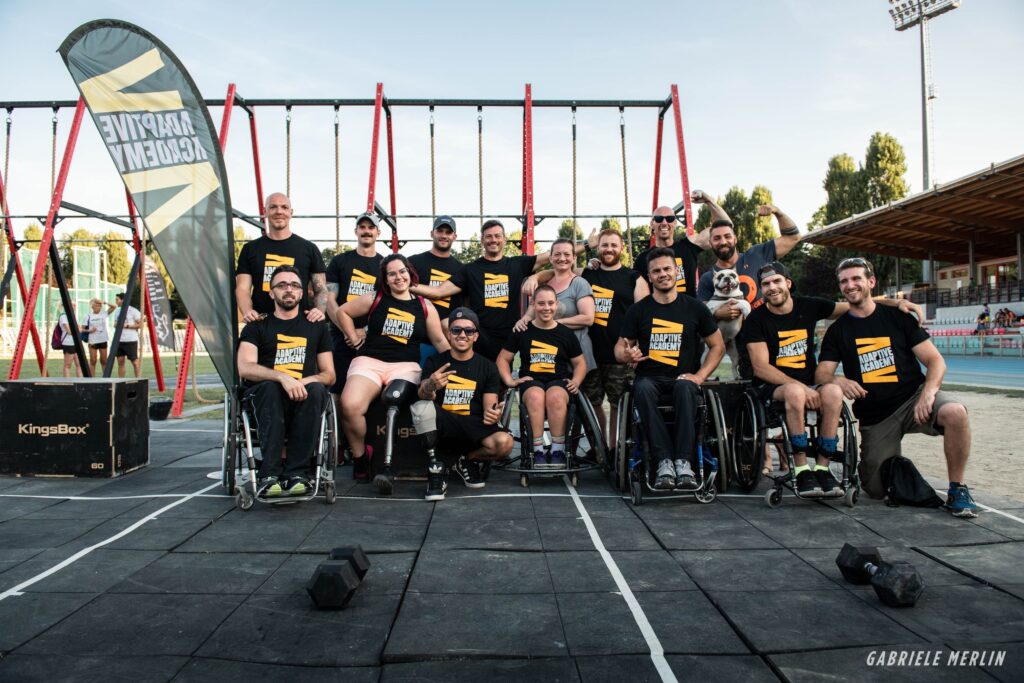 Source: Gabriele Merlin
These words were just like a lifetime tattoo for those who had the privilege to be there, listening; they came from the voice of Luca Morassutto, Head Judge of Torino Challenge – Fitness Competition 2019, one of the most iconic Italian competitions, held in Turin last June. They sounded like an imprimatur: they have been pronounced in front of the entire Adaptive category and the whole judge's equipe as a briefing before the first wod.
Seven adaptive athletes – 2 women and 5 men – listened to those words with proud, fire and honor in their hearts.
This challenge, one of the first and historical events in Italy, has been the first in the Country to officially open up to the Adaptive category: no exhibitions, no scaled adaptations of the RX'd versions of the wods, no discounts: just the same treatment of the other 350 athletes who were involved in the race.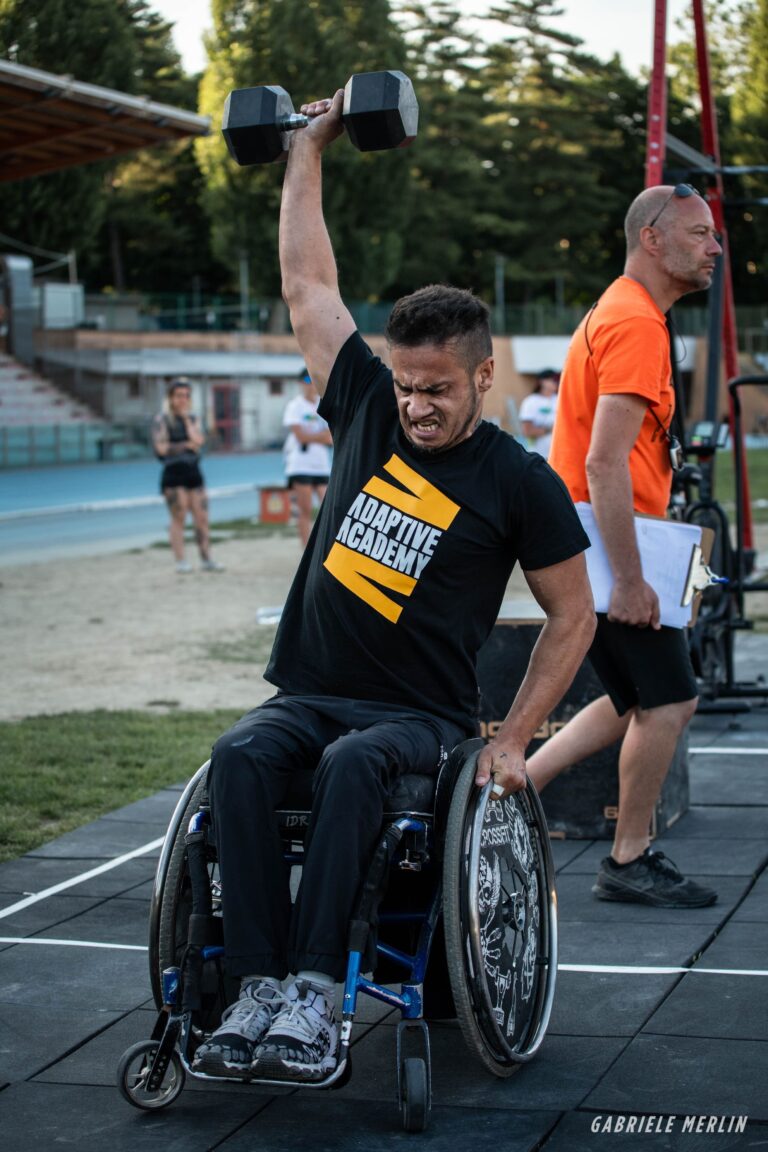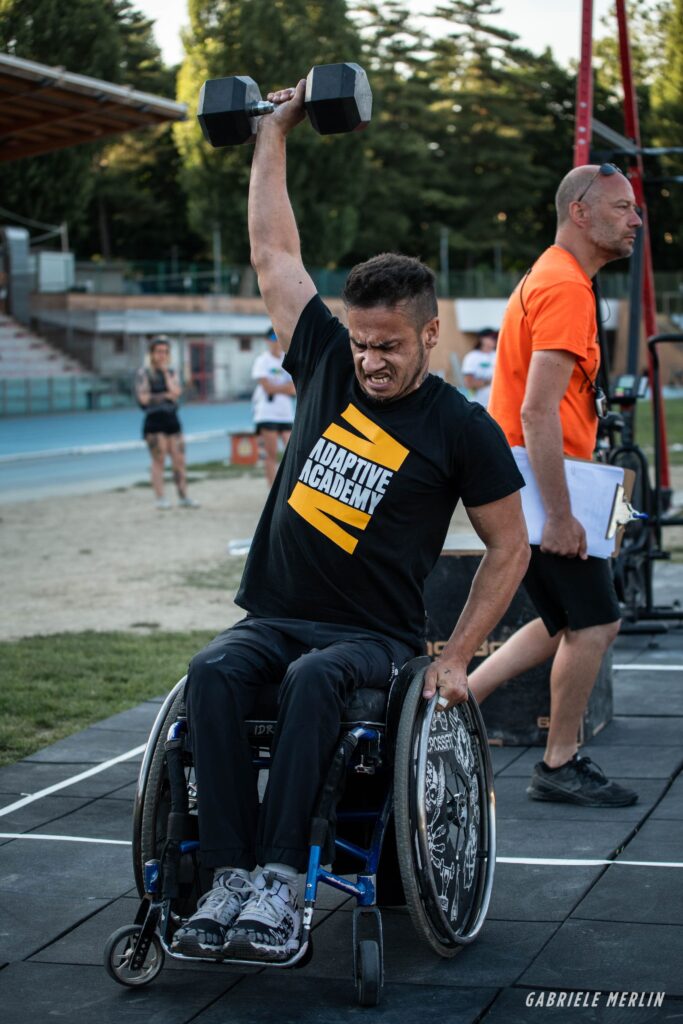 Source: Gabriele Merlin
In front of over 5.000 people who came to see and cheer on their heroes, the 7 Adaptive athletes managed 5 wods across two days of racing, facing any sort of skill and movement: toes to bars, rowing, pistols, dumbell squats, snatches, push presses, cleans, rope climbs, box jumps and muscle-ups.
Giorgia, Alessandra, Lorenzo, Giorgio, Davide, Roby and Andrea ignited the crowd with something that never gets old for any CrossFit fan: the hustle, the passion and the commitment that overstretches results. Nothing new for anyone, just a back-to-the-roots moment that made everybody think about the origin of their personal motivation: "Why did I open that box' door, that day? Easy: to overcome my limits and limitations. To be the best possible version of myself". And that's what an Adaptive athlete do. The same as you.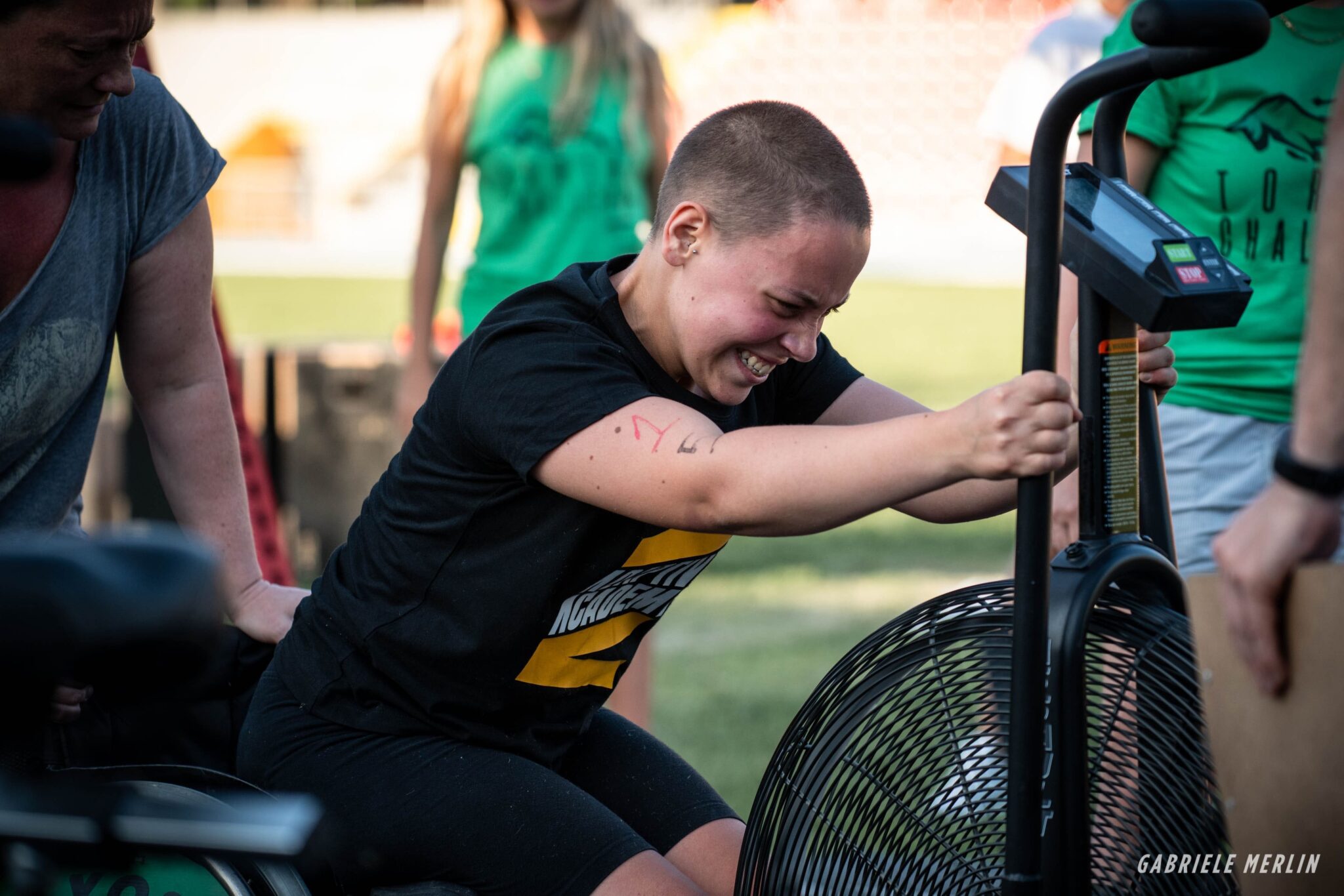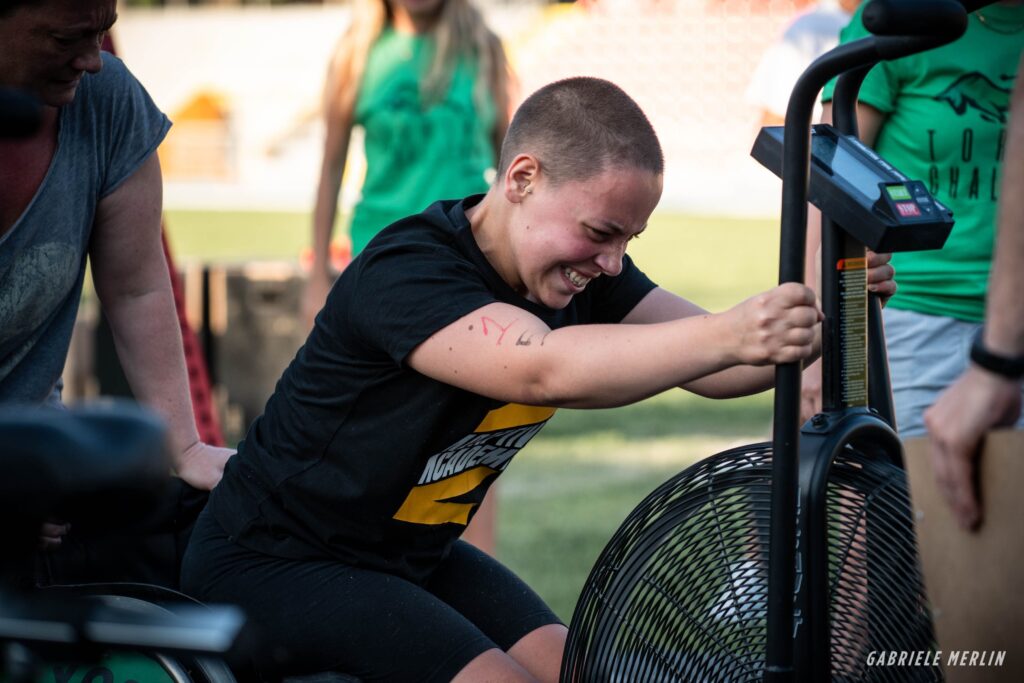 Source: Gabriele Merlin
Omar Lannunziata, owner at CrossFit Whitehand – one of the oldest box in Turin – and Torino Challenge's manager, is the man behind this new chapter of the Italian CrossFit scene:
"When I had the idea to open my competition to the Italian Adaptive athletes, I knew that this category of 7 guys would give me more to do than the other 350. When you have to manage five wods for a group who is composed by men, women, seated, lower, adaptive beginners, scaled and RX athletes, all in the same minutes of work, you have to do something that could be fun for everybody but also challenging and, definitely, hard. And when this come to the adaptations, all your decisions have to cross the whole group of 7 in order to let them compete in a fair, close competition. At the end of day I think we did it. We learned more than what we teached. They enjoyed the competition and thousands of people came back home after viewing something they can tell to their friends at their own boxes. Spreading a word of more-will-than-skill attitude".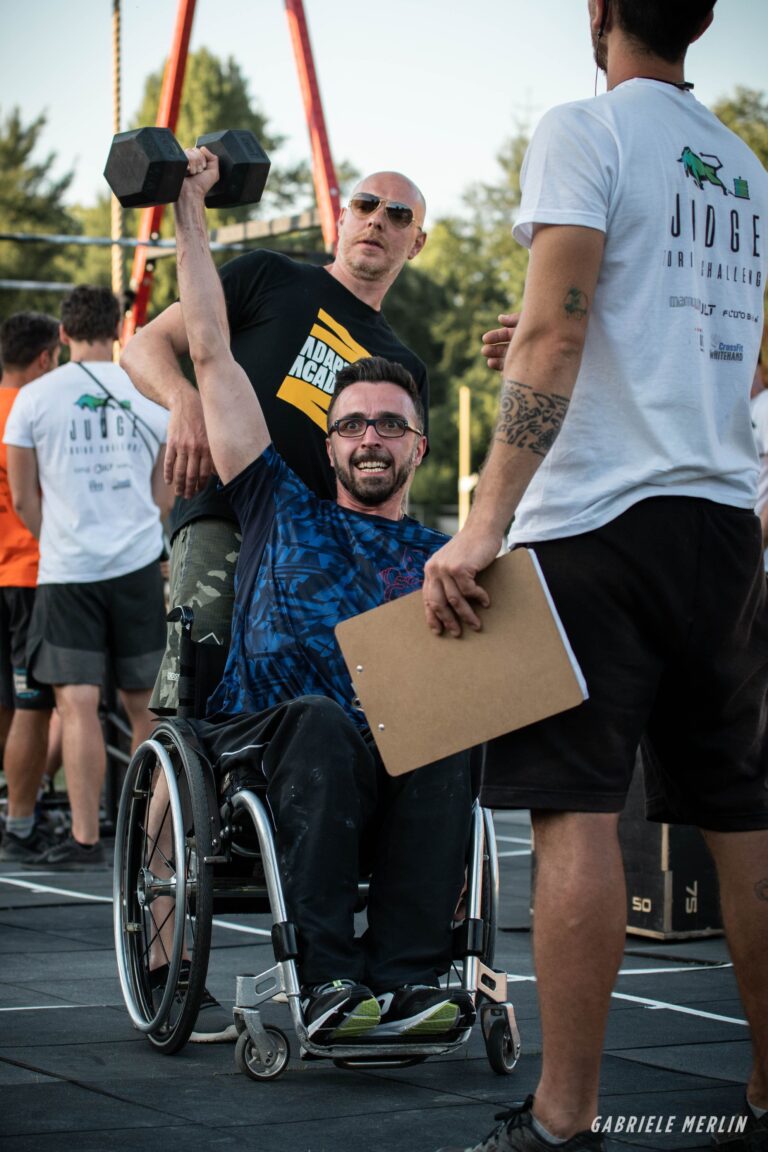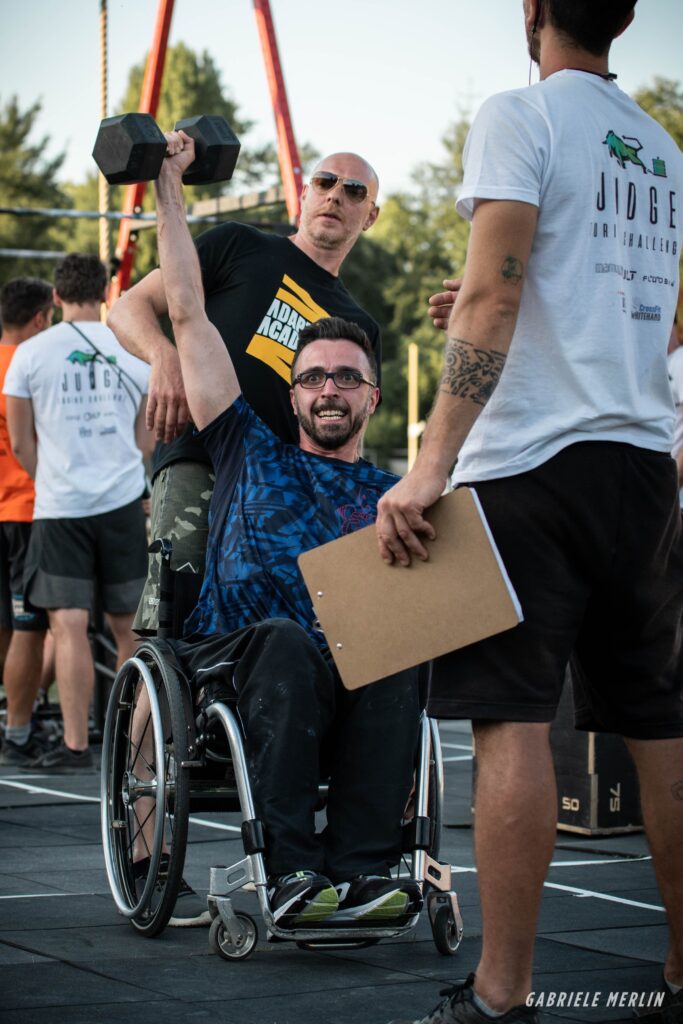 Source: Gabriele Merlin
A different approach and different point of view comes from Luca "Red" Casciello, one of the most iconic coaches in Italy, owner of CrossFit La Mole:
"People have seen something incredible: seven forces of nature, giving all they have inside to do one more rep than the other. I, as a coach of one of them – Andrea De Beni – saw it totally different. I saw the mistakes, the non-correct timing of some movements, the wrong technique of a snatch, the improvable technique of something else. I, as a coach, didn't see anything different than everybody's else coach. This is the real, effective, inclusion: disability is in the eyes of who's watching and I couldn't see any disabilities right there, just athletes doing what athletes do".
MY THOUGHTS ON THE COMPETITION
This time we were seven and we were a bunch of everything you can imagine for an Adaptive category. But the aim was to open a theoretic door to other athletes, to other competitions and to other coaches. The final goal is bigger than creating an Adaptive category: some of us, due to his/her kind of disability can compete at a high level also in standard categories, alongside able-bodied athletes. So, we have to work in order to give everybody all the range of possibilities: seated, lower and upper categories in all the competitions and real inclusion – without any adaptations – to all those athletes who don't want to be the first among a few but not-the-last among many."
We had to start somewhere and this was the best occasion possible, with the right approach: we didn't need another exhibition, we needed an effective contest. We have been inside something bigger than us: not only a competition but a test of possibility, a great showcase with an amazing visibility; we don't need to be at the center stage, we don't want to be considered as super-heroes, we just need to be inside every single competition as a routine part of that.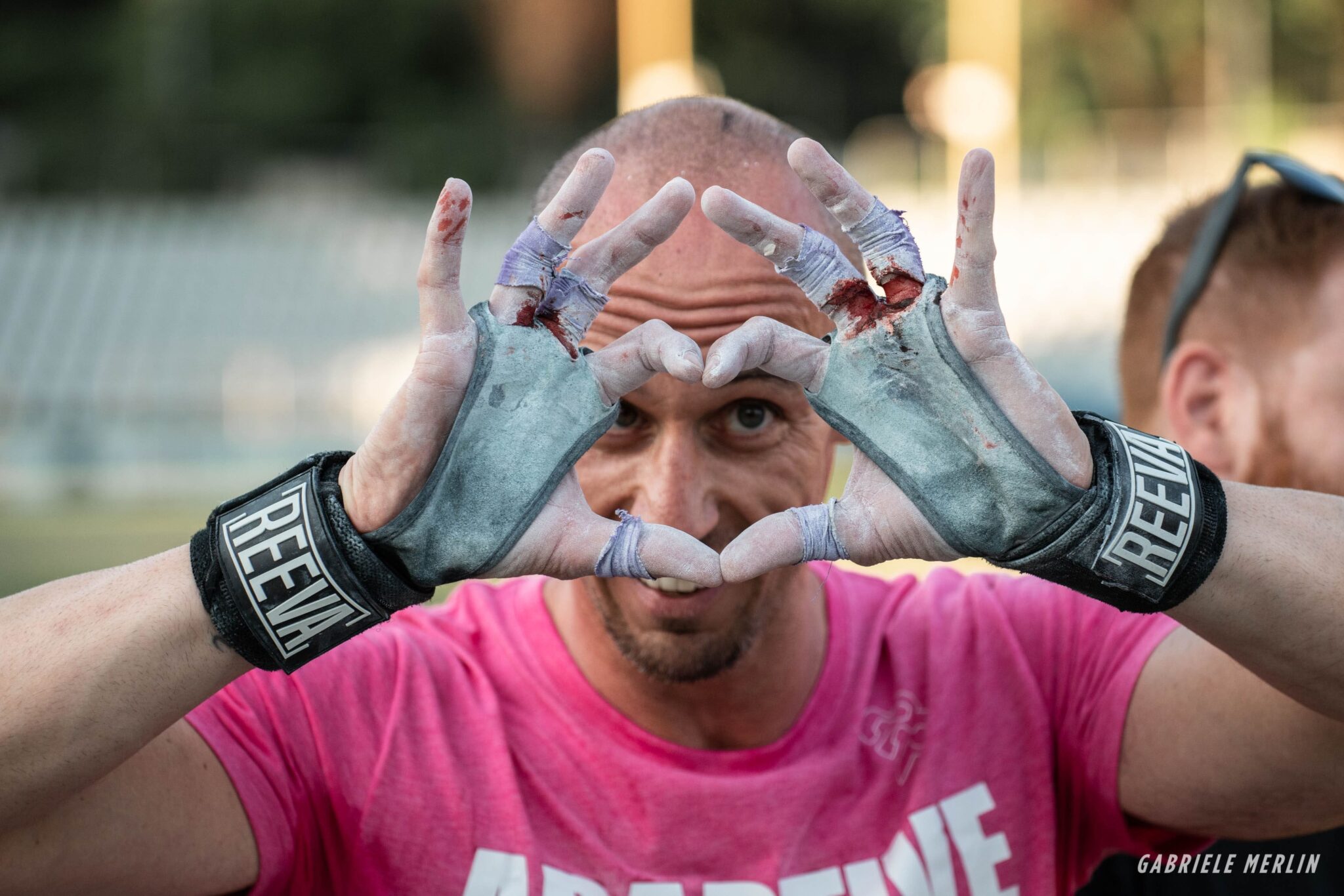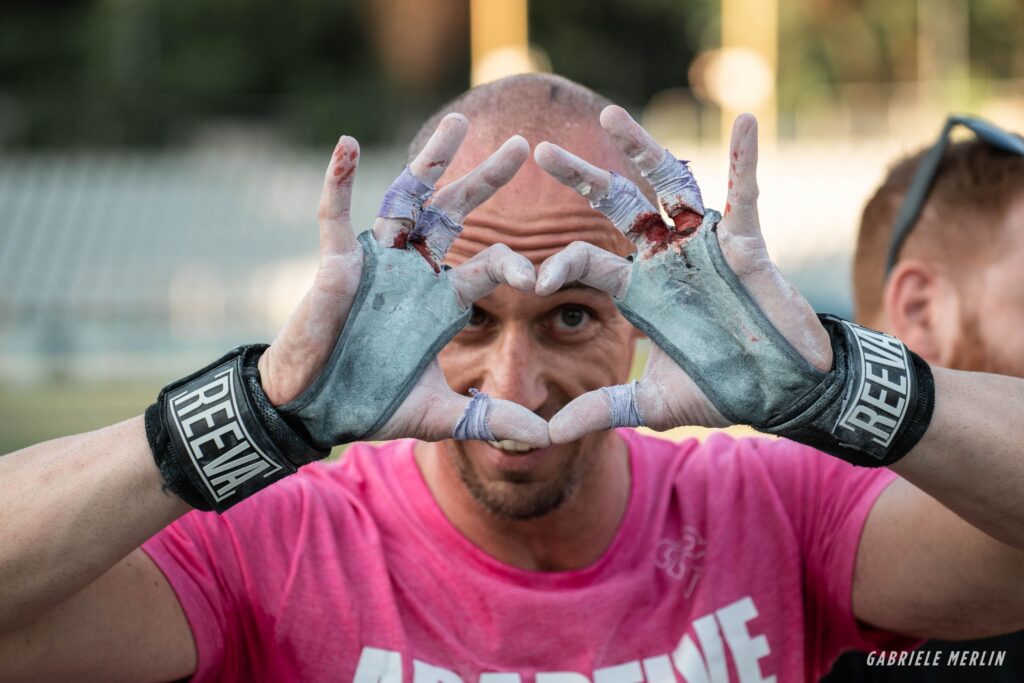 Source: Gabriele Merlin
After the event, Omar Lannunziata has been called many times from other coaches and, more important, from other event's managers. They asked information about every single detail.
Result: Italy will have more competitions that aren't frightened to open their doors for adaptive athletes.
We want to close with a message, shared again by Luca Morassutto. With his "Project Judge", the most important CrossFit judges organization in Italy, he has the opportunity to live the major part of the Italian events from the inside and personally knows every single event's manager: "After last edition of Torino Challenge, I wrote a message to the event's managers, sharing it through my social channels and across PJ's official pages. I wrote them that they have to introduce the Adaptive category in their competition: it's a no-brainer. Because it's hard but possible, because they need more opportunities: they train daily and hard just as anyone and they deserve the possibility to engage the racing challenge that a CrossFit competition could be. Most of all, sharing their experience through competing, they can show the roots of CrossFit, they can tell that this sport is real and that everybody can do it, just participating and giving it all. Their experience could bring us to the another level in terms of visibility, showing the world the best part of CrossFit: the roots and the future can overlap".