National champions are recognised as the Fittest person in each country represented in the CrossFit Open, where athletes compete informally against people registered under the same country for the title.
For years, national champions have been crowned based on their national ranking in the Open leaderboard, giving athletes the tittle of Fittest in India, Oman or Kenya.
View this post on Instagram
For 2021 however, national champions will be given to then male and female athlete in each participating country who makes it the furthest into the CrossFit season.
2021 CrossFit National Champions
National champions will no longer be crowned based on their Open leaderboard ranking. Instead, the title will be granted to the individual who makes it furthest into the season, which starts with the Open and is followed by the Quarterfinals, Semifinals and culminates at the CrossFit Games.
In practice, this means that if five athletes from one country qualify to the Quarterfinals, the athlete who finishes highest in the event – if no athlete qualifies for the Semifinals – will be awarded the national champion title.
If two of those five athletes make it to the Semifinals, the athlete who finishes highest on the leaderboard will take home the title. If there happens to be a tie, the athlete with the highest ranking on the leaderboard in the Quarterfinals will be named national champion.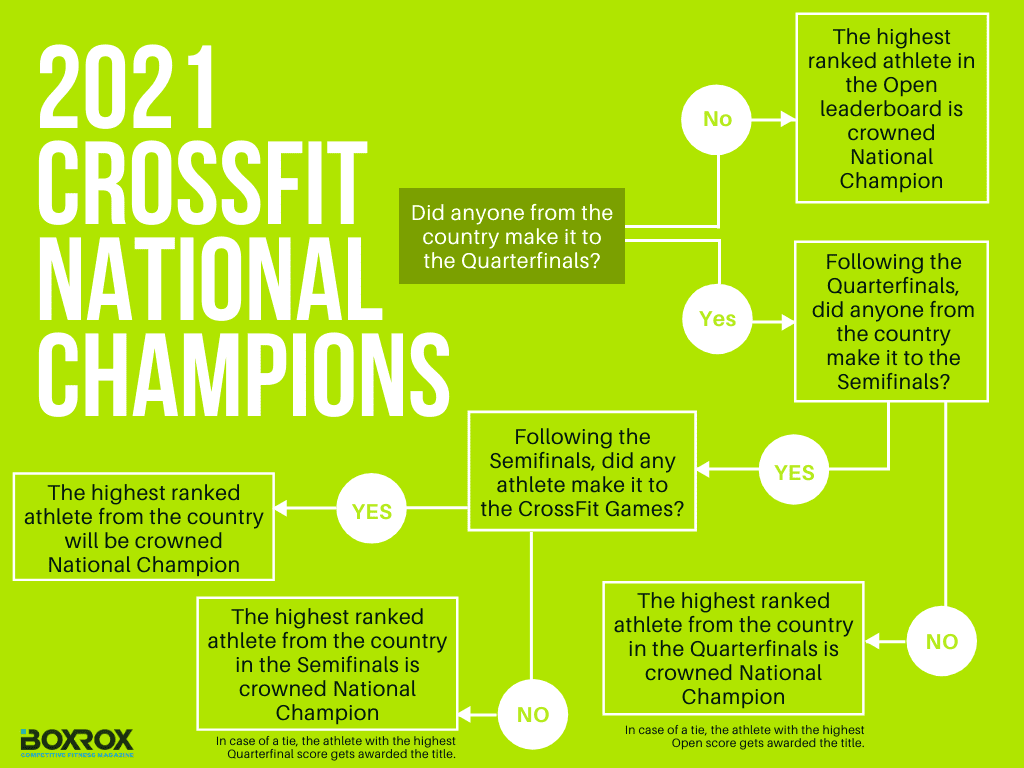 Source: BOXROX
"Thanks to the new continent-based qualifiers, athletes from more nations than ever before are likely to advance past the first round of the Open to compete in subsequent stages of the CrossFit season, and this national champion process is designed to reward the athletes who progress the furthest, so the sport of CrossFit can continue to grow and mature in every nation around the world," CrossFit announced.
National champions experienced their height during the 2019 season, where champions from 158 nations were qualified directly to compete in the CrossFit Games following the CrossFit Open. In the end, athletes from 114 countries around the globe took the field in Madison, Wisconsin.