Pat Vellner has competed in the top level of CrossFit since 2015, when he first qualified to the CrossFit Games. Since then, he's stacked three consecutive podium finishes. The 30-year-old's 2020 competitive season came to an end following his performance on Stage 1 of the CrossFit Games.
BOXROX had the chance to speak to him exclusively shortly after and, during our conversation, we covered the realities of elite online competition, Vellner's thoughts on his own performance, and his thoughts as a prominent athlete and competitor on the future of the CrossFit competitive season.
Read the first part of our interview here.
During the second part of our conversation, we discussed the start of the season, the disruption of it through the global pandemic and why he chose to shape his season the way he did, as well as his reflections on his CrossFit Games performance and his thoughts on the future of competitive CrossFit.
Vellner went into the 2020 CrossFit Games after an impressive season, where the Canadian won the worldwide Open, finished second at the Dubai CrossFit Championship and won both Wodapalooza and the Rogue Invitational.
After such an impressive start to the season, many thought Vellner's early exit from the CrossFit Games last year was a fluke, and he was primed for a podium spot this year. However, competing alone from Nanaimo, Canada, Vellner finished 9th after Stage 1 of the 2020 Games, 15 points away from fifth place. He shared the realities of it with us – read all about it below.
View this post on Instagram

It's been a long year! Obviously not the way I wanted my weekend to go, but I'm proud of my effort and amazed by all the athletes who competed this weekend. Huge congrats to everyone advancing to the #FinalFive . It's exciting to see some new blood pushing at the top on the men's side! I'm so grateful for all of the support both locally and all over the world. Thanks to the @crossfitgames for giving us a chance to compete in yet another unique competition format. For now i need a lot of rest, a lot of food, and a lot of friends and family time. ✌? ? @trainingdaymedia @tamanephotography #crossfitgames #crossfit #alldone #reebok #reebokcanada #foodspring #romwod #tydaxfit #championsandlegends
This interview has been lightly edited and condensed for clarity.
Pat, you had a huge season, winning the Open, two Sanctionals, second in Dubai, and then the CrossFit Games comes. You've said before you didn't reach your expectations, and it's easy to see that from on outside perspective because you were doing so well, but what is it actually like, being you?
It's tough to reconcile expectations to reality. It's kind of funny, I almost shot myself in the foot on it.
But after last year's Games, the way the Sanctional season is built now and with the cuts – while it's a cool style of competition – if you make a mistake at the wrong time or if you get a bad judgement call, anything can end your season very abruptly.
Even if you're having a great competition, having one bad event at the wrong time means you're out and you don't get the chance to make up for those mistakes.
Knowing that was what the structure was, not being sure whether it'd be changed and looking at the whole season, I decided I didn't want to hinge my whole season on that one competition with such high levels of unpredictability – you can get screwed.
By no fault of anybody's you can get a really tough draw where your ultimate weakness comes up right on the cusp of one of the major cuts. Despite having great performances everywhere else, it sucks that you weren't ready for that one test and you're out.
It was hard to then put all my eggs in one basket, which is what athletes have done in past years because that's what the system was like. But with the new Sanctional season I reasoned there's lots of major events going on through the year.
You can earn good income competing at those events and compete against some of the best athletes around. By the time the Games come, if there's another system or unpredictable thing going on, it's not going to harm your year.
You'd already have had a good year by the time that system comes so, frankly, when COVID took off and things were shutting down, I was like 'thank God I did that' because there was no guarantee that the Games could happen or what they would look like.
We ended up in a situation where everything was unpredictable, so I was really thankful that I'd already had a good year; it was the perfect call for this year.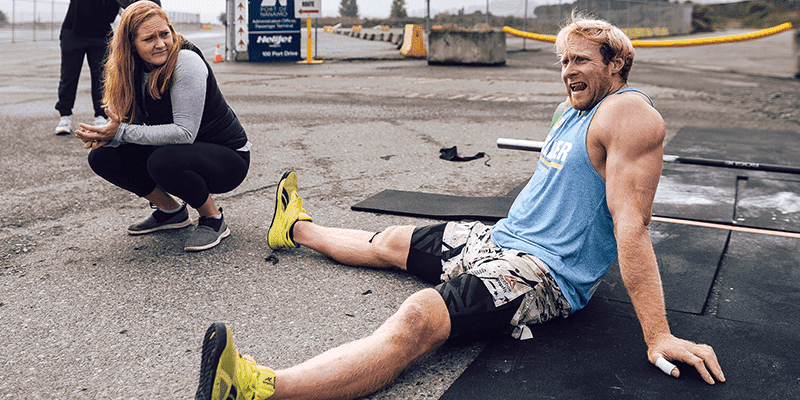 Source: Photo courtesy of CrossFit Inc.
This is the thing, I didn't give myself an off-season. Last year I trained for Rogue in May and trained hard for the Games through June, July and August. Then we had a month and a half before the Open, so I never really stopped training.
Then I did Dubai in December, Wodapalooza in February, then the West Coast Classic in March so I got training for that but they cancelled a few weeks before. So near the end of March I had a bit of a break, but Rogue was still scheduled for May.
I started training for Rogue and then they pushed back to June, so I kept at it until then and you're right at Games training. But then the Games kept getting pushed back, so I was just circling, trying to maintain this high level of fitness.
[Editor's note: in the end, the Games got postponed twice and happened eight weeks after they were originally scheduled for]
I wasn't able to do it. I burnt out a little bit at the end of the season and got hurt.
Twenty days before the competition I tore my groin – that's the way it goes when you try to compete that much and strain that much.
It's frustrating and it's unfortunate. Obviously I more than anyone wanted to try to erase my Games finish from last year, compete well and be able to put that on the shelf.
I wasn't really able to prepare the way I wanted to the month leading into the Games – I basically didn't do any squatting until two days before the competition and the first two events were all squatting. I was very nervous going into the competition, seeing the programming there was a lot where I thought I'd get hurt or wouldn't be able to complete the events.
At the end of the competition I was happy that I was able to compete and finish everything and put a decent effort in. I didn't execute everything super well and I was definitely a little hampered by it, but I finished top 10 – that's still a good recovery and something to be proud of.
I was happy with my season overall, I think it was great.
It sucks when you come to the end, when everybody's watching, and you have a falter. But you know what, I'll get over it.
Frankly, the way my season had been going to the Games, I'm don't know if I'd been able to do another five weeks of training to then compete again.
My body definitely needs a break, so I'm happy that it's the off season. I'm really looking forward to taking some time to rehab some things that have been bugging me over the course of the year and treat my body nicely for a change.
As much as I would have loved to have finished higher and qualified for the second stage, the people who did were undeniably deserving, they all performed super well for the weekend and it was a really tight race at the end.
If I would have done it, frankly, I don't know what I would have done. I don't know if I would have been able to get myself back together for five weeks to compete again.
For me, this was the best case scenario: to finish reasonably well and now have the chance to take care of myself because I need it. Had I made it with the injury that I have would have been a mistake, and I would have had a lot of trouble dealing with that.
It's very easy to lose perspective and forget that you had an incredible season, and that speaks more about your ability than a single event, even if the event happens to be the CrossFit Games. And then you have to remember that everything got postponed over and over again and it's really hard to stay on top and keep that peak going over time.
I know there's a few other guys who were hurting and fighting injuries because that's what happens when you're trying to maintain that peak for so long, you start to break down.
But those are the conversations I've had with my coach: we made a decision early on for how we were going to this season and we did it exactly how we wanted to, and we knew what the risk was.
The reality of it is that Stage 1 of the CrossFit Games this year was a day and a half of competition.
It sucks when your whole season gets measured against one and a half days of competition.
But I'm proud of what I did this season and I'm not too worried about it. I know that I'm capable of competing with the guys, so next year I'm going to plan things differently based on what information we get about how the new season will look like and go from there.
I know CrossFit is opening new lines of conversation, how much information are you actually getting at the moment about how the future season will look like?
We've been talking to CrossFit a little bit, particularly now that most people's seasons are done.
When the season finishes, everyone wants to plan how they're going to approach the next year, figure out what their offseason and in-season will look like.
We've approached them with questions to help us make more intelligent plans, and they've shared some of their ideas. A lot of athletes and Sanctional organisers had some chance to provide feedback on a few things.
We discussed what we really liked about the old system with Open, Regionals and the Games, and what we like about the Sanctionals system. We're trying to come up with a new way to marry both of those ideas and create some sort of hybrid system.
There's no real details yet, we're still in early conversations, but we have an idea of the timeline which is good for now. Either way, right now, there's no way to plan any further than the Open because we don't know when live events can happen again.
For now, everybody's off until the Open, which gives us more time to recover than we've had in the past. So yes, we'll maybe have some sort of hybrid system but we'll see what kind of shape it takes, I'm confident it'll be sweet.
Best case scenario, what would you hope for?
I don't know. I think from an athlete's perspective, so it's hard to look at things from a spectator's perspective or simply a general perspective, say someone who has the goal to make it to the next stage competing.
The old Regionals system was really cool for that because it was very linear and obvious and easy to follow. You got a bigger degree of community involvement.
In the Sanctional system you also get a large degree of community involvement, but only where the Sanctioned events are, and they're not everywhere. So it's a little different.
From an athlete's perspective, the Sanctioned events provide an opportunity to choose where and when we want to compete. And you're not geographically locked. In the old Regional system I was living in eastern Canada and always had to compete at the East Regionals.
Some Regionals happened in really cool places and ours just happened in Albany, we competed in a hockey arena. And then you see the people in California competing on a cliffside – there were some really cool venues and I was jealous. But we couldn't compete in those places, it wasn't allowed.
There was no way to be allowed unless you moved there. So the Sanctional system provides a great opportunity to say, go out and compete in Europe against a whole group that I never see and never get to compete against.
Plus the involvement of some larger companied allowed some prize purses to balloon up and, frankly, be very financially lucrative for athletes. So there are some great things from the athlete's side from Sanctionals.
In terms of simplicity, the old system was very nice, but I don't actually know what the ideal would look like because the ideal for me is not the ideal for everyone.
If I made the ideal competition system for me it would probably be a tier system where you've got to compete a set number of events per year, so nobody would get the advantage of not competing more than others. You could do these events all over the world.
But the reason why that system is great for me is because it's got a high barrier of entry; you'd have to travel a lot and it's expensive. If you don't have the sponsorship, you can't really do it. So for me, it'd be sweet and awesome and I'd get to travel around, have a lot of earning opportunities.
But if you're an intermediate athlete trying to make it to the Games for the first time there'd be a very high wall.
That's the sort of thing we're trying to be mindful of, everybody wants to make sure this is accessible and can involve everybody. So there's been a lot of hitting the ball back and forth so that everyone's happy.
There's no perfect system and there's always going to be places where you can point at and say 'this could be better'. But it's been fun, now more than ever it's been really cool to be able to speak to CrossFit, have feedback and feel like we can have some control over our own destiny to some degree.
We're trying to make sure all parties are taken care of and create something that'll be cool and sustainable. The biggest thing that I want is that we don't keep changing it every year, and find a balance that we could stick to for at least three to five years, then see how it goes.
That's really interesting, to be able to share ideas and see how they stand against other parties.
I think what's cool about it is that it's eye opening, because regardless of our best intentions we're all very self-interested. So when I look at the competition season I want to do what's best for the athletes, but when the event planners look at it, they want to keep in mind the interests of the people organising events.
And when CrossFit looks at it, they want to know it will help affiliates, how it's going to help the training side and so on. We're all hearing from each other and it's cool to be in those conversations because they really point out your biases sometimes.
When you want to do something a certain way and someone says 'but have you thought of that?' and you're like 'oh shit, no I haven't'. It's cool to see the whole ecosystem and have people who are involved from all over, and get to build something together.
I think that we've been really lucky to be a part of that. I know as athletes it's something we wanted for a long time, to be involved and give some feedback. I'm excited about it.
I think that's cool because then you also get to know the reason behind things. Regardless of what it looks like next year, what do you think your plans will be? Do you have any expectations?
It's hard to know because we don't know when the season can start. We'll do the Open in February and see what happens from there. I know what the big plans are but a lot of it depends on the state of the world.
What we're trying to encourage is some sort of contingency plan where, if the plan is to run live events by May and close to the date it becomes apparent we can't do that, there's a secondary plan in place to run those events online or find similar formats to the Games or Rogue. Even if it makes me sad to think that the next five or six events we compete in are all online – I want to see my friends and play with them.
If we try to maintain interest and keep people engaged, it'd be good to have a plan in place on how we do it. Even if it doesn't look like a typical season, if there's way to run smaller events do that, it'll maintain community engagement and create some fun buzz and give opportunities to athletes.
Maybe there's some way to do something like that – it's hard to plan outside the Open right now.
I'm going to do a lot of rehab for the next two months and then start training a little bit and get myself in half-ass shape for February, after that we have to play it by ear.
I think the biggest thing is everybody needs to go in with an open mind. We have no idea in this scenario and we're all doing our best with what we have.
There's been a lot of that in the past few months, with the delays for the Games and such. Everybody's just got to adapt and be understanding that no one is doing this because they want to, but because we have to and it's for good reason.
Totally, we're all just winging it nowadays. Thanks a lot for talking to us Pat, it's been a pleasure.