With less than two weeks until the kick off of the 2021 CrossFit Games the competition is starting to take shape. Four events have been released for the Individual divisions and we now know what most of the CrossFit Games team events will look like for day 1.
The CrossFit Games will run from July 27 through to April 1. A total of 38 teams* who qualified through the new Semifinals system will take onto the floor to compete for the title Fittest Team on Earth®.
*This number might be smaller if teams are unable to get to the Games due to COVID-19 travel restrictions, in which case CrossFit does not plant to backfill team spots.
CrossFit Games Team Events Day 1
Team Event 1
Relay swim paddle
Pair 1 will swim, come back and tag the next pair, which will swim, come back and tag the first pair. The first pair will then paddle and tag the second pair on their return, who will paddle to finish off the workout.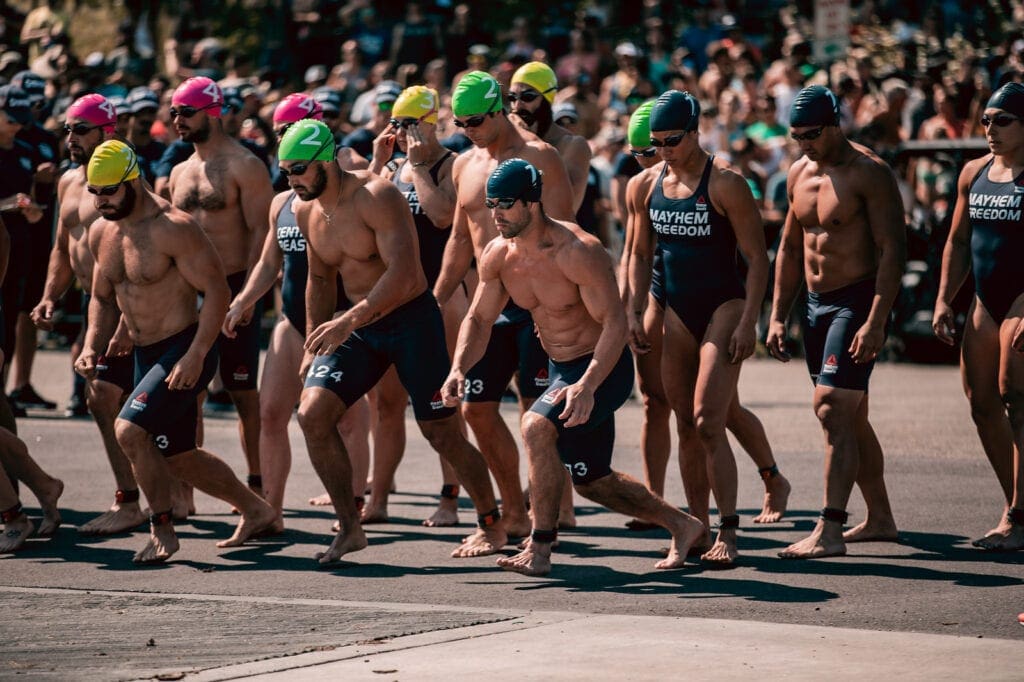 This event is similar to individual event 1 but "not identical," said Dave Castro, General Manager of Sport, in the events announcement. The exact distance and details are still unknown.
Team Event 2
Event 2 is a couplet of Bob push and synchro bar muscle ups.
Team athletes will:
Push Bob across the floor
25 synchro Bar Muscle Ups
Push Bob out and back
50 synchro Bar Muscle Ups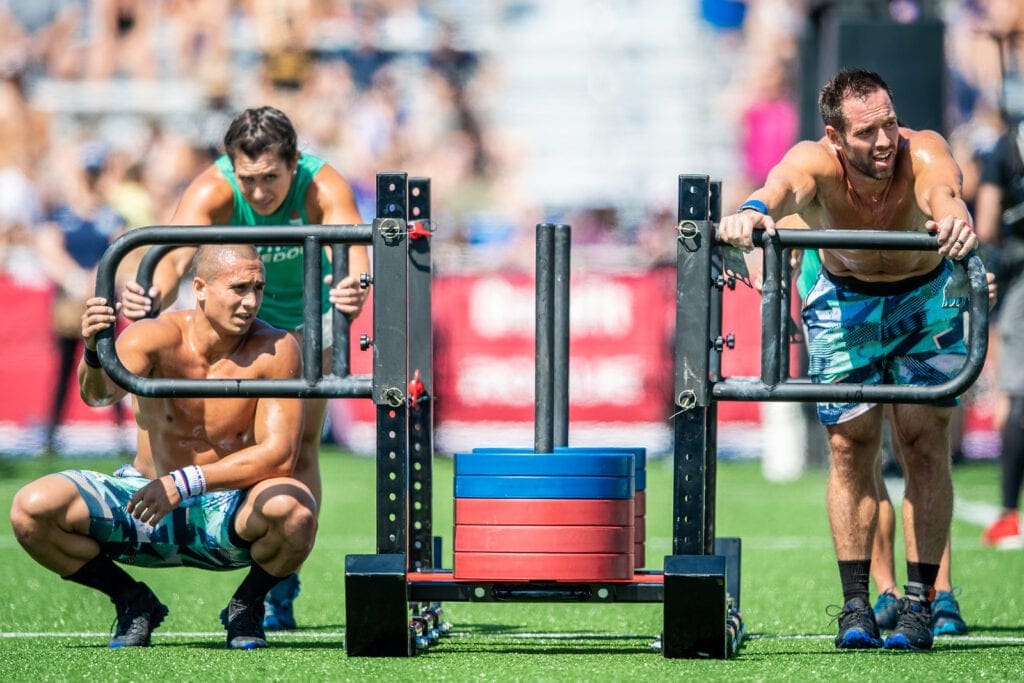 The last time teams faced the Bob Bob was during Event 1 of the 2019 CrossFit Games, which consisted of three rounds of Air Bike calories, synchronised Toes to Bar and Big Bob pushes.
Team Event 3
Event 3 for teams is also a couplet involving the Bob and a bodyweight gymnastics movement:
42 synchro Toes to Bar
Drag Bob 1 length
42 synchro Toes to Bar
Drag Bob 1 length
42 synchro Toes to Bar
Drag Bob 1 length
42 synchro Toes to Bar
Drag Bob 1 length across the finish line
Team Event 4
The last team event for Thursday will be announced on the day at the CrossFit Games.
Update: Team Event 4 (TE4)
For Time:
M/F pair 1
7 rounds of:
5 Syncro Wall Walks
5 Syncro Thrusters (185/135 lbs)
M/F pair 2
5 Rounds of:
7 syncro wall walks
7 syncro thrusters
Watch the CrossFit Games Team Events Announcement
CrossFit Games Team Schedule


Have a look at the CrossFit Games team leaderboard for the latest results.
CrossFit Games Teams
The rulebook changed for teams this year, bringing back the Affiliate Cup. This means that athletes wishing to form a team for the CrossFit Games must live within 100 miles of each other and primarily train together at the same affiliate.
Teams are formed by two men and two women and team members may not switch between teams throughout the season.
Up to 2018, the Affiliate Cup served as the official team competition for the CrossFit Games and allowed athletes training under the same affiliate to represent their communities at the highest level of competition. It was then replaced by a clause allowing athletes to form a team regardless of where they trained.
CrossFit Games Team Doping Breaches
A total of four teams so far have had their invitation to the CrossFit Games revoked following breaches to CrossFit's Drugs Policy.
CrossFit is backfilling invitations to the Games if any one of the four team members of a qualified team is found to have committed a doping breach. The team's invitation will pass to the next eligible team from their respective Semifinal competition.
Read the full stories and responses through each link.