And we don't just eat bacon with eggs like "normal " people do, we put it in or with everything. And when I say everything, I really mean everything. Have you ever heard about "bacon chocolate chip cookies" or "bacon wrapped sushi"? Well, if not here's your chance to try it now.
This article shows 20 delicious recipe ideas, all including the one and only, beloved bacon.
Sweet recipe ideas
1. Bacon Chocolate Chip Cookies
The combination of flour, salt, baking powder, butter, vanilla extract, eggs, dark brown sugar, dark chocolate and of course bacon ensures you will feel like "floating high in the sky" after eating them. Furthermore these soft-baked cookies are not only easy but also quick to prepare.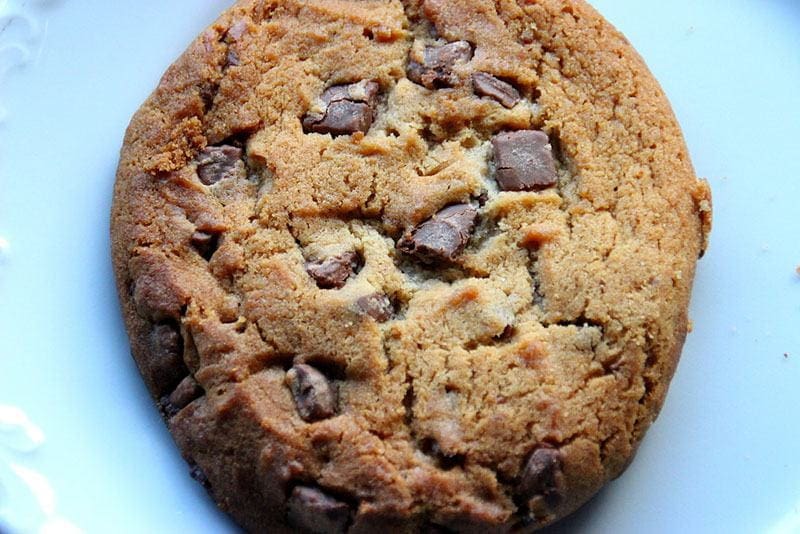 2. Bacon Banana Bread
We all know there is hardly anything that tastes as good as a fresh baked banana bread. Except one thing: Bacon banana bread! The recipe is easy, similar to the regular banana bread, you just have to add some cooked and crumbled bacon to your cake. Put it into the oven, and that's it! Your perfect and delicious homemade bacon banana bread.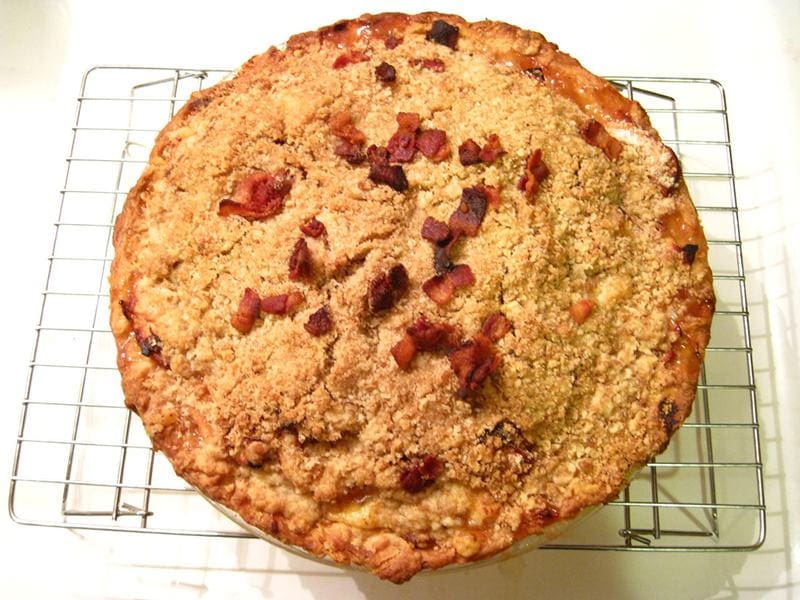 3. Bacon Ice Cream
Hot summers, cold winters, we don't care. Let's all be honest, we love ice cream. And we love it even more if there's bacon in it. Yes, it's possible! All you need is just sweet-cured smoked back bacon, whole milk, semi-skimmed milk powder, large egg yolks and unrefined caster sugar. Put together, it turns to a yummy bacon ice cream, probably the best ice cream you've ever tried.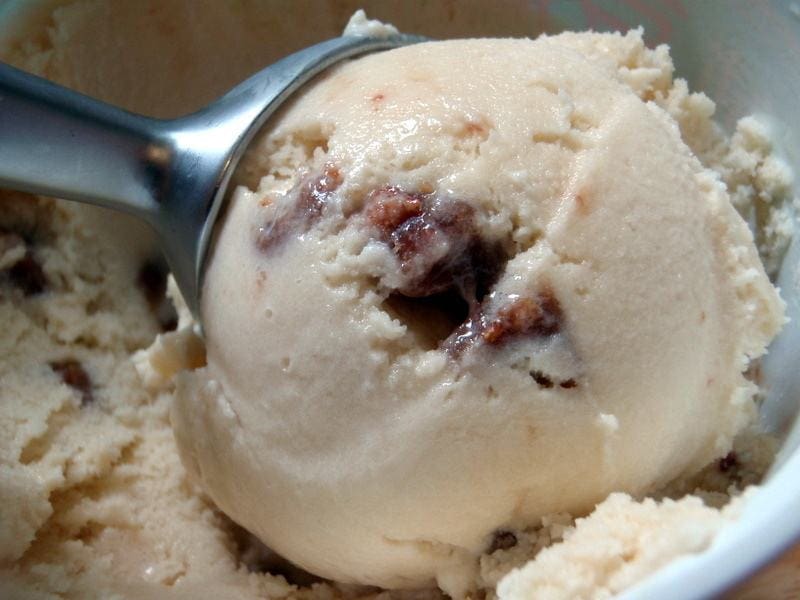 4. Sourdough Bacon Muffins
Another sweet temptation comes in form of the so called "sourdough bacon muffins" and will make your heart beat faster. These extremely tasty pastry's prep time is only 10 minutes and requires flour, cheddar cheese, cooked and crumbled bacon, sugar, baking powder, salt, eggs, milk, sourdough starter and cooking oil. Enjoy!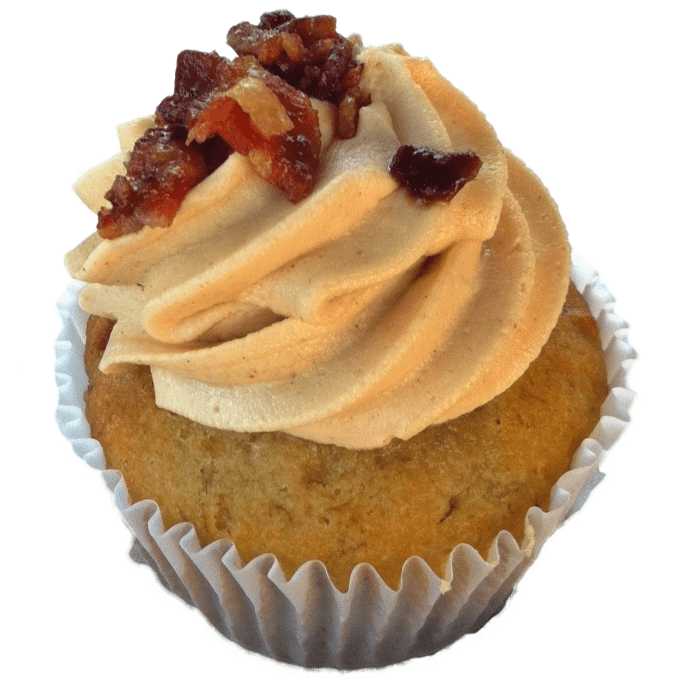 5. Chocolate Bacon Pancakes
Imagine waking up on Sunday morning and your boyfriend or girlfriend surprises you with these hot baked chocolate bacon pancakes. Served in bed! I can imagine that I couldn't decide what to eat first. I mean, who can possibly resist the smell of fresh bacon in the air? Furthermore the pancakes are not only delicious but come with high amounts of protein as you can use low fat greek yoghurt and protein powder (chocolate flavor) to improve the recipe.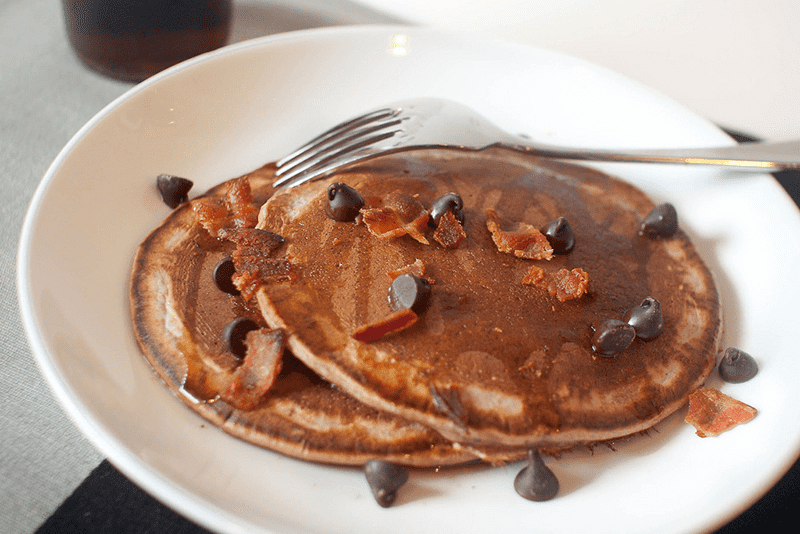 6. Bacon Cinnamon Rolls
If you love cinnamon, this idea is exactly right for you. And furthermore, it's very easy and uncomplicated, too. All you have to do is just add bacon to your cinnamon rolls before sliding it into the oven. The rolls will get a heavenly good taste, something between a sweet and a salty dream. Try it out and let yourself be surprised!
7. Bacon Toffee
This is just a nice suggestion for all the candy-lovers out there: Ever tried a bacon toffee? It's not only quick and easy to make, it's also very handily. Whether used as a snack between meals or as a pre workout energy booster, you can take the small bacon candy with you wherever you go. And it consists of just a few, easy ingredients. Water, butter, salt, sugar and of course bacon, that's it!
8. Bacon Stout Chocolate Cheesecake
For all of you who still haven't had enough of my sweet bacon recipes: Here's one more! What about a bacon stout chocolate cheesecake? Is your mouth already watering when reading this? Good, then try this recipe. For the filling just mix dark chocolate, stout, cream cheese, sugar, eggs, cocoa powder, espresso powder and beer-candied bacon together. The crust consists of granulated sugar, melted butter, crackers and pretzel rods while the topping is made of hot fudge sauce, chopped beer-candied bacon, sugar and heavy cream. Sounds like a lot of calories, doesn't it? Well, after a hard workout at the box you'll definitely deserve it.
Salty recipe ideas
9. Cheesy Bacon Popcorn
Popcorn is one of those snacks you could eat throughout the whole day, whenever and wherever you are. Just like bacon. So why don't we combine these foods and make "ultra super awesome bacon popcorn" out of it? All you need for this mouthwatering idea is just popped popcorn, melted butter, seasoned salt, smoked salt, grated cheese and bacon bits. Enjoy your movie snack!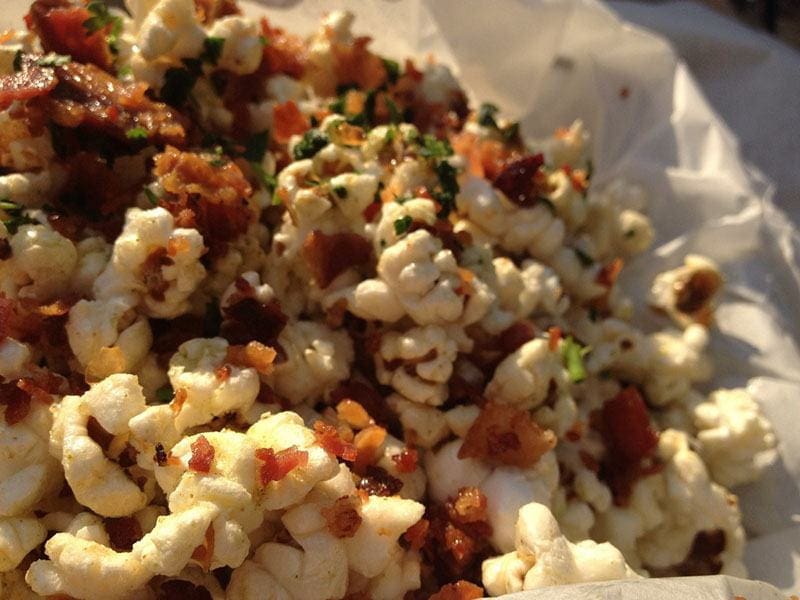 10. Bacon, Egg and Cheese Toast
A few slices of toast, some bacon, American cheese, butter and eggs make the perfect sandwich. Eat it as a snack between meals or just as a quick breakfast or lunch, it's always good as it is packed with a lot of protein.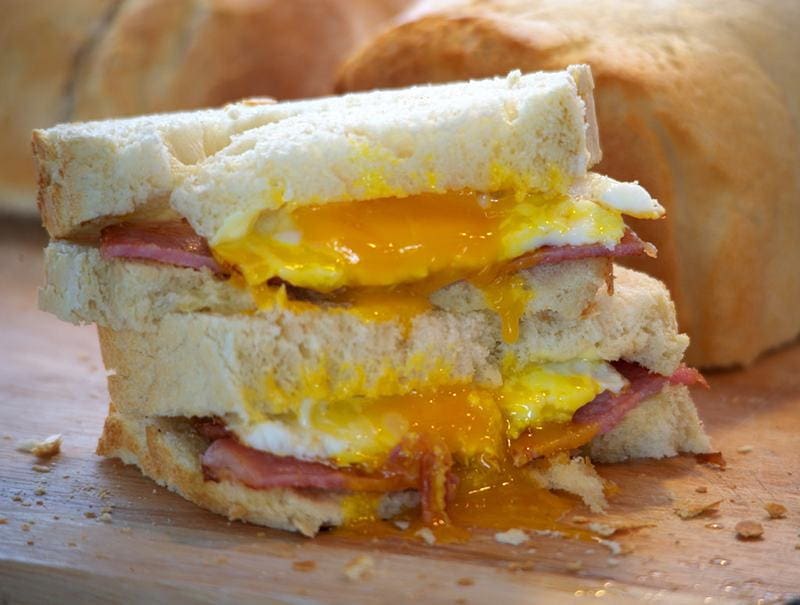 11. Bacon, Tomato & Spinach Pizza
It's a fact that everybody loves pizza. What about pizza with bacon? Besides the traditional toppings like mozzarella cheese and tomatoes add a few slices of bacon, alfredo sauce and some spinach to it. You will see, these toppings fit perfectly together and therefore guarantee an unmistakable taste experience.
12. Bacon Wrapped Sushi
Sushi is sexy. And we love it as it comes in many different variations, sizes and with countless stuffing. But have you tried bacon wrapped sushi? I guess not. Instead of nori seaweed take thin slices of cooked (not crispy) bacon and wrap it around your sushi. Fill it with anything you want. You definitely won't regret taking the time to prepare it!
13. Bacon 'n' Egg Lasagna
For all the pasta lovers out there, we won't forget you! Here's one fabulous recipe idea you will like. What about bacon 'n' egg lasagna? The most important ingredients you will need are lasagna pasta noodles, eggs, Swiss and parmesan cheese, fresh parsley, milk, pepper, salt, flour, onions and bacon. Trust me it will taste incredibly delicious.
14. Bacon Meatballs
With a preparation time of about 40 minutes it takes a relatively long time to prepare it in contrast to other meals. Nevertheless, it will be absolutely worth it. These bacon meatballs, consisting of ground beef, smoked bacon, salt, black pepper, paprika, oregano, fennel and eggs will may get you addicted.
15. Bacon Jam
What sounds like a sweet treat in the beginning, is more like a salty treat instead. But however, a treat is a treat. I am talking about bacon jam, or as some of us might also say: pure gold from preserving jars. Gold because it just tastes great, it's a combination of sweet, sour, salty and smoky. Furthermore you can eat the bacon jam with almost everything, for example bread, burgers or sandwiches. All you need is bacon, shallots, Spanish onions, garlic cloves, paprika powder, pepper, whisky, chili sauce, maple syrup, brown sugar and balsamic vinegar. And that's it!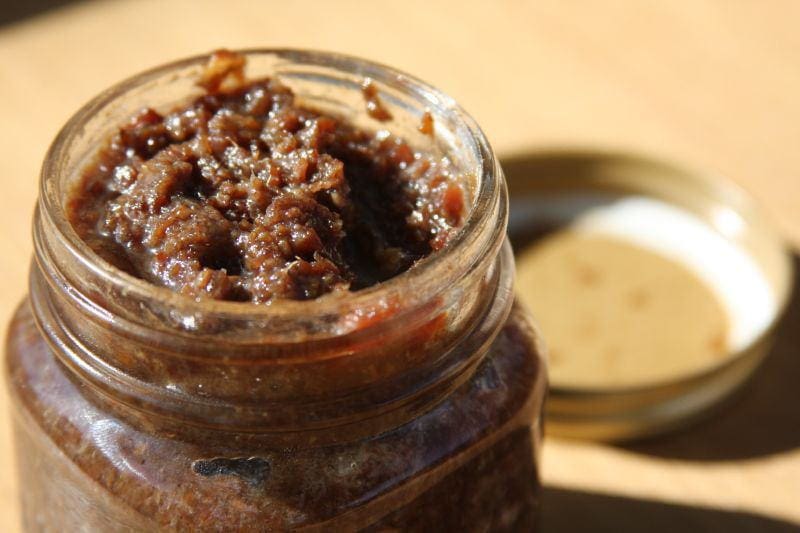 16. Bacon-Beer Mussels
Last but not least we have one more salty bacon recipe idea which I think sounds really interesting and absolutely worth trying. The talk is of bacon-beer mussels (dear Crossfit addicts, not to be confused with muscles). For this nice recipe you need the following ingredients: fennel, salt and pepper, beer, mussels, green beans, lemon juice and smoked bacon. Have fun cooking and enjoy your meal!
Bacon beverages
This is for all the bacon addicts who still can't get enough. Believe it or not, you actually can add bacon to beverages, too! These 4 ideas will inspire you to try it.
17. Bacon Spice Latte
Instead of drinking pumpkin or caramel latte the whole day, try something new and different. I am talking about bacon spice latte. Put together milk, sugar, bacon flavoring syrup, vanilla, cinnamon, ginger, nutmeg, allspice and bacon coffee beans and: surprise surprise, you will get a delicious and tasty bacon spice latte! Serve hot and add one slice of crispy bacon aside. Heavenly!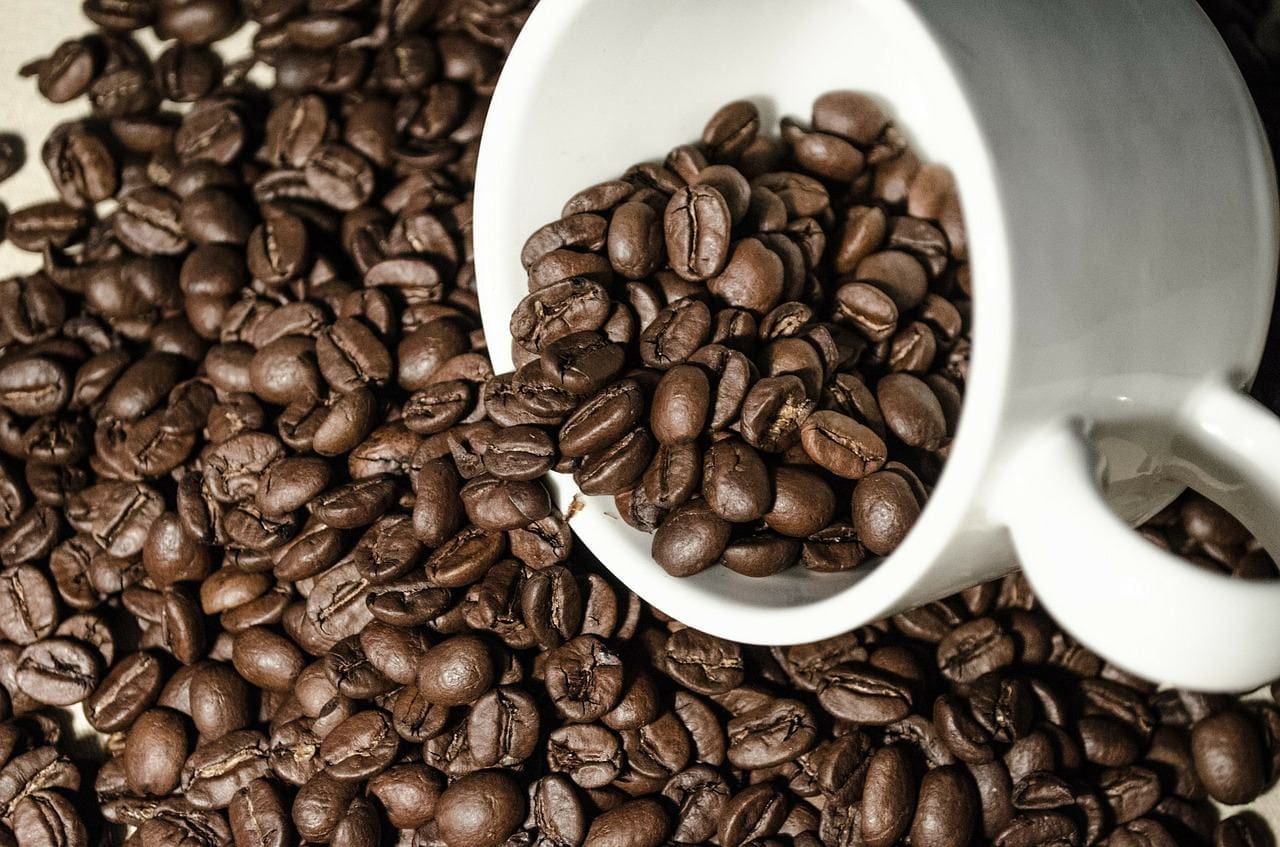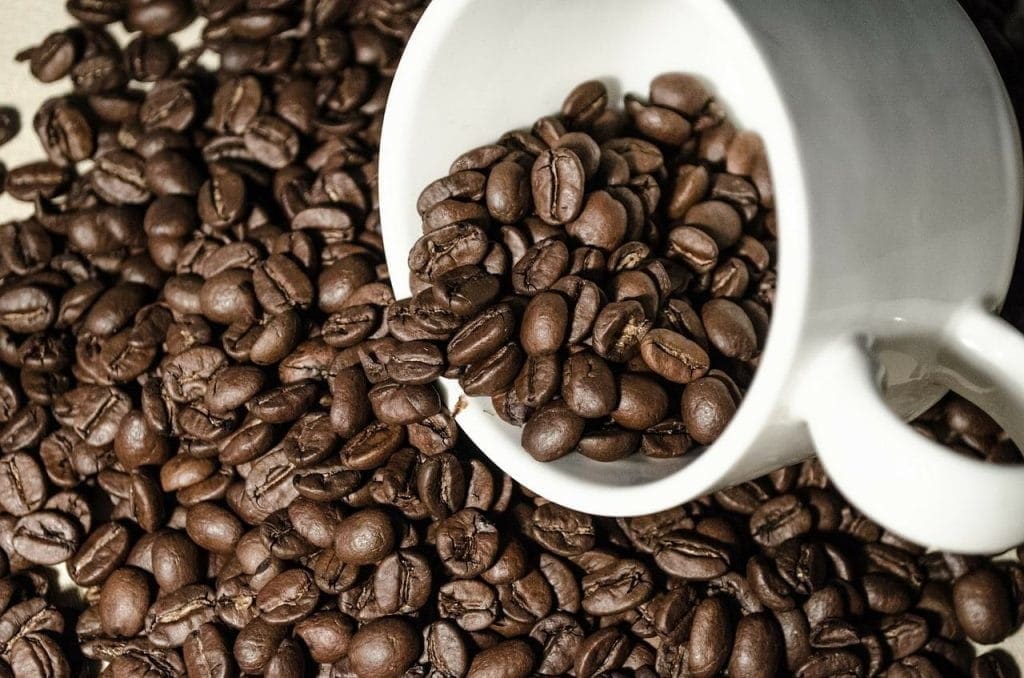 18. Bacon Chocolate Martini
For all of you who want to party and drink some alcohol from time to time we have another great recipe idea. For your next pre-drinking at home, surprise your gym mates with a freshly shaken bacon chocolate martini on ice. Trust me, they will love you for it, at the latest after taking a sip. And all you need is just bacon infused vodka, chocolate liqueur, Irish cream and milk. Mixed together on ice and garnished with a strip of crispy bacon it will be your new favorite cocktail.
19. Bacon Milkshake
Shakes, shakes, shakes. It seems like Crossfitters drink protein shakes the whole freaking time. Once you want to try something different and even more delicious, check this out: a bacon milkshake! Of course it doesn't come with so much protein as a "normal" shake, but however it tastes twice as good. So go and get some milk, add maple syrup, salt, vanilla ice cream, whipped cream (optional) and a lot of bacon. What results is an indescribable good and creamy milkshake you'll definitely get obsessed with.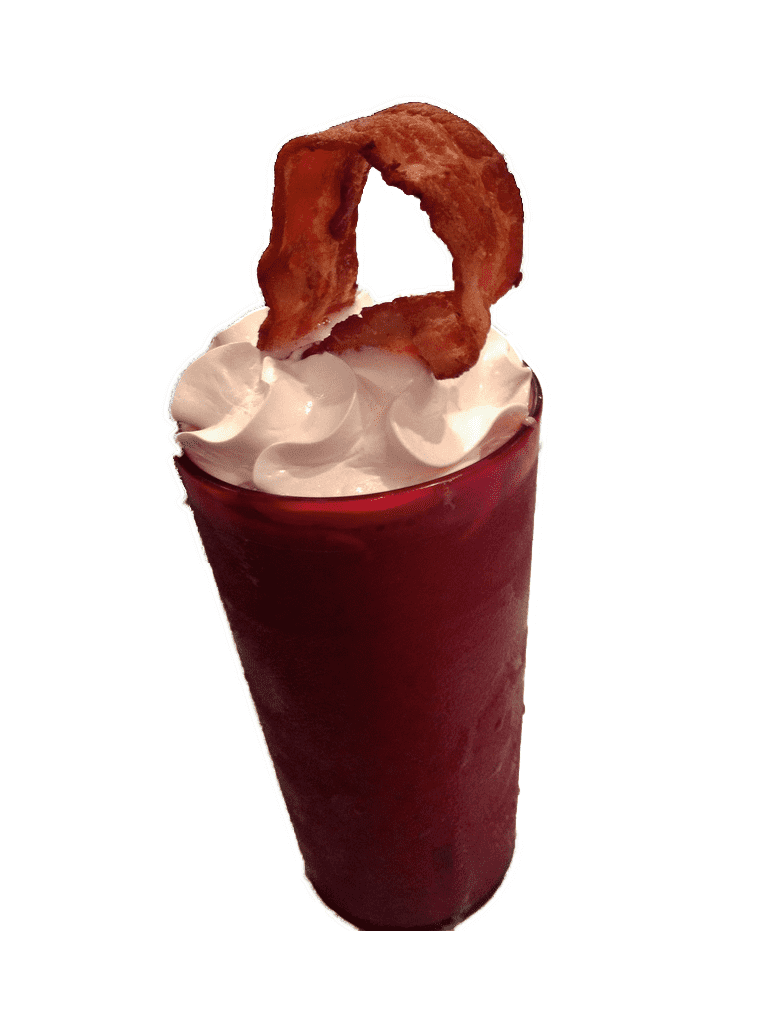 20. Bacon 'n' Eggs Bloody Mary
To complete the list of recipe ideas I want to come up with a nice cocktail recipe you all know. I am talking about the famous "Bloody Mary". But as you already have noticed, something's missing in it. And what could be a better complement than bacon and eggs? For this yummy drink you just need the normal blood mary ingredients, complemented by vodka or gin, deviled eggs, lemons, salt and some bacon strips.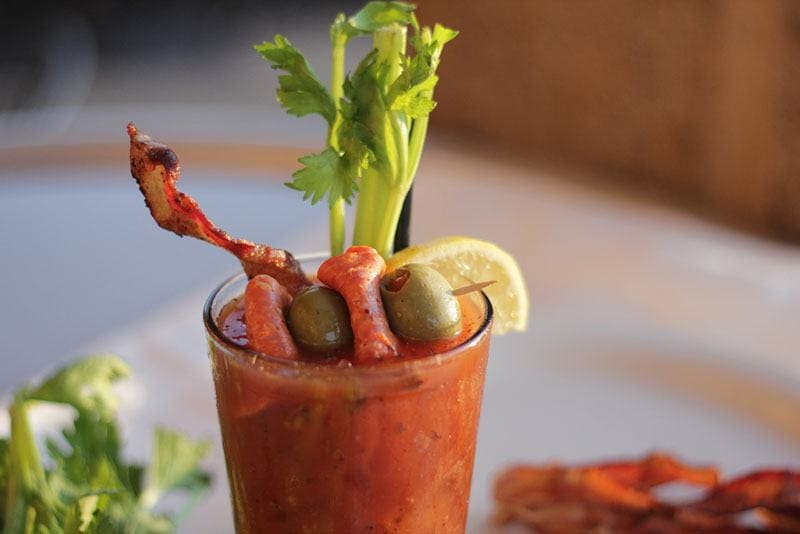 So now I guess it's time for some grocery shopping, make sure you won't forget the tons of bacon!